The New Vemar VSR Helmet
What is it exactly that gives certain brands a mystique and cachet?
Sometimes, all the marketing dollars (or Euros, in this case) in the world can't buy excitement.
There are a very few motorcycle helmet names that seem to rise above the crowd and somehow become "the" helmet to own.
It can't be just the quality and the features, because those are a given to even start a play in this market.
It must have something to do with word-of-mouth, limited availability, pricing that excludes the unwashed masses, race creds and a winning résumé.
These characteristics just can't be bought and can't be controlled.
And when it does happen — no matter the product — the manufacturers are usually taken by surprise.
In the motorcycle helmet world, the "It" label has been variously held by Schuberth, ROOF, Soumy, OGK and maybe one or two more.
Some end up trying too hard to capitalize on their surprising desirability and blow it by saturating the market in the pursuit of quick profits.
Others figure it's haughtiness that does it, and they end up on the wrong side of their customers when the Next Big Thing comes along.
It's a razor-thin line, easy to misread and way too vulnerable to market whims.
Vemar seems to have it coming their way recently — but can they make it last? If they keep pumping out products like the VSR Chrome, it should be a safe bet.
Started in the not-too-distant past of 1981, Vemar (VE from vetroresina, Italian for fiberglass and MAR from Maremma, the region in Tuscany where the factory is located) started as a manufacturer specializing in carbon fiber, plastics and fiberglass technologies.
They've since developed a robust line of racing, street and off-road helmets and have been fourth in sales of motorcycle helmets in the ultra-competitive European market and rising fast.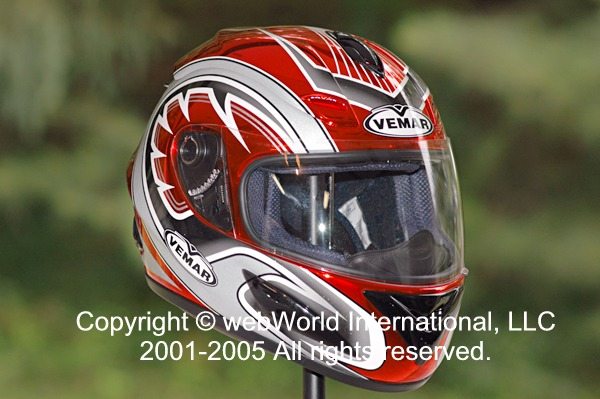 ---
Where to Buy Vemar VSR Helmet
Check Reviews & Prices on Amazon
Check Reviews & Prices On RevZilla
See More Motorcycle Helmets, Motorcycle Visor, Motorcycle Intercom
---
The Vemar VSR
Some of you long-time webBikeWorld visitors may remember the Vemar VSR Carbon helmet we featured on the Motorcycle Helmets page a couple of years back.
We cribbed a photo and directed visitors to the Vemar website (then only available in Italian), and that single helmet photo generated tons of email, most of it asking where and when they could buy one.
After all this time, Vemar apparently still doesn't have the Carbon ready to ship, but we finally have an interesting example of Vemar technology nonetheless, the Vemar VSR "Chrome" racing helmet.
Photos don't do this helmet justice — it has a radiant red chrome finish that seems to emit its own light. I've literally had people stop and stare as I drive by with this baby on my head — "eye popping" is probably the word for the color.
Also available in chrome blue, the VSR Chrome is one of Vemar's top-of-the-line helmets, and it's now available in the U.S.A. thanks to the folks at Intersport Fashions West, the official U.S.A. importers and distributors.
You may know Intersport Fashions West as the distributors for some high-quality motorcycling accessories, including FirstGear apparel, Held Gloves, SCHUBERTH Helmets, Hein Gericke, Oxtar Boots and more.
We've reviewed several of these products, so be sure and check out the webBikeWorld Review Index for more information.
Details and Weight
But the VSR Chrome is more than just a pretty face — at 1566 grams for a size XL (3 lbs., 7-1/4 oz.), this is a relatively light weight helmet.
Vemar uses two shell sizes for their helmets, a small shell for size XS to M, and a large shell size for sizes L and XL.
We would expect that the smaller shell size would be even lighter; Vemar claims the smaller sizes weigh in at 1420 grams, or about 3 lbs., 2 oz., which would make it one of the lightest helmets available.
Vemar has its share of acronymic obfuscations, and we'll assume that the alphabet soup is responsible for the light weight.
If you're interested, they have lots of detail on their website about the various types of fibers that go into a Vemar helmet, but suffice it to say that they use something called "Ricom", which Vemar claims is a proprietary mixture of fiberglass, carbon fiber, Aramid and a fiber called "Dyneema".
Dyneema is an HPPE (High Performance Polyethylene) fiber produced by DSM N.V.
Dyneema is used in high performance ropes and lines, commercial fishing nets, high performance sails and in bulletproof vests, cockpit doors and military helmets.
It's claimed to be the "world's strongest fiber", so it's nice to know it's included in the mixture.
Vemar makes reference also to the use of carbon fiber, and we wouldn't be surprised to learn that the VSR Chrome has its share of the stuff, but we're not sure.
Certain areas of the VSR Chrome appear to have that "matrix" look of carbon fiber, especially around the chin bar.
The objective of a motorcycle helmet is to protect the rider's noggin, and a helmet's shell is usually made from some type of mixture of various fibers that, when cured, form a strong matrix that will absorb the energy of crashing by deforming in a controlled manner.
It's easier said than done, because the shell has to be bag molded under heat and pressure to also come up with a shape that will be both acceptable to the customer, provide aerodynamic efficiency and allow good airflow.
Some inexpensive helmets are molded using various types of plastic, with or without a fiber matrix added for strength. If they pass the DOT, Snell or ECE tests, then who can say that one is better than the other?
But I usually look to see what the motorcycle racers wear, because they require the absolute best protection.
It's one thing to pass the various safety requirements by just squeaking through; it's quite another to surpass the real-world abuse that a helmet can take on the race track.
I'm at the far end of a size large motorcycle helmet, and depending upon the design, I sometimes take a large but I sometimes need an XL to fit my round head.
Intersport Fashions West sent me a size XL when I described my head size and shape, and the VSR Chrome fits just about perfectly, so I'd say they run a touch small.
The internal shape of the VSR Chrome tends slightly to the oval, because the sides are a bit tight, but the liner is surprisingly plush and I find the helmet to be very comfortable.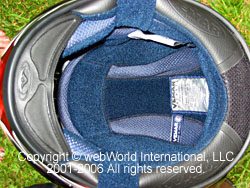 The internal shape seems to be unusual; it feels like it's round at the top, slightly oval at the sides, and opens up again at the bottom.
I have an "earth" shaped head, wider at the temples, and often have trouble finding the perfect fit.
I also have a wide jaw, and although you'd think that the VSR Chrome's "hourglass" shape as described would be at odds with my head shape, it's not the case.
The extra room in the lower half of the helmet does the trick, and relieves the pressure on my cheeks.
The VSR Chrome has removable cheek pads and a removable liner, and the cheek pads are available in small (15mm), medium (25mm) and large (30mm) sizes.
They fit very nicely in the helmet, because they're completely backed by Velcro fastener, and not the cheap snaps like those found on inexpensive helmets.
I'm not sure what size cheek pads are standard with the size XL helmet (probably medium?), but these fit me perfectly, so I'm very satisfied.
Wind and Noise
The slightly wider design of the lower portion of the helmet has a slight drawback. It doesn't seal out the turbulent air around the base of the helmet, letting in more noise than might otherwise be the case.
Race-oriented helmets are usually noisier than, for example, touring helmets, but the noise generated in the neck area of the VSR Chrome could, I think, be easily remedied by some additional padding in that area.
If I hunch my shoulders up just a touch when I'm riding, which shoves my jacket collar up near the neck area of the helmet, I can reduce the apparent noise by about 50%.
It seems to be coming from under the helmet, just under and in back of the ears. I can stick a finger along the opening and quiet things down also.
This may be caused by my head shape, or even the types of jackets that I wear, so your experience may differ.
Alternatively, a product like the Windjammer helmet wind blocker goes a long way towards quieting down most any full-face helmet.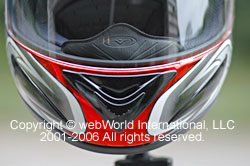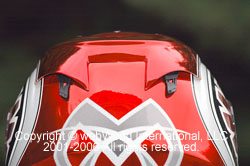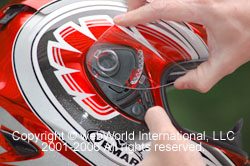 More on Ventilation
The VSR Chrome features several types of vents and extractors to keep things cool. The chin bar includes a "V" shaped vent which lets in a good quantity of air that's directed up behind the breath guard.
The back of the chin bar has some nice, cushy EPS lining, and although it feels like the air flows through it and on to my face, I can't see any holes, so I'm not sure how this happens.
There are also a series of rectangular passageways along the top of the eye opening in the helmet shell that direct air back over the top of the head.
The chin bar also features an external extractor on each side, which is nicely camouflaged into the overall look, and these apparently help pull the air through the chin bar.
The top of the helmet has a simple but cool-looking top vent that slides open to two positions (three if you count the closed position). A plastic screen lives underneath, keeping out bugs and grit.
Two vent channels lie on each side of the top of the helmet, and the air that is forced in to them is extracted out the back via two corresponding diffusers that can be opened or closed.
The venting is completed with two extractors at the lower rear of the helmet, which use the helmet's low-pressure zone to help pull air out the back.
This all adds up to two inlets (chin bar and top); four Venturi extractors (two front and two back); and two extractors on the upper rear area of the helmet that can be opened or closed.
The buttons or switches that open and close the chin bar and top vents are "V" shaped and, in typical Italian style, serve both a functional and stylistic purpose.
The overall quality of the VSR Chrome helmet, the liner, the paint and the general fit and finish is top-drawer, equal to the best in the world, in our opinion. As we mentioned earlier, the chrome paint really has to be seen to be believed
---
Where to Buy Vemar VSR Helmet
Check Reviews & Prices on Amazon
Check Reviews & Prices On RevZilla
See More Motorcycle Helmets, Motorcycle Visor, Motorcycle Intercom
---
Face Shield
Vemar uses a 2.2 mm scratch resistant visor, available in clear, smoke (50%) and Iridium flavors.
The clear and smoke visors are treated with "Savimex" anti-fog and UV protective coating; Vemar claims that this is the most effective anti-fog coating available.
It's been pretty warm here, so we didn't have a chance to put this claim to the test.
The helmet also has the now-ubiquitous spring-loaded, easy-to-use visor mounting system.
Simply raise the visor to the uppermost position, pull down the little button under the side to release the spring tension, and the visor pops right out for cleaning or replacement.
Safety Standards
Vemar has developed what they call "Crush Zone Technology", which is used in the chin bar to allow controlled deformation in the case of a crash. The VSR Chrome is ECE 22.05 and DOT safety standard (See the wBW information page on the ECE 22.05 standard).
ECE 22.05 is the European standard for motorcycle helmet safety, and is probably the most stringent standard in the world.
The VSR Chrome is accepted for use in the FIM World Superbike Championship, AMA Pro Racing, CCS, PIM, Formula-USA, WERA and even in MotoGP racing.
Vemar helmets are used by many racers, including 250cc World Championship riders Stefan Perugini, Roberto Rolfo and Anthony West.
Other Details
Other miscellaneous details include the "Breath Mesh" comfortable lining as mentioned earlier, plus a nice D-ring retention system that includes a big plastic tab on one of the rings and an easy-to-use snap to hold the extra length of strapping.
Conclusion
Vemar's reputation for innovation and quality are certainly confirmed in our VSR Chrome racing helmet. It's not hard to find little quality faults with even the most expensive helmets, but the VSR Chome is flawless.
We're especially impressed with the comfort and the fit of the liner; it's hard to get excited about a helmet liner, but this one really does seem more comfortable.
The helmet flows a large quantity of air, it's comfortable, light weight and has some claimed safety advantages provided by Vemar's race-bred engineering.
It is noisier than other street helmets, although probably about average for a race helmet. We always wear earplugs and helmet liners when riding, and suggest you do also.
Please see the wBW Earplugs and Hearing Protection page for more information on choosing and wearing earplugs.
To paraphrase an old saying, "if you have a 100 buck head, buy a 100 buck helmet", but if you're only going to own one good helmet, why not make a statement?
The Vemar VSR Chrome is a great alternative to the more common brands, and you're getting about the best that money can buy.
w

BW

 Review: Vemar VSR Helmet
Manufacturer: Vemar Helmets (Italy)
List Price: $399.95-$499.95
Colors: Solids and graphics.
Made In: Italy
Sizes: XS-XL Shell Sizes: Unknown
Review Date: June 2008

Rating Scale is subjective: Unacceptable, Poor, Neutral, Very Good, Excellent, Outstanding.
Note:
 For informational use only. All material and photographs are Copyright © webWorld International, LLC since 2000. All rights reserved. See the webBikeWorld® 
Site Info page
. Product specifications, features and details may change or differ from our descriptions. Always check before purchasing. Read the
Terms and Conditions
!
---
Where to Buy Vemar VSR Helmet
Check Reviews & Prices on Amazon
Check Reviews & Prices On RevZilla
See More Motorcycle Helmets, Motorcycle Visor, Motorcycle Intercom
---
Owner Comments and Feedback
Other WebBikeWorld Helmet Posts