The Vega Summit XPV has a roomy interior compared to other flip-up motorcycle helmets.
It also has a comfortable, plush liner.
The helmet is relatively quiet, due in part to the flush-fitting visor which also has a quick release, unusual on flip-up helmets.
The paint quality is good with deep shine.
The ventilation is comparatively good.
The chin bar vents direct air on to the rider's face.
The flip-up latches are plastic.
Also, the Summit XPV has a removable liner and it meets the DOT safety standard.
The complex global economy of our 21st Century has proven to be tough on manufacturers but beneficial to consumers.
Fortunately, motorcyclists have benefited from the intense competition for market share, and the days of poor quality are virtually over.
Anyone who's roughly 40 years old or more knows that the expectation of good quality is a relatively recent phenomenon.
When I was young, products made in Japan were considered to be a joke. In the '50's, Japan was still in the early stages of rebuilding from the devastation wrought by World War II.
Much of the light industry that was developing in Japan centered around products that could be designed and manufactured quickly, cheaply and easily.
I distinctly remember the cheap tin toys that flooded the market; toys with such poor quality that "Made in Japan" entered the vernacular as short for "cheap junk".
Well, times have sure changed. Products from Japan are now known for exquisite design and ultra-high quality, thanks partly to Dr. Deming and largely to the drive, ambition and motivation of the Japanese people.
Those born in the late 1960's and beyond probably have no idea that history has changed so dramatically.
But we owe a tremendous debt to Japanese manufacturers, for they raised the bar so high that everyone else had to catch up or go broke. Manufacturers around the world are still trying to play catch-up to this day.
The competitive pressures that resulted from the Japanese manufacturing revolution are largely responsible for the huge increases in the quality of just about every consumer product available today.
The ability to achieve high quality levels was at one time a distinctive manufacturing advantage, but today near-perfect levels of quality are a given.
An OEM will no longer spend the time and resources to develop a suppliers' quality and capabilities; they'll just look elsewhere for someone who can meet their needs.
Distinctive advantages today are the ability to forge strategic alliances, network with competitors on concurrent design, provide just-in-time delivery and keep costs and prices low.
And forget about any altruism regarding domestic sourcing — global manufacturers will contract with a supplier anywhere in the world, as long as the price is right and the specifications are met.
Vega Summit XPV
This Vega Summit XPV helmet is a perfect example of the type of benefits that motorcyclists have reaped from the last few decades of global competition.
To be perfectly frank, Vega helmets used to be known for one thing only — low price. Quality didn't really enter into the equation.
The Vega brand could be found on the shelves of motorcycle dealers who were only interested in equipping their customers with the most basic lids available at the lowest price in town.
But that strategy just doesn't cut it any more. Quality is like a rising tide that brings everything with it. As consumers experience quality in one area, they expect it everywhere.
I don't know much about the anonymous Chinese company who manufacturers Vega helmets, but I have to give them credit for seeing the handwriting on the wall and rising to the occasion by vastly exceeding all of our expectations for this Summit XPV.
As of this writing, the Vega Summit XPV is one of our favorite modular, or flip-up, helmets, regardless of price.
Other than its weight, which is fairly significant at 1749 grams (3 lbs. 13-3/4 oz.) measured on the webBikeWorld electronic scales, the helmet has a lot to offer.
First of all, as many of you have told us, flip-up helmets for some reason seem to run very short in their internal front-to-back dimensions.
This is a common complaint among flip-up helmet owners, and I'm not sure if there's something about the design compromises in a flip-up helmet that make this necessary, or if it's lack of attention to detail.
A short front-to-back dimension can mean that the rider's chin, depending upon their head shape, can press up against the inside of the chin bar, which can get painful in no time at all.
The Summit XPV bucks the trend and seems to have about as much internal chin room as a full-face helmet.
This internal distance is hard to measure, but we estimate it at about 10-3/8″ in our size XL Summit XPV versus, for example, about 9″ in the (size Large) Jarow Mono X2.
This makes a huge difference in comfort and can be a make or break decision for some riders.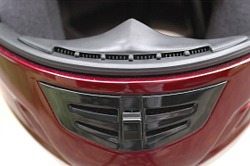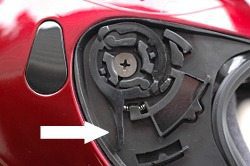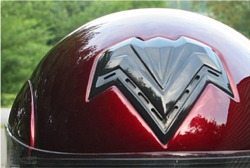 Ventilation
The Summit XPV's chin bar has another nice feature that's missing from many of its competitors — the air vents allow air to pass directly through and on to the rider's face.
Most flip-up helmets don't allow air to come directly through the chin bar, directing it instead on to the back of the visor, if at all.
Vega went one better and also designed a passageway for the incoming air to vent up on to the visor from in back of the small breath guard.
Unfortunately, the flip-up module uses small plastic latches rather than metal.
The latches seem balky, and the central release button under the chin bar doesn't operate very smoothly on our example. We're hoping that after some break-in time this will improve.
The helmet has four horizontal slits up along the top of the visor opening, and these allow air to flow up over the rider's head and out the low pressure exhaust vents in the rear.
The rear vents can't be closed, but we've found that we don't take advantage of the ability to close rear vents on any other helmets we own anyway, so this really isn't a problem.
The front top vent is in the shape of a big stylized "Flying V", and is simple enough to open or close with the push of a hand.
No fumbling for little tiny levers or buttons, the Flying V "door" is big enough to find every time and it has a positive shut-off.
Note the attention to detail along the sides of the Summit XPV; Vega did a very nice job of blending the rotating side plates into the helmet, which helps keep the wind noise low.
The helmet has another great feature that helps keep the wind noise down — a quick-release, flush fitting visor, which is rare indeed on flip-up helmets.
Noise Control
Many flip-up helmets are noisy, and much of the noise is generated from the visor mounting systems that stick out into the air stream.
Vega's flush visor greatly reduces one of the primary sources of wind noise while also allowing the visor to be easily removed for cleaning or changing.
Don't forget that we always wear earplugs when riding, and suggest that you do also.
Riding a motorcycle with (or without) a helmet is a noisy endeavor, with a high risk of hearing loss. It's our opinion that there is no such thing as a quiet motorcycle helmet — the scale runs from loud to louder.
See the wBW Earplugs and Hearing Protection page for more information.
The release mechanism is easy to use. Flip up the visor, push the lever (white arrow, photo left) and pop out the visor. Most flip-up helmets use complex visor retention systems that sometimes even require special tools for visor removal.
Vega even installed some tight-fitting covers over the pivot screws that attach the flip-up front to the helmet, which help to keep a smooth look and is another way to help eliminate wind noise.
The visor also has 8 detents that are strong enough to hold it open and offer more adjustment options than many other motorcycle helmets.
Helmet Liner
I usually don't find much difference in helmet liners, regardless of the marketing hype that the manufacturers churn out. A liner is pretty much a liner as far as I'm concerned, and as long as it cushions my head and offers some protection during a crash, I'm happy.
But the Summit XPV's liner is noticeably different; it's very soft and cushy, with a high-quality feel somewhat like a polar fleece pullover.
The liner of the Summit XPV is removable (Note: we previously reported that the liner was non-removable, which was an error), which is a rare feature in a flip-up helmet, especially at this price.
We always wear helmet liners, which help to keep the insides of our helmets looking (and smelling!) brand new.
I found the Summit XPV to be very comfortable, and it fits my round shaped head very nicely with no hot spots or pressure points.
The combination of the cushy lining and the smooth air flow made possible by the flush visor system means that it is one of the quieter flip-up helmets we've tried.
The chin strap uses the tried-and-true D-ring system, with padding that includes the same soft liner fabric. The strap has a button retention system that holds the extra strap after it's cinched up.
Finally, the finish on this example is another pleasant surprise.
The deep "Black Cherry Red" metalflake paint has an excellent shine and finish with no orange peel and is nearly flawless, with the exception of a couple of minor spots just over the top of the visor opening where it looks like perhaps the base coat wasn't quite prepared correctly.
But this is barely noticeable and overall the helmet shows very high quality and attention to detail.
Conclusion
We really like the way the Summit XPV performs and we consider it to be one of the better flip-up helmets available, regardless of price. It is on the heavy side, and the size XL feels slightly top heavy in use, but it's not objectionable.
It's relatively quiet; it has more internal room than many other flip-up motorcycle helmets; and it includes a comfortable and removable liner, decent air flow and nice-looking paint.
Factor in the flush-fitting, quick-change visor and a price of only $129.99 including shipping (U.S.A.), and this is a super bargain.
Owner Feedback
webBikeWorld evaluator "B.C." has been using the Vega Summit XPV for a couple of months and he had this to say:
"I have a wide head that is oval shaped on top. The Vega Summit feels like it sits high on my head, and the center of gravity feels higher than normal.
My chin has enough clearance behind the chin bar, but my chin also feels like it sticks out underneath the chin bar a little bit.
This also makes the helmet feel like it is sitting too high. I feel like the opening for the visor is too high, like my eyesight gets blocked slightly by the small breath guard at the bottom of the visor.
I have the same too-high feeling when wearing my HJC Sy-Max modular helmet, so I'm not sure if it's my head or this design.
One result of the helmet sitting high on my head is that the padding shape inside the helmet presses against my temples and it can get uncomfortable after a while at high speed.
The Summit also feels heavy to me, especially compared to other race helmets I normally wear.
However, I agree that for the money, this is probably one of the best modular bargains around and it seems well made, I haven't had any problems with the quality so far."
w

BW

 Product Review: Vega Summit XPV Modular Flip-up Motorcycle Helmet
Available From: Vega Helmets
List Price (2002):  $129.95
Colors: Solids and mettalics.
Made In: China
Sizes: XS-2XL. Shell Sizes: Two
Review Date: 2002 (?)

Rating Scale is subjective: Unacceptable, Poor, Neutral, Very Good, Excellent, Outstanding.
Note:
 For informational use only. All material and photographs are Copyright © webWorld International, LLC since 2000. All rights reserved. See the webBikeWorld® 
Site Info page
. Product specifications, features and details may change or differ from our descriptions. Always check before purchasing. Read the
Terms and Conditions
!
Owner Comments and Feedback
---
From "J.G.":  "I recently purchased a new, white, Vega Summit XPV and it is a different kind of animal. I am used to the ease of use of the HJC helmets, though not an HJC Modular. I bought the Vega because of the glowing review you had.
I have not worn it enough to know if I want to do a trip with it yet, but I have found a few things that concern me.
The Face Shield is very very difficult to remove and replace, even after practicing several times. Also it is quite easy to put it on incorrectly, seemingly correctly, so that it can pop off.
The helmet is quite noisy and whistle-y at highway speeds always requiring good ear protection.
The cheek padding hopefully will relax somewhat as now it forces my cheeks into the sides of my teeth.
Although the vents seem to open quite readily, the holes to allow the air to enter the helmet are very small and covered by protective foam so that there is little to no air flow over my head.
This is a detriment in hot weather and crossing the desert. I'm very disappointed in the quality of the Vega for comfort and head protection. It also seems easy for the wind to move the helmet side to side.
I do not like the D rings on the chin strap, they seem flimsy, and the snap for the end of the strap is difficult to snap."
---
From "A.N.":  "…I have to say I was a little nervous buying a helmet I hadn't even had a chance to try on. When I first put it on, I was immediately struck that it was more round in the upper portion.
My head is a little more like a Shoei or Arai helmet. The first couple of times I wore it, it was uncomfortable…..but I seem to have that feeling with most helmets….so I kept on riding with it.
I've now worn it at least 6 times and have come to appreciate the feel of the helmet.
I absolutely loved my SCHUBERTH when I first received it, but as time wore on I became more displeased with it.
It seems like the Vega is just the opposite. It feels lighter then any of the flip ups I've owned, which includes Shoei Syncrotec, Nolan 100 and the Schuberth.
The noise level is still there, but unlike the others, it's not a roaring noise. It seems like it flows the air easier and as a result noise doesn't seem as annoying.
Most short rides I won't use the ear plugs for and that's when I'm able to get the best analysis….in my book it's a great helmet. On my K11RS, I've only had two other past helmets that handled wind turbulence as well as the Summit….and they are long gone. So over all I'm very pleased with the helmet's performance!
One other note: I usually order an XL but with the Vega I ordered a Large and while it is tight right now, I can feel it giving and forming to my head, it seems to form or give more then some of the other helmets I've owned in the past.
I hope that will prove to be a good sign with time. I will send another note if there is any change in the performance or quality of the helmet!
P.S. I also ordered a X-small for my girlfriend and it fit her like a glove, she is absolutely tickled to death with it!!!
---
From "A.T.":  "I just want to say that I love your site and use it frequently, it's nice to have a central database for moto goodies.
I want to tell you about my recent experience with a Vega helmet.
Last Saturday I took delivery of my new Vega SummitXPV helmet, I put my super cool Mirrored shield on and away I went.
The first thing I noticed was an incredible whistle over 40mph, I reached up and tipped the shield open to see if that cured the problem.
It did fix the problem but I noticed that the shield was so flimsy that it waved and flexed at just over 60 mph.
I got to a stopping point and decided to give the helmet a good going over, as mentioned by another reader the release button was quite stubborn and took a good amount of force to get it to open.
The next and biggest thing I noticed was that the left side of the chin guard latch was defeated by gently tugging on the front of the helmet.
That lead me to further inspection of the mechanism itself which revealed that the only ting holding that chin piece down were 2 small pieces of cheap plastic.
Needless to say I was disappointed, I returned the helmet to the dealer where they took it upon themselves to test the helmet out further.
They closed the helmet and gave it a solid tug which resulted in both of the latches failing, leaving the helmet with 2 broken latches.
I got my money back before the testing took place.
On the up side I agree that the finish and interior were nice but it truly felt like a toy helmet.
After my last wreck (900 RR into a deer at highway speed), I certainly take my head protection seriously. I was hoping for one of those deals that you run across every now and again where the quality far exceeds the price, unfortunately I don't feel this is the case."
Editor's Response:  Thanks for the feedback, A.T. Our helmet doesn't seem to have that problem, I wonder if perhaps there is some variability in the manufacturing tolerances?
---
From "O":  "Short version: best flip front for the money, a real bargain. I would've guessed it cost $275 to $300. One of two flip-fronts that fit those of us with a long face and a prominent chin. Highly recommended!!!
Long(er) version: Keep in mind that I wear an white Arai Quantum in size small and have worn them for as long as they've been around. My comments are somewhat jaundiced by my Arai experience.
I've hobby-raced flat-trackers, 250cc 2 stroke road racers and some desert sleds.
Yes, I'm, ahem, mature and experienced, but not old! Also, keep in mind that I've been searching for a flip-front that fits for a couple of years and I have done extensive product comparisons. Also, I street-ride a Beemer and you know how anal we are!
Finish – beautiful (Almost as good as my Arai – the white color on the Vega is whiter than my Arai and the clear coat is nearly as hard as my Quantum. This is a nice looking helmet.
The Vega decals are under the clear coat which is a bummer for me as I always put checkered flags and other such doo-dads on my lids. The lining is almost as nice as my Arai and snaps in VERY tightly. So tight in fact that at first I thought the liner was not removable.
Function – vents and shield worked statically much better than I expected. The shield is very easy to change compared to my Arai and the firm detents would seem to allow riding with the vent open a bit.
I imagine that the Vega might be quieter than my Quantum too (What isn't?) because the shield fits smoothly and snugly. I liked the eye port shape and size also.
The D rings and strap are clearly copied from Arai – too close a copy actually. In fact they would not fit through an Echo quick release buckle just like my Arai doesn't.
Unlike others who have reviewed the Vega, I found the flip-front easy enough to open with one hand, but it is tighter than any other flip-front I've tried.
I personally believe that tightness is a good thing and it might keep the front closed in a crash. I've ground down a few helmets here and there over the years so this is a concern to me.
Fit: the chin bar clears my beard by about an inch. The Symax does this also, but all the other flip-fronts are pressed against my chin or will not close at all.
The size small Vega was too large for me and it rotated on my head quite easily. I measured my skull, though I really didn't need to, and used the sizing chart provided to select my size. The Vega is a size to large for me as compared to my Arai.
The Vega would seem to be sized like the HJC, in my opinion. On my head the Vega didn't feel as heavy as the listed weight made me expect and it is definitely lighter than any SCHUBERTH I've tried.
I was disappointed that the Vega Modular didn't use two different shell sizes as the other helmets on their website seem to do.
If the modular had a smaller shell available I could have found an acceptable fit, but with the huge shell (compared to my Arai), there would just be too much liner material for my peace of mind.
I've no doubt that — like other Vega helmets — the Modular could meet Snell requirements.
Overall, I really wanted to keep this helmet. It was that nice (better than anything else for twice the price and as good as helmets costing as much as $300.00). And it didn't strike my chin!
It would have been my primary helmet for commuting to work as it would preclude me having to remove my lid for a face/badge check. If you have a more normally sized and shaped head than I do, the Vega is an excellent choice in a flip-front.
Hey Vega, please make this in two shell sizes like your Nitro and Monterey lines and I'll order again!"
---
From "C.S.":  "I have now owned my Vega Summit XPV for a month and 900 miles of riding.
I purchased it from my local dealer and had the opportunity to try different sizes. I have a long oval head and this helmet is very comfortable for all day wear, no pressure points.
The release latch was stiff at first but I found that by pushing on the release button slightly right of center, it releases with no problem. Ventilation is very good and the defogging capability is excellent.
The ability to open the visor in various positions is a real plus. The first notch offers excellent ventilation while cruising in the hot Florida sun.
The quick release visor system makes it easy to change visors from smoke to clear and and facilitates cleaning.
While it is heavier than my full face helmet, the convenience of the flip up is worth it. Even though one is not supposed to do so, I ride with the face bar up in parking lots and heavy, slow city traffic for greatly increased visibility.
I would definitely recommend this helmet to others; but I would suggest that they try on various sizes to ensure the correct fit. I normally wear a medium; but the medium in this helmet was too snug and had pressure points.
My wife, who usually wears a small, selected the medium and she says it is very comfortable for her. "
---
From "K.S.":  "I was rather disappointed with some aspects of the quality of my Summit XPV when it arrived, mostly because I had significant trouble getting the flip-up to open without excessive force.
The latch for the flip-up mechanism was difficult, and I had to press it very, very hard, while simultaneously pushing up much harder than is acceptable.
However, this shifted the helmet back uncomfortably, pulling hard on the chin strap and causing neck strain. Now, I happen to have strong hands, and I can forsee that some people would be actually unable to open it at all.
Vega will have to improve this before I can recommend that anyone buy this helmet!
Between this and the fact that the shape of the helmet was totally wrong for my long oval head, I immediately decided to sell it.
On the positive side, though, I will say that it is a very attractively designed helmet, especially the classy "black cherry" color with black vents and trim; the paint is very nice, and the liner is well-made and plush.
But for flip-ups, there's no point in owning one if you can't open it smoothly, so I'll keep my Caberg Justissimo (Editor's note – the Justissimo is known as the Jarow Mono X2 in the U.S.A.) and Roof Boxer instead."
Editor's Response:  We did note that the Summit XPV's flip-up is slightly difficult to raise at first, but ours has loosened up over time.
Considering that the Summit XPV retails for $129.99, compared to the Justissimo (aka Jarow Mono X2) at $299.99 and the Boxer at $397.00 plus shipping from the U.K., we consider the stiff operating flip-up of the Summit XPV to be a minor inconvenience.