UClear HBC 100 Image Gallery
To put the HBC 100 intercoms to use, press the Answer button for two seconds.
The status indicator will blink Red once then begin pulsing Blue with an  accompanying welcome tone  generated in the headset.
To turn the system off, hold the Answer button for five seconds — five red flashes and a long beep indicates shutdown.
Pairing the HBC 100 with other devices like a mobile phone, Bluetooth-enabled music player or with a Bluetooth dongle (adapter) is done with the power on.
Hold the "Up" and "Down" buttons simultaneously for two seconds to initiate pairing mode and the status indicator blinks the familiar Blue/Red pattern.
Now make sure Bluetooth is turned on for the device to be paired and activate its search mode. If found, the device will identify the headset as the "UClear HBC 100".
Select this identification and if automatic pairing is not initiated, the default pass-code of "0000" can be entered to finalize the pairing.
Using the HBC 100 With Mobile Phones
Pairing with fully compatible mobile or smart phones should result in both phone (Headset/Hands-Free) and music (A2DP/AVRCP) Bluetooth profiles being supported.
I was able to get five phones with varying degrees of "smarts" perfectly paired with the headsets. Only one, an LG5500, was cranky and wouldn't play.
So before describing the specific button actions required for interaction between the HBC 100 and compatible mobile phones, it needs to be said that receiving or making calls while riding should be done with great discretion: using the features are best done when safely stopped.
Common mobile phone functions that are supported by the HBC 100 include:
To Answer an Incoming Call: Voice pickup with "hello" or "pickup" or press the Answer button twice.
Last Number Redial: Hold the Answer and Up buttons for two seconds.
Reject/End Incoming Call: Hold the Answer button for two seconds.
3-Way Calling: To switch between two calls, press the Answer button once.
Voice Dial: Hold the Answer and Down buttons for two seconds.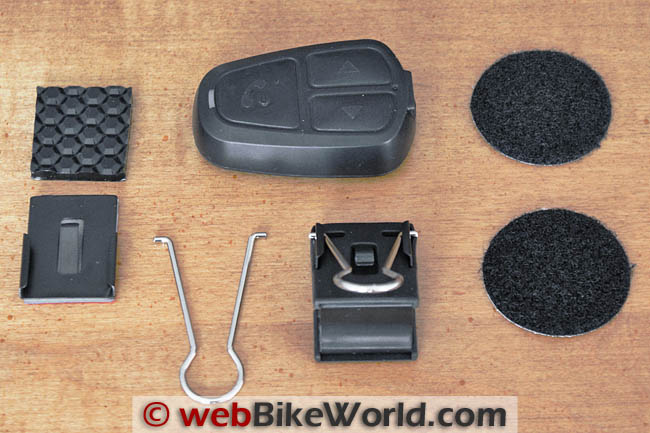 Audio Management With the HBC 100
System audio management on the HBC 100 is provided by automatic profile switching that determines which profile should be active based on a priority of:
Mobile phone;
Intercom; and
Music.
As with other systems, the HBC 100 can be paired to more than one device, although UClear recommends a maximum of two.
The headset supports AVRCP features but only with compatible devices. In this regard it is important to remember that any Bluetooth dongle used as the interface between the wired and wireless devices must also be AVRCP compatible.
The buttons on the HBC 100 activate the following AVRCP functions:
Play and Stop Toggle: Press Answer button twice to play, twice to stop.
Fast Forward: To skip to the next track, press the Up button twice.
Backtrack: To skip to the previous track, press the Down button twice.
Volume control is automatic, based on the surrounding environment, although manual adjustments can be made anytime by using the Up and Down buttons.
The UClear HBC 100 Intercom: Speech and Audio
Although the HBC 100 is tailored to satisfy mobile phone and music device requirements, its intercom feature is not lacking.
Nor should it be, as most of the technology used in the system is specifically focused on providing the very best speech environment possible, no matter which feature is being used.
Connecting or pairing two HBC 100 systems is initiated with both systems turned off. Hold the Answer and volume Down buttons on the first (or "Lead") module for about five seconds and then hold the Answer and volume Up buttons on the second module for the same period of time.
Both will initially blink Red/Blue, but once negotiation starts, the lead module status indicator blinks a fast Purple while the second module blinks Purple also, but at a slower rate.
After about ten seconds, the indicators will flash Blue a couple of times then go into connected mode, indicated by a Blue two-blink sequence every two seconds.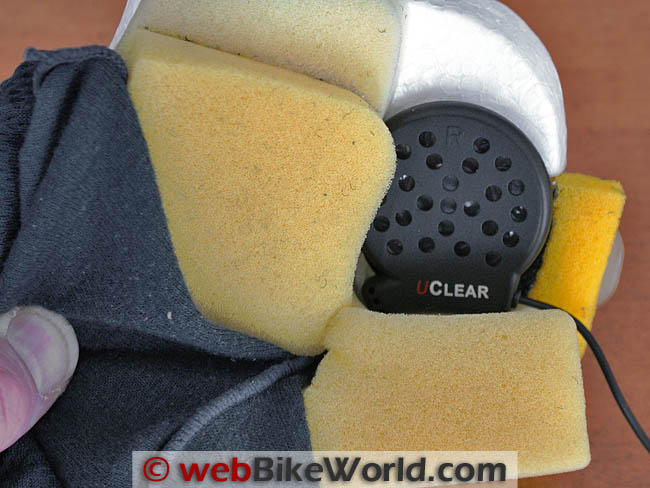 HBC 100 and VOX
I will confirm now that the HBC 100 does not have a voice-activated or VOX capability — but that's not necessarily a bad thing.
Its absence means that an intercom session must be manually started and manually terminated. On the bright side, either party can initiate or terminate a session; a feature that a few remaining manufacturers would do well to implement.
To start an intercom session, hold the Up button for two seconds and within two to three seconds the link will open and full-duplex (two-way speech) is enabled.
Although depending on the environment, it can be hard to tell because the background noise levels are extremely low due to the efficiency of the system.
The intercom link stays open until it is manually terminated or lost due to distance. It will also be terminated automatically after ten minutes (of no speech) by the power management system or shut down by the system due to a low battery situation.
I understand that many consumers using Bluetooth helmet systems want or rely on VOX; properly implemented and managed, VOX can provide true hands-free functionality.
The hands stay on the handlebars and there is no need to initiate an intercom session via a headset control or a push-to-talk (PTT) switch of some sort.
Call me old-school, but even if VOX is available, I still prefer the ability to manually toggle the intercom on and off by a control or by a handlebar or finger-mounted push-to-talk.
Some of the newer solid-state and small form-factor (finger) PTT switches can be mounted almost anywhere — a control mount, the finger or even inside a glove.
Why do I feel this way? Well, so far, outside of perhaps one system that comes close, I haven't found a VOX circuitry that's effective enough to make me smile with continued use.
A good VOX capability has to be both sensitive and adjustable, in more than two to three increments, or dynamically adaptable to the user.
And, it must be fast, so that nothing, except the first few milliseconds of air movement when the mouth is opened to speak, is lost.
Part of the problem with implementing the ideal VOX system is our noisy and dynamic motorcycle riding environment.
So even though the UClear HBC 100 does not have a voice-activated capability per se for the intercom, the environment created by the design of the system and the applied technologies can likely provide a valid solution to what I see as the VOX issue.
Let me explain. The first test of the HBC 100 was outside on a very noisy street.
To say I was blown away by the quality of the intercom audio that was generated and subsequently received in my HBC 100 headset would be an understatement — it is that good.
Street, machine and electrical noise are filtered out or attenuated in milliseconds. Generated speech, received with almost painful clarity and absolute fidelity, is available right out to the absolute range of the intercom.
The first mobile phone call I received while riding (Yes, guilty — but for testing purposes only!) was another revelation. It wasn't a case of "Hello, can you hear me now?" but rather a "reach out and touch you" scenario.
And nobody I have called, either when I was stopped, moving or going forward at high rates of speed, have been able to discern what I was doing at the time. All they got was crisp clear audio, even when my SCHUBERTH C3 visor was fully open.
So call me naïve, but thinking about a Bluetooth helmet system that utilizes the UClear design and technologies and that also harnesses the digital signal processing capabilities used to provide an dynamic and adaptable VOX feature does make me smile.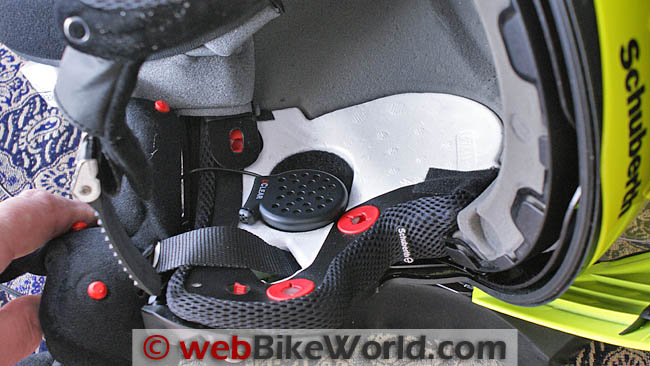 UClear HBC 100 Performance Observations
While working on this article, the Editor sent me two new (updated) HBC 100 units and then forwarded electronic copies of some very useful technical information provided by UClear.
Accordingly, the observations below are based on both the original and the updated modules.
Intercom
Performance and range from this dynamic little package is outstanding — bordering on spectacular.
Expecting 50 m to 100 m ranges, static line-of-sight status testing with two fully charged units revealed ranges of over 150 metres (492 feet).
Functional range when riding didn't go down by much although the optimum is 80 to 100 metres (260 to 330 feet), still extremely impressive from this low power rated device.
Even the diminutive AKE 200 Stealth headset (review) which has been my Class 2 performance champion is out-distanced by the long range and rock solid performance of the HBC 100.
Although the User Manual states that the intercom will need to be manually reinitiated if an active session is lost, both pairs used seems to do just fine at automatically restoring a link when lost due to distance. I acknowledge that a time-based feature could be facilitating this, however.
Speech and Audio
Audio pickup and discrimination with the HBC 100 is, as I expected, very sensitive and easily the best I have experienced in a Bluetooth communications headset.
The SCHUBERTH and Nolan head chambers are superb listening environments, with absolute fidelity and resonant (bass) tones.
Quality is only slightly less inside the Arai and BMW System 6 shells.
Standing in the driveway, sitting on a running motorcycle or on the open road, background noise levels are tuned out and audio from discrete sources, i.e., the intercom, are amplified clearly.
No matter the separation distance — and even with discernable increases in background noise from nearby electrical devices — voice clarity with the HBC 100 is outstanding.
When ambient noise levels go up, so does the volume, seemingly without delay. Sampling and adjustment rates are very fast with positive results.
Just remember, of course, that everyone makes their own environment and the device being used (in my case typically the iTouch or HTC Touch) and media quality, are important ingredients in this subjective mix.
Audio Management
Compatible paired devices are switched seamlessly by the HBC 100 system, without much of the annoying white noise timeouts or "clicks" heard on other systems.
So far, everything paired once has been recognized again by the HBC 100 units when reintroduced even after a period of time.
Power Management
The module has a power save or auto power off mode. If the intercom is used but the paired Bluetooth devices are subsequently disconnected, the system powers off after one hour.
On startup, if no devices are connected or the intercom is not used, the system powers off after ten minutes.
Battery Life
The HBC 100 systems run an average of six to seven hours per charge and sometimes more, depending on talk-time and media streaming.
The need to recharge is indicated by a somewhat annoying low battery warning beep that sounds once a minute and visually the status indicator flashes Red every two seconds.
The system cannot be used while recharging and if the unit is on when recharging is initiated, the system will power down.
Reliability
Less the early failure of the USB connector on one module, and weak retention springs on the mounting brackets, the systems are working very well.
The mounting components are very light as are load demands, but if the module is hit or brushed the spring allows the module to release. This pressure spring should be a bit wider and heavier.
Compatibility
The HBC 100 devices pair up with virtually any Bluetooth equipped phone offered up, less one (and only one) dongle of six has refused to work as well (that one being long in tooth and no longer available).
But — and for me this is a big but — the HBC 100 is not fully compatible with my current navigation devices, including the zumo 550 or the zumo 660 and 665 (See the discussion regarding this issue in the comments section below from webBikeWorld visitor "J").
Some fairly extensive testing with four different navigation devices (three A2DP capable) revealed that the HBC 100 units will pair with the headset with navigation audio and music streamed to the headset, but only in mono.
A2DP or AVRCP capability is apparently not implemented unfortunately, although UClear stated that compatibility testing was performed during development. This is an issue we are continuing to follow.
Note that the UClear documentation states that the HBC 100 will work with navigation devices, but it doesn't claim A2DP or AVRCP compatibility with navigation devices.
Fitment
Between its small form factor, simple mounting brackets and the lack of any additional boom or thin-wire microphone fittings, the HBC 100 should work on virtually any helmet, regardless of form, size or type.
The speaker housings for the embedded microphones should fit into provided speaker recesses in many helmets.
Alternatively, the housings are thin enough that direct or flat fitment to the inner shell or liner should be viable while still providing sufficient clearances for comfortable and safe use of the helmet.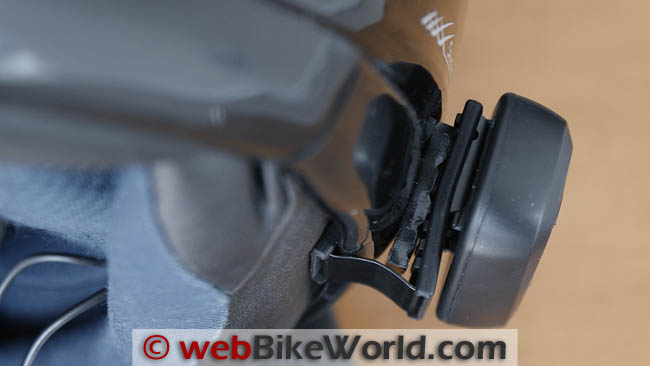 web

BikeWorld

 Overall Opinionator – UClear HBC 100 Intercom System

Picks…
…and Pans

Simple styling and build.
Excellent overall quality.
Embedded microphones are a superb feature.
Outstanding audio quality.
Small form factor with portability installs in just about any helmet.

Simplicity highlights some weaknesses like the weak retention spring.
Current lack of A2DP/AVRCP support when using navigation devices.
The absence of VOX may be an issue for some.
Conclusion
They say that good things come in small packages and that pretty much describes how I feel about the UClear HBC 100 intercom system.
UClear touts the technology used and well they should — it works.
HBC 100 intercom audio is, hands down, the best I've ever used and audio output from the speakers is on par with the best as well.
So let me be succinct here — in comparing speech and audio quality to other systems I have evaluated or used and currently use the HBC 100 is "clearly" in the lead.
The ability to install the system on multiple helmets in virtually minutes is a  real and very tangible advantage provided by the absence of a protruding boom or thin-wire microphone assembly. This eliminates a major fitment issue with so many helmets.
The UClear Digital website is an excellent resource, particularly if you want to delve deeper into the technologies harnessed for the HBC 100. The tutorial alone is worth a visit; it's well scripted and visualized.
There is even a (free) UClear HBC 100 instruction App available from the Apple Store for use as a portable tutorial.
Acknowledging that some very worthwhile accessories are pending for this headset, my current impression is that UClear has a potential winner here.
If what I deem a shortfall — no A2DP or AVRCP support for navigation devices — is resolved, I'll gladly remove the potential" from that statement and just call it the winner.
Part 1:  UClear HBC 100 Review
w

BW

 Product Review: UClear HBC 100 Intercom

Available From: UClear Digital
List Price (2011): $199.95
Review Date: May 2011
Made In: Unknown
NOTE: The webBikeWorld evaluators wear properly fitted ear plugs for intercom evaluations. This is reflected in the opinions on sound quality and speaker volume. Your experience may differ. Always protect your hearing when riding a motorcycle (more).
Note:
 For informational use only. All material and photographs are Copyright © webWorld International, LLC since 2000. All rights reserved. See the webBikeWorld® 
Site Info page
. Product specifications, features and details may change or differ from our descriptions. Always check before purchasing. Read the
Terms and Conditions
!
Owner Comments and Feedback
---
From "C.Z." (October 2015): "  I have a pair of HBC100 Plus. Your reviews were a major contributor in my decision to purchase.
The boomless tech works well, once speakers are correctly positioned.
However, the latest firmware, 2.37, has introduced some new problems:
1. Intercom now cuts out at very close range. E.g. sitting next to each other at lights.
2. Intercom voice is said to be improved, we can hear no difference, but voice guidance from Tom Tom is intermittently, noticeably degraded (warbling). Not so on previous firmware.
3. Sat Navs (Tom Tom Rider 2013 and Garmin 660LM) route guidance voice, operational tones and speed camera warnings are audible to all connected headsets from both devices. As you can imagine, this can be somewhat confusing.
Having guidance active on only one device or muting the Sat Nav seem to be the only workarounds.
Unfortunately, the latter then mutes incoming phone calls (may only be Tom Tom, not had a call on the Garmin while in use). The route guidance voice from the Garmin would come through both headsets on previous firmware.
I am in contact with UClear Europe, but, unusually, they have not responded.
I really like the hardware but operationally it's a bit of a fiasco, in my opinion. I look forward to your review of the UClear Remote."
Follow-up from "C.Z." (November 2015): "I re-sent my last two emails to UClear Europe and an update on the problems I am experiencing. I did so now as the devices will be little used over the Winter and I really want them sorted for the Spring.
I received a reply almost immediately. The previous emails were not received, apparently?
The problem with GPS Audio coming through to all connected headsets has been addressed by making it an option in the UClear Hub App.
Having read the FW2.37 announcement, on 7th October, I asked UClear, 'Having installed this FW, I can find nothing new in Hub. From the bullet points it looks a though we can now choose GPS voice to one or more headsets?'
I received this answer, 'Nothing did change in the HUB app. Only a fix has been made for the BMW Navigator'.
Either that was incorrect or the Hub App hadn't been updated at the time of the FW release or it had been updated but, unlike every other Android App I have installed, no 'update available' notice appears from Play Store>My Apps or automatically.
I haven't had a chance to test yet, but I am hopeful that at least this debilitating problem is solved. I have hard reset the HCB100+s and re-paired them. I hope this cures the other issues."
---
From "K.H." (October 2014): "Just wanted to drop a line to inform you that I am a happy, new customer using the UClear communication system.
I originally purchased the 100 model but after a conversation with Jack in Technical Support, quickly upgraded to the 100+.
The main reason was the ability to upgrade the firmware but after getting the new system I noticed that there was better sound quality with the speakers.
I am very happy with the system and listening to music, talking to the wife while riding and taking a very occasional call are easy.
Lastly, I need to mention that their Technical Support (Jack) was very helpful and responsive once I worked through the initial cumbersome interactive automated phone system and got him live.
Jack worked out all of my "getting acquainted" issues with the system and was quick to respond by email.
As a suggestion, I recommend contacting Jack while getting acquainted with the system as he has some expert advice on getting the units up and working and especially pairing the units.
The pairing instructions are not complete but Jack emailed a set of easy to follow, complete instructions. I would recommend the system to anyone wanting to enhance their riding experience."
---
From "P.H." (September 2012): "I have just installed the UClear system in my helmets, the system works well on a bike-to-bike service but there is a severe echo when being used as a rider/passenger service.
Hopefully there is a "fix" for this otherwise the sets are going back to the dealer."
---
From "B.A." (August 2012): "I ordered and installed the HBC100 in my Arai Signet-Q (review)helmet. Similar to another commenter, I recorded my voice via voicemail and had the same results (i.e. better voice quality with the visor and vents open instead of closed).
However… Riding at any speeds resulted in totally muffled and incomprehensible speech that is reminiscent of the adultspeak in Charlie Brown Peanuts cartoons.
I contacted UClear about this and they advised me to send the unit in under warranty. I will update when I get it back…"
---
From "C.F." (August 2012): "It's not clear from the writeup and comments that have been made what the quality of the Bluetooth audio — say listening to an iPod — is like. The review talks about the audio being very high quality, but I assume this is intercom audio.
Some of the comments seem to say that the Sena music audio is better, so my question is what is the music audio like?"
H.B.C.'s Reply: For headset evaluations I usually articulate audio quality for specific sources as needed, but in the case of the UClear headsets, all audio is high quality.
And to be more specific, intercom audio is unbeaten for clarity and fidelity, with stereo audio streaming very much hi-fi.
When the review was posted, the audio listening environment with the UClear headset speakers was the clear winner in an audio "apple to apples" comparison.
Regarding the observation about Sena music audio: with the latest firmware (v4.1) update to the Sena SMH10B systems, A2DP streaming quality is far better.
And objectively speaking, it's on par with the audio stream generated by the UClear systems, although the UClear headsets still have the edge in reproduction (low, mid and high tones) and overall listening environment.
(For speakers, the components provided with the iASUS GP3X2 Throat Microphone System (review) remain at the top of my list).
---
From "S.Z." (May 2012): "I have the HBC 100. While it is very compact and the speakers are as good as any out there (I also have the Sena SMH-10), they are just like any other system — not enough volume in the speakers to overcome road and helmet noise at speeds over 60mph unless you're behind a Gold Wing's windscreen.
Unrealistic in the real world of sport and sport/touring bikes for the highway, where the helmet takes the brunt of the oncoming wind.
There's no such thing as a quiet helmet, period. Just good earplugs, or earbuds Sena realized this early on and came out with the optional earbud mounting plates. I also have that. That's the bomb.
I use Etymotic in-ear earbuds, with Comply foam tips. The Comply tips last longer and are more comfortable than the offerings from Etymotic.
I have a 2011 Kawasaki Ninja 1000 with a Puig windscreen and MRA deflector, Give factory hard cases, and heated grips. I also have a very loud Akrapovic full replacement exhaust system.
While I can hear the very muted low growl of my mufflers, and superfluous surrounding highway noises at 80-100mph, I can always hear my music clearly, answer calls, or chat with other riders easily over the existing noises on my Sena setup. All at a volume level that is below maximum.
Now UClear is about to join the battle for supremacy alongside Sena, with the offering of two different earbud sets.
Problems are cost, for one, and functionality for the other. Cost – The single unit is going to sell for $250.
Now that's not bad for a complete system, but you have to buy the earbuds separately.
They run $50 for the cheap set and $120 for their 'high-end' system. That's $370 for ONE unit.
Functionality – Let's face it, no one wants to buy the $50 substandard earbuds so they'll opt for the $120 ones. I have had ALL types of earbuds over the years, and I can tell you right now they really are not going to work much better than a $12 pair from Walmart.
Why? because if they aren't in-ear like Etymotic they will not seal properly or completely. A lot of noise will make it to your ear and compete over your music, GPS, phone, and chatting with your buddies at highway speeds.
Not to mention if you have an overly loud muffler system like I do!
Maybe I can cut the earbuds off and transplant a set of Etymotic, or similar IN-EAR buds, but for $50-$120 you shouldn't have to accept substandard equipment being passed off as top of the line simply because they are the only ones to offer boom-less technology.
Now, if they wake up and modify the earbuds and come out with something in-ear (Maybe they'll read this and get the hint for the next 'upgrade'), I'd gladly buy them and the new unit.
For $250 they should just offer the unit with the premium headset and no speakers as an option, IMO. For now, no thank you. I find it unacceptable as it will be offered soon.
I do like though that the new UClear 200 has what looks like soft touch solenoid buttons now instead of the current cumbersome rubber buttons on the 100 series.
They are hard to press and find, let alone double tap for most of their higher functions. I had mentioned that using solenoid touch buttons should be an upgrade over a year ago.
I still think with gloves that the buttons will be difficult to find simply because of the size of the unit.
The Sena you reach for almost totally naturally. Your hand finds the toggle, and your thumb finds the button, Very intuitive.
Just wish they would miniaturize it at this point. No reason the Sena shouldn't be the size of the HBC 100.
Sorry to (…) on the fire, but I'm tired of companies like UClear that have a great idea like boom-less mic sets, but don't have the foresight to follow through with a complete thought.
With in-ear buds they can get rid of the wire between those new earbuds they plan to offer and the microphones, simply by encasing them both in a hard shell, with the microphones bent at a 90 degree angle to the earbuds (next genius idea you heard from me first!).
The mics would then rest in the lower recess of your ear below that hard flap, and thus be pressed right against the jaw at the TMJ, where they should be.
Not flopping loose in your helmet. When you go to put on the soon to be offered earbuds by UClear you'll be tugging on the mic wire to straighten them out against your jaw, and sooner or later that will compromise the wire and short out the headset…."
Editor's Reply: Since earbuds are illegal in many/most states and countries, it's unlikely that intercom systems will be supplied with earbud speakers.
Also, at speeds approaching 60 MPH or more, the rider should turn off the intercom and concentrate on piloting the bike in my opinion.
---
From "GT" (March 2012):  "First of all thank you for writing such great reviews. I typically try to find a review on your site before i make any significant investments in gear.
The most recent product I bought is the UClear HBC100. I have been looking for a intercom unit for some time and was actually leaning to towards the Cardo Scala or the Sena.
However, the helmet that I planned to buy is the Nolan N104, which presented a problem with external intercom mounts.
I found the UClear to present the perfect answer with its boomless mic technology. I have bought just bought the N104, and the N43E Air, and I have installed the UClear on both. Just for a day or so now for the 104, but I've had the UClear on the 43E for 4 days.
Here's my observations:
1. Nolan helmets have speaker cut-outs which are too small for the UClear modules. This means one has to mod (i.e. cut the foam) to fit in the speaker units.
2. There is substantial padding in the N104 and i wonder whether that affects the effectiveness of the UClear mics. So far, it seems ok, but then again, i have no real basis of comparing this to a helmet with such padding. Or with a regular boom mic.
3. On the N104, I made some interesting observations. I used the UClear unit (via my iPhone) and dialed into my own voice mail and recorded my voice. I recorded my voice with the helmet fully shut, visor open and the flipped up.
I did this all stationary and in a quiet room (i.e. no street noises). Interestingly the voice quality was worse with the helmet fully shut. I sound rather muffled. It sounded better when i opened the visor or flipped the lid up.
4. I finally got to test the intercom last night. I was using the N104, and my girlfriend used the N43. Similar to the voice mail test, the voice sounded clearer with the visor open.
5. The second thing I found is weird noises coming from the speakers while in intercom mode. This happens both when we are speaking, and when we don't. We were both in a quiet room, and there was no other discernible ambient noises.
I can't really describe what it sounds like, but the closest thing i can think off is something akin to weird static sounds.
I would like to ask if you or any of the readers out there have experienced the same thing."
UPDATE From "GT" (March 2012):  "I wrote to UClear, and they said the noise that occurs during the intercom chat isn't normal, and they've advised me to send it in for an exchange."
---
From "S.Z." (March 2012):  "I own both the Sena SMH10 (review) dual pack (waiting for the 4.0 upgrade, YEAH!!!!) and the UClear HBC100 (single unit).
I now have a 7 helmet arsenal, all full face. (3) Bell Stars, RS-1, and Vortex, Shoei Qwest, and my Scorpion EXO-700 (the quietest of my collection, well maybe a tie with the RS-1).
In my comparison, I would give the nod for sound quality and max volume to the Sena over the UClear HBC100.
The HBC100 speakers sound a bit tinny in comparison and do not reach as high a volume.
I also have to agree with you — all the helmets I own that have speaker pockets (all but the Scorpion), suck as far as placement and as you say, they place the speakers too far from the ears (too deep). I would give the undeniable nod for ease of use to the Sena.
The rubber over the HBC100 makes those buttons hard to feel and press, let alone double press, with even basic summer riding gloves. On the other hand, the Sena is so darn simple that even my heated winter gloves were no problem. Just twist for volume or twist and click for forward or backward tracking.
I also bought two of the boom mic and earbud mounts and have just finished testing that setup.
Much less noise from the outside world and much cleaner sound from music and calls or intercom.
Earbuds, as I have always maintained as a listener of music while riding, are the only way to go, so goodbye forever to speakers and sticky tape that doesn't hold to the interior helmet pockets.
Battery life between the SMH10 and the UClear100 is basically the same. Hands down the most unobtrusive of the two is the UClear.
But the aforementioned disgust I have for the function buttons really shoves this older version UClear unit into the closet for me… UNTIL NOW!
With the advent of the earbud/mic system for this new UClear200, and the fact that they have gone to a chicklet type, or what looks like solenoid (soft touch) buttons.
I believe this new UClear system might become my favorite when it finally comes out. I plan on getting a pair with the more expensive earbuds (UEA200's).
I am willing to bet that the new buttons on the UClear will make this SO much more user friendly."
---
Also From "S.Z." (November 2011):  "I talk to Rick a lot about the helmets I've bought and other equipment. I think this is a first time or so for me to review one of your product reviews.
I've had the UClear for about a month now. I'm still experimenting with placement in a variety of helmets.
I've had it in my Scorpion EXO-700, my Bell Vortex, my Shoei Qwest, and my 2010 Bell Star.
've done such things as used the foam ear inserts from the Bell Stars that I own (I have 3) and placed them inside the ear cups of the Vortex and Qwest (Scorpion doesn't have a recess).
I've placed the speakers on top of the foam (Shoei Qwest, my various Bells, and my Scorpion).
The latter I wedged the foam ear cup inserts under the cheek pad edges.
I've even put the speakers on top of the mesh flaps of the Bell Star and Vortex with the foam in the ear cutouts.
I did those configurations to get the speakers as close to the ear as possible to cut out as much wind noise as I could, but some of the placements puts the speakers right up against the ears, and even make it hard to get the helmet on without a modicum of pain involved.
I finally bought Velcro to attach it to/inside the provided speaker cutouts on all but the Scorpion. I put them behind the flaps finally on the Bell Star and Vortex.
Impressions – The Shoei Qwest is not all that quiet of a helmet, but I think the sides are a tad rounder than my other five helmets. My quietest helmet happens to be the Scorpion EXO-700.
My quietest helmet WAS my Bell RS-1, but Rick can tell you I've been through two of those and both had construction flaws that kinda turned me off getting another one.
Volume and clarity of the music is sadly lacking coming from a cell phone. But I found the fix for that (below).
Tapping the up or down buttons to their max positions results in a longer tone to let you know you reached the limit in either volume extreme.
Double-taps can be tricky with riding gloves, but they do result in a different beep to notify you that you have advanced or reversed the track.
Anyway, I'm not really done with modifying a couple of my helmets. I ordered the thickest cheek pads for the Qwest and the Vortex. Let's see if that quiets things a bit.
Both those helmets are about the same noise-wise for me. I am hoping that the thicker cheek pads for the Qwest and Vortex calm a lot more wind noise, but I won't hold my breath. I'm also considering a Scorpion EXO-750 as well. The EXO-750 has mesh on the cheek pads.
I'd place the speakers on top of that mesh and using the pump for the cheek pads, or not, I can get the speakers closer or farther away from my ears in that manner. Nothing's really going to help a Bell Star. It simply moves too much air.
But in the city on hot days it would be just fine I am sure.
Installation is simple and not having a boom is awesome. I have yet to answer a call while riding, but I did try.
The voice activation worked perfect paired with my LG Optimus, but it was a solicitor so I never got the chance to talk as it was a recorded message. But the voice activation worked well.
Music play is interrupted briefly when you get message notifications. The tone sequence for a phone call is unmistakable. All the notification tones are loud and clear. GPS directions (from my cell phone) are LOUD and clear!
Battery life is pretty astounding. I can ride to and from work listening to the music (50 minutes a day) for two weeks and I never got the low battery warning tone yet!
Music from my Optimus was tinny and just a blur of high pitched noise at high volume. I remedied this with a trip to the Droid market for an EQ/Amp app. Volume and clarity now is on par with my iTouch.
I highly recommend people upload an EQ for their phone. Mine was called PowerAmp.
A nice feature of this app is that you can adjust a fade-in or fade-out so that track changes don't assault your eardrums. It also works when switching between calls and music, or notification tones and music.
Buttons on the UClear are a bit of a chore to get used to as the unit is small to begin with, but once you train your muscle memory it's not bad. I have not graduated to multi-button combinations like last call or redial, or any of the others.
I think I would find them difficult to impossible at best as small as the buttons are.
Plus the fact that I wear gloves and you have to hold those buttons for like 2 seconds or so. Finding the buttons is chore enough with gloves on, let alone holding them both down in unison.
Am I happy with this unit? Overall I'd have to say performs as advertised.
My question is will it be good enough for highway (80mph+) speeds? Ummmm… I am doubtful on that. I doubt ANY speakers in the helmet from any intercom system will beat that task. For city commuting and 60mph or less it's very acceptable.
I have expressed to Rick that if nothing I do helps, that I will probably get the Sena unit with the earbud configuration and the standard boom mic. I think I will probably do that.
Ear buds are the way to go IMO, and the Sena doesn't have VOX unless you activate it initially, so the wind noise can't start the intercom.
Some helmets can't fit a boom mic in them without hitting you in the mouth. Shoei's Qwest is very short front to back and there's not even an inch between my mouth and the chin bar.
My nose touches the breath deflector. In that case, the mountable wired flat mic option that Sena offers would be best.
Wow, not really a great review from me on this unit, but like I said, it does what it says – Battery life is great, mounting is the easiest, volume should be adequate for the commuter that rides at 60mph or less, and construction quality is very good.
I personally just want to see if i can tweak it to be acceptable at highway speeds.
Wish me luck. I'll let you know. Does my review really help anyone? Well, I'm hoping at the very least that I haven't caused the readers more confusion."
---
From "R.O." (August 2011):  "I've read your review on the UClear HBC 100 BT Helmet systems and had a quick question I was hoping you might be able to help with.
I'm primarily interested in a system for Rider/Passenger communication to install in my BMW System 6 and BMW System 5 (helmets).
In your review, you said you have it installed in your BMW System 6 and I would like to ask if you can share more details about how you installed it, if the mike/speaker fits under the pad and how it affects the voice.
Thanks in advance and keep doing the great job with your reviews, that I read everyone."
HBC's Reply:  Hopefully the following will help answer your questions:
BMW System 6 Fitment: As mentioned in the article, I installed and used the HBC100 system in my BMW System 6 helmet without any issue.
The small helmet mount and module can sit directly behind – level or above the bottom shell line just behind the front flip and thus clear of the visor slide.
The combination speaker/microphone units fit almost flush in the elongated earpiece recesses of the System 6, although if the unit needs to be placed forward to provide best positioning adjacent to the ear, the small microphone portion may just slightly sit out on the liner.
But it will be hidden and padded once the cheek liner is snapped back into place and the cover material repositioned.
You may feel the unit, but it shouldn't be bothersome.
BMW System 5 Fitment: Adapting it is possible, although it will take a bit longer than the System 6, as its components can be removed far faster than some of the System 5 components.
The System 5 Manual should detail the necessary preparation steps needed to provide access for mounting a headset.
I have also provided a BMW System 5 Fitting Guide (.pdf) link to a short but visually accurate guide posted on the Autocom UK site.
Although the speaker/microphone modules might be inserted without removing the chin guard piece itself, the formed cheek pad modules will need to be removed by removing the T8 Torx screw on each side.
With this done, the job should be relatively straight forward, but it will take some time, and care.
Even with the speaker/microphone modules sitting under or partially under the harder cheek pad and/or liner material, the environment setup by the microphone pick-ups remains extremely good.
And no degradation was noticed no matter what helmet the system was installed in — sensitivity is second to none, so I see no issues here.
Not having any feedback from a System 5 install yet, it would be great to hear how your installation work goes and how it all works."
---
From "D.D." (July 2011): "I've read your reviews on the Chatterbox XBi (review) and UClear HBC 100 BT Helmet systems and had a quick question I was hoping you might be able to help with.
I'm primarily interested in a system for Rider/Passenger communication and audio streaming.
The VOX capabilities of the XBi are a little more appealing to me then the PTT initiation of the UClear, but it's also not quite a deal-breaker just yet.
That being said, can the UClear allow Rider and Passenger to listen to their own Music source (whether it be streaming via Bluetooth or wired) or is audio streamed only from the "Lead" unit to both units?
HBC's Reply: Regarding the current UClear product, the intercom is the only feature that is or can be shared or used between two units; i.e., rider and passenger.
Any other peripherals or sources can only be paired to one device for audio to that one device. So, no sharing of streamed audio.
The rider and passenger, with their own systems, listen to their own (paired) audio sources individually.
The Chatterbox XBi that we reviewed some time ago is probably the best known system on the market that actually does allow audio sharing between two paired xBi headsets.
This system serves to illustrate the audio sharing capability that could become more mainstream, if more systems utilized extra channels to allow a dedicated (stereo) link between two headset for sharing of a paired audio stream.
Audio sharing is an often identified requirement or shortfall of sorts, depending on your view and it is why many manufacturers are working on bringing a Bluetooth hub to market and hopefully soon.
These devices may be bundled with the helmet headsets or available as an optional accessory, as Sena is planning to do.
This device will (hopefully) provide the ability to pair wireless or wired peripherals to the hub and once both the rider and passenger are paired to the hub, then audio will be "shared".
The BikerComm (review) is a current example of this type of system.
---
From "R.S." (06/2011): "Your review states: 'Performance and range from this dynamic little package is outstanding — bordering on spectacular. Expecting 50 m to 100 m ranges, static line-of-sight status testing with two fully charged units revealed ranges of over 150 metres (492 feet).
Functional range when riding didn't go down by much although the optimum is 80 to 100 metres (260 to 330 feet), still extremely impressive from this low power rated device.'
However the manufacturer's documentation states that intercom range is 10 m. Are you saying that you experienced 150 meters in spite of what is stated in the documentation?"
HBC's Reply:  The UClear documentation states 10 m (Bluetooth radio Class 2 nominal)…and that is why my assessment was "Spectacular".
The range can and will diminish in cluttered radio or built up environments especially given the HBC100's relatively low radio output.
But in clear conditions and without oppressive heat/humidity the link range can be up to the maximum I stated, albeit noisy.
With having used them further since the article was published, a range of 200 to 250 feet provides a reliable and pretty much noise-free intercom environment – we've experienced longer, and shorter links – environmental factors and battery status are key.
For what its worth, many of the other Class 2 (nominal 10m range) Bluetooth radio devices — helmet systems, Bluetooth adapters and Bluetooth equipped devices — often yield links of 60 to 100 feet before the radio connection drops, but again, environmental factors will impact.
So yes, the range is much (much) better than (stated) in the manual. But as I have found out, everyone's experience is bound to be different…"
---
From "S.J." (06/2011):  "During the last week, we have been travelling through Sweden on a 4 day trip and have used the UClear all the way. This is what I have learned:
To connect to the BMW Navi III: turn on the driver HCB unit (Master Unit = MU) and then turn on the Navi. The Navi auto-connect after 45 seconds. Then turn on the Secondary Unit (= SU) and toggle the MU with the SU. But only after connection between MU is Navi is well established.
During driving and when the Navi gives instructions, the SU is disconnected. Auto-connect SU approx. 15 seconds after Navi instructions has ended.
Sometimes when instructions is given from the Navi, the SU is (automatic) toggled off.
Toggle on procedure has to be performed again from MU.
It takes about 15 seconds from toggle on button i pressed and sound signal is heard to connection is established.
In the SU a loud-pitched tone is heard, and is dampened, as MU and SU reconnect in toggle on procedure.
During driving, ambient noise is heard both in MU and SU, especially wind and turbulence. This also reduce communication quality.
High pitch toned noise is heard in the SU in toggle on status.
A low "knock – knock" noise is heard in the MU while driving in low speed.
Up to 80 km/h the passenger using SU can hear MU communication without special problems. From 80 to 100 km/h it become difficult to understand communication. From 100 to 120 almost not possible to be understood in both units. Above 120km/h: forget communication between MU and SU.
When instructions from the Navi is given, the first letters in the first word is not heard. It seems that it takes a few seconds to establish some sort of contact between MU and Navi, so the first letters is lost.
When the Navi has been disconnected for a longer break and the MU is still on, the Navi and the MU do not find each other and auto-connect. Then the MU has to be powered off and the powered on to reestablish Navi – MU connection. For shorter time, like filling gas, there are no problems.
I have direct communication with the software developers and they will take care of a software update based on my comments."
---
From "J" (05/11):  "Hi. I just upgraded my zumo about a week ago to version 4.20, but had the version previous to that one working as well.
After the upgrade, I did have to re-pair my HBC100 to it, but that was documented in the release notes I believe.
I know that it's stereo, and that I can use the volume controls on the headset, although I typically just set it, and then use the zumo control (on the mixer) in case I want to adjust the levels mid-ride. I use the zumo for mp3 track selection.
One other thing that I really like about the pair (and I don't know which unit is responsible for it), however when I hit about 50mph, the volume automatically bumps up. I'm not sure if it's based on ambient noise levels, or the GPS speed detection :-)"
An update from "J" (05/11): "Well, bad news… I just downloaded a little left/right test, and the right channel is not working on my HBC100 when paired with the zumo. I sure thought that both channels were originally working, but it's sure not now.
I hear the left channel audio, but not the right. If I turn off the headset and let the zumo play from the internal speaker, I hear both channels. It does not appear to be truly mono, but instead "left only".
I didn't think that I originally had this problem with the pre version 4.20 software on zumo, but I can not be certain at this point (I ride with earplugs, and must admit that I must not have paid as much attention as I thought.).
I always start the media player on the zumo, and haven't tried using the HBC to control it. I just tried one more thing — I just paired my iPod Touch to the HBC, and it plays in stereo just fine.
Is there anything that I can do to help troubleshoot this further? I'd definitely like to be kept in the loop on this, and anything that I can do to get it resolved.
HBC's Reply: This is a good news/bad news update that is very much appreciated. It does validate my observations in the article, which haven't changed since then, even with some additional testing.
The HBC 100 units, at least with Garmin navigation devices, just doesn't want to recognize the A2DP and AVRCP profiles…so audio is mono only when streamed from the navigation devices. I can only hope that UClear will provide some additional information that might address the issue and/or look into the matter. This is a major sticking point for many.
As for your observation in the original posting about the volume bumping up, it will, as the system responds to the ambient noise environment and the Automatic Speaker Loudness feature (for communications) automatically maintains a consistent volume.
You can always adjust any of the individual feature audio settings manually as well.
For the most part I find the system very responsive to changes in the surrounding environment and haven't needed to use the manual volume controls much. I really appreciate getting this type of feedback, it helps in so many ways.
So for those of you who are using the UClear HBC 100 systems with navigation devices, let us know how your configuration works, please."
---
From "T.G." (05/11):  "Looks to be an interesting product, and the lack of a boom makes it very enticing. But one small flaw makes it to my not buy list.
The "press for 5 seconds to turn it off" is a deal breaker. My iPhone requires a 3 second push to enter the voice control mode.
This works great and I can select music, make calls all hands free while riding. well many times a 3 second push can result in a 5 second push making the BT intercom and phone headset worthless.
The only two I have found that use a longer 10 second push before off is the Chatterbox and the Scala systems. These have zero chance of turning off the headset while accessing the voice control systems of today's smartphones.
Yes I know, answering and making calls while riding is not safe, it's safer than the cagers looking down to dial and hold a phone. And some of us have to continue to do business while we rocket down the highway at 70mph.
If they fix this possible bug that can bite smartphone users, this headset could be a major contender."
---
From "J.J." (05/11):  "Does this unit have side tones? When your talking on the intercom does your own voice come through on your own speakers?"
HBC's Reponse: Yes, the side tone is there, so you hear your own voice, as background vice the volume that the incoming audio will be at…at least this is what is heard with the four units on hand here.
---
From "S.D.G." (05/11):  "Your comment about VOX is right on for me. I have my Autocom tweaked to VOX perfection. I use the PTT switch for B2B via GMRS radio.
I like the idea of BT but the wire of my Autocom is a small price to pay for the increased functionality/performance. Once BT closes the gap in performance and functionality I'm there as I like the idea of easily moving from bike to bike."
---
From "J" (05/11):  "For what it's worth, I have a Zumo 660, and it works just fine with my UClear HBC 100. I had problems paring it at first, but it was due to the BT pairing list being full on my 660. Tech Support at UClear was great, and helped solve the issue quickly."
HBC's Reply: Glad to hear your zumo 660 is working fine…
I am presuming you have full stereo (A2DP) with AVRCP control?
This is what the shortfall is with our HBC 100 samples, and this is with all Bluetooth devices being emptied of previous pairings or profiles. What software baseline are you running on your 660?