Two male riders have died, and a female pillion is in a critical condition after a head-on crash with a 4WD near Young, NSW, yesterday (Friday March 1, 2019).
NSW Police are asking for anyone with information about the crash to contact Crimestoppers.
The accident happened about 2.10pm on Murringo Road, near Swamp Road, Murringo, about 20km east of Young.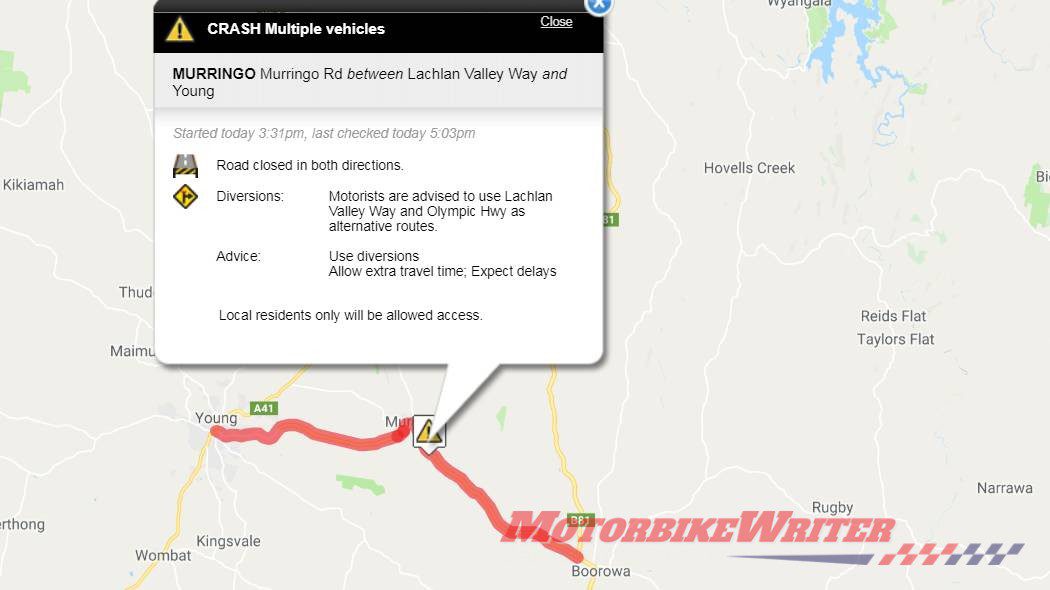 Police have been told a motorcycle, travelling with a pillion passenger, has collided head-on with a 4WD Landcruiser.
There are no details yet about which vehicles were on the wrong side of the road.
The Landcruiser then rolled and crashed into a second motorcycle.
The two motorcyclists, a 59-year-old man from Ungarie and a 57-year-old man from Girral, were unable to revived and died at the scene.
The pillion passenger, a 57-year-old woman from Ungarie, was treated at the scene. She was airlifted to Canberra Hospital in a critical condition for treatment to internal injuries.
The 27-year-old male driver of the 4WD was also taken to Canberra Hospital for treatment for a fractured arm.
A third motorcycle stopped at the scene without incident.
Officers from the Hume Police District established a crime scene and have begun inquiries into the circumstances surrounding the crash.
A report will be prepared for the information of the Coroner.
NSW police advise that information provided to Crime is treated in strict confidence. They also reminded members of the public not to report crime via NSW Police social media pages.
Our condolences to the families of the riders and our thoughts are with the critically injured pillion.
(Main image courtesy of Chris "Ace" Williams who extends his condolences to the families of all involved)