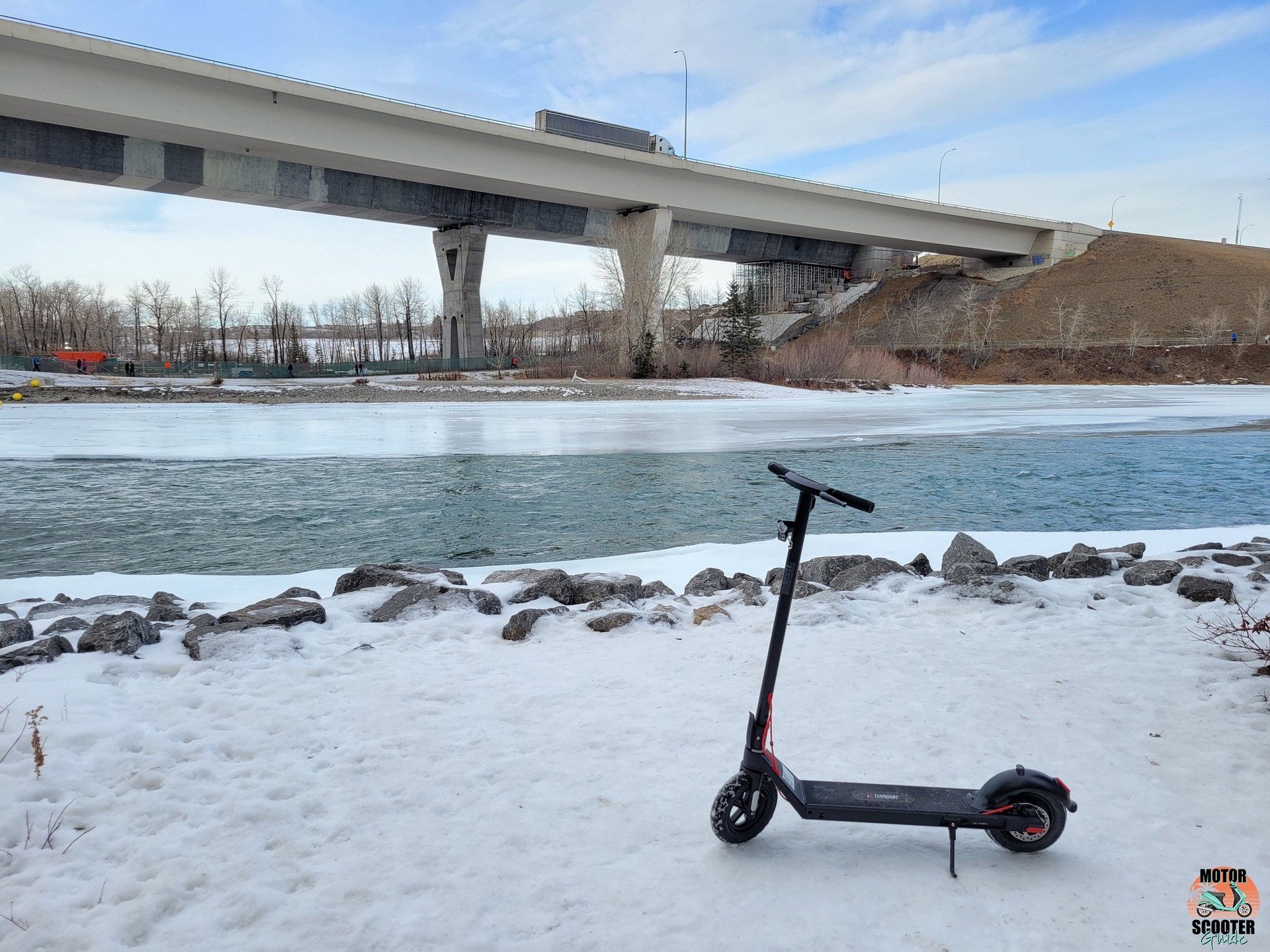 TurboAnt was established in 2014 as an electric scooter manufacturer and has now also moved into the ebike space with a 2022 eBike lineup. Quickly becoming one of the world's largest PEV manufacturers, TurboAnt aims to bring budget-friendly offerings to riders of all ages.
Their scooter lineup currently consists of an X7 Pro and an M10. The X7 Pro is the successor to the X7, which we have reviewed here.
They reached out to Electric.Travel for collaboration and were kind enough to send us an M10 electric scooter.
TurboAnt's marketing department provided the M10 at no cost for the purpose of this review. We do not have a financial relationship with TurboAnt.
Breakdown
Design and Style: 3.5 of 5
Performance: 3 of 5
Build Quality: 4 of 5
Value for Money: 4.5 of 5
Pros
Lightweight and portable design
Air-filled tires offer comfortable ride
Solid stem locking mechanism
Great value for the sub-$500 price segment
Cons
Underwhelming motor does not provide enough power to climb inclines
Not for heavier riders
Lack of suspension
Important Links / Where to Buy
TurboAnt M10 Scooter Specifications
Motor: 350w rear hub motor
Battery: 36v 7.5Ah lithium-ion battery
Top Speed: Up to 20mph (32kmh)
Max Range: Up to 18mi (29km)
Display: LED display
Brakes: Rear disc brake
Tires: 10" x 2.125" pneumatic tires
Weight: 13.5kg (29.8 lb)
Charging Time: Approximately 5 hours
Waterproof Rating: IP54
Assembly & Box Contents
We received the M10 scooter mid-December when Calgary was going through a cold snap, with temperatures reaching nearly -25C (-13F) some nights. Typical winter weather, to be fair, but miserable nonetheless.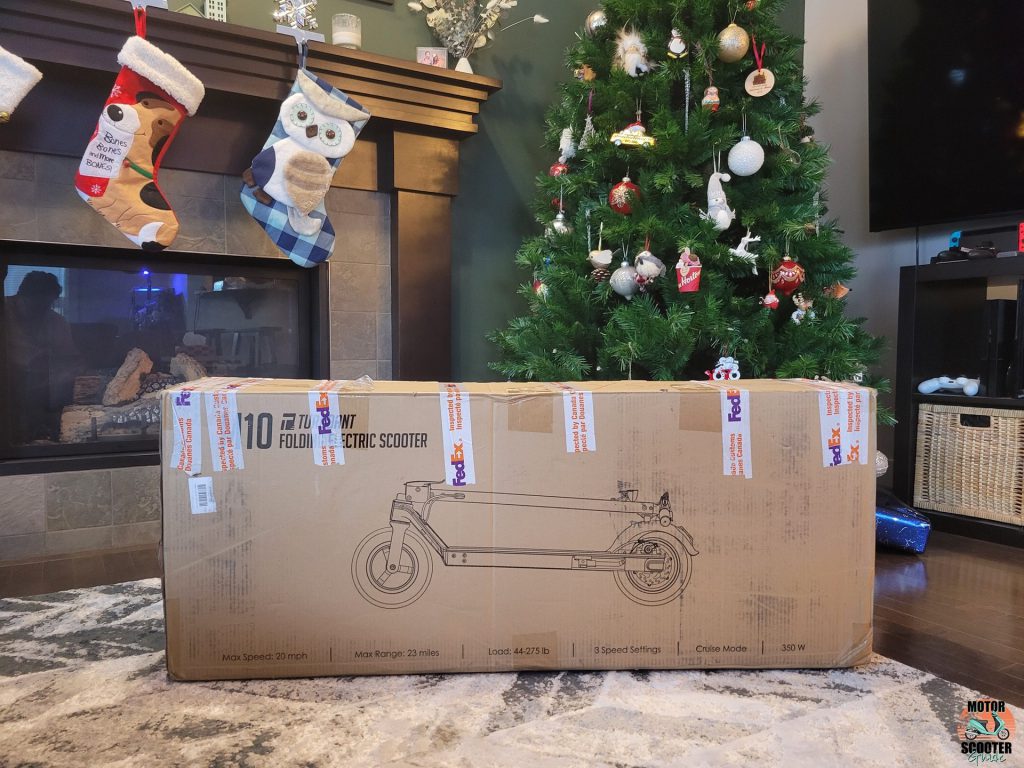 The box itself was smaller in size and very light, roughly 30lb / 14kg. It had gone through customs where the box was previously opened for inspection, but we unpacked it to reveal the box contents.
As usual, scooters require minimal, if any, assembly. All that's usually required is to lock the stem in place, attach any accessories, charge the battery to full, inflate your tires, and you're ready to ride. TurboAnt has included a pair of handlebars and a brake lever to be attached, which in turn allows them to ship a box with smaller dimensions.
Other items include a basic bell, owner's manual, and charger.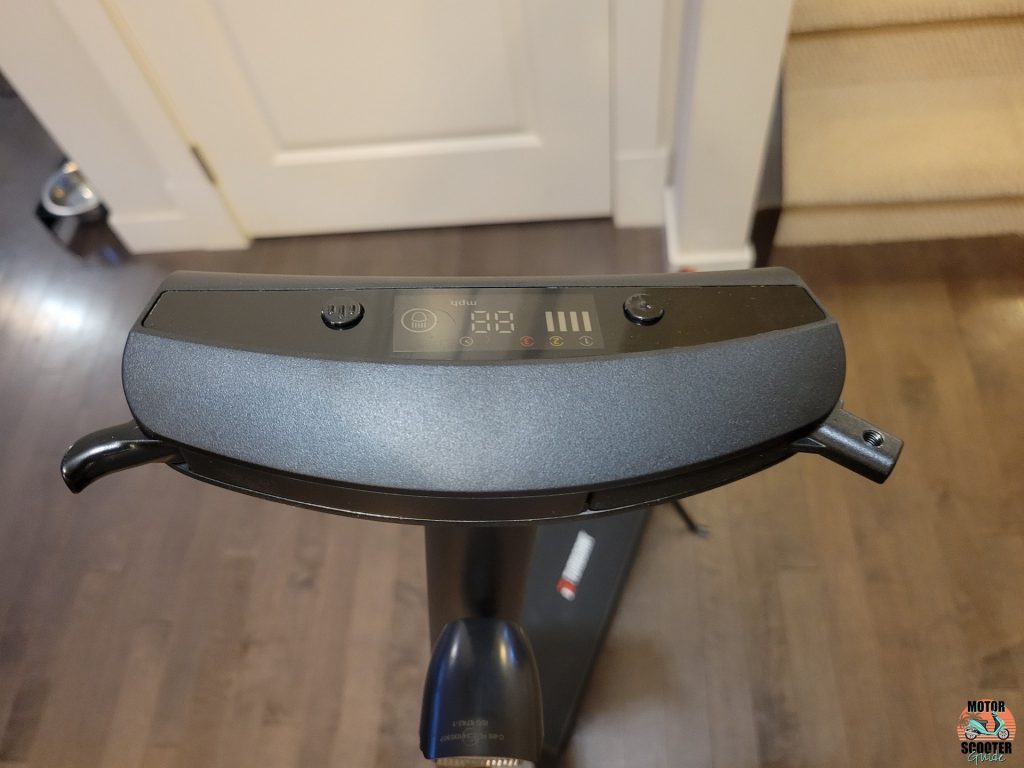 Assembly is simple and straightforward. The handlebars have L and R stamped on the thread to indicate which side it goes on.
The brake lever goes on the left side of the handlebar and is secured by a metal screw.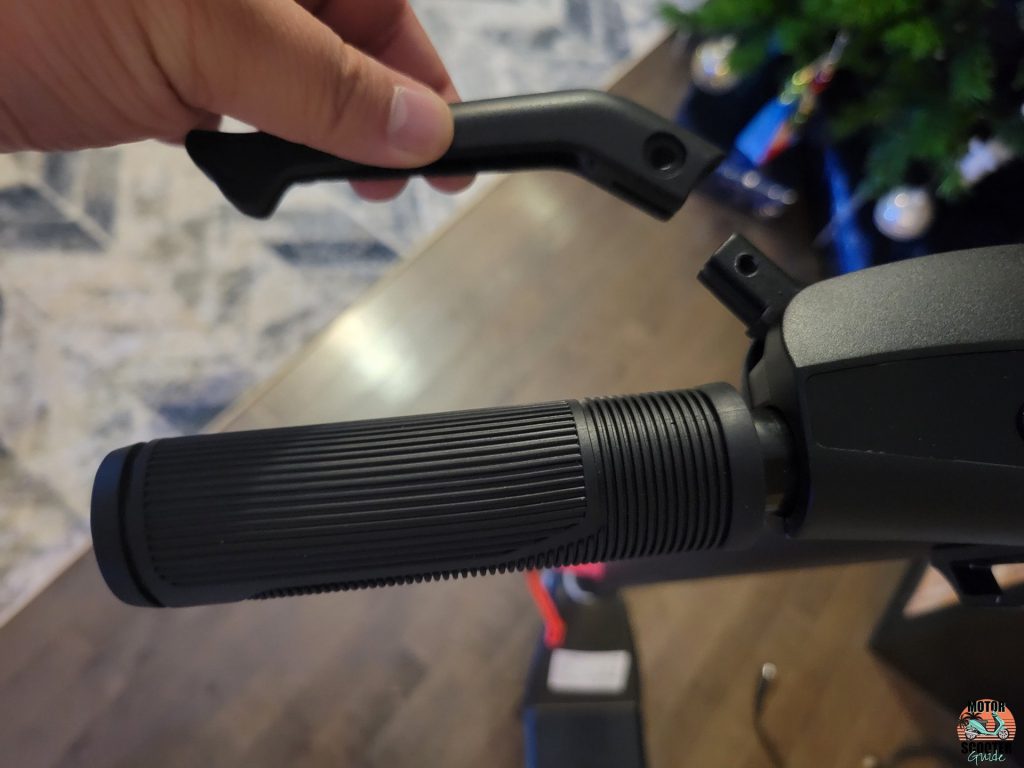 Nonetheless, total assembly time took less than 5 minutes. I plugged the charger into the port located on the rear left side of the deck. Charging time takes roughly 5 hours.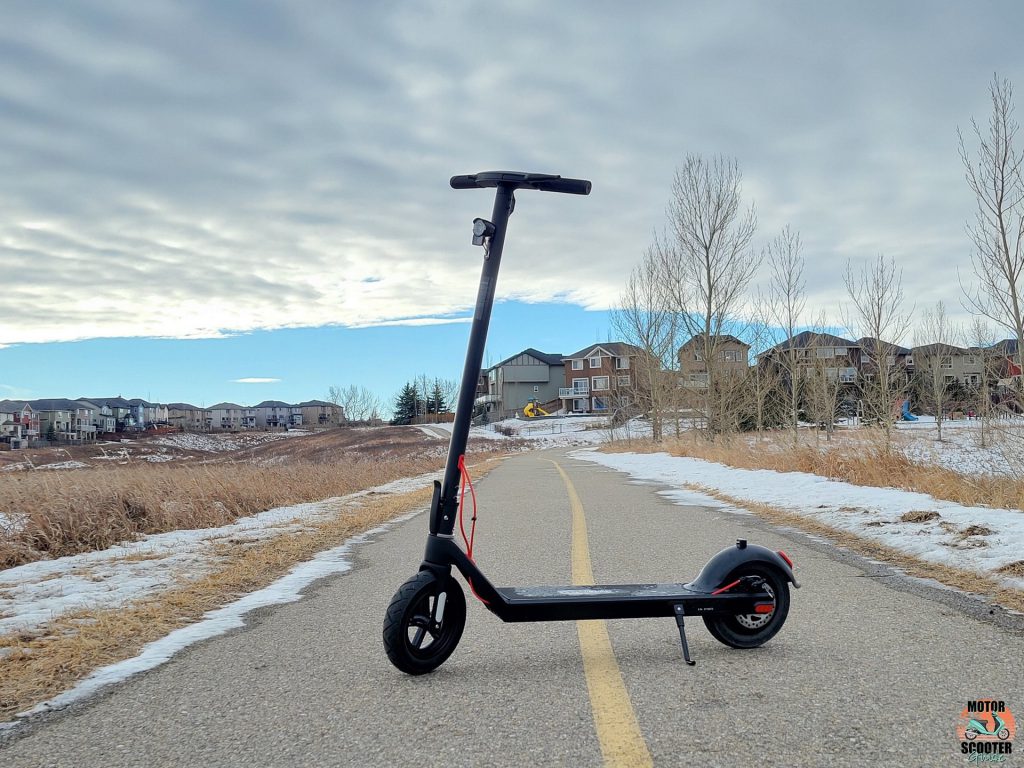 Riding the TurboAnt M10 eScooter
The TurboAnt M10 scooter is designed as a portable commuter solution for riders. It's marketed as being able to handle a max payload of 220lb / 100kg and touted to be able to climb up to 15-degree inclines. Did it live up to expectations? Let's find out.
Since it's not an off-road scooter and is powered by a single 350w rear hub motor, it was obvious that I would be sticking to paved paths within the neighborhood. I took it to a walking path around the lake as I usually do for an initial test run.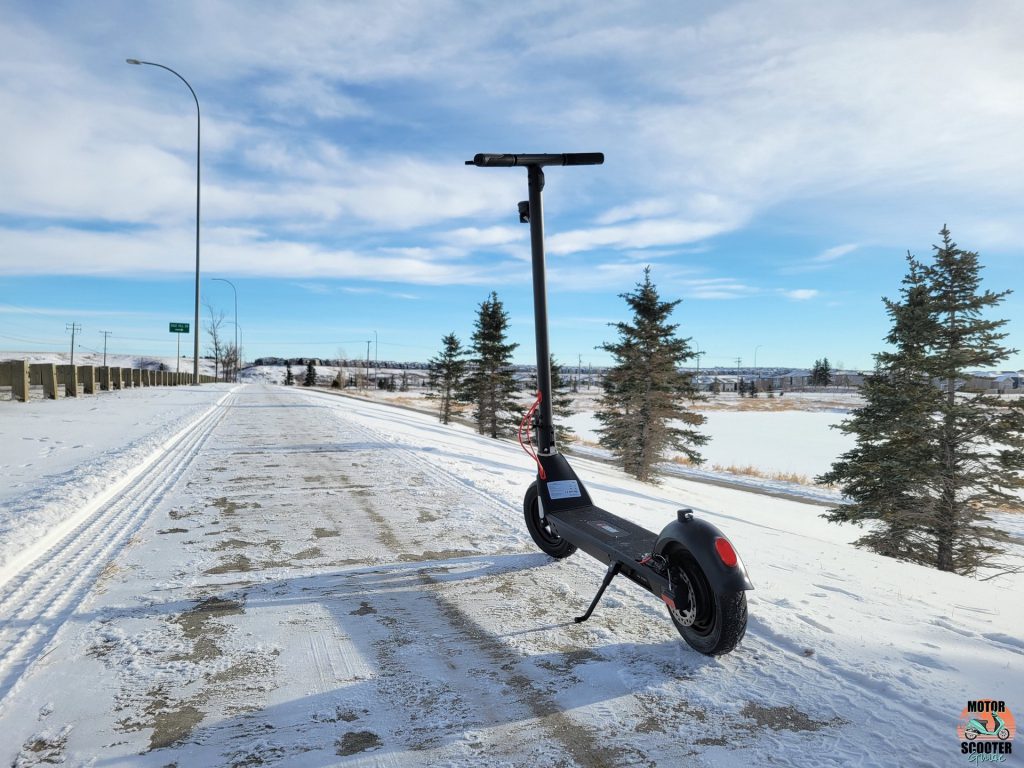 The M10 scooter handled sidewalks comfortably and the ride was smooth with its 10" pneumatic tires. Despite being vulnerable to punctures, I greatly prefer air-filled tires over solid rubber tires such as the ones found on the Varla Pegasus.
Design & Style of the TurboAnt M10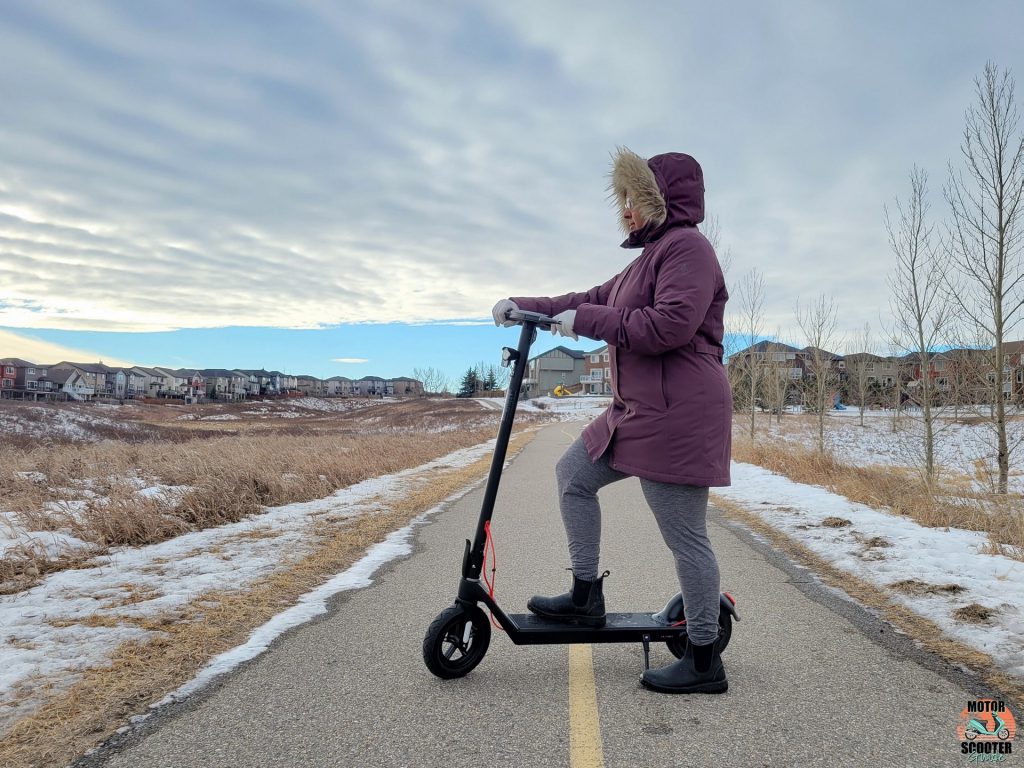 The M10 features a minimalistic design and is a rather simple looking scooter with its use of black plastic trim. Wires are hidden inside red silicone lines, which give it some colour accent. The overall style of the bike is what you would expect from an entry-level commuter scooter that emphasizes value for money. Nothing more, nothing else.
TurboAnt M10 Performance
Motor & Acceleration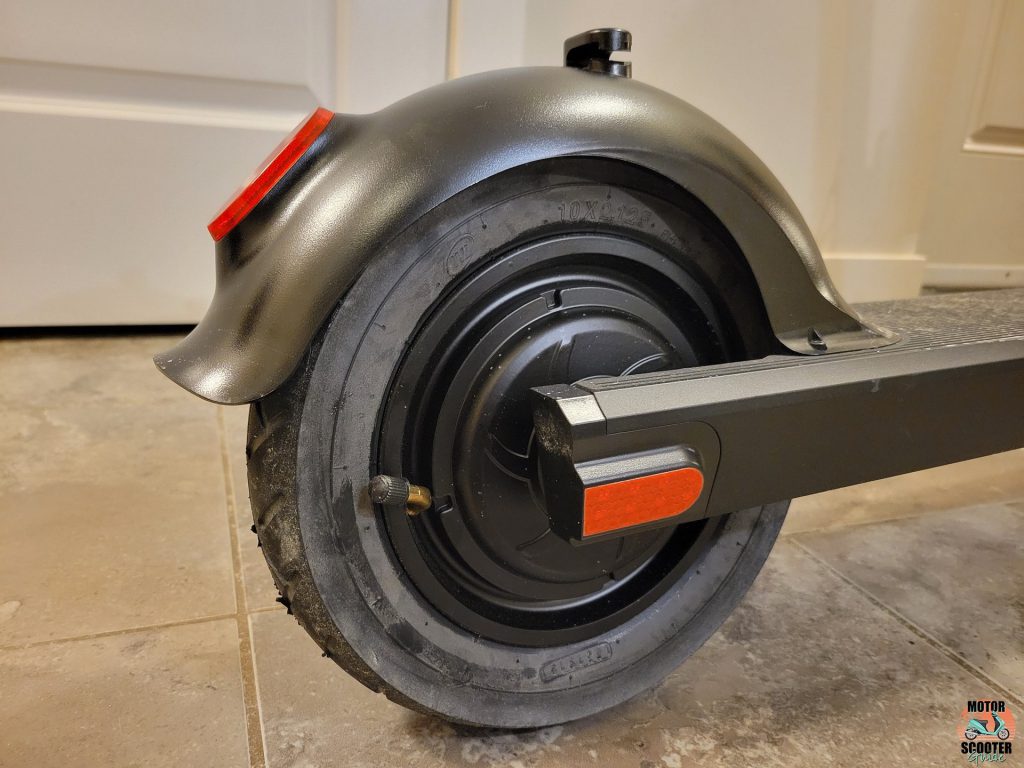 The M10 electric scooter is powered by a 350w rear hub motor and has a top speed of 20mph (32kmh). Obviously, these are subject to factors such as rider weight. As a 200lb (90kg) rider, I did not get anywhere close to the advertised max speed.
On a flat gradient, this little scooter can move pretty quickly. I was able to easily reach speeds of 15mph (24kmh), which is peppy for a commuter scooter. Many commercial scooters found in metropolitan downtown areas have their speed throttled in order to protect pedestrians and the riders themselves from going too fast.
The M10 scooter has the ability to initiate cruise control mode if you hold the finger throttle in position for more than 6 seconds while travelling a 3.7mph (6km) or faster.
However, I did run into issues when going up a slight 5 degree incline. The 350w motor simply could not put out enough sustained power to move my weight. Imagine your typical wheelchair slope; that's 5 degrees. I had to use my feet to give it a push in these instances.
Carrying full momentum into the same incline was only marginally better, and I still couldn't make it up a hill.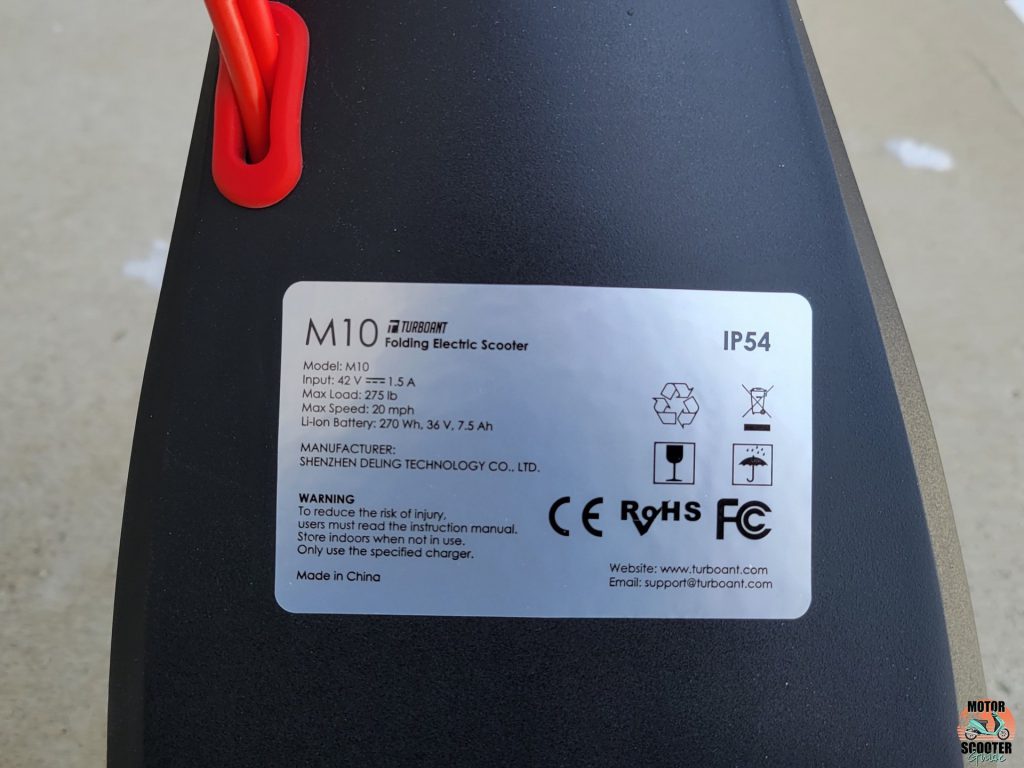 I recruited another rider to see if perhaps I was simply too heavy for this scooter. After all, its payload capacity is rated for 220lb (100kg). The other rider was 180lb (82kg) and fared slightly better.
She reached a similar speed of 15mph on a flat gradient, and again, we could tell that the motor was pushing hard to make climbs on smaller hills.
Riders should not expect explosive acceleration from this scooter. You cannot accelerate from a full stop as it requires you to push and pick up momentum before the motor kicks in. The M10 performed admirably on flat roads but I was slightly disappointed by its performance going up slight gradients.
If you're considering the M10 scooter, weight and environment may be the primary factors for riders to consider. The TurboAnt M10 seems to perform best on long stretches of flat road.
Speed Settings
Let's talk about speed settings for a bit. The M10 scooter comes with 3 speed modes as indicated by the red LED light in the top left corner.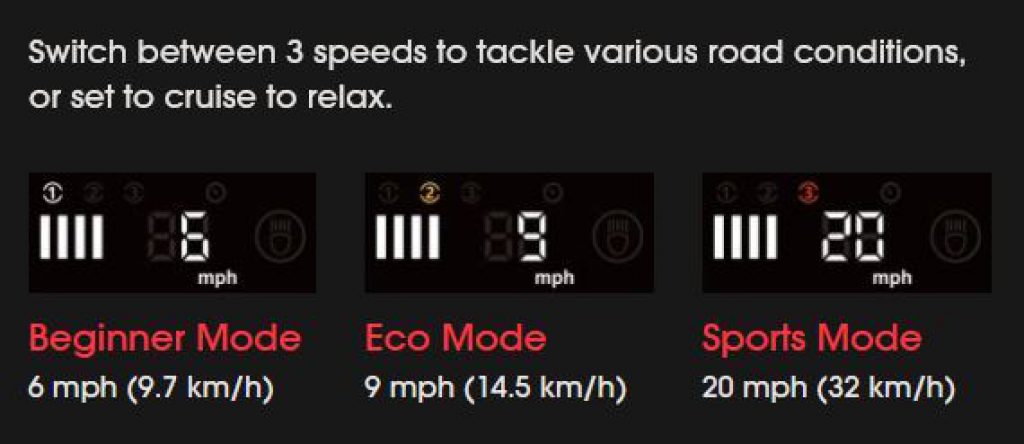 The scooter defaults to Level 3 when you power it on, and you can adjust the speed mode by quickly pressing the Power button twice.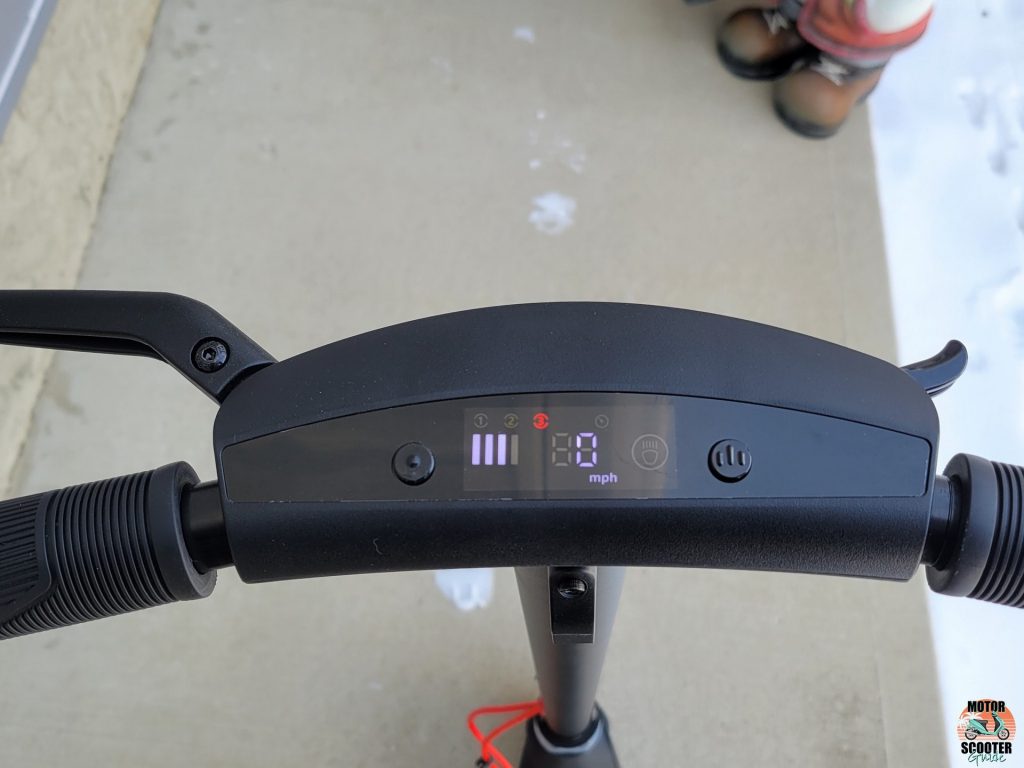 A lighter rider may find utility in the various speed settings, but being 200lb, I needed to be able to squeeze every drop of power I could get from the 350w motor—so the Level 3 default was appropriate and there was no need to change it.
Battery & Range
The M10 features a non-removable 36v 7.5aH lithium-ion battery that is contained inside the deck. The charging port is located on the left side of the scooter right behind the kickstand. You'll want to ensure that you reseat the rubber cap properly once it is done charging to protect it from water or dirt that might get into the port.
Total charging time from empty is roughly 5 hours. When I received the scooter, it had 1 bar remaining and took roughly 3.5 hours to charge to full. The math checks out.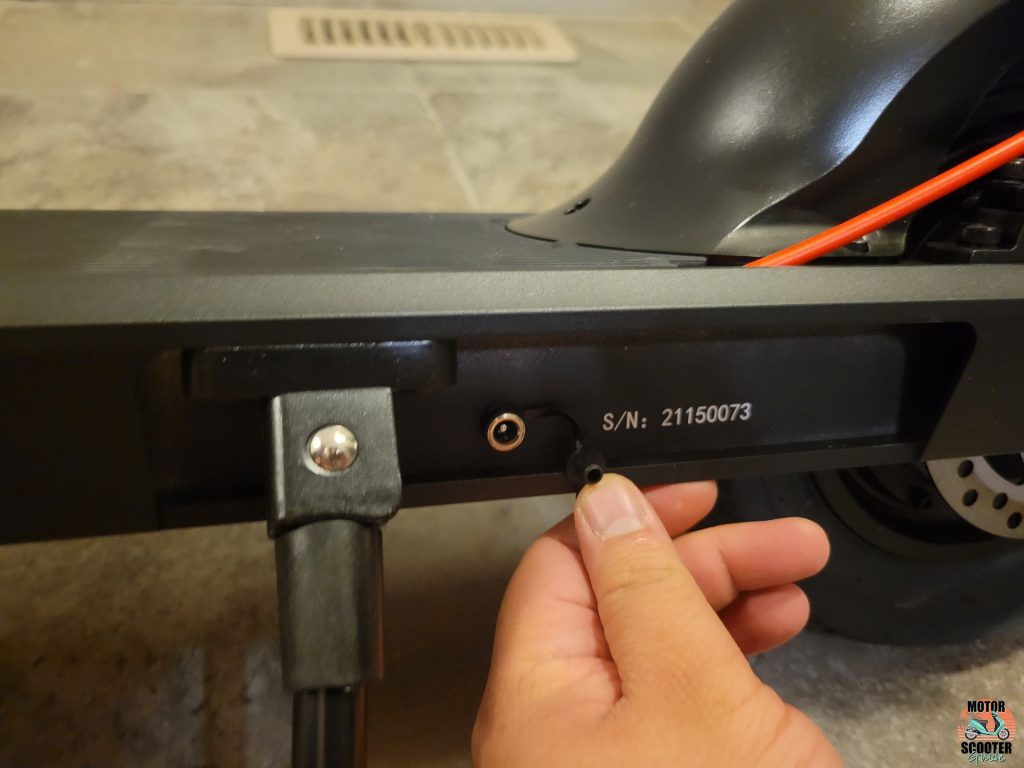 The advertised range on the M10 scooter is up to 18 mi (29km). To test these claims, I took the scooter to a nearby urban park in Calgary where families congregate during Summer weekends for barbecues and other festivities.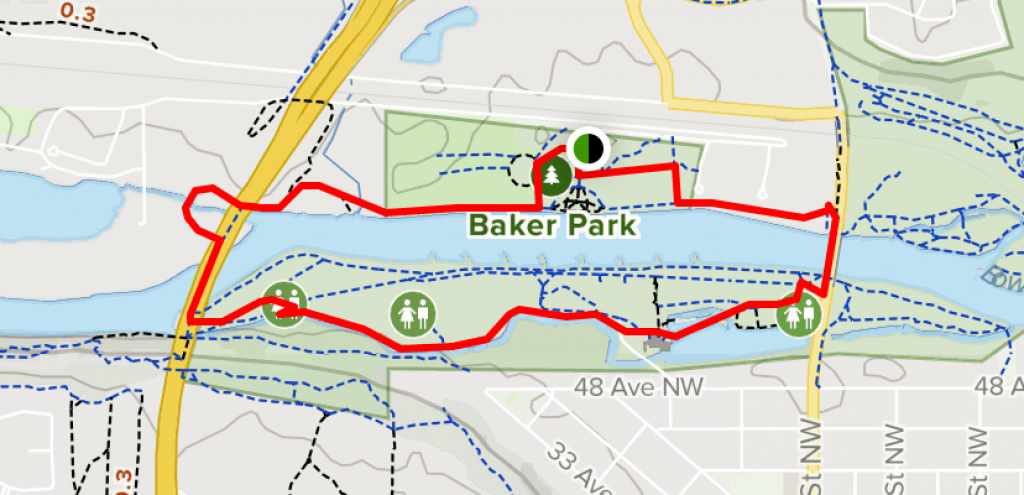 Baker Park (named) and Bowness Park (unnamed) are separated by the River and connected via bridges on either end. The total path stretches for roughly 2mi (3.2km) and is a favorite for dog walkers and cyclists alike.
I ventured out on a full charge and rode the full route. It took me roughly 40 minutes to travel the distance with some photo breaks and other ice-covered areas that required me to walk.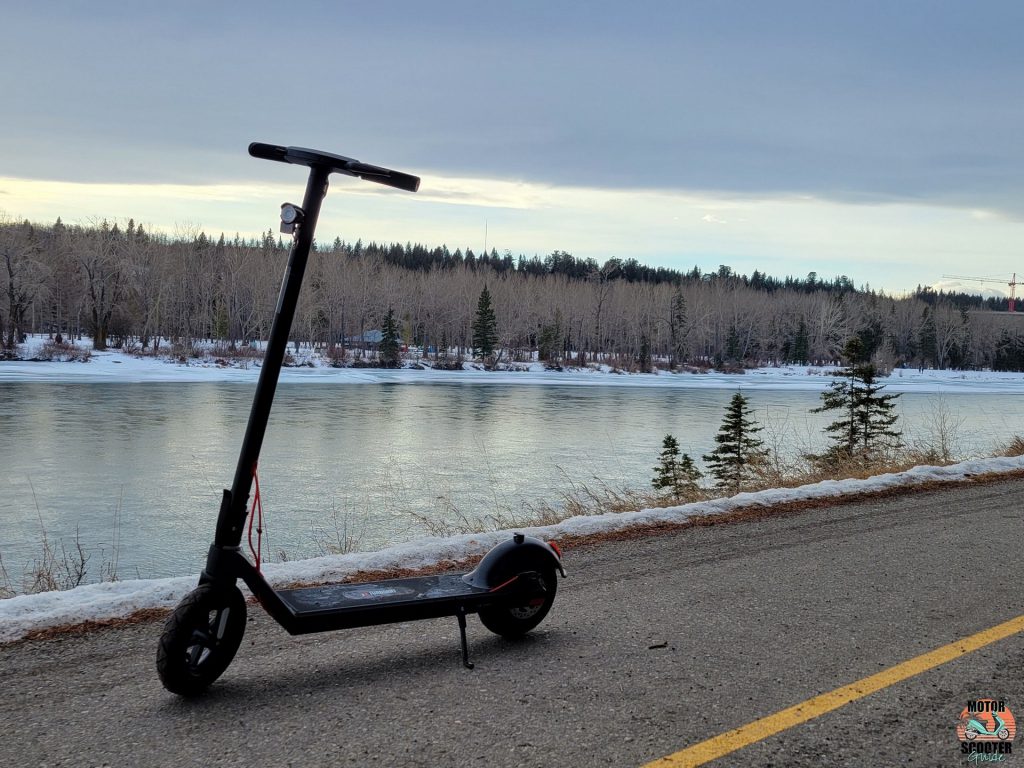 It's comfortable on sidewalks and even performed decently on snow (as seen below).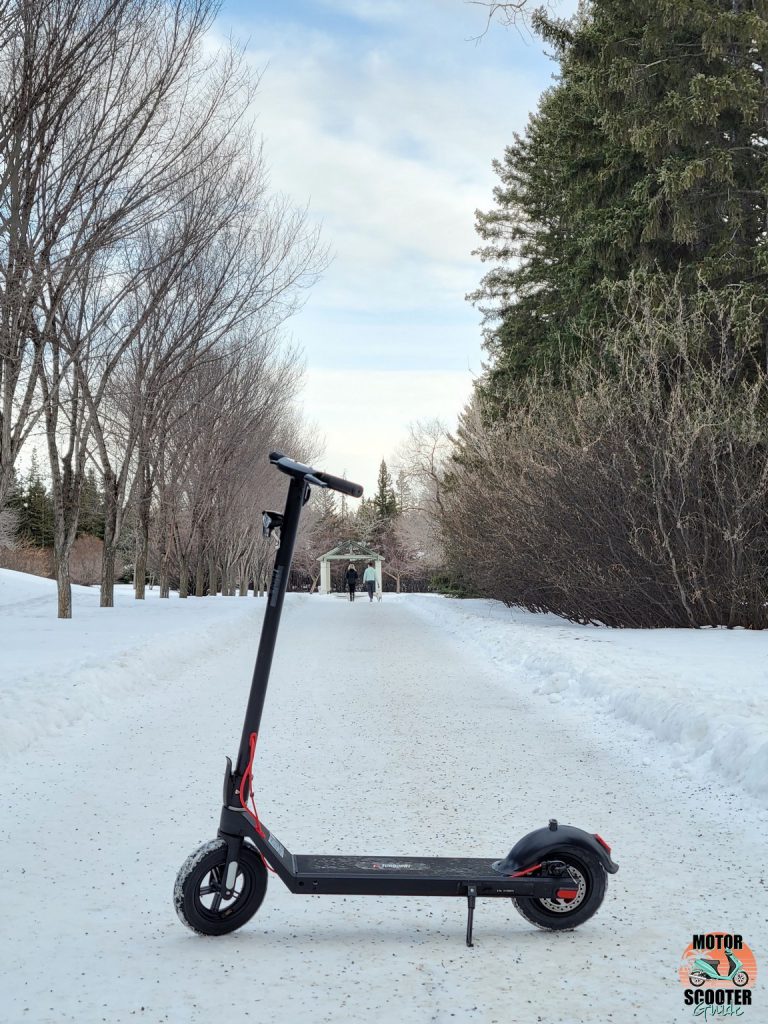 After traversing the 3.2km, I only went down a full bar (to 75% battery remaining), so I would have likely been able to squeeze 7-9 miles (12-15 km) out of a full charge. Of course, this is dependent on factors such as load, temperature, tire pressure, and road conditions.
For the amount of mixed riding that I encountered (some small hills, snow, heavier rider), the M10 scooter did a reasonable job of moving me around.
Tires, Brakes, & Suspension
I love pneumatic tires. They're comfy and don't require a ton of maintenance. Just check your air pressure from time to time, make sure you don't ride over anything you wouldn't want to walk on with bare feet, and it's a pretty safe bet that you won't run into any issues.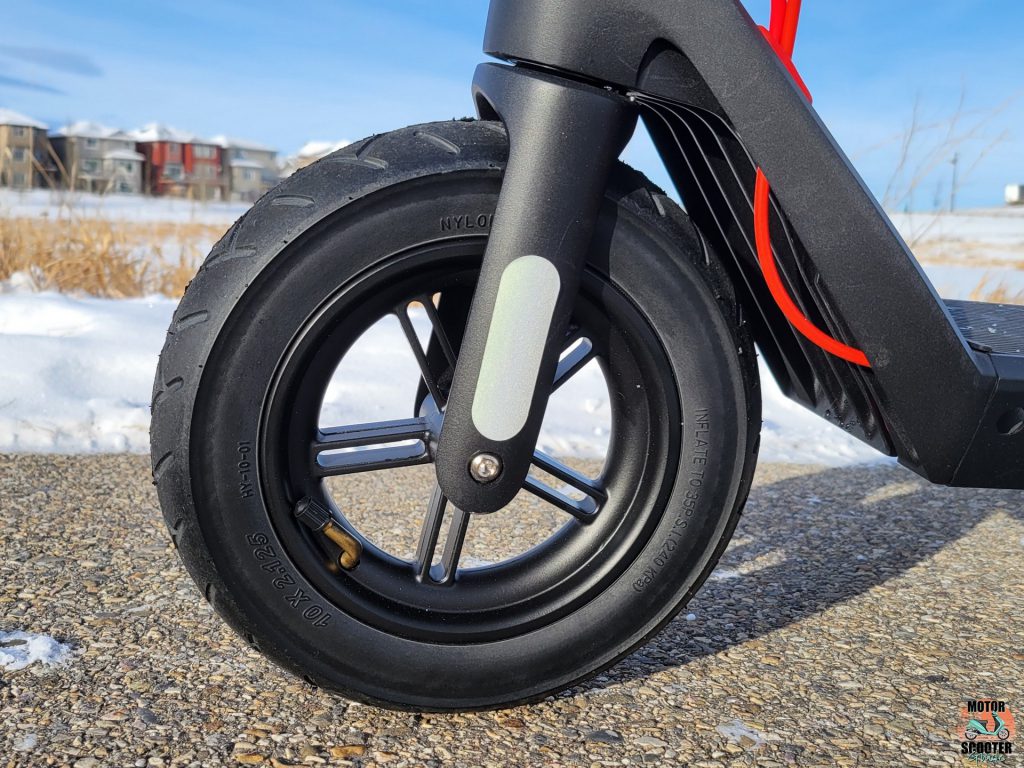 The M10 scooter comes with 10" x 2.125" air-filled tires, which makes for a more comfortable ride quality than solid rubber tires.
Tire pressure should be between 34-36psi, and this is important because you'll suffer power and range loss without properly inflated tires, even more so due to an already smaller 350w motor.
There is no suspension on the M10 scooter, so you'll feel some of the bumpiness in the road which is somewhat mitigated by the pneumatic tires. It's like using a stick to hold off a wild animal attack. It's not ideal, but you'll take what you can get.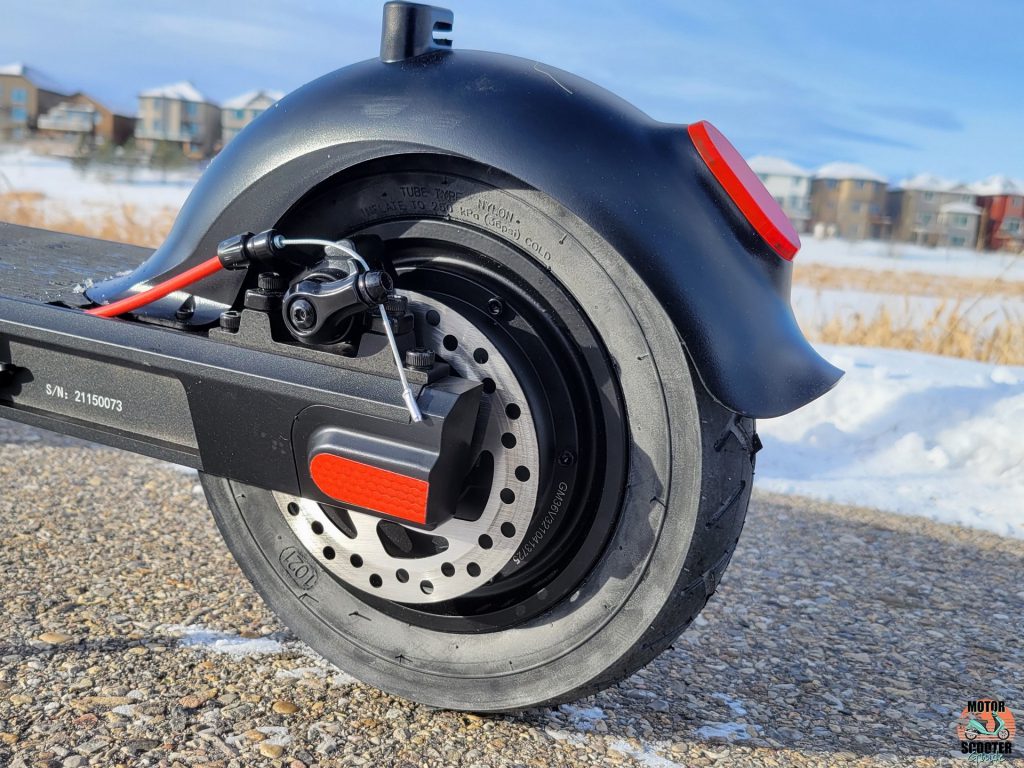 The braking system consists of a single rear disc brake operated by the left handlebar brake lever. Travelling at 15mph on a flat road, I came to a full stop within 3 meters (3.2 yards), but you'll want to use additional caution if you're coming down a steep hill.
Since the disc brakes are on the rear and the calipers are quite small, I found that while completely holding down the brakes, I was still able to push the scooter—which indicates that the rider should account for ample room when coming to a complete stop.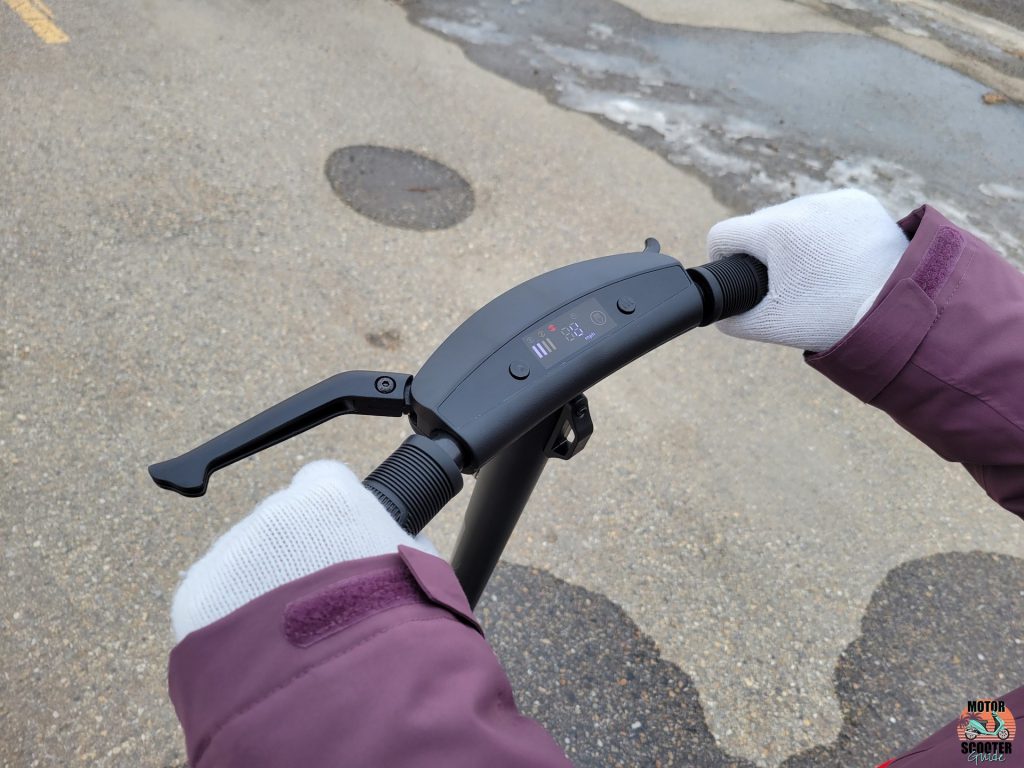 Build Quality
Display Screen
As a budget-friendly commuter scooter, the M10 does not have any bells and whistles when it comes to the display. Like a football coach tells his team, let's stick with the basics here.
To illustrate this point, check out the cockpit and display. You've got your speed setting, battery life, speedometer, cruise control indicator, and headlight indicator. Simple.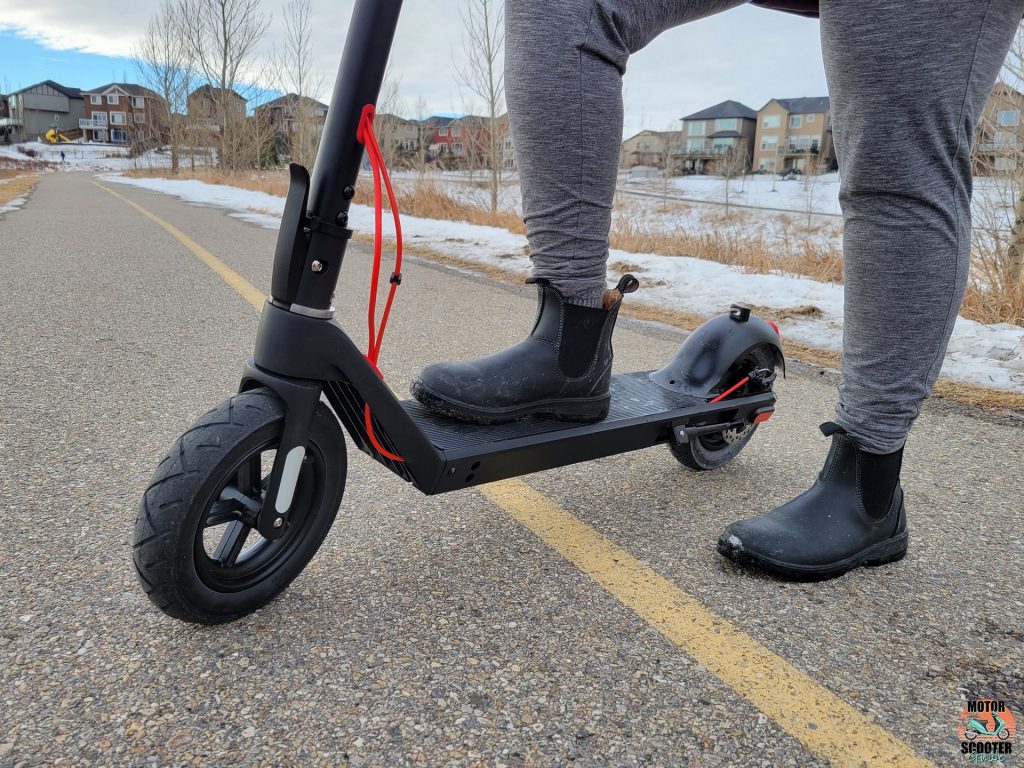 I would have liked to see the addition of an odometer instead of a light indicator. If it's bright outside, I don't need to use the headlights—and if it's dark, it's pretty obvious if my headlights are on, so the indicator does not add any meaningful functionality.
Deck
The deck measures 19.5" x 6" and is covered by a grooved rubber surface that provides grip for the rider. It's a simple, yet effective design, and there's just enough room to place both feet comfortably.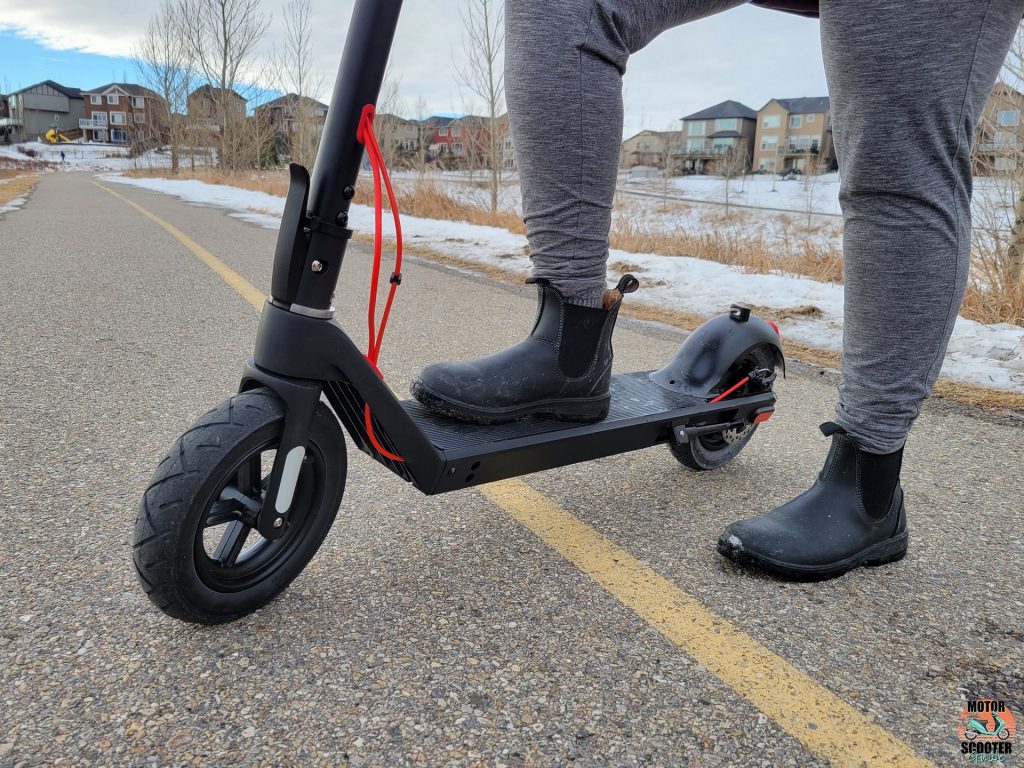 The deck does get a bit slippery with snow or water on it, but the rubber material allows for ease of cleaning. Just take a wet rag and wipe it off.
Foldability
Where the M10 scooter lacks in power, it makes up for in portability. This featherweight commuter clocks in at 29.8lb (13.5kg) which is pretty great, considering my dogs both weigh 20lb and I can't ride them whatsoever.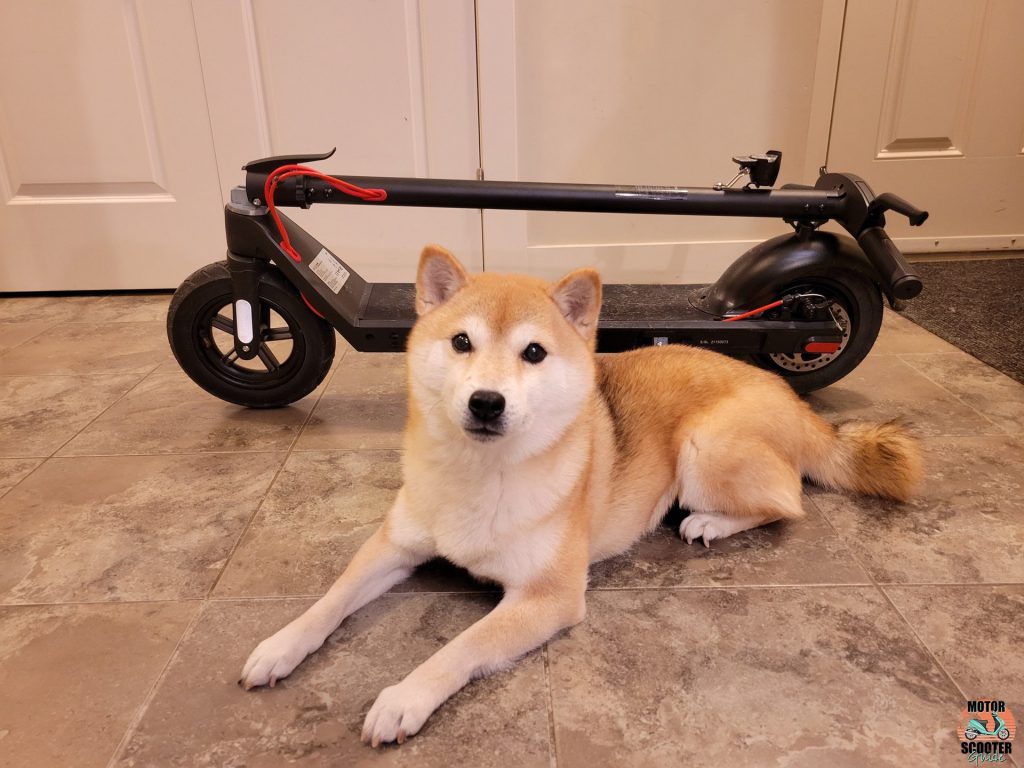 commuter clocks in at 29.8lb (13.5kg) which is pretty great, considering my dogs both weigh 20lb and I can't ride them whatsoever.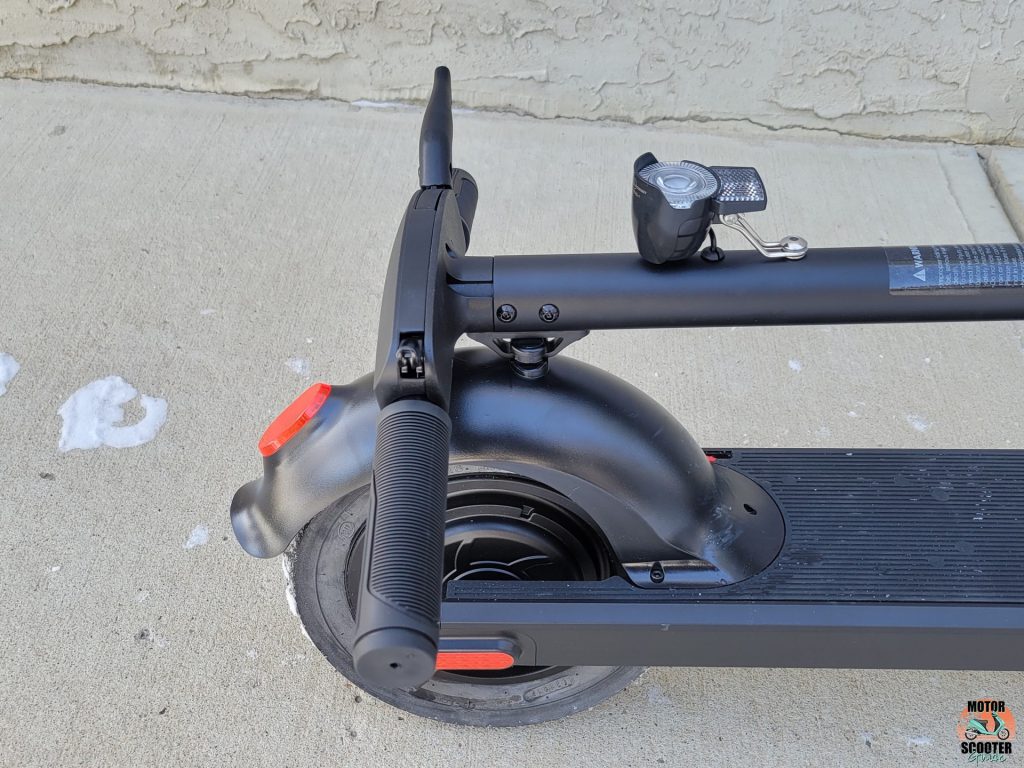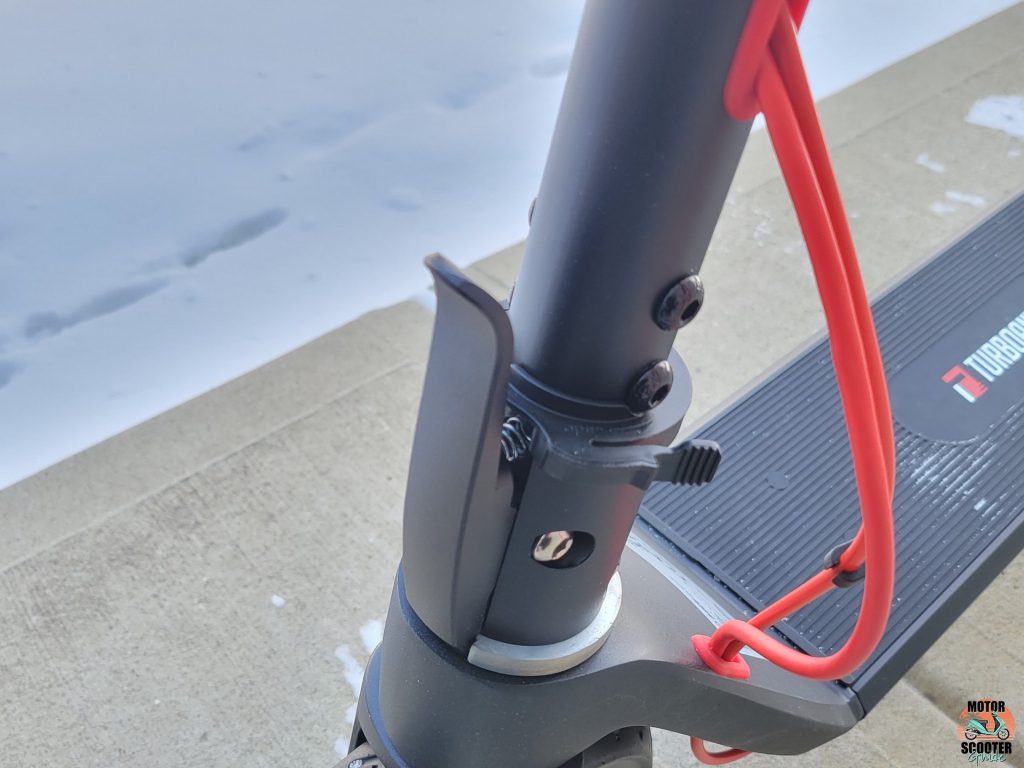 Carrying the scooter by the stem feels secure and its footprint is small enough that I can fit it into the trunk of my sports coupe. Even though the trunk is shallow, the removable handlebars on the M10 gave me that extra room I needed.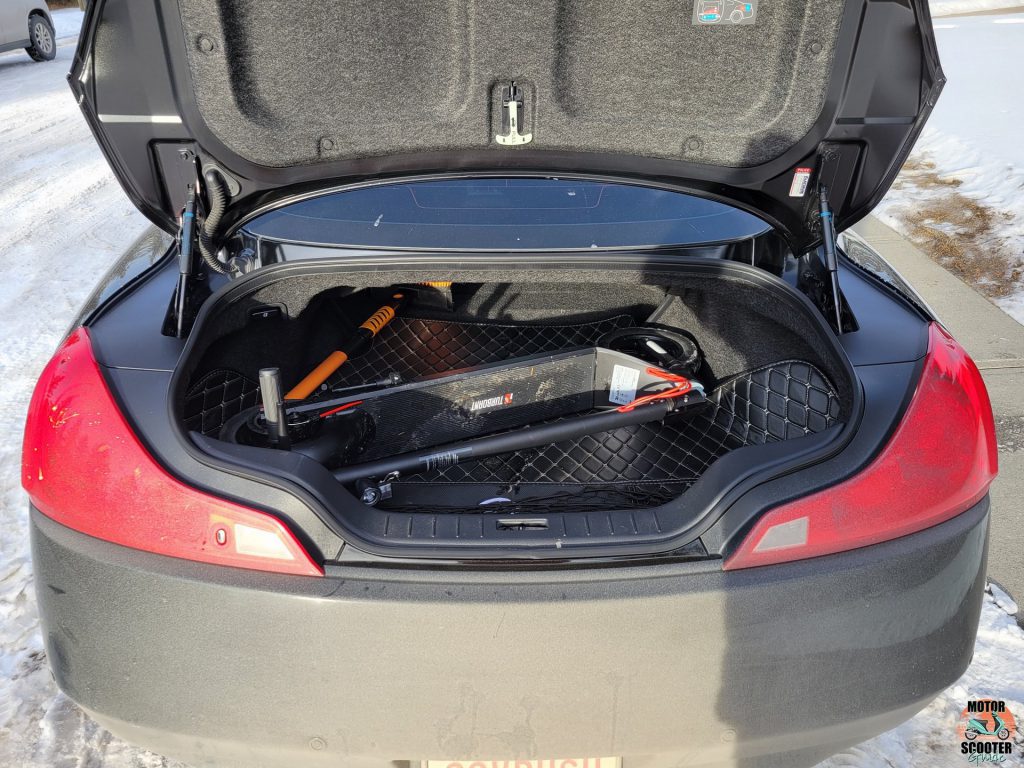 LED Headlight & Taillights
The headlights are the least interesting part of the scooter and similar to the indicator on the display screen, they lack meaningful functionality in terms of light output. The headlight is held in place by a single hex bolt and illuminated by a single LED bulb along with a reflector right underneath.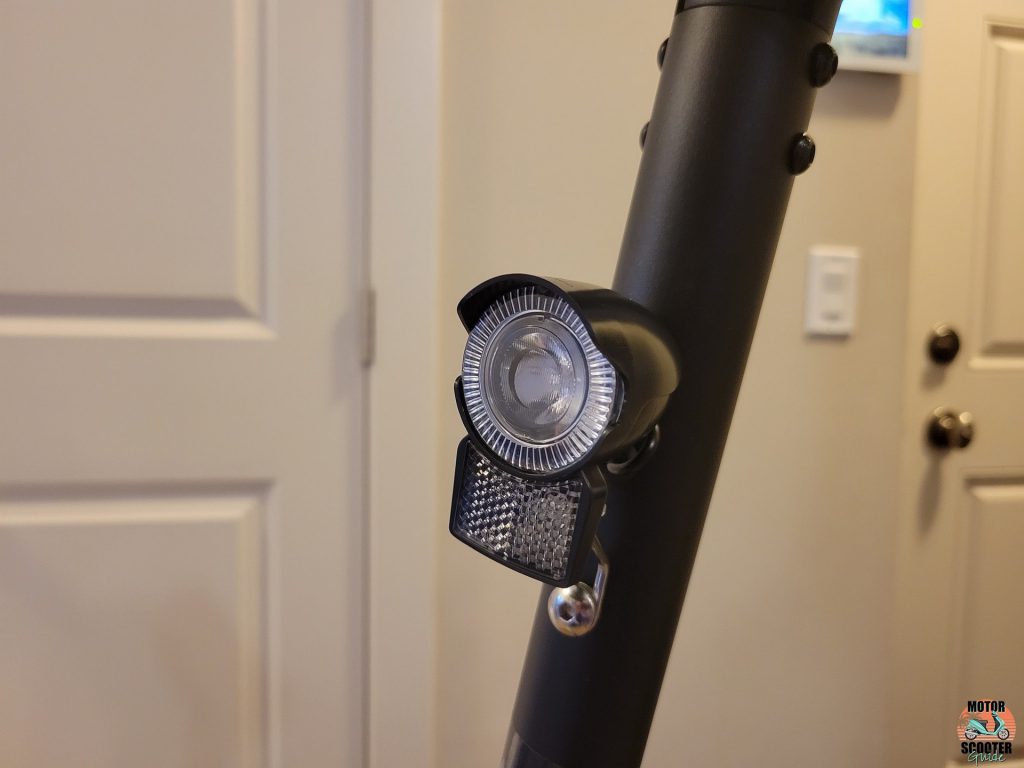 The headlights can be activated by holding down the light button to the right of the display screen.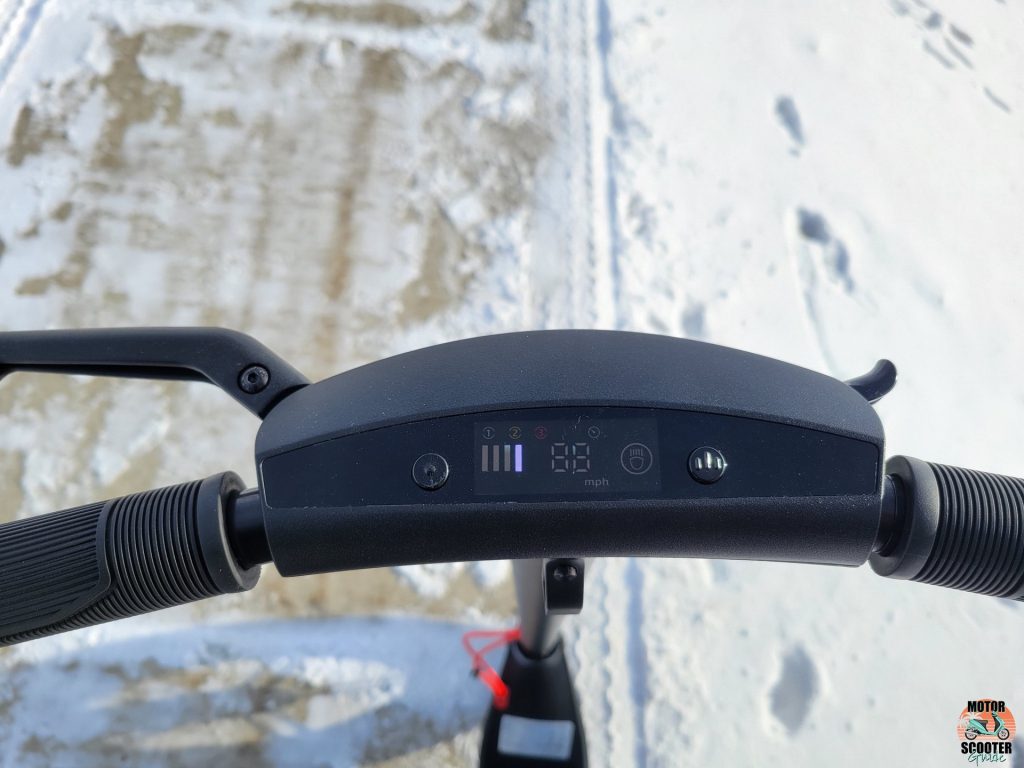 The brake lights flash red when you activate the brakes which is beneficial for road visibility. All in all, there's nothing to write home about here and both lights are very basic.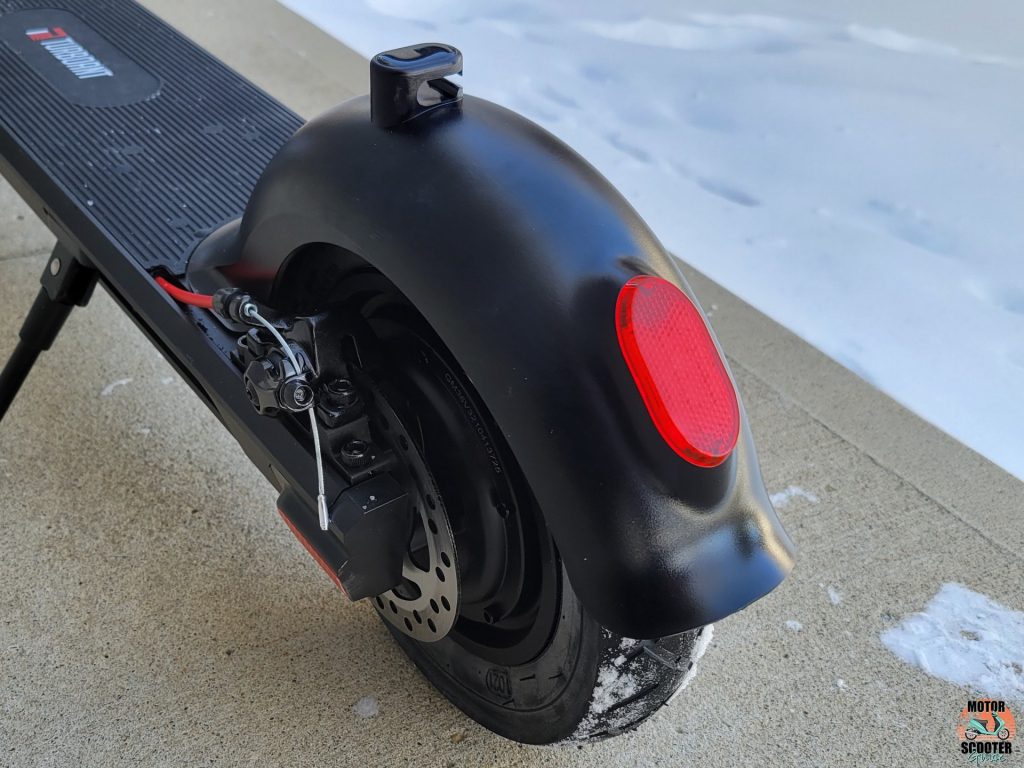 Value for Money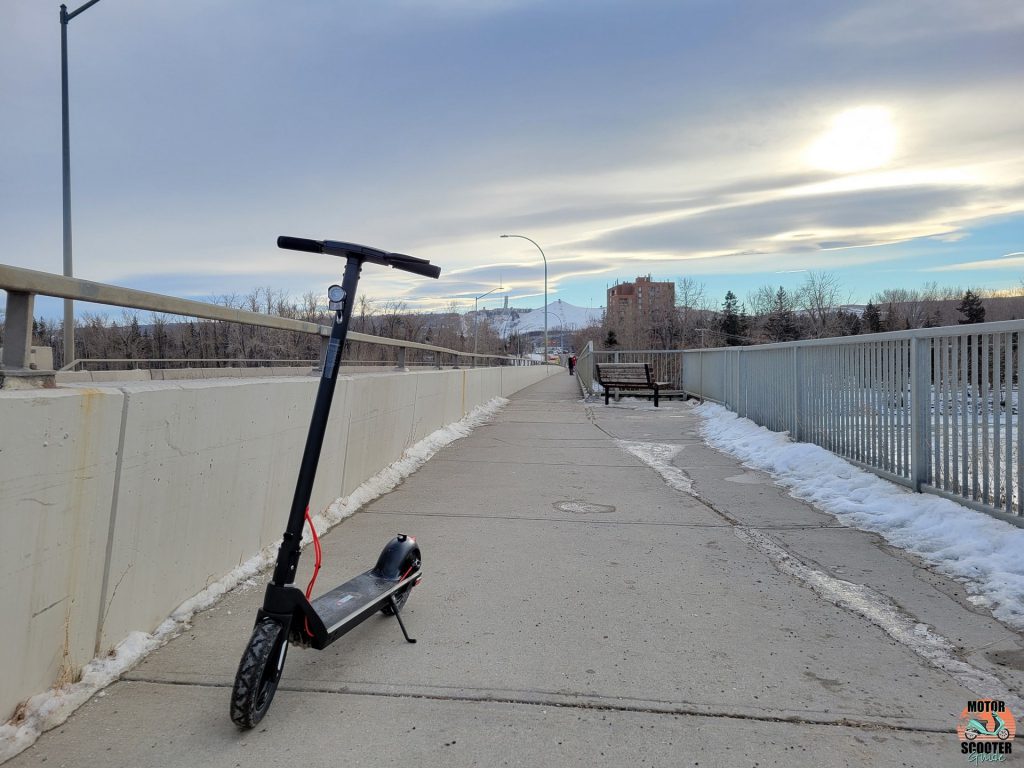 For a scooter in the sub-$500 range, the TurboAnt M10 holds its own as a contender compared to competitors in the segment, such as the Apollo Air, GoTrax GXL, and HiBoy S2/HiBoy Max.
At the time of writing, it can be purchased for $449.98 USD. TurboAnt frequently offers coupon discounts and also has an M10 bundle package if you're looking for a partner to scoot around with.
While the materials itself are basic, it's not something I can fault when you're trying to bring a budget-friendly product to the market. The use of simple materials can be seen on many competing brands, so it really comes down to the price point and overall performance.
Despite lacking in the power department with its 350w motor, the M10 is perfect for a lighter rider in city areas and can double as a weekend warrior if you're not aiming to crush large hills, offering just enough speed to keep things interesting.
TurboAnt M10 Electric Scooter Photo Gallery