Triumph Sprint GT Review
We at 2WF believe a few things are true: the Earth is flat; the Sun orbits around the Earth, the Moon landing was shot at a film stage in California; Elvis is still alive; and our readers deserve full and complete motorcycle tests.
While we may be wrong about most of those, we know for a fact that we're dead right about the last.
This is why — even though we received our 2011 Triumph Sprint GT a week before any other journalist in the USA had one in their garage — we weren't the first ones to publish a review.
We decided to ride ours the full three weeks of the loan period before giving you our opinion.
And it's good that we did because our first impressions weren't our last impressions.
More Power
Taking the 1050cc triple from the Sprint ST, Triumph worked to add more power to the mid-range rather than the top end; this was accomplished by installing a new ECU and exhaust system.
I was, however, a little underwhelmed by the motor for the first week or so of riding. The motor is surprisingly smooth below 4500 rpm but does get a bit buzzy between 4500-5500 rpm in every gear except 6th.
After a week of riding and being underwhelmed, I woke-up one morning and thought "I'm missing something here with this bike."
I promptly took it out and wrung it's little neck on a long back country ride. I played with every bit of the available RPM range, through every gear, in every possible combination and I finished that ride with an entirely new outlook on the motor and the bike in general.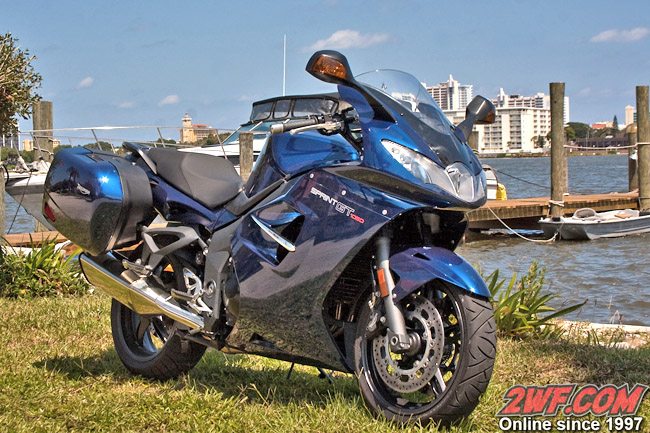 The bottom line is that the engine may be one of the best sport-biased motors on the planet. Not a lot of torque on the bottom end of the RPM range, but smooth power delivery without spikes or dips to catch you out or surprise you when you don't expect it. The Sprint GT is an easy bike to ride at a sporting pace mostly due to its motor and the way it puts down the power.
The fuel injection is, as usual, spot on at almost any RPM or speed. The only letdown in the system is with the throttle, which is lightly sprung, making it very easy to grab more throttle than you may have wanted to.
Our particular Sprint GT was prone to stalling out when cold if I didn't slip the clutch and give it a bit of throttle. This problem only occurred within the first couple minutes of starting the bike though and never after the first few stops and starts.

Worse Brakes – Better ABS
Spec-wise the 2011 Sprint GT seems to be on par for the class, with twin 320mm floating discs, 4-piston Nissin calipers, and standard ABS fitted up front.
A single 255 mm disc with a Nissin 2-piston caliper and standard ABS is stuck on the rear. Well, things are not as good as they seem sometimes — and this is one of those times.
The new ABS system fitted to the Sprint GT is much improved over the system on the Sprint ST that we tested last year — faster recycling rates and a higher threshold being the two huge improvements. I actually had the chance to try out the new system in a real world setting not once but twice during our time with the bike; thank you Mr. and Mrs. "I'm not paying attention".
That the ABS is now better is great, because the front brakes are — if not worse, then at least…..no, they're worse.
If one were to compare brakes to music with the best Brembo systems being a piece from Chopin — soul-stirring and emotionally gripping — then the brakes on the Sprint GT would be a song by — I don't know, Green Day. Emotionally dead and mind numbing. Numb being the key word in describing the brakes.
I actually found myself braking late many times, not because I wasn't physically squeezing the lever but because there was so little feedback that I over-estimated how much braking was actually being done — until I got close enough to the obstacle or corner to better judge my relative speed.
The front brake lever, even on its closest-to-the-bar setting, is still far enough away from the grip to allow only my fingertips to reach it — and I wear a L/XL glove so I don't have small hands. While this wouldn't be an issue normally, the lack of feedback and the wooden feel when the lever is squeezed do not inspire confidence.
The rear brake was typical for the type and worked moderately well and without fuss — like rear brakes are supposed to. The ABS kicks in a wee bit earlier on the rear but that is to be expected as, under heavy braking, the rear tire is losing traction faster than the front tire.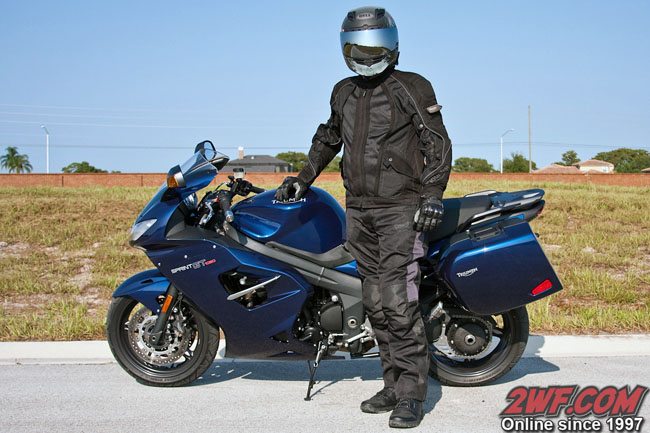 Better Transmission
Attached to the motor is a 6-speed transmission with a revised 6th gear for lower RPMs at cruising speeds. This was the first transmission on Triumph's 1050 cc motor that I've actually been somewhat impressed with. Up-shifting from 2-3-4-5-6 was smooth while downshifting through those same gears was slightly harsh, but livable.
Where the transmission disappointed me was up-shifting between 1st and 2nd gear. I missed this shift probably 30% of the time, no matter how I careful I was. Now I will say that the bike was basically brand new with only 600 miles on it when I picked it up so that problem may go away as the miles are put on.
Running from the transmission to the rear wheel one finds a….wait for it…..chain. Yes, a chain.
Triumph placed a chain on the Sprint GT because they feel shaft drives on motorcycles with "sports" in their descriptions are the work of Satan. At least that's what I'm guessing.
Personally, I like a shaft drive on a sport-touring bike and a chain on a sportbike so really, since the Sprint GT falls closer to the sport side of the scale than touring, I'm OK with the chain final drive.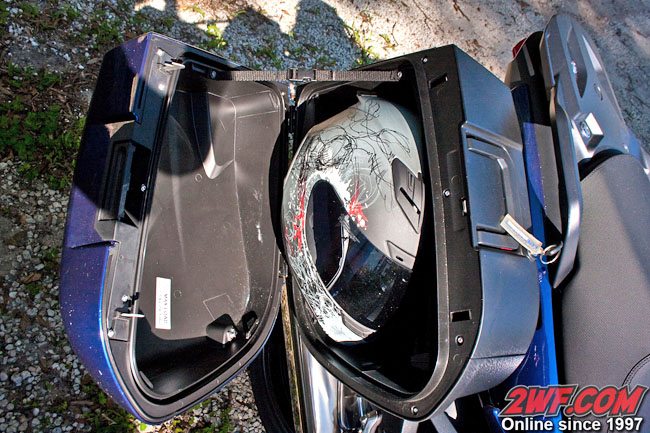 Suspension and Tires
Up front, the Sprint GT has 43 mm forks (adjustable for preload only) with updated internals offering improved control and damping. Out back the Showa monoshock is adjustable for damping and sports a remote preload adjuster.
When reading the specs on the suspension, nothing really stands out that would make a techy wet themselves, yet it really works well.
The 2011 Triumph Sprint GT may be, if not the best, at least in the top three best riding bikes I've ever been on. Big bumps, small bumps, soft or sharp bumps, none of them seem to fluster the suspension on the Sprint GT.
Even bumps in mid-corner, when the bike is leaned over, don't ruffle too many feathers. Feedback through the front-end could be better but not so much as to make you want to sacrifice any of the composure or plushness in the suspension; remember this is a sport-touring bike after all.
Since the wheelbase has grown by about 3 inches the Sprint GT does lag behind the Sprint ST in the tight technical stuff. Nothing much, mind you, and compared to the other sport-touring bikes the Sprint GT is a tight-turn monster, but those coming from a Sprint ST would notice the difference.
Big sweeping corners though…well that's a different story and one where the extra 3+ inches plays a pivotal role (see size does matter…sometimes).
With the Sprint GT, you get all the stability that makes sport-touring bikes so much fun on sweepers while being able to eat the rest of the sport-tourers' lunch on the tighter twisty stuff.
I will admit that I didn't push the Sprint GT to its limits though. Sad to say, when I turned the bike back in to Triumph there were "chicken strips" on the front tire (I felt so ashamed).
This had nothing to do with the bike and everything to do with the OEM Bridgestone BT-021 tires; I don't like them. I've never liked them. Enough said. Moving on. (Although I'd slap a pair of the new BT-023's on there in a heartbeat if it was my bike).
One last thing to mention while we're hanging around the bottom end of the bike is the rear wheel. While it looks identical to the one on the Sprint ST, the wheel on the GT weighs 2 pounds less.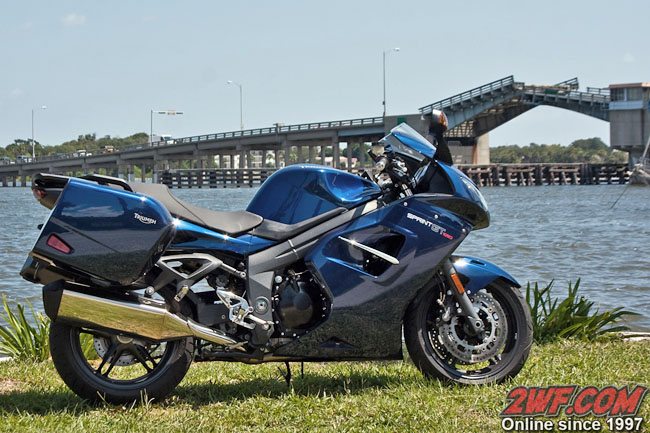 Ergonomics
Sport-touring bikes are about one thing; comfort. And speed. OK, sport-touring bikes are about two things; comfort and speed. And cornering ability. Right, so sport-touring bike are about three things — well you get the idea.
Speed the GT's got, although in a sneaky "Honestly officer, I didn't know I was going that fast" kind of way.
Cornering ability? Check (would be even better with a stickier, more confidence inspiring set of shoes). How about comfort? Yes. No. Yes. NO. YES!, etc…
Yes the Sprint GT is comfortable for a sport-biased sport-touring bike. The reach to the bars is well within reason and, since the bars are set lower than the "big" sport-touring bikes, most comfortable when you are riding off-interstate in the twisties. The few blasts I took on an interstate or a straight two-lane road left my wrists a little sore.
With a seat height of 32.1 inches I had no problem finding comfortable footing when stopped; however, the seat-to-peg relationship is odd, at least to me. I felt that the pegs should either have been placed slightly forward and lower, or slightly rearward and higher.
The passenger foot peg mount does limit the amount of rearward motion the rider's feet can move though — unless your feet are size 8 or smaller. I was constantly hitting my heals against the mounts whenever I tried to slide the balls of my feet onto the peg. This was especially distracting and noticeable when I was in "attack mode" (OK semi-attack mode due to those tires) and wanted to move my feet around on the pegs.
I look at a sport-touring bike as a "be all, end all" type of bike; you can use one to sport ride, tour, and commute. This last type is the weakest point with the Sprint GT as it is biased more towards the sport end of the spectrum.
Riding the bike around town, in stop and go traffic, soon became something I avoided doing at all cost. I don't really fault the Sprint GT for this though, as I'm sure my "be all, end all" way of looking at a sport-touring bike isn't the way most buyers feel; I'm just weird — and I'm OK with that.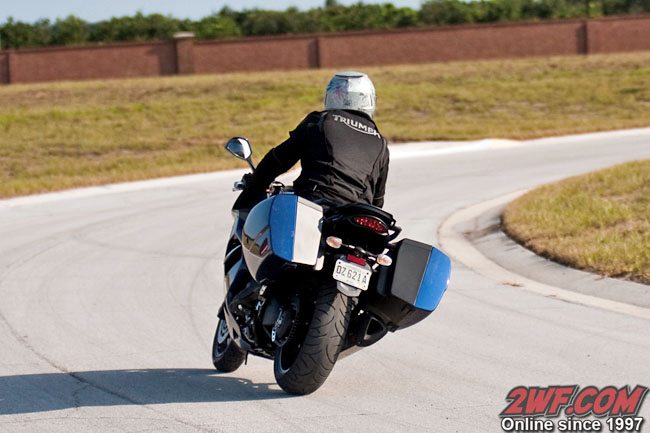 The Rest of the Story
Controls are laid out in typical motorcycle fashion with no major surprises or gaffs in the positioning. The one thing I would have liked to see was a handlebar mounted switch for the trip computer. Leaning forward while riding to push a tiny button on the dash to cycle between average fuel mileage and the rest is a little difficult.
Yes I know you don't need to know what your average speed is or how much fuel the bike is sucking down at that exact moment, but it's there and you should be able to access it on the fly if you want.
The dash is the "3-holer" type carried over from the Sprint ST. I like this dash a lot with everything being exactly where you'd expect to find it. The only thing that drives me nuts is the size of the numbers on the speedometer; they're a wee bit on the small side, with the emphasis on "wee".
Want to put your helmet somewhere safe when you get off your new Sprint GT to eat lunch? Well now you can with the new extra large saddlebags from Triumph!
Yes, that's right, riders of the new Sprint GT will be able to laugh at their Sprint ST and Tiger SE riding friends as they slide their helmets into their saddlebags. Hanging you helmet from the mirror has become a thing of the past — unless your saddlebags are full that is.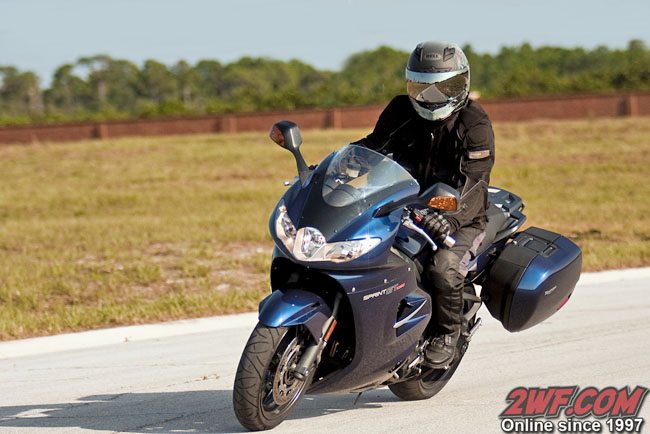 Summary
The idea behind the Sprint GT was to create a bike that sacrificed very little sporting character in the pursuit of long-distance comfort; in short the perfect "sport-touring" compromise. This, however, is a very hard target to hit, mainly because there is a different aiming point for every customer.
The first time I rode the Sprint GT my impression was something akin to taking a lukewarm shower; it will do the job but there are more enjoyable ways to accomplish it.
After a week or so of feeling that somehow either Triumph or myself were missing something I wipe my mind clean of any preconceptions and set-out to see what the Sprint GT had to offer.
It was at this point that I started to actually enjoy the bike. I started to understand it, and what someone would use it for, and suddenly that lukewarm shower started getting a little hotter. By the end of our 3 weeks with the Sprint GT, my feelings for it had done almost a complete 180. Any not-so-good parts of the Sprint GT are more than balanced out by the parts that are very, very good.
Depending on your idea of a perfect sport-touring bike, or what aspects of motorcycling you find most appealing, Triumph either put one right in the bulls-eye or slightly off center. I doubt anyone looking for a true sport-touring bike will think that Triumph missed the target completely with the Sprint GT.
Conclusion
Pros:
The motor…oh, how we like the motor.
The ride and overall handling.
The looks.
Cons:
The front brakes: wooden with a chance of very little feedback.
The rider-to-passenger foot peg bracket clearance; size 8 feet and smaller work best.
Publication Date: December 2010
More:  wBW Motorcycle Reviews Directory  |  Triumph Page  |  2010 EICMA Triumph Report
Note:
 For informational use only. All material and photographs are Copyright © webWorld International, LLC since 2000. All rights reserved. See the webBikeWorld® 
Site Info page
. Product specifications, features and details may change or differ from our descriptions. Always check before purchasing. Read the
Terms and Conditions
!
Owner Comments and Feedback
---
From "C" (November 2014): "While a newer bike would be great, I didn't see enough advantages to make a change, I did some small details on mine that went well. I bought my 2000 Sprint 955i used with 39 K and put about 12 k more over this past year.
Just a few additions of mine, and the original owner, made it fit my riding style closer. I think those could be done to most any bike for a more comfortable riding position, more safety.
The factory saddle bags on mine also hold an extra large full helmet, without that "flat rear end" look of the newer ones, and look like they tuck in tighter to the frame for a more complete built in look. I also have the factory top bag, but that is too big for every day use, carries two full size helmets, or a week end of clothes for my longer trips only. All are easy to unlock, remove and re install.
Both the head lights now stay on for low or high beam, with brighter bulbs, another good change up. A set of slightly higher bars make it easier to corner smoothly, and fit my 6′ 2″ and 240 lbs. size.  The foot pegs can be lowered over an inch, the levers angled to fit taller riders. The road manners improve, if that's possible, with the optional higher windshield for more protection at any speed. I have a small "gotcha" sticker at 140 mph, with plenty  left over. Just to to check for (none at all)  bike wobble at speed.
It has a newer computer, taller Corbin seat, the tires are Michelins, it gets round 250 miles per fill up, 50+ mpg on casual rides, that is with the early style fiberglass tank, and marine grade Sta-Bil fuel additive.
I was glad to run across and read your review of the later model. Shifting is flawless now that it's broken in, and fresh oil. But just a few changes made long rides a cinch, and shorter rides with twisties more fun. Just proves that any bike you like can be changed in several important ways, to fit your size or riding style better. Thanks, Great Reviews, and Products."