The Albrex Triumph Rocket III Turbo: "Rocket Roll!"
November 2007) – 750, 800, 850 pounds plus rider — who cares?  When three cylinders and 2,300 cc's get hit by a turbocharger driving a single wheel, Weight Watchers is the last thing on your mind.
Much more important is both hands on the bars, a grip of iron, upper arms more like the Governator than Gumby, cojones of steel and rock-hard butt skin.  Because when the right wrist cracks the whip and the reinforced clutch sends all that power to the gearbox, the forward thrust will squeeze you into the single seat like you've just been pancaked by a fusion-drive freight train.
The Triumph Rocket — er, Rocket III — starts life as a production bike with the biggest capacity in motorcycledom (with apologies to the Boss Hoss).  And there are very few who would say that the stock 140 hp at 5,750 rpm and 147 lb. ft. (200 Nm) of torque at 2,500 revs makes it wimpy ride.
There are rumors that Triumph's engineers actually toned down the elemental force of the Rocket's three cylinders by backing off the ignition and injection mappings.  But I'll bet that most of the owners are more than happy with the output of the powerplant, especially compared to the lame stock HP of the Rocket's Made in the U.S.A. competitors.
But for those Rocketeers who believe in the old adage "More is Never Enough", we have Conrad Gruber.  The forty-something Austrian has developed a following by specializing in helping bikers to whom bigger, better and faster is a matter of principle.
They come to him from all over the world, leaving their Ferraris or Lamborghinis at his workshop at 1,200 meters above sea level in the picturesque Wildschönau, one of the most beautiful spots in the Kitzbühel Alps.  They return after two, three or six months, depending on the schedule of the custom tuner, and they leave delighted that their favorite toy now has at least 50 per cent more power.
Two turbochargers for a Ferrari F50 to ensure that the V12 engine delivers brutal 850 instead of the standard 520 horsepower?  No problem!
A hefty power injection for the Diablo? Can do!
With lots of love for details, Gruber's Albrex shop fulfills the dreams of eternal boyhood, fueled by testosterone and money.
Of course, most of his customers also have one or more motorcycles in their garage.  And since Yamaha made the macho-bike devotees wait for a new V-Max for at least 15 years and the Suzuki B-King wasn't in sight, many muscle bike owners purchased a Rocket III instead.
So a guy who gets his Ferrari pumped up to the max naturally also can't live with the fact that his Triumph could let its 240 rear tire go up in smoke much more quickly if it only would have "real" power.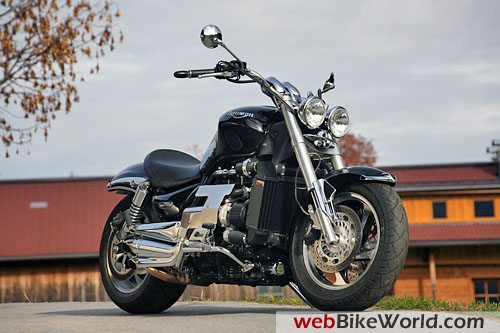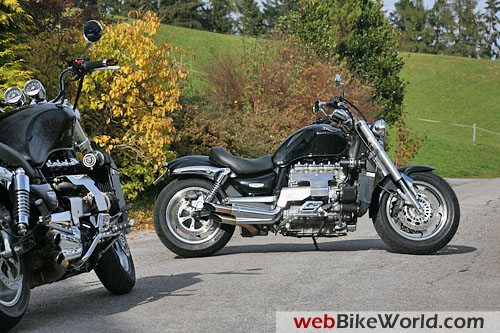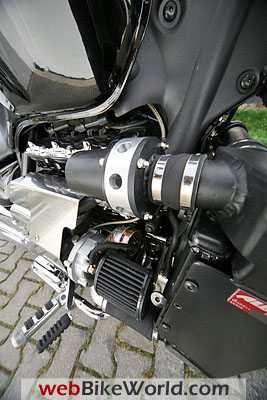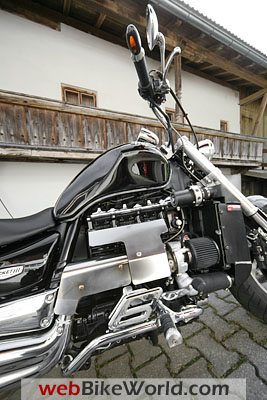 After his first ride on a stock Rocket III to a favorite street café and back home, one of Gruber's clients sent his bike over to beautiful Austria.  "Conrad, put a turbo on it to make sure this bike's got real power" was written on the instruction leaflet which was, of course, backed up with a nice budget and six months of time for the conversion.
But…you can't simply go down to the local Auto Zone, buy a turbocharger and slap it on.  A turbo conversion that will survive a triple-digit trip on the Autobahn at 5:00 a.m. on a Sunday morning without problems requires lots of detailed engineering solutions, which have to be professionally designed and manufactured — many of them by hand.
So as his first step, the Tyrolean stripped the whole engine.  Trust is good, control is much better!  After he examined the engine's inner workings and pronounced them to be strong enough, he put the engine back together again but didn't forget to paint the block with some heat-resistant enamel in, of course Bad Black.  As a result, the Big Triple's mill looks way more attractive than with the stock silver color.
The next step was a new exhaust manifold to feed the turbo with high-speed exhaust gases.  Gruber has lots of experience doing that and he tried hard to make the three manifolds pipes equally long and as short as possible.
Then he asked KKK to manufacture a special turbocharger for the 2.3 liter engine which builds boost as fast as possible.  Its maximum is reached at 8.4 PSI (0.58 bar); over that, you'll hear a Moby Dick-like blow from the pop-off valve.
The stock Triumph engine has quite low compression-ratio at 8.7:1, which works nicely with turbocharging and doesn't require any changes to the inner workings, according to Gruber.  "The Rocket motor seems to be made for this kind of power increase since it is massively built and has got lots of reserves inside", he says.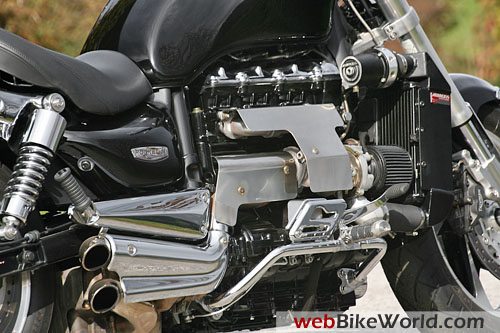 But the turbo, of course, isn't all that's needed.  The tuner draped two power-friendly intercoolers left and right from the radiator.  They look a bit bulky, but Gruber is already thinking about a visually more attractive design.  The British-engineered triple's cooling system seems to live healthy, as the Albrex conversion didn't require modifications on the cooling circuits for water and oil.
Finally, the tuner gave the bike an auxiliary ECU with a special mapping for the turbo engine.  It's responsible for trimming the injection and ignition systems with painstakingly calibrated mappings for matching ignition timing and higher injection quantities when the turbo is pumping.
Gruber's final modifications to the engine in addition to the exhaust system are polished stainless steel covers which preserve the right lower leg from fifth-degree burns caused by the turbocharger, which can get red-hot.
The three organ-pipe like tailpipes of the standard exhaust are sort of looked at as an unfortuante design accident by many Rocket owners.  Gruber realized that immediately and as a result his conversion ended up something like a sawed-off shotgun: looking evil and scattering noise wide and loud.
As the two turbo bikes that Gruber showed us on occasion of our visit demonstrated very well, the customer has the final say.  "Since I make the high performance exhaust by hand anyway, I can fulfill the customer's individual desires regarding tailpipe length, design and diameter" the sympathetic tuner promises.
The big share of individual handwork certainly explains the hefty conversion price of 11,000 Euros.  You can find turbo kits from the U.S.A. for less money on the Internet, but none of them has an intercooler or European approval.  And you also won't find a reinforced clutch, which is necessary with this much power and is included in the Albrex conversion.
Gruber's huge know-how on the development of turbo engines can be felt from the first few feet.  The engine doesn't show any cold running problems and demonstrates an enormously powerful but smooth power curve with the often typical turbocharger lag at low revs.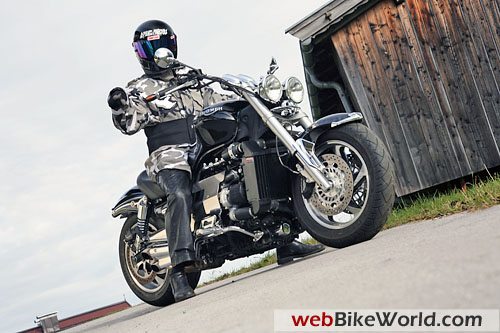 The combination of short headers and small charger is obviously worth the extra work.  Power is in plentiful supply and first and foremost, the bike requires a cool and experienced hand on the throttle grip.
When you consider that the Triumph development engineers only believed their customers capable of managing electronically restricted 147 lb. ft. (200 Nm) of maximum torque at 2,500 rpm, you can imagine what 266 lb. ft. (360 Nm) at an unbelievably low 2,900 revs can do with a motorcycle before you take a seat for the first time.
The bike isn't poorly equipped with its 240 rear tire as standard equipment, but on the turbo version even 330-millimeter rubber would have big trouble getting the power down on the road without thick smoke signals and long black stripes on the asphalt.
During our visit it was way too cold to do exact performance tests and besides, the autumnal roads of the Wildschönau had the grip level of soft ice cream due to busy agricultural traffic.  And don't forget the Austrian police, who like to punish speeders with hugely expensive fines…
It certainly isn't the fault of the ten extra kilograms caused by the turbo conversion that the bike is only about two or three tenths of a seconds faster from 0 – 100 km/h than the standard 3.4 seconds, in spite of 80 extra horsepower.  But woe betide you if the monster is already on the move.  Then the road turns into a drag strip and the rider is hanging on the handlebar as a spinnaker at wind Force 10 on an America's Cup yacht.
Before you have taken a deep breath or, as promised by Gruber, in about 10.5 seconds, the needle of the speedometer has left behind the 200 km/h mark behind and it's time to confidently make heavy demands on the standard Triumph two-rotor disk brake.  Nevertheless, in normal riding, if anything "normal" can be said about this turbo monster, it does work quite well.
Since nobody will ever try for record laps on a race circuit with the tuned Rocket III, the suspension also doesn't have too many problems with the power increase.  At least as long as the road is straight.
The Turbo-Brit is certainly one of the most fascinating ways to burn down the distance between two corners in a very entertaining way.  Accompanied with the whistling of the turbocharger the motorcycle inexorably seems to head towards horizon.  The force of acceleration heavily attacks the rider's body and you shouldn't underestimate that nearly half a ton including the rider has to be decelerated again in front of the next curve.
Actually it doesn't matter at all whether you have chosen the third, the fourth or fifth speed on a country road.  The engine always delivers more power than necessary and when the pointer of the rev meter jumps beyond 2,500 you should aim it very precisely down the road and hold on tight!
You can quickly get addicted to this method of riding.  Pull the throttle, boost is rising, the engine catapults the bike forward and the next gear is engaged accompanied by a wild chuffing of the pop-off valve on the right side intercooler and fun is going on and on without taking a breather.
Clutch, gearbox and shaft drive certainly are engaged in very heavy work and it is hard to return to cruiser mode, prescribed by law by the Austrian enforcement authorities.  But even then it is impossible to forget that 266 lb. ft. of torque are at work.  The possible speed range covered in fifth reaches from about 31 to 150 MPH (50 to 240 km/h).
The power surplus is both fascinating and dangerous.  Each tiny turn the throttle grip is answered by too much power, which requires a great sense of balance and the exercise of restraint.  It isn't prudent at all – at least if you are not Casey Stoner or Valentino Rossi – to accelerate hard and fast, as long as you are still in an inclined position.
But the brute may be worth thinking about for mature bikers who don't want to struggle with the roughly 200 kilograms more in a Boss Hoss, or who don't want to ride a rolling living room like a Gold Wing.
They will maybe also add a bit more cosmetics than Gruber's shorter fenders made from carbon fiber, which are a good start to exorcize the Triumph's Harley style.  Rocket Roll!
Triumph Rocket 3 Turbo – Technical Specifications
Description:  Albrex engine tuning with one KKK turbocharger in special Albrex configuration and integrated boost control and symmetrical Albrex intercooler system.  Albrex high-performance exhaust system with special manifold and three tailpipes.  Auxiliary Albrex ECU for ignition and injection including special mapping for turbo engine.

Engine:  Water-cooled three-cylinder four-valve in-line engine with Albrex turbocharging system.

Displacement:  2,294 cc

Bore:  101.6 mm

Stroke:  94.3 mm

Max. Power:  220 hp / 161.9 kW at 5,000 rpm

Max. Torque:  360 Nm at 2,900 rpm

Compression Ratio:  8.7:1

Max. Boost:  8.4 PSI (0.58 bar)

Transmission:  Five-speed gearbox with reinforced multi-disc clutch, shaft drive

Performance:  0 – 100 km/h in about 3.1 s; 0 – 200 km/h in about 10.5 s

Conversion Price:  11,000 Euros

Manufacturer:  Conrad Gruber, Albrex Hochleistungsmotorentechnologie, Thierbach 236, A-6311 Wildschönau, Austria, Tel: +43 / (0) 53 39 / 86 94, Telefax: +43 / (0) 53 39 / 86 87.
Date of Publication:  November, 2007
Note:  For informational use only.  All material and photographs are Copyright © webWorld International, LLC – 2000-2011.  All rights reserved.  See the webBikeWorld® Site Info page.  NOTE:  Product specifications, features and details may change or differ from our descriptions.  Always check before purchasing.  Read the Terms and Conditions!
Owne Comments and Feedback
Comments are ordered from most recent to oldest.
Not all comments will be published (
details
).  Comments may be edited for clarity prior to publication.
---
From "S.S." (12/10):  "Nice article about the Gruber turbo Rocket but there are some errors in it first is the claim of non availability of the reinforced clutch as MTC engineering in the USA has a billet clutch basket made for this beast.
Not to mention the other three types of modifications one can do to the beast. The supercharger conversion Developed by TTS Performance UK and the Stage 1 and stage 2 conversions that Carpenter racing has developed. Then you have well as I call it the TransWarp drive initiative which is what I am doing to mine on the next stage as I already have the Intercooled TTS Supercharged conversion.
I am now adding the high compression pistons along with cams that are almost .125″ higher lift then stock, 2mm larger titanium intake valves with custom CNC porting. This bike with the ICSC has buried the tachometer at 8300 rpm which is off so in reality it is only 7800 by doing the math one can easily figure out that is 207 MPH to bad we do not have the autobahn in the USA but hopefully next year at the land speed races you will see this thing join the 200+ mph naked bike club.
Just thought I would let you know that you were right about a ton of power hiding in the beast. Triumph sure did put a muzzle on it but we have taken it off !!!!!
The real facts are the Carpenter stage 1 conversion at 244 hp and 196 ft lbs of torque will hit 9000 rpms in a brief moment of time. Sure it has less torque but in reality HP and rpms is what wins races not the ability to pull a 4 bottom plow thru the fields.
I personally have seen it pull 176 mph in 4th gear. So when one tries to imagine the 280 HP stage 2  all naturally aspirated this turbo bike is a snail. Oh and the stage 1 conversion is 5900.00 USD drive in drive out without six months of waiting. I can't help but wonder if this is an old article."
Editor's Note:  The article was a Gruber press release issued in November of 2007.
Other WebBikeWorld Brands Posts