Triumph Motorcycle Clothing Image Gallery
We've come a long way from the days when a typical motorcycle shop was a dingy backwater garage crowded with grimy bikes.
Although motorcycle manufacturers have caught on to modern marketing techniques, they still don't always get it, in my opinion.  But that's another story for another time…
Motorcycles are a lifestyle, and one of the first companies that got it is Harley Davidson.  They were selling motorcycle clothing and accessories almost from the beginning, way back in the very early 1900's.
I'm not an expert on Harley history, but it's my understanding that sales of clothing and accessories helped carry the company through some lean times on more than one occasion during the last 100 or so years.
But it wasn't until recently that some of the other motorcycle manufacturers caught on.
Not only is there money to be made by selling various accessoires du marque that customers demand, there's the brand loyalty to consider by offering a complete selection of clothing that helps motorcyclists live the fantasy that the marketeers have created with their powerful imagery.
Harley Davidson is the master at this, with their destination stores sometimes being more focused on the image than the product.  There are at least three Harley Davidson shops nearby where the motorcycles are apparently props for selling clothing and accessories.  That seems a bit extreme to me.
BMW also has a complete line of clothing, mostly of very high quality (and equally high priced), and it too carries a style that reflects an image.
BMW motorcycle stores in the U.S.A. aren't quite the destinations that the Harley shops are, but BMW has been slowly pressuring their dealers to develop single-brand destinations, and it's my understanding that they only allow BMW branded clothing to be sold in shops that have a dedicated clothing boutique.  Have you ever noticed that it's nigh impossible to find BMW clothing for sale online?
Then we come to Triumph.  Triumph offers a wide variety of clothing and accessories that unfortunately are not on most motorcyclists' radar screens.  I have yet to see a really good Triumph clothing section in a motorcycle shop.  Most shops have a couple of racks with dusty Triumph jackets, probably ordered back when they first started stocking the bikes.
It's a shame, actually, because all of the Triumph gear that I've seen is first-rate, equal to some of the best available.  Triumph's been on a tear recently in terms of sales, so hopefully that growth will bring a sharper focus on their clothing and accessories.
Triumph Romero Jacket
After looking through the voluminous Triumph clothing catalog (you may have to ask to see one at your local Triumph dealer), we settled on a retro-lifestyle outfit: the Romero jacket and Classic Jeans II.
One of the reasons I think Triumph still has some work to do in promoting their clothing is the lack of information on their "Modern Classic" line.  I'm assuming the Romero jacket is in honor of Gene Romero, a Motorcycle Hall of Famer who was a Grand National and Daytona 200 winner in the heyday of Triumph, back in the 1960's.
But you'd never know it from reading Triumph's information on the jacket, because there is nothing that I can find that confirms this theory, either in the catalog on on the Triumph website.  But check out Romero's page on the Motorcycle Hall of Fame website and I think you'll see where the styling of the Romero jacket originated.
As far as the big "02" numbers sewn on to the right arm of Triumph's Romero jacket, I'm clueless.  Maybe it signifies Romero's two victories?  He was the 1970 AMA Grand National Champion and the winner of the 1975 Daytona 200.  If anyone can answer this, please let me know.
The Romero jacket looks much better in real life than it does in Triumph's photos.  The cream-colored leather, the real sewn-on patches, including the big "Triumph" logo sewn across the back and the retro quilted arm and shoulder pads look fantastic.  The jacket is very nicely made, with near perfect stitching, no loose thread ends and rolled piping around most of the seams.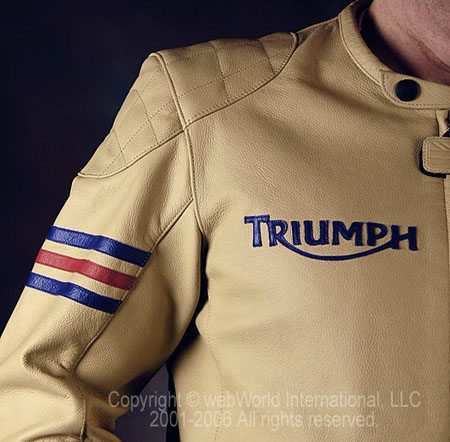 This is not a race-quality jacket, but my feeling is that it probably offers a good level of protection, better than many other textile or leather offerings I've tried.  One of the best features of the Romero jacket is that it can easily be worn as a very cool-looking street jacket; it looks great over a pair of jeans, for example.
The jacket comes with CE-approved, removable Knox elbow and shoulder armor.  It does not have an insulating liner, which is fine with me.  There's a full-length mesh lining that keeps the rider's skin away from the leather inside.  Surprisingly, the jacket includes a full-length waist attachment zipper, and it can be connected to Triumph's Classic II leather pants and other leather and textile pants in the Triumph catalog.
There's also an internal pocket on the left-hand side that closes with a zipper.  The main zipper up the front has heavy Nylon teeth and a metal zipper pull with the Triumph logo.
The jacket has metal snaps at the collar, the waist and the cuffs, and the snaps are covered with a rubberized material to help prevent scratches on the paint.  There's also an auxiliary "hook and loop" closure at the top of the neck and zippers at the cuffs in addition to the snaps, and metal snaps at the waist for adjustment.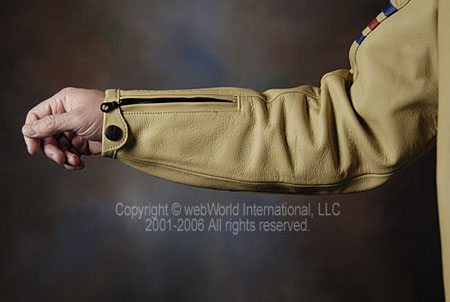 The Romero jacket is available in sizes 38-52.  I normally take a size 44 (U.S.) men's jacket, and I tried on several Triumph jackets in the local shop before the salesman went in the back room and brought out the Romero shown here, which is labeled as a size "48/58", which I think means that it is a UK/Euro sizing (i.e., 48 UK size and 58 Euro size).
I had some confusion about the way Triumph labels the jackets, because at least one of the leather jackets (not a Romero) that I tried was a smaller labeled size but was way too big.  The size 48 shown here is slightly large for me, and I probably could have gotten away with a 46, but I wanted a slightly looser fit so I could wear it as a street jacket.
The Romero jacket lists for £250, which is about $435.00 at today's outrageous exchange rates.  My local dealer charged me $390.00 for it, and I think it's worth it, considering both the quality and the coolness factor.  After all, there's only one Triumph.
Triumph Classic Jeans II
I ordered the Classic Jeans II sight unseen; the dealer didn't even know they existed and he didn't have them in stock and we had to look through a couple of Triumph catalogs before we found them in the "Leatherwear, Jeans" section.  I've always had excellent luck ordering from Triumph in the U.S.; parts and accessories are usually here by Wednesday when ordered on the previous Saturday.  These pants were no exception.
I'm not sure why Triumph calls them jeans, because they look like just about any race-type leather motorcycle pants to me, but maybe not quite as focused.  I have a size 36 (U.S.) waist, and when the pants came in, I crossed my fingers, hoping they would fit, and they do — absolutely perfect.
I normally have lots of problems with motorcycle pants, because either the waist, the armor or the legs always seem out of proportion.  The Classic Jeans II fit me like they were custom made, and they're the first pair of leather motorcycle pants that I've ever purchased where the knee armor is exactly in the right spot.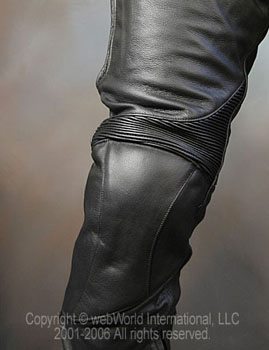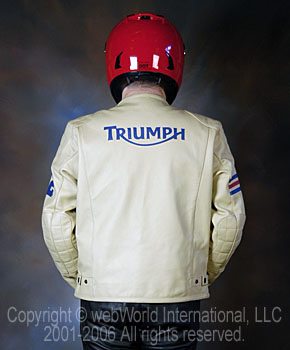 These pants fit snugly, which is just the way they should be.  Most riders wear their motorcycle clothing, and especially leathers, too loose.
If you aren't struggling, sweating and cursing when you're putting them on, then the clothes are probably too loose.  They must be tight to provide the best protection and to keep the armor in place during a crash.
The Classic Jeans II (I wonder what happened to Classic Jeans I?) are made from 1.2mm cowhide, just like the Romero jacket.
The leather is supple and not stiff and it has a high-quality feel.  The stitching and seams are also first-rate and the overall quality is excellent, in my opinion.
The pants have stretch panels at the sides, above the knee and at the top of the waist in the rear.  These panels are covered with corrugated leather.  There are also Cordura stretch panels in back of the calf, up to the height of the back of the knee.
The pants also include removable CE-approved Knox armor in the knees and shins and relatively thick padding on each hip.
There are slash pockets on each side at the top of the waist.  Each pocket is closed with a zipper.  The waist closes with a metal hook and a zippered fly.  There is also a "hook and loop" backed attached leather belt that goes through an attached square "D" ring at the waist to secure the pants.
The pants have a full-length zipper that fits to the matching zipper on the Romero jacket, and to other Triumph jackets.  The zipper on the pants is about 1.5″ longer than the zipper on my Romero jacket, so it doesn't quite match up, but this doesn't seem to have any affect on the security of the closure, and it can't be seen when the jacket is closed.
The waist comes up slightly high in the back, which helps cover the rear if the jacket is not zipped to the pants.
The Classic Jeans II, while somewhat misnamed, I think would be a perfect pair of leather pants to wear with most any jacket, Triumph or otherwise.  The only thing that marks them as Triumph is a small "T" logo embossed on the upper right thigh, and the embossed "Triumph" logo in the upper rear waist.
I really like these pants, first because they fit me so well, and also because the quality is very high and the leather is more supple than other leather pants I've tried.  I think they'll last a very long time.
The Classic Jeans II come in sizes from 30-42 and list for £200, or about $350.00.  My dealer charged me $289.00 and I'm very pleased.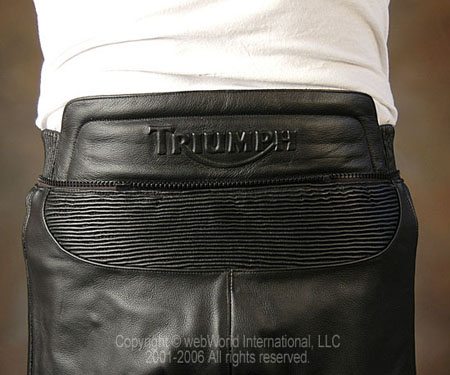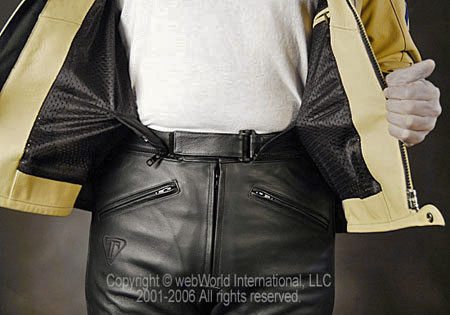 Conclusion
Many webBikeWorld visitors have asked us to review Triumph clothing, and I'm glad they did.  Triumph's selections may be hard to find at local shops; you may have to ask for the Triumph clothing catalog and order the items sight unseen.
But I believe most dealers are reasonable about returning or exchanging the clothing if it doesn't fit correctly.  It's my understanding that Triumph has a liberal exchange and return policy.
Based on the examples shown here and other Triumph clothing I've seen, the products are well thought out, have nice styling and are of very high quality.  Most of the logos are discreet, so riders of any brand should not have problems wearing Triumph gear.
Product Review:  Triumph Romero Jacket – Triumph Classic Jeans II

Available From:  Triumph
Suggested Retail Price:  Jeans – £200, or about $350.00; jacket £250, or about $435.00
Colors:  Jeans – Black.  Jacket – Cream.
Made in:  Pants – Philippines.  Jacket – Unknown.
Review Date:  March 2006

Note:  For informational use only.  All material and photographs are Copyright © webWorld International, LLC – 2000-2011.  All rights reserved.  See the webBikeWorld® Site Info page.  NOTE:  Product specifications, features and details may change or differ from our descriptions.  Always check before purchasing.  Read the Terms and Conditions!
Owner Comments and Feedback
Comments are ordered from most recent to oldest.
Not all comments will be published (
details
).  Comments may be edited for clarity prior to publication.
---
From "K" (9/08):  "Regarding the Triumph Romero jacket article and the large "02" on the arm.  I believe I ran across what that stands for on the Triumph website.
 In looking at some of the corporate tee shirts they sell, they printed 1902 on some of them.  I think that stands for the year the original company began producing motorcycles.  Hence what the "02" stands for on the Romero jacket.  It would be nice if Triumph indicated both that meaning and the Romero connection as mentioned in the article.
BTW, I have used your website a whole bunch, from checking how to replace the fork seals on a 1995 Triumph to glove and helmet reviews. It's one of the few pages I check regularly. Thanks."