Bonnie's Story
If you were to look at my family history, you'd find quite a few famous movie stars within the past few generations.
For example, my grandfather starred in the movie "The Wild One", while my grandfather's younger brother starred with Steve McQueen in "The Great Escape".
My dad was in the movie "An Officer and A Gentleman".
And my older sister was in "Barbed Wire" (no, my sister isn't Pam Anderson).
Some cousins have been in movies as well; Mission Impossible to name just one of them.
But in my family I'm kind of the black sheep.
While some of my family went off to find their fortune in Hollywood, I decided to be a press bike.
Press bike? What?!
Confused? Did you expect someone else to be writing this article?
Nope, you're getting this review straight from the horse's mouth, as it were; although if you call me a horse I'll run over your foot.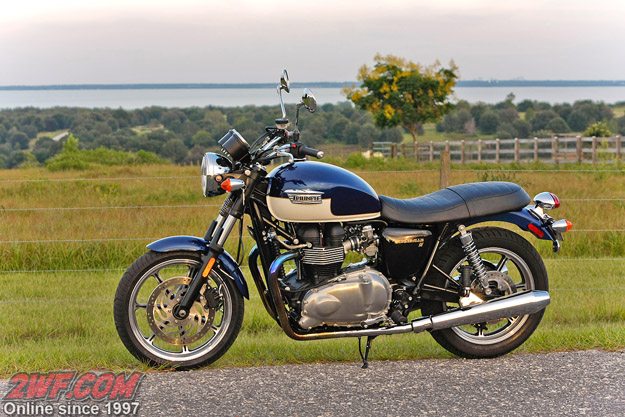 See, I'll let you in on a little secret: Moto-journalists get all their best ideas from us bikes.
Yes sir, they're nothing but a bunch of paper-pushers who think that they pull all the strings and come-up with the great (and not so great) articles that you read. Hogwash. All of it.
If it wasn't for us press bikes giving them telepathic messages (ever hear the line "the bike seems to speak directly to your soul"? Guess what — we do!) they wouldn't have anything to write about.
So I decided to write my own story. I mean, who better to talk about you than yourself right?
Hopefully once you read my story you'll be more inclined to treat your own bike with more respect and to actually listen to her (or him) a little more closely in the future.
Now as many of you know (and as you can tell by looking at the cool pictures), I am a classically styled lady.
I would say that I have a "non-athletic" type of body; I have more curves and things are rounder than on sportier motorcycles.
Think of me like a Rubens or Botticelli more than a Playboy centerfold.
A lady never reveals her weight but I'm sure the Editor of this fine magazine will tell you anyway…probably in some cute little parenthesis at the end of this sentence (she weighs 440 pounds dry – Ed); see, I told you.
However don't let my weight fool you; I am pretty nimble for my size. As a matter of fact with my new 17″ cast-aluminum wheels I handle better at slow speeds than almost any other bike you'll ever ride.
The person whom you thought was writing this actually told people (while I was standing right there!) that I was the "Golden Retriever" of the motorcycle world — always eager to please and never tries to do anything that might in any way endanger you, surprise you, or that might cause you to get hurt.
While that might describe my personality perfectly, no one likes to be compared to a dog, right?
Could one of you let the Editor know that please; it really hurt my feelings. But, since I'm "always eager to please" I put the hurt behind me and pretended I didn't hear a thing.
Looking classy on the outside while being a complete bitch on the inside just isn't cool so I make sure that my classic good looks wrap around an equally classy interior.
My heart is 865cc of pure parallel twin gold that puts out, oh, about 67 HP at 7,500 RPM and 51 lb. ft. of torque at 5,800 RPM.
No, I'm not into drag racing or spinning my rear tire (even if it is only 3.5″ wide) exiting a corner or any of those wheelie shenanigans.
I'm more about nice sight-seeing rides on back country roads than I am about riding around with my hair on fire (well, your hair on fire) while bungee jumping out of a 747 at 35k feet.
You want to ride like a hooligan? Let me introduce you to my cousins: the Triples, Speed and Street.
I do love riding in the city too and would make a perfect commuter bike; you can even outfit me with a windshield and saddlebags!
Now how versatile am I, hmm?  One of the things that makes me so easy to ride and live with, even for a newbie, is my smooth throttle response and spot-on fuel injection.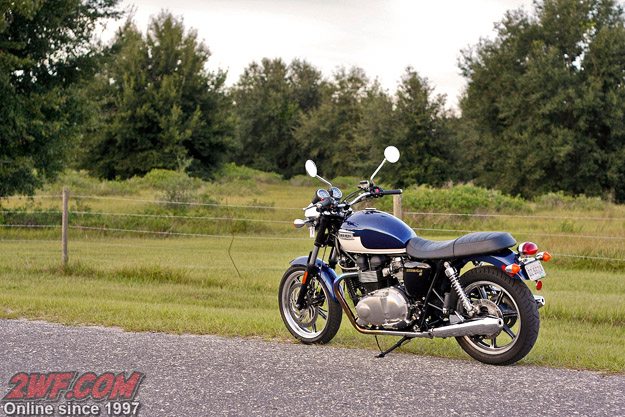 HEY! Could you please STOP rubbing your hands on me that way! Yeah, you. HEY! Go away — I'm trying to work here!
Sorry about that — some guy just walked-up to me and rubbed his hand on my gas tank. Didn't ask or anything; just started rubbing away like this was a petting zoo and not a bike night. Geez. Some people just don't know when to stop.
Luckily I do and I'm equipped to do it pretty well too.
Oh I'm not going to throw you off over the handlebars or anything (or stand on my head as that is SO not dignified) but with my single 310 mm rotor up front being shown some love by a 2 piston caliper and a 255 mm rotor out back being hugged by another 2 piston caliper, I am ready and willing to bring you to a stop in a nice, safe, dignified manner.
My brakes are strong enough, with decent feel and feedback, to get the job done and so nicely modulated that even a newbie rider would have to work hard to get in trouble while making a quick stop.
I remember growing up and listening to my mom and dad say things like "why can't you have different suspension adjustments like your cousin?"
Why does almost everyone think that a bike with a gadzillion suspension adjustments makes for a better bike?
Do you have different adjustments? No? That's right, people should like you for who you are and not try to compare you to everyone else.
I'm not a sportbike; never was, never will be.
Why do I need adjustable suspension when my 41 mm front forks (and yes they are standard forks and not those perverted, err.. I mean inverted type) and my twin, chrome spring rear shocks (which ARE adjustable for pre-load, thank you very much) do the job they are intended to do just fine?
Oh sure — if you are sadistic you can grind my little peg feelers into the ground if you try hard enough; but then maybe you should be on a sportier bike, right?
And yes, if you insist on riding like a ham-fisted, wannabe racer you can, and probably will, overwhelm my tires and suspension.
Of course, once again, maybe you should on a different bike like, say, the Daytona 675?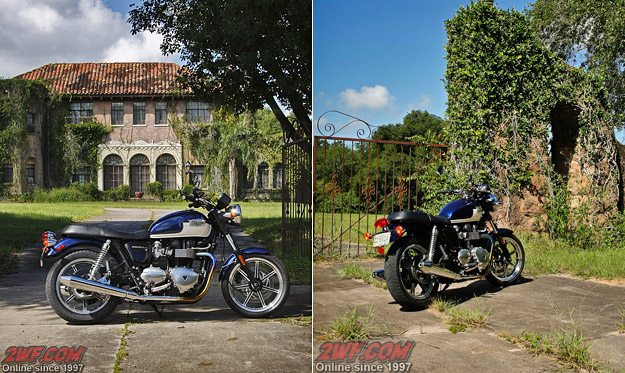 Let me tell you a quick story. One day the Editor and I were riding back towards home after a nice day of picture taking at this really cool old mansion.
He was flicking me through a set of nice smooth corners, not too fast but not too slow either, when all of a sudden I felt a pretty solid hit on my left footpeg.
The Editor actually picked his foot off the peg completely (while still leaned over) and shifted himself on the seat while cursing loud enough that I heard him over the sound of myself and the wind.
What did I do while this whole event was transpiring? Yep you guessed it; nothing. I just kept my line, absorbed the impact and saw my rider and I safely to the exit of the corner.
I later learned that we had hit one of those reflectors in the middle of the road hard enough to take a big chunk of it off (I thought I felt something stuck on the bottom of my footpeg) and to cause the Editor's left foot to go numb from the impact.
Try taking that kind of hit and doing those kinds of movements on one of the twitchy sportbikes and all the suspension adjustments in the world aren't going to keep you or the bike from flopping around like a fish out of water. Chalk one point up for good old-fashioned stability.
Another part of me that I am very proud of is my transmission.
My gears just mesh together so well that, unless you are doing something wrong, you'll be hard pressed to ever miss a shift. Not only that but you'll know that you are in gear because my gearbox engages positively every time.
As an added bonus, it is a piece of cake to find neutral. Sure, it only has 5 gears in it, but do you really need 6?
OK, so if you want to do some highway riding I do get a little "buzzy" but I'm not really built for that. I mean, I'll cruise at 75-80mph all day long, I'll just let you know that I'm not real happy about doing so.
Around town? On back country roads? Those are the places that my gearing is perfectly suited for and the places where I, and you, will be happiest.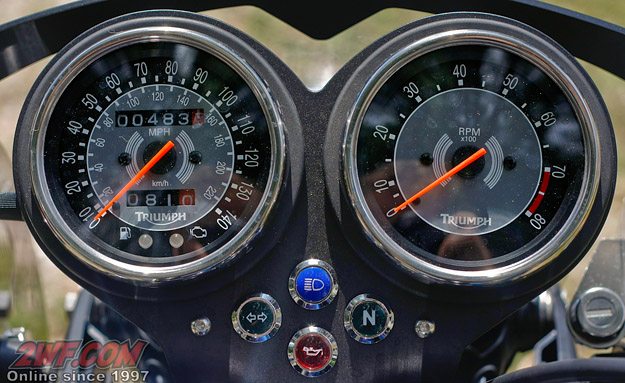 Have you guys ever met a bike that just LOVES to drink? Well I'm not one of them.
Oh I like to drink now and then but I'm not one of those "high-maintenance" types that need only the highest octane.
No sir, you can safely put good ol' 87 octane in me and I'll be just super satisfied.
I do think that I return pretty decent gas mileage for a bike with an 865 cc heart as well. I managed to squeak out 45 MPG even though the guy you thought was writing this insisted on riding me like I was a cheap floozy instead of the well-bred, highly refined lady that I am.
Some of you might have read that another magazine did a test comparing me to a Ducati GT1000 and I personally take exception to that.
As a matter of fact, Ducky (her nickname) and I had a lot of laughs at the whole idea.
Don't get me wrong — the Ducati is a great bike, but if you are looking for a true "time machine" then only I will do, as Ducky is more of a modern take on a classic bike while I'm a more faithful reproduction…minus the horrid electrics and temperamental carbs mind you.
Nope, there really is no competition for me in the market right now; and that's just how I like it.
I will say that if you are over about 5'10" in height though you may want to look at my sibling, "T" (as in T100), since my cut down seat that gives me my low 29.1″ seat height also reduces the leg room a bit.
Well I think I really covered everything about myself that you'd want to know. I'm guessing that the Editor will want to say a few words so I'll just let him wrap everything up and say my goodbyes now.
Remember; listen to your motorcycle — they just might be trying to tell you something important.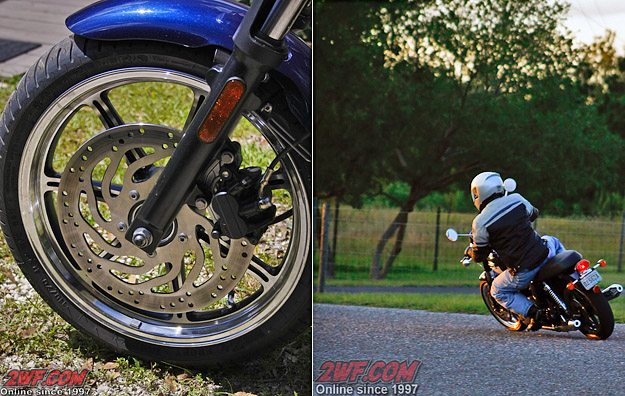 Note From the Editor
by Kenn Stamp, 2WF.com
Well I hope you enjoyed our little foray into something different. The idea of doing a bike test as written by the bike itself was an idea that I thought would be fun to write — and hopefully to read.
I can't think of it ever being done before (there may be good reasons for this!) so I had to at least give it a shot.
I've got to say that the Bonneville SE is the easiest bike to ride that I have ever been on.
Being an MSF Rider Coach, I am often asked which bike would I recommend as a first bike. This is a loaded question and one that I generally skirt around depending on what the person is looking for.
After riding the Bonneville SE I think I have found an answer to that question for those people either looking for a good all around motorcycle or similar; as long as they fit the size range of about 5'3″ to 5'10" (which is a huge spread if you think about it).
I described the bike as being "friendly" to our 2WF.com guest rider, Carlos and he asked how a bike could be "friendly".
After riding the bike for the photo shoot we rode to dinner and after he got off the bike he looked at me and said "ahhh, friendly. Now I see what you mean" (he also started asking questions about how much, etc… I think he wants one).
At the heart of the Bonneville SE being easy to ride are the 17″ cast wheels.
These wheels take the place of the taller spoke wheels found on the Thruxton, T100, and Scrambler and having ridden the Thruxton and Bonneville SE back to back they difference is huge.
Where the Thruxton, with its spoke wheels, feels a little hesitant to turn, the Bonneville SE is willing to flick right in.
I also found myself being able to drag the pegs on the Bonneville SE with little to no drama unlike the Thruxton which made you really work when ridden at those lean angles.
I guess the best way to describe how easy the bike is to ride is to say that I would love to teach new riders how to ride using the Bonneville SE over ANY of the current crop of training bikes the MSF allows.
Yes, there is just a little too much power on tap for a completely raw newbie to handle in a confined space but you could limit the throttle travel to combat that.
The handling and braking alone would more than make up for the trouble of installing a limiter.
This is not to say that the Bonneville SE is only for beginners; I had a blast riding around on the bike and would, with a few changes to fit my 6′ tall frame, seriously consider owning one.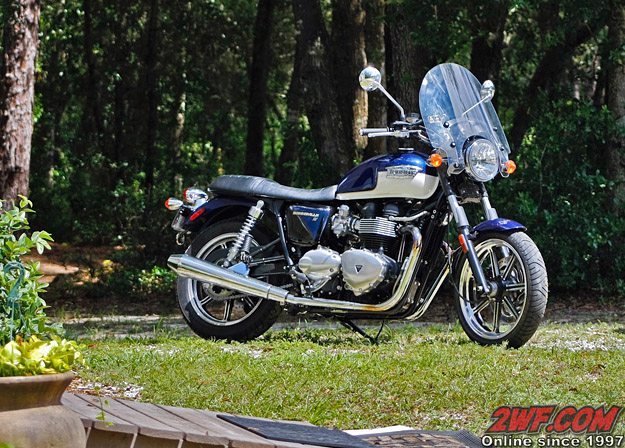 As you can see in the picture to the right, the Bonneville that we tested was equipped with a quick release windshield. It wasn't on there very long as it created turbulence right at the level of my helmet.
To be fair, I am taller than the target market for the Bonneville SE so I can't blame Triumph for the issue.
The optical quality of the shield was top notch and had very little distortion; even around the edges. I'm sure that if you fit into the height range that the Bonneville SE is marketed towards, the shield would work just fine.
While the Triumph Bonneville SE isn't a perfect bike for everyone, those riders, or soon to be riders, looking for a bike that is user friendly, comfortable, nimble, and has enough power to entertain you no matter what your experience level is, should take a good long look at the Bonneville SE.
Publication Date: December 2009
More on the Bonneville SE and Triumph Motorcycles:
2009 Triumph Bonneville SE Specifications
Engine
Type: Air-cooled, DOHC, parallel-twin, 360 degree firing interval.
Capacity: 865 cc
Bore/Stroke: 90 x 68 mm
Compression Ratio: 9.2:1
Fuel System: Multipoint sequential electronic fuel injection with SAI.
Transmission
Clutch: Wet, multi-plate.
Gearbox: 5-speed.
Final Drive: X-ring chain.
Chassis, Suspension and Brakes
Frame: Tubular steel cradle.
Swingarm: Twin-sided, tubular steel.
Front Suspension: 41 mm forks.
Rear Suspension: Chromed spring twin shocks with adjustable preload.
Front Brakes: Single 310 mm disc, 2 piston caliper.
Rear Brakes: Single 255 mm disc, 2 piston caliper.
Wheels and Tires
Front Wheel: Aluminum cast aluminum alloy, 7-spoke, 17 x 3.0 inch
Rear Wheel: Aluminum cast aluminum alloy, 7-spoke, 17 x 3.5 inch
Front Tire: 110/70 17
Rear Tire: 130/80 17
Dimensions, Weights and Capacities
Length: 84.3 in
Width (Handlebars): 29.4 in
Height: 43.3 in
Seat Height: 29.1 in
Wheelbase: 57.2 in
Rake/Trail: 27 degree/106 mm
Weight (Dry): 440 lbs
Fuel Tank Capacity: 4.2 gal
Performance
Maximum Power: 67 bhp at 7,500 rpm*
Maximum Torque: 51 ft.lb. at 5,800 rpm*
Colors
Jet Black and Pacific Blue/Fusion White
Price
Single Color $8,399; Two-tone Color $8,599**
*Measured at crankshaft to DIN 70020
**Pricing is for 2010 Model Year
Note:
 For informational use only. All material and photographs are Copyright © webWorld International, LLC since 2000. All rights reserved. See the webBikeWorld® 
Site Info page
. Product specifications, features and details may change or differ from our descriptions. Always check before purchasing. Read the
Terms and Conditions
!
Owner Comments and Feedback
---
From "W.D." (April 2012): "I am an experienced rider (almost 60 years) and went through almost every type of motorcycle ever made.
A few years ago I left the Harley world and began buying Triumphs. First a Thunderbird, then a 595, a Daytona, then another Thunderbird, then a 675.
Not sequentially; sometimes I had two or three of them in the garage — even a 1966 T500.
And finally, after several horrific crashes on various sportbikes (Yamaha R1, Ducati 916, hopped up Ducati S4R, among others) I wanted something to remind me of my old Bonnie 650.
Finally, Triumph unveiled the T-100.
I bought one, put a custom exhaust on it, had the carbs re-jetted, a K&N filter and Works Performance shocks.
I put about 1,100 miles on it then one day the dealer said, "Hey, look at this Bonnie SE we just got. Mag wheels, smaller, lighter, sets lower, weighs less … go try it out."
I did and came back and said, "Put a California Custom exhaust on it, rejet it, K&N filter, have Works Performance make me a set of shocks for my weight and riding style (street lunatic) and add a few chrome goodies. Call me when it's all sorted out."
Two weeks later, they called. I sold the T-100 (huge loss, of course) and all then other bikes.
This thing now puts out 85 hp on the dyno, goes like stink, corners like my sport bikes, stops well enough, uses cheap gas and doesn't care if you're going 35 or 85, it's just as docile, fun and friendly and has never scared me once.
I've managed to chase down a few sport bikers, much to their great surprise, and pass them. Then when I get home and wipe her down, she just sighs and goes to sleep until I wake her up again.
Absolutely the best … motorcycle I have ever owned because I'm old, short, skinny and semi-crazy (okay, maybe not semi). Just wanted to give her a plug because she deserves it."
---
From "J.L.W." (12/09):  "Enjoyable review. On the subject of windshield turbulence, after years of riding fully faired or partially faired bikes with integrated windshields, I bought a Harley FXD and added a National Cycle windshield.
The turbulence was so bad that initially, I took the windshield off.
I discovered, however, that the turbulence was coming from the bottom of the windshield, not the top. I talked to the NC people and they suggested their chrome lowers which I installed and they solved the problem.
I'm wondering if the same thing is true of the Bonneville and most after-market windshields.
If so, a rider who buys a naked bike with the intent of adding a windshield and doing long distance riding needs to first try the bike with the windshield offered by the dealer to see if its satisfactory.