Motorcycle Rain Boots Review Summary
Motorcycle Rain Boots Image Gallery
Revised for 2010, the Treds Waterproof Motorcycle Rain Boots really are waterproof with no ifs, ands or buts.
The new design is thinner at the top with the same thickness at the soles for less bulk and weight.
So-called "waterproof" motorcycle clothing often isn't, so we recently decided to use the term "water-resistant" instead.
But I have no hesitation in calling these Treds Motorcycle Rain Boots waterproof because they really are.
Want proof? Just for fun, I wadded up some paper towels and stuffed them into a Treds boot along with a couple of paperweights and plunked it in a bucket of water.
This is the standard webBikeWorld "bucket test" used for gloves and boots labeled as waterproof.
It's a bit foolish to run this test on a pair of Treds boots because they're so obviously waterproof, but I figured it was worth a try.
Also, 8 years' worth of experience with my original 2002 pair of Treds Rain Boots (review) has also proved to me beyond a shadow of a doubt that these boots are definitely waterproof.
So, just for the record, into the bucket they went. 24 hours later, the paper towels were as dry as a bone.
I let the boot sit in the water for 3 more days and the only thing that was noticeable was the natural process of evaporation.
So take it from me — if you want a pair of truly waterproof boots, look no further.
You will, of course, be giving up all pretense of fashion. Treds makes industrial-strength boots for hard-working men and women.
The boots are made in the U.S.A., by the way, and they're purchased by farmers, construction workers, people working in hard-core trades and…motorcyclists.
In other words, Treds customers are people interested in heavy-duty, no-compromise workwear, and this market requires function before style.
That said, what's not stylish about a pair of black boots sticking out under a pair of pants? They're black. They're boots. And they're waterproof.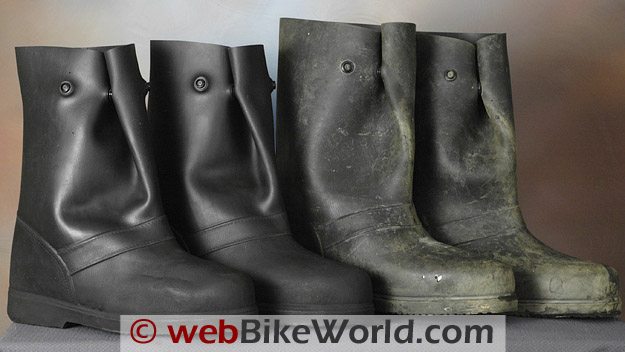 Features of Treds Motorcycle Rain Boots
I still have my original 2002 pair of Treds boots, as you can see in the photo above. I always stuff them into a side bag when it looks like rain because I hate wet feet.
But Treds boots are very much dual-purpose, and I wear them around the house and the farm more than on the bike.
Working in the yard, shoveling snow, walking the dogs around the lake and mucking stalls — the Treds boots are with me.
As far as I can tell, all of the boots made by Treds are "overboots"; that is, they are designed to slip over work boots or, in this case, motorcycle boots.
The thinner uppers of the 2010 version do make them seem more pliable and they slip on and off with ease over my favorite Kochmann Scout Boots (review), street work boots and any of the other motorcycle boots I own.
Treds says that the special rubber used in these boots will stretch up to 800% and I believe it.
I can stretch them as far as I can, given my puny upper arms, and they bounce right back.
Other than the dirt and scuffs, my original Treds boots have held up perfectly over the years without even a hint of a tear, so I expect the 2010 version to do the same.
In somewhat of an apples-to-oranges comparison, my original Treds, in size large, weigh 689 grams each (1 lb., 8-3/8 oz.).
The new Treds are size medium, ordered because the originals seemed a touch large. They weigh 424 grams (15 oz.) and the difference is notable, both when packing and walking.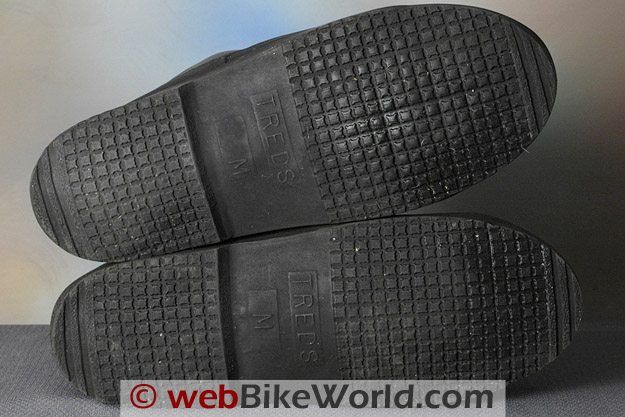 Treds Waterproof Motorcycle Boots Sizing
Because they are overboots, the Treds Motorcycle Rain Boots are sized differently.
To determine which size is best, the outside length of the boots that the Treds will fit over must be measured.
My Kochmann Scout (review) and my street work boots measured 12.5″ tip-to-tip, which actually puts me right at the top end of a size medium in the Treds boot (11-1/4″ to 12-1/2″).
I think what happened with my original pair is I went to the size large, which is designed for a 12-1/2″ to 13-1/4″ boot.
They fit but they do have a little play, which is more noticeable with some of the boots that I wear with them than others.
So my advice would be to go with the smaller size if you're at or near the upper limit. The slightly trimmer fit makes them work better for walking also.
I'm not sure if it's the size medium or the new 2010 design, but the size medium boots shown here measure 29.5 cm (11-5/8″) tall compared to the 31.5 cm height (12-3/8″) of the original size large.
This probably helps make the new boots easier to pull on and off, but I wonder if motorcyclists might want an option of a taller Treds boot; perhaps something like 45 cm tall or so (about 18″)?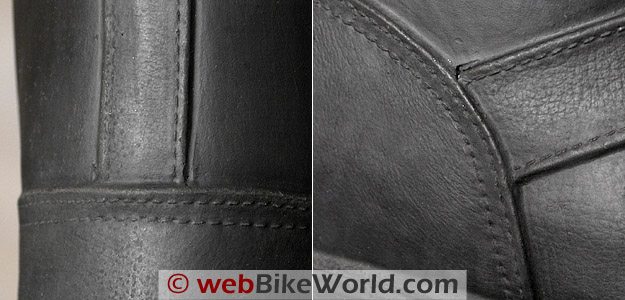 Wearing the Treds Motorcycle Boots
Treds are best worn under the motorcycle pants leg. After all, if it's raining, you don't want water dripping down the pant legs and into the boots.
The Treds boots have a two-position plastic snap arrangement at the top, which makes it pretty easy to snug them up to fit under any pair of motorcycle pants.
When worn like this, it's difficult to tell that these are overboots and not just a regular old pair of black boots, especially if the Treds are sized correctly to fit snugly over the boot underneath.
These new size medium 2010 Treds boots give a much better feel for the brake and shifter than the thicker (and one size too big) original Treds boots, so no problems there.
The soles have about the same type of molded traction nubs, although the tread pattern on the newer version seems very slightly less aggressive than the originals.
Either way, they provide excellent grip when stopped on a wet (or snowy!) road on a motorcycle.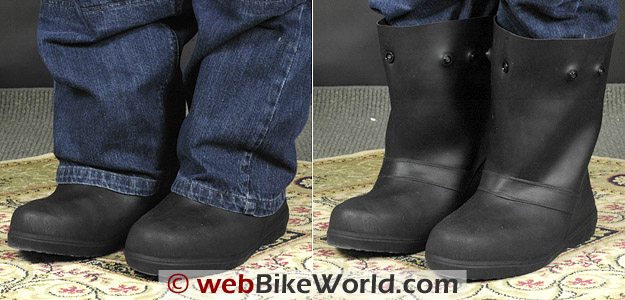 Conclusion
Not much else to say here that hasn't already been said.
Treds boots are one of the constants in my motorcycling life and they're also very useful around the house and for other endeavors.
They're waterproof, very stretchy, seemingly impervious to tearing, long-lasting and the price is right.
The 2010 motorcycle version is thinner and easier to wear and I'll have to assume they'll last at least 8 years, just like my originals. Get a pair and you won't have to worry about wet feet ever again.
See Also: wBW Review of the Original Treds Rain Boots
w

BW

 Review: Treds Waterproof Motorcycle Rain Boots
Manufacturer: Treds
List Price: $34.99-$39.99
Colors: Black
Made In: U.S.A.
Sizes: XS (3-4) to XXL (17-19)
Review Date: February 2010
Note:
 For informational use only. All material and photographs are Copyright © webWorld International, LLC since 2000. All rights reserved. See the webBikeWorld® 
Site Info page
. Product specifications, features and details may change or differ from our descriptions. Always check before purchasing. Read the
Terms and Conditions
!
Owner Comments and Feedback