Touratech USA has developed a range of accessories that turns the mild-mannered Kawasaki KLR 650 all-rounder into a sharply focussed extreme adventure machine.
Staff member Aaron Jennings equipped the bike from top to bottom with specially designed parts from the German adventure accessories company.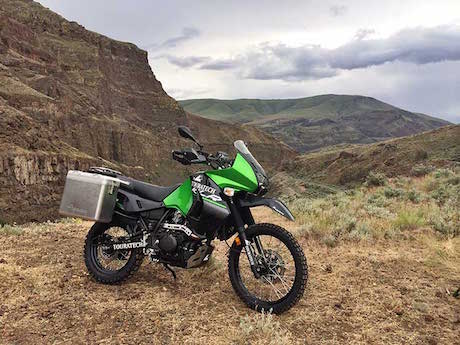 "I have always been curious about the KLR 650, since so many folks choose it for their travels," Aaron says.
"It was great to spend a little time getting one all kitted out with our products. It's an easy bike to work on, and its utility and performance are even better with upgraded suspension, protection and luggage."
Touratech started the KLR upgrade with the suspension system and worked out from there, including a skid plate, Zega Mundo panniers, handlebar risers, sidestand protector pieces and much more.
Touratech's Paul Guillien and Iain Glynn then took the bike on a desert adventure to test out the equipment and made the above video.
It is not only a fun video, but shows you don't have to lug a monstrously heavy 1200cc behemoth around to have a great adventure.
Interesting to bear their comments that the low power makes it very easy to use in the technical parts of the trails.
There is no word about how much it all costs, but Touratech gear is not cheap. You pay for quality and my experiences with their gear is that it is tough, light and always meets its promised functions.
Also, you start with a very well-priced bike (just $8099 in Australia), so spending a bit of money still won't make it as expensive as some of the big adventure machines, but will be just as much fun.