Are you a hard or soft pannier adventure rider? Each has its virtues and each has its disadvantages.
Hard panniers can be locked, offer better protection for contents, can withstand high impacts, are easily accessed, they are quick to release and lock on, and they can even be used as camp seats when taken off.
However, they are expensive, heavy and, in adventure riding conditions, they can hit tree branches and knock you off and can be dangerous to the rider in a fall.
That's why some adventure riders prefer lighter soft bags, even though they are less secure, more difficult to access and offer less protection for contents.
German adventure accessories company Touratech now offers a soft bag system that will fit into pannier frame systems with 18mm tubes designed for hard panniers.
There are also clip mounting systems for other tube frame sizes.
That means the bags can be quickly clipped on and taken off. No need for messy and time-consuming ties and straps that can come loose.
The Endurance Click Side Bag costs a hefty $264 for one 28-litre black plastic bag or $348 for the yellow, orange, blue or red bags. Two-piece luggage costs $669.90 for all colours.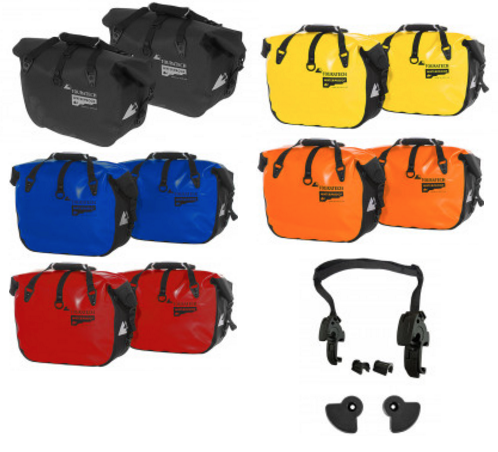 And that doesn't include the mounting kit which is $53 per side.
However, it's still much cheaper than most hard pannier systems.
The bags are made of a tough plastic which they claim is durable in a fall. They don't mention anything about sliding down a gravel road at a rate of knots!
They are also claimed to be dustproof and waterproof with their roll-down tops. That may be so, but they are also more difficult to access, unlike hard panniers with lids.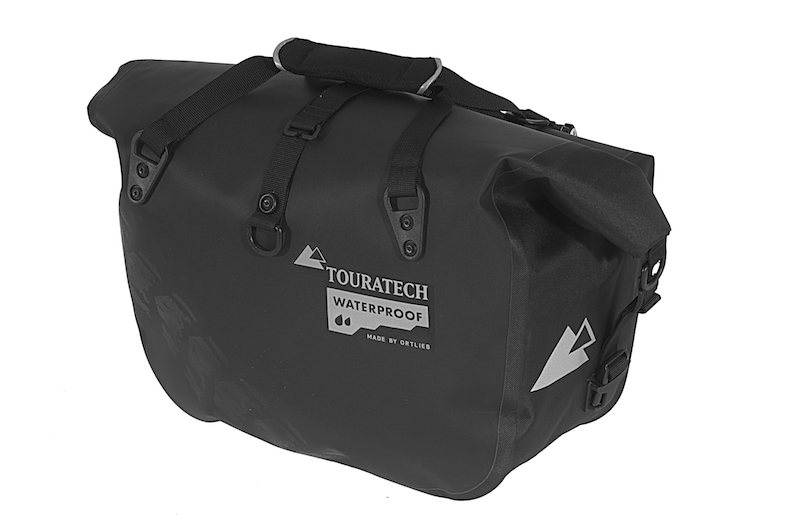 The Touratech Endurance bags weigh just 1.4kg each, which is the real advantage for adventurers needing to travel light.
They come with a handle so you can carry them when taken off the bike.
The Touratech design includes 3M Scotchlite reflectors and can be hosed out to keep them clean.