Tork XPro Speaker Image Gallery
"Like having a concert hall in your helmet" isn't far from the truth when describing the Tork XPro speakers.
They deliver, with louder volumes than any of the stock motorcycle intercom speakers we have tried.
Of course, more isn't always better when it comes to decibels.
The quality of the sound is just as important and the Tork XPro speakers are noticeably different.
Comparing the quality of the mostly tinny-sounding original equipment intercom speakers to the Tork speakers is something akin to comparing a single cell phone speaker to a boom box.
The speakers an easy plug-in with the Sena SMH10 intercom and the optional Sena earbud helmet mount kit (with their built-in 3.5 mm speaker input port).
Don't forget: adding a set of Tork speakers and the optional Sena helmet mount adds quite a bit to the cost of each intercom.
And for other brands, you'll have to do some cutting, stripping and splicing to make it all work and you're on your own with that, sports fans…
The Tork speakers are also big and thick, so they're not going to fit in all helmets.
And, they work best when they're right up close to the ear.
They fit like a glove in some helmets though, depending on the size of the ear pocket.
And when they do, the difference is pretty amazing. Want more power? Add a Tork Booster mini-amplifier to the mix and the volume will reach dangerous levels.s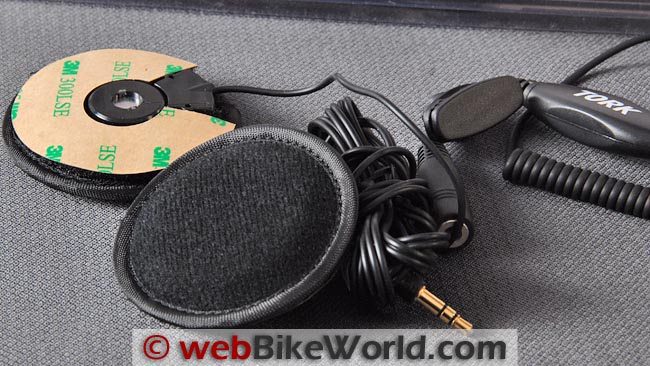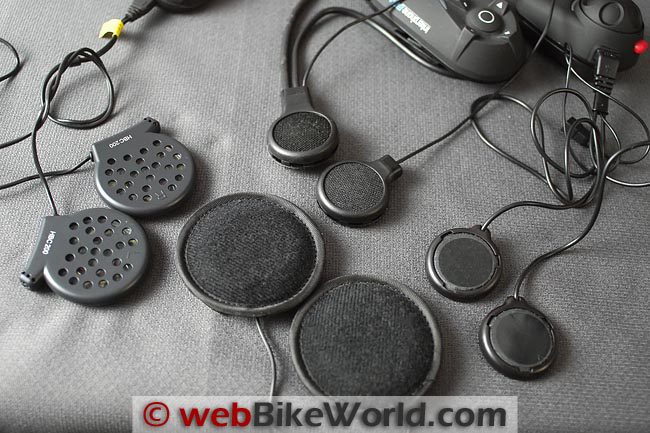 Intercom Speaker Options
Since the very first motorcycle intercom review published on webBikeWorld, way back in — well, even before Bluetooth wireless motorcycle intercoms were invented — readers have been asking for more volume from their speakers.
Personally, I have mixed feelings about this, because motorcycling is loud enough without adding to the din.
(Editor's Note: Let me remind our readers that the webBikeWorld evaluators always wear high-quality, correctly fitted ear plugs whenever we ride, including when we evaluate helmets and motorcycle intercom systems.
See the webBikeWorld Ear Plug Reviews page for more information.)
There are better things to be focused on whilst you're piloting a motorcycle at, say, 60+ MPH than talking on an intercom, but for some, more (volume) is never enough.
They want to be able to hear their pillion's sweet nothings whispering in the ear, even at triple-digit speeds.
But adding more volume is difficult. Motorcycle intercom speakers are somewhat limited by size considerations because they have to be mounted inside the tight confines of a helmet.
And the electronics in most intercom systems aren't designed with audiophile response rates in mind.
It is possible to splice a set of earbuds into their intercom system, but wearing earbuds while riding or driving is illegal in many jurisdictions around the world.
And having used earbuds on occasion to listen to music when riding, I can vouch for the fact that earbuds and helmets don't really mix very well.
Putting on and taking off the helmet whilst wearing earbuds is a challenge and I've ended up with more than one broken speaker wire from doing so.
Not to mention that most earbuds really are not a good substitute for properly fitted ear plugs and I don't care to lose any more hearing than I already have.
So speakers are about the only option, which brings us back to that speaker issue.
The sound quality of speakers that come standard with motorcycle intercom systems is generally not very good.
I've often wondered if it was the speakers or the system that was responsible for the poor sound quality, but usually better speakers will add some improvement to a sound system.
One more problem is that fact that most (i.e., the vast majority) of motorcycle intercom systems have non-replaceable speakers.
Why the intercom manufacturers have taken this approach is one of the great mysteries of motorcycling, like gyroscopic precession, countersteering and the fact that there are riders for whom the 24″ Harley-Davidson Blackline seat is still too tall.
So if you want to plumb in a set of auxiliary speakers, you're on your own; you better have good splicing and soldering skills and, by the way, you can forget about that warranty.
But, there is one solution at least, for Sena SMH10 intercom (review) owners. You can add theSena SMH-A0303 Helmet Clamp Kit for Earbuds which has a standard 3.5 mm speaker jack.
Oh, and you'll need a set of the Tork X-Pro Helmet Speakers (list price $79.99) too.
[ADDENDUM: Remember also that the 
UClear HBC200 (review) 
and other UClear speakers have built-in microphones due to their "Adaptive Beam Forming" technology.
The Uclear intercoms do not have a "boom" microphone. Good thing the UClear speakers are among the best standard speakers of any motorcycle intercom system!]
Tork XPro Speaker Size Considerations
The lunch isn't completely free here, because the Tork XPro speakers are bigger in all dimensions than most of the puny speakers that are standard equipment with motorcycle intercoms.
Each XPro speaker measures 60 mm across and about 12 mm thick. That's big!
It compares to, for example, the Sena SMH5 speakers at 31 mm by 5 mm thick; Interphone F5 speakers at 32 mm by 8 mm and the UClear HBC200 speakers at 44 mm by 8 mm thick (not counting the speaker extension).
So you can see that the Tork speakers are about twice the size of the Interphone and Sena speakers in both dimensions and larger even than the thick speakers for the UClear intercom, which also have a built-in microphone.
This means that mounting and fitting the Tork speakers will be an issue with some helmets, especially the types with small or shallow ear pockets.
Also, we found that, like all helmet speakers, the Tork speakers provide their best sound quality when they're located close to the ear.
But considering the thickness and width of the XPro speakers, in most helmets they'll be right up next to the ear anyway.
Sound Quality
Besides the improved volume, we think the most significant difference with the Tork XPro speakers is the sound quality.
No, they're not like wearing a pair of Bose headphones, but they're much better than any earbuds I've ever tried, all of which — even the $200.00 per pair type — have disappointing sound quality in my opinion.
In fact, I'm amazed at how bad earbud speakers generally sound, but that's another story…
The point here is to keep things in perspective, because the standard intercom speakers we're comparing to are generally not very good and the Tork speakers provide a noticeable improvement.
Bass and midrange response sound much better; that is, you can actually tell there's bass in the music, which is usually missing from generic intercom speakers.
The sound put out by the Tork speakers is "richer" and "fuller"; more like something you'd expect from a small stereo set than from a pair of intercom speakers.
Just for kicks, we connected the XPro speakers to an MP3 player outside of a helmet and the music could easily be heard from across the room with good quality sound.
The specifications for the XPro speakers, according to Tork, are a frequency range of 20 to 22,000 Hz at 106 db/1 KHz, with a maximum of 500 mW at 32 Ohms.
Tork also makes the X2 speakers, which apparently don't have the same output as the top-of-the-line XPro speakers but are less expensive.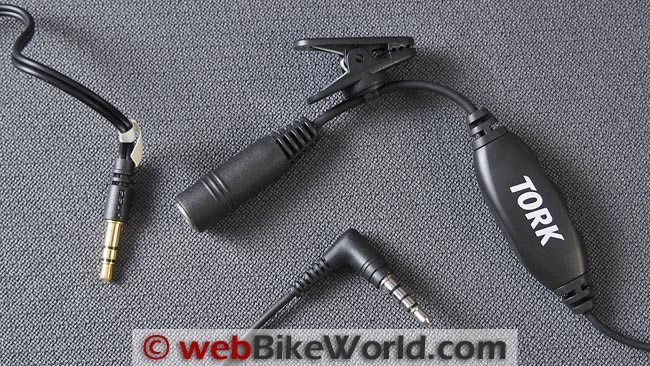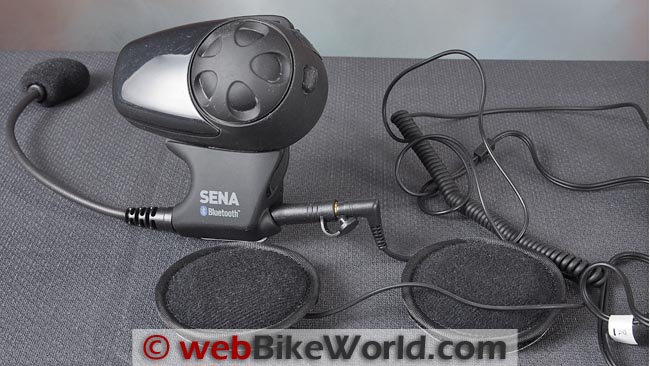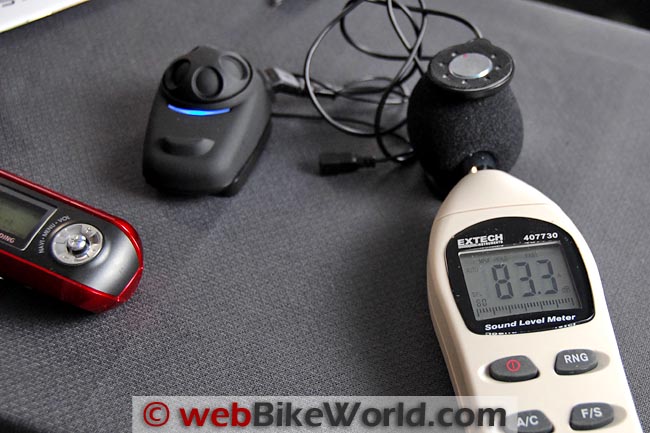 Sound Level Comparison
We broke out the Extech dB sound meter and ran some comparisons to compare the Tork speaker sound levels to the sound coming out of the standard speakers on some other intercom systems on hand.
It's important to note that this is a completely unscientific evaluation, because we're comparing four different intercom systems and their speakers, not four different speakers on the same intercom.
Big difference!
The only Sena intercom we had on hand was a couple-year-old original version of the Sena SMH10 (the "A" version), so it's possible that the more recent Sena intercom might provide different results.
The original SMH10 speakers are missing, so we couldn't test them.
We did have one of the optional Sena A0303 helmet clamp kit with the 3.5 mm jack for connecting optional speakers or earbuds.
As far as I know, the Sena SMH10 is the only motorcycle intercom system with the ability to add the optional mounting kit for speakers.
In any case, the results are interesting and they also pretty much confirm what our ears and the ears of other webBikeWorld visitors have heard: that the UClear speakers are comparatively loud and the Interphone F5 speakers are relatively weak.
Note also that dB readings are logarithmic (a concept I have never been able to grasp).
It means that "for every 3 decibels you move up or down the scale from 0-194, you are adding or dropping 50% of your remaining sound pressure levels to your exposure" (Netwell) or something like that.
In other words, each dB gain is a lot.
We used two MP3 voice files and one MP3 music file, broadcast through the trusty old Sony Bluetooth adapter (review) at maximum output levels to measure the sound.
The microphone of the Extech dB meter was sandwiched directly between the two speakers for each intercom set, as you can see in the photos.
Motorcycle Intercom Speakers Maximum Volume Evaluation in dB

Speaker and
Intercom System
Voice
Recording 1
Voice
Recording 2
Music
File
UClear HBC200
88.0
100.4
100.7
Sena SMH5
84.9
97.0
101.9
Interphone F5
88.3
96.3
88.8
Tork XPro (Sena SMH10A)
94.3
104.0
104.1
Tork XPro w/Booster (SMH10A)
101.2
108.5
115.0
Anything over 90-95 dB is considered detrimental to your hearing and sustained sound volumes at those levels can cause permanent hearing damage. Perhaps that's why the Interphone F5 doesn't reach 90 dB?
The Tork XPro speakers on the first-edition Sena SMH10A reached well over 90 dB.
Adding the Tork Booster mini-amplifier at full volume increased the sound levels to 115 dB, which is much too loud for comfort and about at the limit of the speakers abilities to conduct undistorted sound.
All of these speakers, including the XPro, sound much better when properly installed in a motorcycle helmet.
Note again that speakers generally must be placed so that when the helmet is on, they are as close to the ear as possible.
This sometimes means you must add some foam or other type of backing to locate the speakers correctly when they are mounted in the helmet ear pockets.
The larger size of the XPro speakers helps here, because the speaker covers nearly the entire ear which, I think, helps for sound transmission and quality.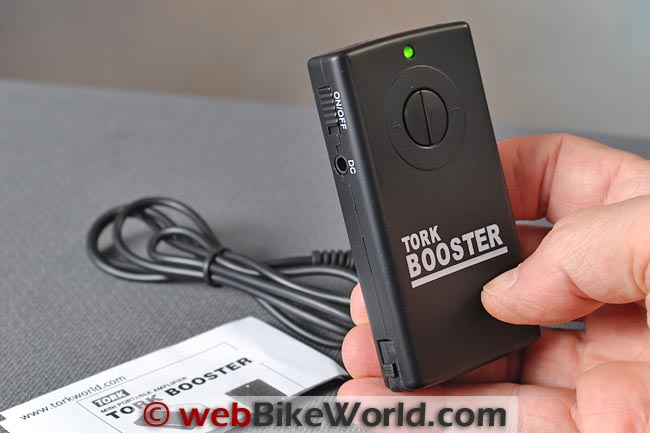 Tork Booster Mini-Amplifier
My feeling is that the Tork XPro speakers offer a significant improvement in sound levels and sound quality from most standard intercom speakers.
But if you want even more volume, the Tork Booster mini-amplifier is available.
It's a simple device, with a built-in USB rechargeable battery (a USB cable is provided) and a built-in input jack.
Connect the input jack to your MP3 player or other sound device and connect your Tork or other speakers to the output port on the top of the Booster.
Turn on the booster and you can control the volume with +/- buttons on the front.
The Booster elevated the volume significantly as you can see in the chart above. But again, the difference by using the Tork speakers alone is dramatic, so you may not need the Booster with these speakers.
Note that the Tork Booster mini-amplifier can be used with earbuds or any other system with compatible jacks and not just the Tork speaker products.
Tork lists the specifications for the Booster Mini-Amplifier as:
Output Power: 70 mW (32 Ohms loaded). 12 mW (300 Ohms loaded).
Signal to Noise Ratio: >= 90 dB (A weighting).
Distortion: < 0.05% (10 mW).
Frequency Response: 10 Hz to 40 kHz.
Headphone Impedance: 16 Ohms to 300 Ohms.
Weight: 11 grams (without battery).
Dimensions: 55 mm x 23 mm x 14.5 mm.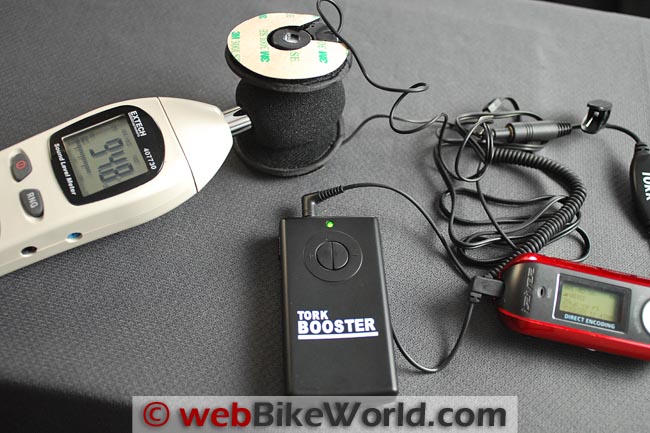 Tips on Using Motorcycle Helmet Speakers
Here are a few tips on getting the best results from the Tork XPro motorcycle helmet speakers, courtesy of Tork, but these tips are useful for any type of speakers:
Use a high-quality audio player. A cheap MP3 player may not provide enough volume or output to match the potential of the speakers.
Use good quality music files; an MP3 file that has been recorded from one device to another will probably have degraded sound quality.
Also, check your settings when you rip files from a CD-ROM to try and get good quality (high bit rates), although this will increase the file size.
Before installing the speakers in your helmet, hold them to your ear while listening to music to ensure that the sound quality and sound levels are acceptable and loud enough.
If not, then your music player device may be at fault. If the sound is distorted when you're listening in a quiet room, chances are it will be worse when you're riding.
Dry-fit the speakers in the helmet first before peeling off the tape backing.Make sure you try the helmet with the speakers installed and listen to the music player to make sure the speakers are located correctly.
Your ear position may not line up exactly where you thought it would once the helmet is on. Slight movements of the helmet can dramatically reduce the performance of the speakers.
Use Styrofoam, cardboard or padding to move the speakers as close to your ears as possible inside the helmet ear pocket (very important).
If the sound volume is too low once the speakers are installed, try moving the helmet around while wearing it and listening to the music.If the volume changes, then you may need to re-adjust the speaker placement.
Conclusion
[asa2 tplid="6″]B004I6HOQA[/asa2]
The Tork XPro speakers can make a noticeable difference in volume and sound quality, at least on the Sena SMH10.
We did not try to splice the Tork speakers into the other systems.
So at this point, the Sena SMH10 intercom with the addition of the optional helmet mount that allows different speakers to be attached is the only way you can take advantage of the improvements.
I'm sure there are some webBikeWorld readers out there who will want to try splicing a set of Tork speakers to their intercom; if so, please let us know the results.
NEW! Tork Maxx Speakers With Amplifier Review
w

BW

 Review: Tork XPro X2 Speakers and Booster Mini-Amplifier
Manufacturer: Tork Headsets
List Price: Speakers: $79.95  Amp: $39.99
Colors: Black.
Made In: Unknown
Review Date: November 2012
Note: Item provided by a retailer, distributor or manufacturer with these Terms and Conditions.
Note:
 For informational use only. All material and photographs are Copyright © webWorld International, LLC since 2000. All rights reserved. See the webBikeWorld® 
Site Info page
. Product specifications, features and details may change or differ from our descriptions. Always check before purchasing. Read the
Terms and Conditions
!
Owner Comments and Feedback
---
From "T.S." (February 2016): "For anyone considering buying these, here's my experience with them.
The first set I received broke pretty much immediately. One of the speaker wires broke internally near the Y junction and one speaker kept cutting in and out.
The 3.5 mm jack on the volume control/extension cord was pretty poor as well as it was very loose and the plug would slip out easily.
I emailed Tork about this and they sent me a replacement very quickly. I appreciated the support here.
However, 8 or 9 months later while the unit was still within warranty the left speaker developed a metallic buzz when delivering medium to loud bass. Particularly noticeable with kick drum type sounds.
Some might not find this to be a big deal but when you're on the road for extended periods it gets quite annoying.
I emailed Tork again to ask if the issue was fixable or if the set could be covered under warranty and even after another two follow up emails they have failed to respond.
I don't know if I'm being ignored or not but needless to say I'm less than impressed."
---
From "D.M." (September 2015): "I purchased my X Pro speakers in late 2013, in combination with a Cowan, I-9 Audio, MP3 player.
The sound and clarity of the speakers is unmatched by any other speakers I've had.
Unfortunately the volume control cord has been an ongoing problem. There is a 1 year warranty with the speakers, in the just under 2 years I've had them, I've had 2 cords go bad.
The right speaker has lost contact both times.The first time, I was sent a new cord, no charge.
This time I had to buy a new cord even though it hadn't been a full year since I received the new one.
It was suggested that I buy a straight thru cord.
Volume control was one of the reasons I got them in the first place.
What all of this comes down to is that someone needs to look into the weak link of the system, the volume control cord!"
---
From "K.S." (May 2014): "I read your article and also the comments … very good article.
I wanted to contribute an additional comment that may help others with respect to your use, and testing, of the Sena SMH-A0303 Helmet Clamp Kit for Earbuds.
The kit uses 75 Ohm resistors so they're designed specifically for earbuds, not aftermarket speakers.
Per Sena's tech support "We put the 75ohm resistors in the A0303 because it is specifically made for earbuds, not speakers, and so we won't overpower them (earbuds)."
The power of the Tork speakers will be limited by the A0303 resistors. Again, I verified this with Sena tech support.
If someone would be willing to splice/solder the Tork speakers inline with the factory wiring (cut the stock speakers off) and then run the sound test again you may find even better performance results with the Tork speakers.
This would be interesting to see.
I'm waiting on delivery of my Tork Xpro's and will splice them into the factory wiring to get the full effect of the Torks. Hope this helps others."
---
From "A." (July 2013): "Just want to chime in regarding the Tork X-Pro speakers.
While these may look the same as the as Koss KTXPRO1 speakers, the impedance of the Koss elements is 60 Ohms (info here), whereas the Tork X-Pro (speakers) are 32 Ohms.
As such, the Koss elements are not suitable for adapting to most motorcycle headsets including the Sena (intercoms), which require a 32 Ohm speaker — as do most other motorcycle Bluetooth and wired intercom headsets."
---
From "R.W." (April 2013): "I have disassembled a Koss headset mentioned in C.A.'s comment (below) and extracted their speakers.
I do not know if these are indeed the same as Tork, but they certainly look identical, down to the ridges from cut clip in the center.
The actual diameter is about 48 mm, which is consistent with the 60 mm of the fabric enclosure reported in your review.
The idea was to replace the hard-wired factory Sena speakers to increase music volume. I ride with earplugs and find the music level to be insufficient at speed.
As an experiment, I only replaced one speaker in the wiring of my SMH-10 speaker base.
I played a monaural source (via SR10 adapter).
To my disappointment, I found that the apparent location of the music source was off-center, closer to the original Sena speaker, indicating that the Sena device is louder!
I did not buy the original Tork speakers since I was unwilling to spend close to $100 for this experiment, but I am quite convinced that these are the same as Koss. If so, these are not useful for an upgrade retrofit.
It may be that the Tork/Koss speakers would have been louder with an external amplifier driven through the Sena A204 earphone base.
But for me that is a useless setup as it requires wiring myself in, worrying about ripping the cord and about recharging yet another battery.
As they say, your mileage may vary. P.S. Attached is a photo of the Koss/Tork? speaker connected to the Sena base."
---
From "C.A." (January 2013): "I just wanted to chime in on this discussion as I have some additional information which may be relevant.
The Sena SMH-10 earbud mount (SMH-A0304) has a 75-ohm resistor which will effectively reduce the volume to the speakers, vs. splicing them into the standard mount (SMH-A0302).
I have purchased the Tork XPro speakers and tried it with both mounts; splicing them into the A0302 yields much higher volume levels than plugging them into the SMH-A304.
(I realize not everyone has the skills or desire to do this, but at least you have another data point for those of us inclined to do so.)
Another interesting thing I noticed is that the Tork XPro speakers are identical to the ones in the Koss KTXPRO1 Titanium headphones
, which can be found for about $15.
So if you're interested in doing some splicing and cutting the speakers out of their plastic enclosures, that will save you $65 or so.
In the end, I don't use the speakers in the helmet. Like you, I wear 33dB NRR earplugs to protect my hearing and that means even the Tork XPro are hard to hear.
It's ok for faint background music and being able to use the intercom with someone else, but to listen for understanding (such as podcasts) is impossible with earplugs (this is how I fight the boredom of rural midwestern roads).
Even with a Boosteroo amp
 they are not sufficient. I had hoped to find a solution where I can wear good earplugs and just put on my helmet and go, but I'm back to custom-molded earbuds (Westone CR1's) or the Etymotic offerings.
Here are some additional links which may be of interest:
---
From "R." (January 2013): "Thanks for the review, it's nice to see comparative pics and equipment testing at this level.
I've been looking for a way to increase the volume inside the helmet without spending a lot of $$, and I think these speakers might be the way to go.
Unfortunately, my setup does use a 7-pin din plug, so I want to be sure I purchase the right product before the snip & solder exercise.
Also, as a matter of accuracy, your point about MP3 files being copied and reducing audio quality is actually not true – the loss occurs when encoding to MP3 the first time. Just copying a digital file (without
re-encoding) will change nothing."
Editor's Note: Actually, that information came from Tork, as noted.
It's possible they meant that the quality could be degraded when copying MP3 files from one source to another (e.g., from a radio to an MP3 player) or during conversion.
---
From "G.Z." (November 2012): "Thanks for the write-up. I got mine yesterday and rode with them to work today.
They fit just fine in my Arai Signet-Q helmet (review). They are smaller than I imagined they would be from reading the review.
Plugged into my Sena Bluetooth, they sound great. Now I don't need earbuds while riding, which is not only legal, but less wires to deal with.
My only issue is that Velcro doesn't stick to the fabric in the new Arai helmets and the sticky tape doesn't work well either. I need to find a better way to keep them in place."
UPDATE From "G.Z." (November 2012): "I fixed my speaker mounting issue for the Arai.
I Googled the problem of Velcro not sticking to the new interiors of Arai helmets and a post in a BMW forum had the solution.
Remove the cheek pad, then the cloth liner comes right off the ear pocket, and the speaker can be stuck to the foam underneath.
Put it all back together and the speaker is now under the liner and doesn't move when you don and doff the helmet. Took me 5 mins. Genius."
---
From "H.S." (November 2012): "I ride with Westone UM1s
. They are musician quality in-ear monitors. They fit inside the ear canal and the the body of the monitor fits inside the curves of my ear.
They stay put, keep out most of the noise (although I can still hear traffic), are extremely comfortable and have solid highs and mids (the bass is not as strong). I love them!
I bought them at Earphone Solutions which has a 30% off sale going on now. Westone makes multi-driver monitors also, but for the money, the single driver UM1s work for me."
Editor's Note: Note that riding a motorcycle while wearing in-ear speakers (earbuds) is illegal in many localities in the U.S. and elsewhere.
Here's a page listing the U.S. state laws regarding in-ear speakers (although I can't vouch for its accuracy) and the AAA information page on wearing "headsets" whilst driving.
---
From "D.W." (November 2012): "It might be good to remind UClear users that their speakers also contain the microphone, so these wouldn't be a practical substitute for us.
Maybe some one will develop a helmet mounted sub-woofer! Thanks for all the great work."