TORC helmets are popular among the bikers for their versatile nature. You can easily find every type of helmet you want – from the ones that look stylish to the ones that have features tailor made for you, when you search for TORC products. The TORC low-range and mid-range helmets are hugely popular for their unique graphics and design. They don't cost much but they are one of the best when it comes to offering improved safety.
We love TORC helmets because we know how extremely difficult it is to find a cool looking helmet if you are willing to pay a smaller price for it. TORC brings advanced and vintage style graphics in low-range helmets so that you don't have to compromise on the looks irrespective of the price you pay. The TORC T55.2 lowdown half helmet review reveals the true features of the helmet so that you can determine whether it is right for you.
Benefits
Many helmet manufacturers struggle to bring about a basic helmet for the $50-$60 price range. Sometimes, you want a fuss-free helmet that protects your head. You don't want to spend a lot of money for it. You may have the most menacing motorcycle, but wearing a stuffy helmet for your regular commute or running chores can be daunting.
The T55.2 is a half helmet that just provides the protection your head needs. You can still make a bold statement with this helmet for an affordable price.
Features
The TORC T55.2 lowdown half helmet is the typical half helmet that follows the 'closer to head' design. It is a simple and basic helmet that delivers performance. This helmet weighs just 2.8 pounds, and it will feel lighter than air when you wear it on your head.
The fit is an intermediate oval fit, which means that it will suit most head shapes. As long as you don't have a really weird head shape, you will be fine with this helmet. The overall cost of the helmet is one of the most attractive features of the helmet. It is the only helmet in this price range to have dual density EPS liner.
Build Quality
The T55.2 helmet has a solid build and fuss free shell design. The half helmet is made of a solid shell with dual density EPS liner. It is very slim, but it feels rigid. The close to head profile is one of the most attractive features of this helmet because many manufacturers have failed to produce such a design.
The helmet has 2 outer shell sizes, providing great fitting opportunities for bikers of all sizes. The helmet is DOT approved, which ensures the premium quality of the shell.
Interior Design
The TORC T55.2 helmet is not a fancy helmet that provides all the features you want. The interior is plain and simple, and it is made of technical fabric. The fabric is anti-microbial and soft. It doesn't itch when you wear it for longer rides.
The cheek pads are thick enough to cancel wind noise and provide adequate protection. The cheek pads can be taken out and washed so that you can stay away from the stinky sweaty smell of the helmet. It is almost impossible to find a $50 helmet with removable cheek pads. The dual density EPS liner again reinforces the safety feature of this helmet.
Graphics Design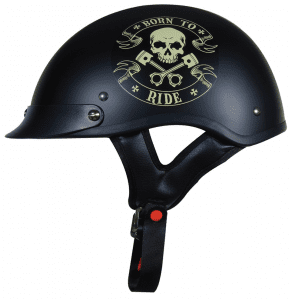 The graphics design is one of the unique selling points of this TORC helmet. The T55.2 helmet is found in a few unique and bold graphics design. In the half helmet profile, there is really not a great surface area to design cool graphics.
However, the T55.2 helmet will surprise you with its American standard graphic with eagle design. If you want more subtle styling for your helmet, you can choose the other option, which is the black flag design. You can also find many more aggressive graphics with this helmet design. It is also available in alternate white color. If all you want in your helmet is simplicity, you will be happy with the plain black helmet.
Safety
With a half helmet, there is really nothing more you can expect apart from safety standard. The DOT approval ensures reliability with this helmet. One of the best features of the helmet is its wide strap at the back that provides a great spacing between the front and back of the helmet.
Once you secure the helmet with a D-ring closure, it won't wobble. It is a surprisingly stable helmet even while riding at high speeds. The helmet has 3 point snap and 3 snap peaks that are screwed in. Most of the low-priced helmets have the snaps riveted, but it is screwed in here.
Other Factors for Consideration
You should know what you can expect from this helmet. The TORC T55.2 lowdown half helmet exceeds the expectations in every category. With cool graphics, solid shell design and ultimate safety, there is really no reason not to like this helmet.
The half helmet design is featured to be close to the head to provide a snug fit. However, it is not that close, crushing your head or creating pressure points. While this helmet is ideally suited for short distance rides, you should look for other choices when you are into dirt racing or off-road biking.
Hassle free and standard helmets are hard to find even if you pay $100. TORC has really understood the needs of the bikers to come up with this ingenious T55.2 helmet that is loved by everyone who bought it.
[table id=75 \]