Have a look at these classic motorcycle helmets and compare them with the one you are using. As a biker, knowing just how long a brand has been producing the products you use is great, but seeing the development of those safety products over time is another.
Great companies listen to the users of their products, and iterate and evolve them based on that feedback. Take a little trip in the way back machine with these 10 classic motorcycle helmets.
Bell 500 TX
This is a helmet that can lay claim to being called the father of modern lids. It was launched back in 1957, and it was the first helmet that carried Snell certification on it- this was a time when the idea of certification was not known in any country.
They were introduced in the UK as helmets in 1953, which was earlier than when they reached other destinations. T
his helmet also is credited to have introduced the idea of expanded polystyrene liners that are used in helmets to this day and it is the best classic motorcycle helmets to be worn by motorists.
Not all is lost, and you are not locked out because you can buy the modern of the 500 TX the Bell 500.
Bell Bullitt Helmet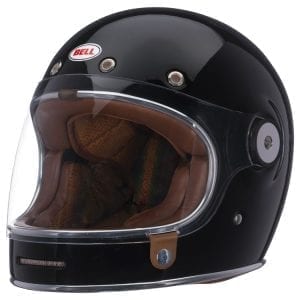 In the late 1960s Bell released the Star, the first full-face helmet, revolutionizing the helmet and motorsport industries and setting a new standard for safety. Since then Motorcycle helmets have taken all sorts of shapes and forms, but at its essence has always been the simple and classic Star. The inherent beauty in the Star's simplicity has made it an effective and aesthetically appealing piece of motorcycle gear that has survived the test of time.
To pay homage to the glory days of motorsport, the Bell Bullitt has inherited the classic styling of the Star, but has been infused with contemporary comforts and  crash protection. Constructed with a low-profile fiber composite shell and multi-density EPS liner, the Bullitt meets modern DOT regulations yet comes as close as possible to the look and feel of the original Star. Luxurious appointments like a micro-suede lining with leather trim, metal mesh circular intake vents, rear exhaust vent and 3D cut cheek pads with speaker pockets, compliment the vintage styling and shoot the Bullitt into the 21st century.
Named after the brash detective, played by iconic actor and motorsport enthusiast Steve McQueen in the cult classic Bullitt, the Bell Bullitt is as much an exercise in design as it is in rider safety, breaking the mold and providing a premium retro option to the market. Put that vintage helmet back on the shelf where it belongs and pick up a Bullitt to fulfill all your retro riding dreams.
Simpson Bandit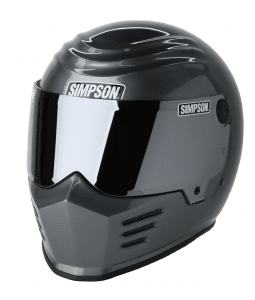 This is the only helmet that needs to be considered if you are a stig or throwback that wants a GSX-R7/11 Street-fighters.
It has a distinctive visor shape and a thrusting chin that makes it recognizable even if it was not certified for UK road use.
Modern Version is the Simpson Outlaw Bandit Helmet.
The Simpson Outlaw Bandit has all of the classic Bandit styling, but with some added features to make it more aerodynamically stable when you're standing 12 O'Clock on the 405.
A wider field of view and a redesigned shell improves the rider's visibility and minimizes helmet lift at high speed. Meeting Snell M2015 and DOT safety ratings, the Outlaw Bandit is as tough as it looks and guaranteed to turn heads.
Bell XF-GP
If the origin of the bell star helmet was overlooked for limited vision, the bell XF-GP is even worse with its two single eye holes.
But even if it has two individual eye holes, it is simply known for its coolness even if you could barely see out of it.
Few helmets were manufactured aimed at drag racers on both two and four wheels in 1975.
Nowadays, XF-GP is collectible ornaments that will naturally cost a lot.
5 – Griffin club man
Back in the 1970's, there was nothing cooler. This helmet has a chrome rim around its visor opening and a mesh-filled air that is drilled into its visor.
It has a peaked visor and also Perspex to allow motorists have a full visibility. Some motorists are still wearing this helmet. Modern spin = The Gringo
When it comes to retro or vintage bikes it is always important to have your gear match the vibe of your ride and for many years that meant wearing either an open face helmet or putting on a crusty old Bell Star or Buco Allsport if you wanted a fullface helmet that looked the part. Well, thanks to the wonderful folks over at Biltwell, the Gringo is here to wrap your head in a combination of old school style and modern safety.
The DOT certified Gringo helmet is built to suit the needs of contemporary riders, with a beautifully crafted diamond stitched removable liner, an eyeport that accepts pretty much any type of goggle you could want to wear, as well as 5 snaps that work with any universal 3-snap shield, Biltwell's own Bubble shield or their 5-snap Blast shield. So next time you hop on your chop or throw a leg over your bike leave that vintage helmet on the shelf where it belongs and grab a Gringo.
It was nearly 20 years since this helmet first come back in 1996 and the company has just launched its latest version that is the RX-7V.
This helmet is still on the market, and it is considered as the most desirable lids on the market. When it was still new, it was one of choice for racers and journalists that means you will barely ever saw a magazine cover that did not feature one.
Modern version: Arai RX-Q 75 Retro Motorcycle Helmet
3 – Shoei RF-102V
The RF-102 was first introduced in 1983 but later in 1984, the V-version replaces it. The Shoei RF-102V is the first full face helmet that has a proper ventilation system.
Many years, motorists have been drilling holes in their visors to allow ventilation. This helmet allows air circulation around the head, and it could be opened and closed with little tabs on its forehead. This helmet is a pioneered stuff that is suitable for motorists.
See the Bell Bullitt for a vintage equivalent.
This helmet was made for BMW, and the system 1 was a pioneer. It has a flip up design and this idea got its stride in the late 1980's with the system two helmets. It has a clip on tinted sun shield at the top of its visor, an optical peak and an electrically heated main visor that is implemented with tiny heating elements to de-mist it.
The shell was dimpled like a golf ball to improve aerodynamics and reduce noise. Some of the ideas of designing this helmet have made it the best and that it is being appreciated by motorists.
1 – GPA SJ twin lock
The system two helmets have been an innovator, but the GPA SJ twin lock is the only modernist helmet to have been there without a chin strap. Instead of having a chin strap, the lower rim of its lid is divided into two sections. It has the front and the rear sections, and both are hinged down instead. You can swing them down and then put the helmet on and click them into place and lock the lid onto your head both back and front. The idea of having two sections was to improve safety by making a top that will be less likely to shake off by accident. It has a quick release system that can be removed easily without having to pull too hard in case an accident occurred.
This helmet was used by riders like Christian Sarron and Patrick Pons and also it was used as a host of F1 drivers in the early 1980's. The GPA SJ twin lock was never certified but later lost its favor in racing. The reason it lost its favor is that it lacks adjustability without a strap to tighten it, and this means that it either fit well or not.
Today's Modern Safety with Retro Inspiration
As a motorist or a car rider, you should know the first designs of helmets you have ever worn. You might possess classic motorcycle helmets, but you don't know when they were first designed. The above helmets will enable you to know the oldest and the newest models of helmets. You can be able to know that the bell 500 TX helmet was the father of the entire mask that is on sale. Know the origin of mask you are using today by having a look at the above classic motorcycle helmets.