Toby Price has dropped further off the lead after the marathon 534km 10th stage of the Dakar Rally was substantially shortened for safety reasons following several crashes.
Organisers said their rescue helicopters were all deployed for fallen riders and with strong winds picking up, they decided on a shortened stage.
The Aussie title defender and leading KTM rider finished fourth, some three minutes behind Joan Barreda Bort (Honda, Spain), losing another couple of minutes to outright leader Ricky Brabec (Honda, USA).
If Brabec is victorious, he will be the first American to win the event and break KTM's streak of 18 wins.
Toby says he is still "comforted" by the fact that he virtually sacrificed his third rally win by being the first to stop for fallen rider Paulo Goncalves in the seventh stage.
Sadly Paulo later died and the eighth stage was cancelled in his honour, leaving less opportunity for Toby to make up time.
Shortened course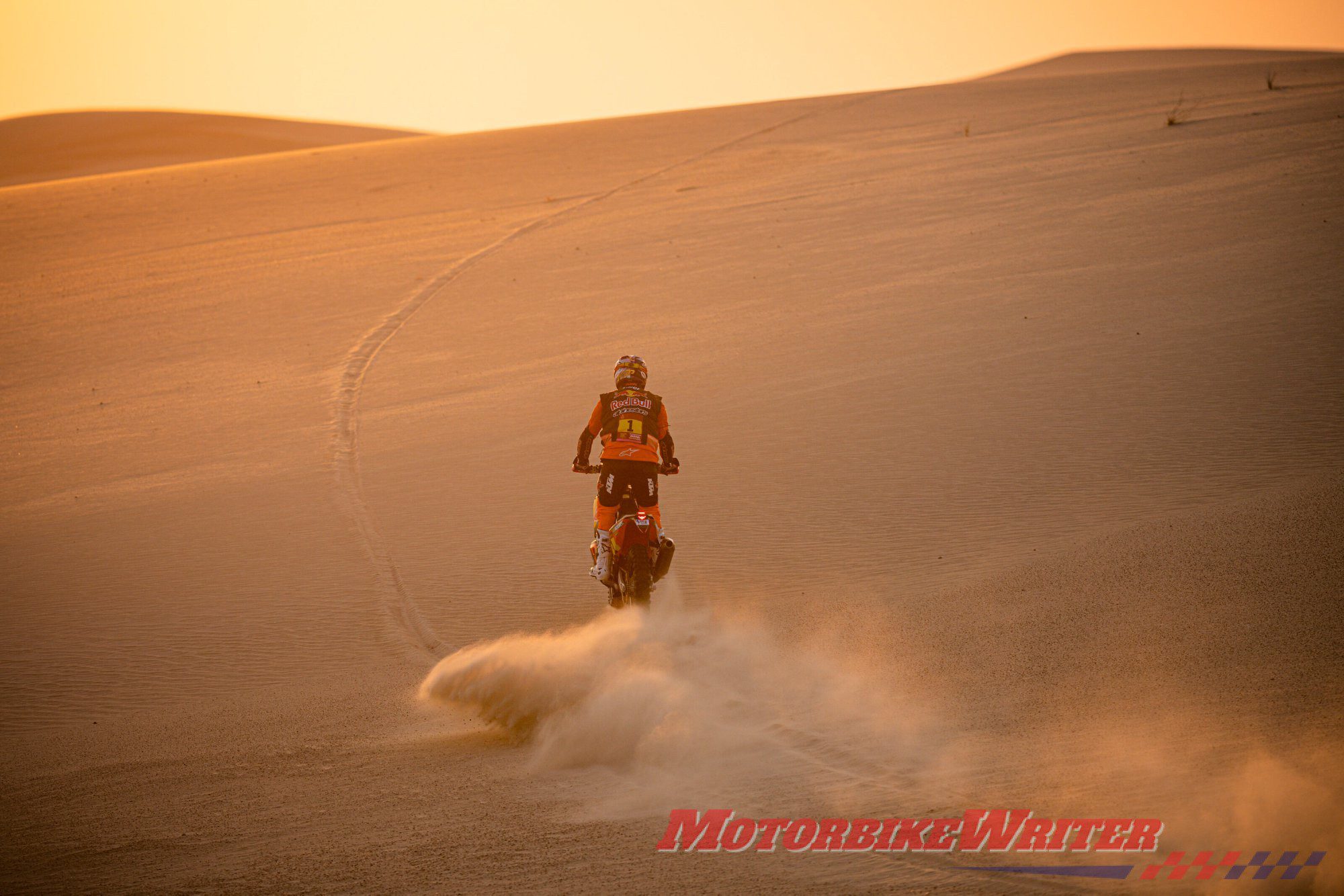 "Today's stage was cut short due to safety reasons," Toby says.
There were a lot of drops throughout the course and I guess when we're all traveling at such high speeds they do catch you out. I hope there were no serious injuries today and wishing those injured competitors a fast recovery.
"The cancellation of today's stage has made it that much tougher for us to make up the time we needed. I was hoping to start a little further back tomorrow to make up that time but unfortunately that won't be happening.
"We're still in this race and aiming to get to the finish line strong."
"Now I can really focus on the small number of remaining days to try and close this gap up to the lead," he says.
Toby is dedicating his race to the loss of his friend, Paulo or "Speedy".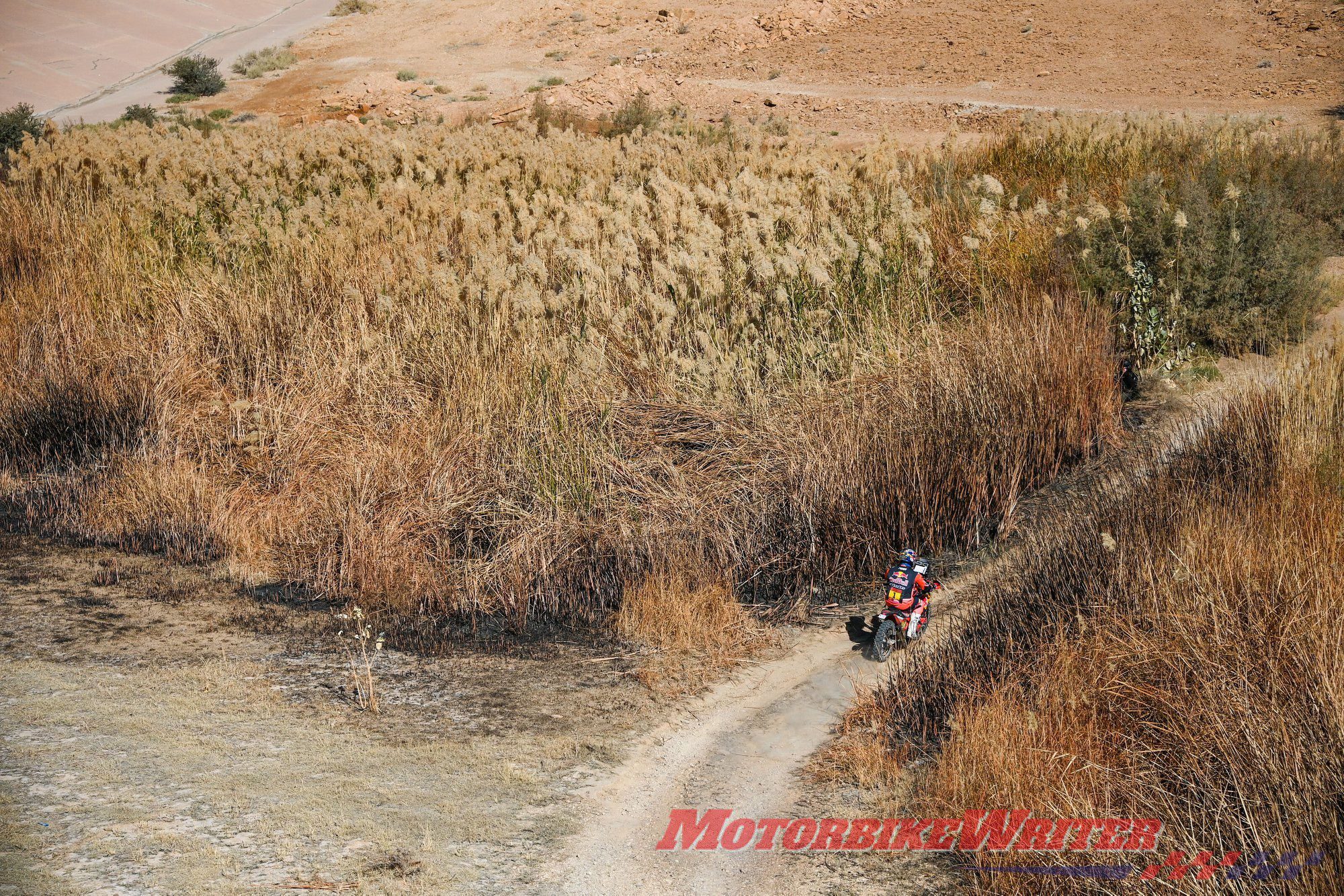 Top 5 rankings
| | | | | |
| --- | --- | --- | --- | --- |
| 1 | 9 | | MONSTER ENERGY HONDA TEAM 2020 | 34H 12′ 18" |
| 2 | 5 | | ROCKSTAR ENERGY HUSQVARNA FACTORY RACING | 34H 38′ 02" |
| 3 | 12 | | MONSTER ENERGY HONDA TEAM 2020 | 34H 39′ 27" |
| 4 | 1 | | RED BULL KTM FACTORY TEAM | 34H 40′ 51" |
| 5 | 17 | | MONSTER ENERGY HONDA TEAM 2020 | 34H 53′ 49" |
Other Aussies
Today it was fellow Aussie Rodney Faggotter (Yamaha) who stopped to help a fallen rider.
"He's going to be ok and got him in the chopper," says the veteran Queensland competitor.
Rodney stopped in the neutral zone and said it seemed they had run out of choppers to ferry the injured riders.
The consistent rider had his first non-top-20 finish with a 39th placing which only drops him one place to 134th outright.
Despite the big dropout of injured riders in the shortened stage, the other Aussie bike competitors are still in the event.
Fellow Aussie Ben Young (KTM) finished 76th and moves up three spots to 6oth in his second Dakar while Matthew Tisdall (KTM) finished 101st and moves up two spots to 97th.
For the first time the Dakar rally is being run in the one country, Saudi Arabia, after being run in 35 countries on three continents since 1978.
Toby aids firefighters
Like many Aussie sports stars and celebrities, Toby is raising money for the bushfire appeal.
He is auctioning his starting jersey and pants for firefighters
Toby is also doing his bit for the current critical bushfire situation by auctioning his starting jersey and pants with proceeds going to the NSW Rural Fire Service.
It is open worldwide, just send in your bid in Australian dollars on his Facebook page or Instagram.
Current highest bid is still $13,001.
Auction closes on 18 January at 5pm (AEST).
If you can't bid, please donate on this link. Sp far he has raised abouot $5000.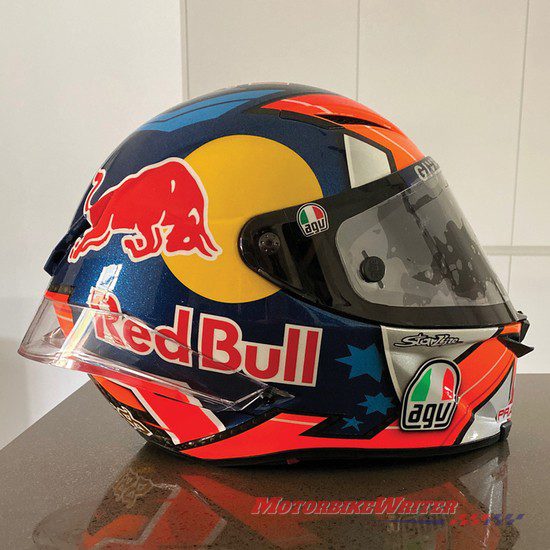 Meanwhile, Aussie MotoGP racer Jack Miller put his 2018 MotoGP helmet up for auction to raise money for the bushfire crisis.
The auction has closed with 22 bids and the winner bidding $18,000.
Jack will sign and send the helmet to the winning bidder.
Two-time MotoGP champ Casey Stoner says he will auction an old race suit for the first time, but no details are available yet.
Meanwhile, Deus Ex Machina founder Dare Jennings is raffling off his 1977 Triumph T140V.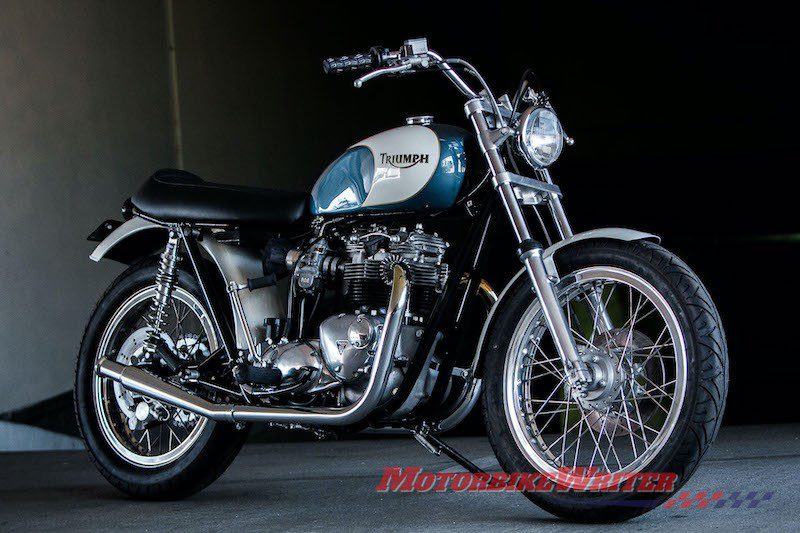 Money raised will be split among the Australia Red Cross, Save The Animals and Rural Fire Service.
You have the chance to win it by making at least a $50 donation via PayPal.