Single-Sided Maintainance On The Go
Although owning a motorcycle with a single-sided swingarm shows elegance and the importance of styling, it's also a pain in the ass to work on. Most of my friends keep their motorcycles parked in the garage on the center-stand ready to go for any kind of maintenance or tweaking that may be required. This is not the case with individuals rocking single-sided swingarm bikes.
Tirox is here to remedy that issue with the introduction of the SnapJack SS Wheel Stand; a stand exclusively built and designed for single-sided swingarm bikes.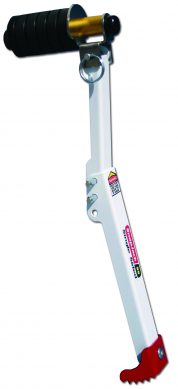 The stand is small and compact – meaning easy storage – and it uses a clever patent-pending design that takes pivoting force to jack your rear end in a matter of seconds.
The stand is constructed with high-strength low-alloy (HSLA) steel sourced from America that is then sent to Canada to be machined; meaning this buying this device will support your local economies (that is, if you're a resident of North America).
Using it is a breeze. You start by taking the Velcro strap and putting it on the front brake lever to secure the motorcycle. Bust out the SnapJack SS and insert the roller into the rear axle before placing the base a few inches away from your wheel. That's it. A quick push and your rear end has been lifted off the ground.
The best part of this device? You're looking at a $69.99 USD retail price. Dealers in North America, Europe, and Australia should have this unit.