Clear spray is super easy to use, buffs easily to a highly polished shine and leaves a very nice finish.
I'm embarrassed — this can of Tirox Speed Wax has been sitting around the garage since I wrote the review of the Tirox Chain Cleaner kit in September of 2008.
If you recall, that's the ingenious kit with the spiral-shaped brush that helps to make chain cleaning much easier.
Tirox also sent along can of their Speed Wax Detailer at that time, and I promptly forgot about it.
My excuse is that it looks so much like the can of Tirox chain cleaner that it sort of got lost on the shelf in the garage.
Then the other day I was poking around and I realized that this can was different.  The timing was, you might say, fortuitous, because I was just about to do some long-delayed spring cleaning on the bikes.
So I washed 'em up and broke out the Tirox Speed Wax, without a lot of expectation, I might add, but lo and behold, this stuff works great!  If you can get by the flowery-sweet, sort-of-like-coconut smell, it sprays on clear as a whistle and it wipes off just as easy.
It leaves a very nice shine indeed, and the surface almost feels like it has been left with some type of slick plastic-ky coating, which in the couple of weeks I've been using it does seem to give much better protection than I think any other quick detail spray I've tried.
I found that it's best to use a microfiber cloth for the buffing though, just like the instructions say, because the stuff just doesn't seem to wipe clean with a regular old cotton rag.  That must be why Tirox includes a microfiber cloth right in the extra large can cap; the microfiber works beautifully — literally a couple of swipes and you're done.
I'm pretty amazed actually, because I've tried just about every quick detailer in the book, and this one definitely seems different.  Better different, that is.  And faster — much faster.
So I had to go apologize to The Editor (who had forgotten about it anyway), and by way of that apology, I brought the can over and we spritzed up the Ducatis using my elbow grease.
We found that the Tirox Speed Wax does work best on a surface that's already clean, like after a wash.  It is not a cleaner, so it doesn't really take off the crusty old bug residue.  But if you want a quick touch-me-up or you don't want to take the time to do a full rubdown on a just-washed motorcycle, Tirox Speed Wax is just the ticket.
In fact, The Ed. agreed, so Speed Wax goes on "Our Picks for Best in Class" table on the webBikeWorld Cleaners, Polishes and Wax Reviews page (the index for all the webBikeWorld motorcycle cleaners and polishes and wax reviews) as a favorite.
We tried it on everything: windscreens, helmets, chrome, metal and painted surfaces, and it does a bang-up job on them all.  Faded paint with no clearcoat — not so good, but everything else, especially modern clear-coated paint comes up shiny as new.
Trying to take before/after photos of this stuff is impossible, but here are a couple anyway, just by way of illustration: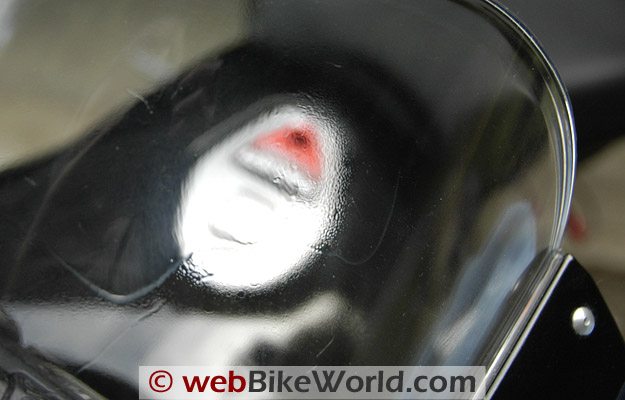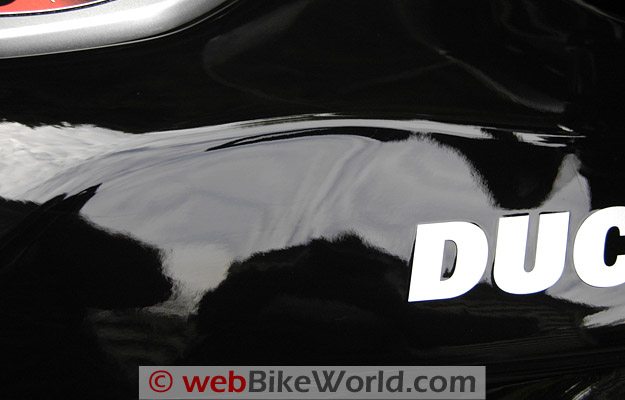 Conclusion
The best quick wax detailer we've found yet, but the only problem is that Tirox seems to have limited distribution and doesn't sell direct from their website.  It should be available at any of the retailers who also sell the Tirox chain cleaner kit, so when you order one of those, be sure to get a can of Speed Wax too.
UPDATE:  Tirox told us that Speed Wax is not yet available in the U.S.A., but asking Tirox Chain Cleaner retailers to also carry Speed Wax may help generate enough interest to get the product into the distribution pipeline.
wBW Product Review:  Tirox Speed Wax Detailer Polish

Available From:  Tirox Products
List Price: $10.99
Review Date:  July 2009
Made in:  Canada
Comments:  Product provided by Tirox (more).
Note:  For informational use only.  All material and photographs are Copyright © webWorld International, LLC – 2000-2011.  All rights reserved.  See the webBikeWorld® Site Info page.  NOTE:  Product specifications, features and details may change or differ from our descriptions.  Always check before purchasing.  Read the Terms and Conditions!
Owner Comments and Feedback
Comments are ordered from most recent to oldest.
Not all comments will be published (
details
).  Comments may be edited for clarity prior to publication.