TireGard Wireless TPMS Image Gallery
The TireGard wireless TPMS (Tire Pressure Monitoring System) is easy to use, light weight and accurate, but expensive.
A tire pressure monitoring system — specifically a wireless TPMS — has been on my radar screen for some time.
And now that I think about it, is there such a thing as a "wired" TPMS? Possibly, but wireless is the only way to go.
But anyway, the only systems I've seen must be mounted on the motorcycle wheel rim under the tire. So, I kept thinking that I'd mount a system next time the bike was up for a new set of skins.
But I just never got around to it, and besides, the TPMS unit I was looking at did not seem very accurate anyway.
So along comes the TireGard Wireless TPMS, which piqued my interest.
The kit consists of two replacement valve caps with their own tire pressure monitoring system and a (bonus) tire temperature monitoring system, plus some kind of wireless broadcasting system.
Ah — the wonders of modern technology and electronic miniaturization! The valve caps register the pressure and temperatures and send them to a hand-held monitor in real time.
But, being a natural skeptic (some say a crank), I just didn't believe this would all work as advertised.
If the other brands of tire pressure monitoring systems need a heavy sending unit attached to the wheel rim inside the tire and a big handlebar readout, how could this little system work?
Well, surprise surprise, it does. I can't comment on longevity, because I've only used it for about 3 weeks so far, but I was definitely surprised the first time I screwed on the valve caps and got an instant tire pressure reading.
Not only that, it's pretty darned accurate too — so far within about ±1.5%. That's about ±0.5 PSI in a 35 PSI tire, well within my personal tolerance level.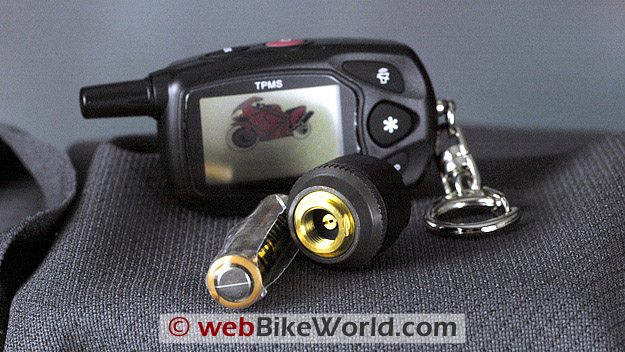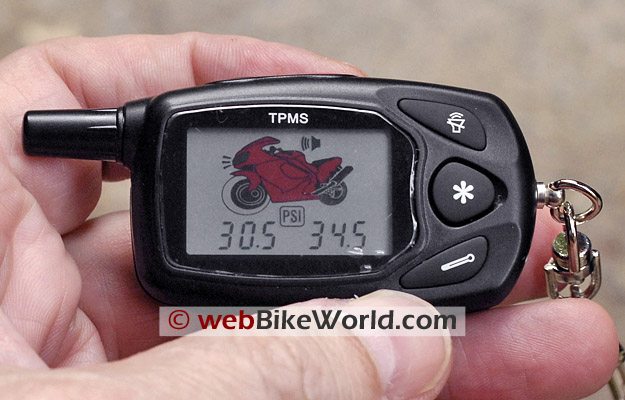 TireGard Wireless TPMS
I've always made a habit of checking the tire pressures before a ride as part of my pre-ride check-over. On some motorcycles, this can be a bit of a pain, depending on the accessibility of the valve stem.
I also usually try to do it before I suit up, because it's easier to bend down and it's also much easier to work the air pump if necessary when I'm in my street clothes, rather than all suited up in leathers.
The TireGard system makes it easy; it consists of the two valve caps, which seem pretty solid and are made from brass, plastic and some other metals and which carry the TPMS and battery under a plastic screw-on top, which also has an O-ring to keep out the water.
The valve caps are labeled "1" and "2", rather than "F" and "R" for some reason.
They weigh 10 grams each, which seems like a lot for a wheel/tire assembly, but I actually haven't noticed any balance problems at all.
The kit came with two CR1632 Swiss Renata 3V watch batteries to power the valve cap sending units and a no-name AAA battery for the monitor.
Sliding the watch batteries into the valve caps was a breeze; inserting the AAA into the monitor was a pain. The back cover is very hard to replace, but I finally got it on correctly by luck and I hope I don't have to do it again for some time.
The hand-held monitor has an on/off button, a "Set" button, a button to display the temperatures and it even has a button that controls the backlight.
The monitor displays the tire pressure on the little LCD screen as numbers under the icon of the motorcycle with front and rear tires.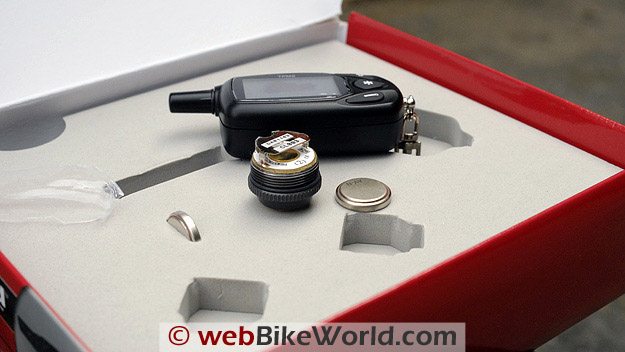 Monitor and Usage
The monitor weighs 45 grams and it can be set to display PSI, kPa, Bar or kg/cm2 pressures. The bonus is that it also displays tire temperatures in F or C.
The settings can be easily changed by pressing and holding the "Set" button and then using the temperature and backlight button to change the display (see the video below).
The TireGard TPMS can also be set to give a warning beep and a buzz for low or high temperatures and low or high pressures. Each of these trigger numbers can be set by the owner.
However, the beep and buzz are so mild that you'll probably never notice them if the monitor is in your pocket while you're riding.
Which brings up another point: I have not tried using the TPMS while riding. It's just too difficult — and dangerous — to fish the monitor out of my pocket, look at it to find the button, turn it on and take a reading.
This is probably the major difference between a rim-mounted system with a monitor that can be mounted on the handlebars or dash, because it can provide a low pressure warning while riding, in case something goes wrong with the tire.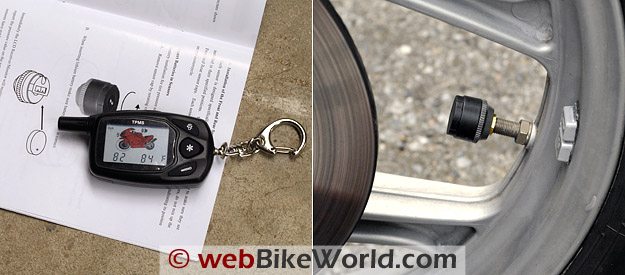 But I don't think the beep and buzz on the TireGard TPMS are strong enough to give you a warning, thus some potential owners may determine that half the usability of the system is gone.
I guess you could stick some Velcro on the back of the monitor, and matching piece on the dash, and stick the monitor there to view while riding.
But the LCD screen on the TireGard monitor seems to be pretty good at collecting glare, so I'm not sure how well this would work and I haven't tried it.
TireGard claims a 50 ft. monitor distance, but I only use it in the garage, so I haven't confirmed their numbers. I turn on the monitor when I walk out into the garage, the readings display on the monitor and that's it.
It takes a while to trust the thing, but I've checked it against a Roadgear digital tire pressure gauge (review) and an Accu-Tire manual gauge and the TireGard TPMS always seems to be right on the money to within maybe 0.5 PSI.
I also don't know how long the batteries will last; I assume quite some time — TireGard says 1-2 years approximately for the valve caps and 6 months for the AAA in the monitor.
The system will monitor tire pressures from 0 to 60 PSI, which covers just about any motorcycle I can think of.
 

w

BW 

Video: TireGard TPMS Tire Pressure Monitor
The kit also includes a pair of round locking nuts in the kit that supposedly help prevent theft, but I don't use them and anyone with a small hex wrench could defeat the system anyway.
I'm not sure who would want to steal the valve caps, because it wouldn't do much for them without the monitor too.
The owner's manual is pretty straightforward, and loading the batteries probably takes more time than anything else.
It's basically a plug-and-go system; plug in the batteries and you're ready to go, especially if you accept the default settings. But even if you want to change something, it's very easy.
Now there are a few flies in the ointment here: first, the price is pretty steep for what basically amounts to a lazy person's way to check tire pressures.
If you balk at the $199.95 price for the kit, then buy yourself a good tire pressure gauge and prepare to stoop and squat every time you check the tires.
Which, by the way, also brings you "up close and personal" with the tires, which isn't a bad thing, as you may find a screw through the tire like I did here.
If I hadn't been bending down to check the tire pressures, I would not have found the screw and who knows where that would lead.
On the other hand, lazy types or techies may want a TireGard wireless TPMS for their own reasons.
The second potential problem is that I read a few posts here and there with owners complaining that their systems went belly-up after a few months. So far, no problems at all here, but we'll see.
The other issue is that as it is, the system isn't really designed for mounting in a way that could provide real-time tire pressure monitoring, which is sort of half the equation. I'm not sure why the company didn't address this.
The monitor does have a cheap-feeling key ring on one end, but I don't use it, because I don't want the monitor banging around on the headstock and I'm afraid the key chain would break while I'm riding.
A handlebar mounting system would probably have been a nice addition, although it shouldn't be too difficult to rig one up if you're handy.
UPDATE (May 2010): We have received several emails from owners warning against using the TireGard product on rubber valve stems.
They claim that the weight may be too much for some valve stems, causing sudden failure, and they suggest that the product should be used with metal valve stems only.
Conclusion
The TireGard wireless TPMS (Tire Pressure Monitoring System) works (so far) surprisingly well, is very easy to set up and it's also very accurate — it could be more accurate than many tire pressure gauges.
It's relatively expensive, and you could even buy one of these ultra-deluxe tire pressure gaugesfor about 1/3 the price, but farklers will want one anyway.
The mounting issue and the price may make this a no-go for many riders though. I like it because all I have to do is turn it on and it instantly confirms the tire pressures.
I can now remotely check the pressures before every ride, even when I'm on the road and stopping for a break.
I usually don't do this with a manual gauge, so I figure the more times I can check the pressures, the safer (theoretically) I'll be, and if the TireGard system makes it easier for me to do that, it's worth it.
Besides, the monitor is a lot of fun to use and it's kind of a kick to see the tire pressures instantly display on the screen!
w

BW

 Review: TireGard Wireless TPMS
Manufacturer: Unknown
List Price (2009): $199.95
Made In: China
Colors: Black
Sizes: Fits various bikes.
Review Date: August 2009
Note:
 For informational use only. All material and photographs are Copyright © webWorld International, LLC since 2000. All rights reserved. See the webBikeWorld® 
Site Info page
. Product specifications, features and details may change or differ from our descriptions. Always check before purchasing. Read the
Terms and Conditions
!
Owner Comments and Feedback
---
From "B.R." (August 2015): "Had it for 8 months and It is still in such good condition, it still has the plastic film over the monitor of the sending unit.
Tire gauge in the sending unit show the tire pressure all the time and will not change. It seems the sending unit has stopped working and will not pick up the valve caps wireless reading. No one wants to talk to me about it.
Never purchase from Show Chrome Accessories again or a product from TireGard ever again."
Editor's Reply: Check and/or replace the batteries?
---
From "J.D." (July 2013): "Bought over a year ago and the remote is stuck on 83.5 air pressure for the front tire and will not release, (new batteries, all around).
Contacted Big Bike Rep. and was told out of warranty and no repair option, but would sell me a new one at reduced price!
No thanks on this product and any other (of their) product(s). Tire Gard just released new updated TMPS hope it last longer than a year at over $200."
---
From "G.J." (June 2013): "I was able to get in on an internet sale. Two tire monitors for $90. What a deal! When I put a new set of tires on, I had the steel valve stems installed, then I was finally able to use the TireGard system. The instructions did say to use steel valve stems on Ultra bikes.
So far, I love it. I have a 2007 Harley Ultra and the checking of tire pressure was something I always did but just tough to get the gauge on the tire. Now I just turn on the monitor to get my reading. Very happy with the unit."
---
From "P.H." (January 2013): "I've had one of these on my Concours for a few years now. The rear side stopped updating while on a long trip, and they sent me a replacement after I returned mine.
The replacement has been AOK. It's Velcroed on my dash and I've installed metal valve stems. With the bike on the center stand it'll update with a few tire rotations, which is very handy for ride prep. I'm satisfied with it."
---
From "J.C." (02/11):  "I was looking through some of your equipment reviews and read the TireGard article. I have been using a PressurePro system for a little over a year on my motorcycles and one of their 16 wheel models on my RV and motorcycle trailer.
Both systems use similar technology to the TireGard, but give the added security that comes with real-time constant pressure readouts and low pressure alerts that can't be missed.
The motorcycle unit can be mounted anywhere on the bike, but, of course, it's advisable to mount it in a position that is easily seen while in motion.
Though I carry a tire plugging kit and small air compressor in my saddle bags, I cannot adequately express the degree of confidence that comes with knowing what my tire pressure is at all times.
Low tire pressure can be a killer. Here's a link to their site if you want to check it out."
---
From "J.M." (11/10):  "The consensus on the BMW SportTouring forum is that the TireGard pressure checks taken before the bike is moved cannot be trusted, most often simply reporting the last pressure measurement before the bike was stopped.
That's one issue that makes me hesitate to invest the $150.
Once started, the system relies on centrifugal force to keep the unit engaged and reporting periodically.
On a related note, I had a brass valve stem extender on my K1100LT that did cause the rubber valve stem to break down, resulting in a sudden deflation that was surprising, to say the least.
It seems not to take very much to compromise those ordinary stems, which were not designed with attached weight in mind."
---
From "M.B." (9/10):  "I just read the reviews on your (website) for the Tire Gard system and I would like to add my input of this system.
This week I just received my second replacement unit. All the units have the same problem.
As I have my monitor Velcroed to my windshield spoiler at eye level, I can tell you without a doubt that there are some engineering faults with this system.
On my first two units, the rear tire display would work for a day or two (on multi day trips) updating while the bike was in motion.
Then the rear tire would stop updating while the while the bike was in motion, but would update while the bike was stopped for a minute or longer, the front tire display would work fine.
As the system updates after every 1psi increase while in motion, I would get a 4 or 5 psi increase on the rear tire display when stopped.
On my last trip I swapped sending units between the front and rear tires, and sure enough the rear tire updated while the front tire did not when the bike was in motion.
On my first return I was told they never had this problem before and from what I could see, they just sent me back the same complete unit.
For my second return, (the retailer) did acknowledge that they were having some issues and (they) issued my a UPS call tag and after receiving my unit, (and) shipped me a new unit.
I know that it was not the same unit as I put some small mark on all the components.
Today I took my new unit out for a test ride and sure enough, the rear tire did not update while riding while the front tire updated three times. After stopping for a few minutes I got a read tire update from 42 to 46 psi.
I powered the unit off and when I turned it on, I got a series of numbers in place of the rear tire readings and now the unit will only display "134" for about a minute and then power off."
Editor's Note:  I don't think the system was really designed for continuous use while riding and we only used our system for static checks when we had it. For continuous tire pressure monitoring, use an internal wheel sensing system.
---
From "D.H." (09/10):  "I have been using the TireGard system for a year now, with excellent results. On a trip to Nova Scotia, I noticed my pressure dropping by about 2 lbs each night.
Thought maybe the problem was the sensor on the tire, but after removing it, I still lost the 2 lbs each night. Found out I had a small puncture in the rear tire.
I turn it on as soon as I get on the bike. I have the readout inside the map cover on my tank bag, so I can see it whenever I want. I do check it several times when riding, like at stop signs and such.
I have a 2000 ST1100, and I got my tiregard for around $150.00. I think that's a small price to pay, to know my tires are in good shape pressure and temperature wise. Guys will spend a lot more on loud pipes, that do nothing except make noise. I'd rather be safe than noisy!!"
---
From "T" (9/09):  "Read this thread and warn users re possible danger of valve stem letting go…"
Editor's Reply:  Thanks for the info, although it's not clear in that posting that the Tiregard cap was to blame, it could have been an old valve stem or other problem.
---
From "A.F." (9/09):  "I have owned this system for 6 months now and it works as advertised with a small quirk in my case.
Unlike the original reviewers comments about checking tire pressure in the garage before the ride I find that wheels need to be in motion for a while or sense a pressure change to indicate a value on the display once the unit is turned on.
Turning on the unit will display the last pressure value recorded, but unless the LCD display shows the wheels blackened, current pressure is not displayed.
I find that I need to ride a mile or so to get a updated result for both front and rear wheels, and the front wheel typically takes much longer to register than the back one."
Editor's Reply:  Interesting — the unit we have displays the pressures in real time whether the bike is moving or not, as you can see in the video. Perhaps your batteries are low?  Anyone else have this problem?
---
From "S.S." (8/09):  "While I am sure this is a cool thing to have, the price is certainly prohibitive, but more than that, I think that this sort of device contributes to the passive sort of bike maintenance that too many riders practice.
The point about being able to check your air pressure instantly and often would lead you to believe that this device actually improves safety, but I think the opposite is true.
Checking tire pressure manually with a hand gauge gets your eyes down to the suspension level, where you can do your visuals on brake pads, chain tension, etc., as part of what should be everyone's pre-ride inspection.
Treating a motorcycle maintenance as casually as we do our automobile maintenance can frankly get you killed, and a device such as this just encourages laziness."
---
From "R.O." (8/09):  "I've seen this Tire Monitoring system at my local shop – But $199.00 is way too much!! – especially when I have to pay $0.75 for air also – Once again I have to say "too much", I guess I'll wait until it's 75% off $199.000.
On top of it all, you now need to carry another gadget; maybe if the monitor could link with our phones – then it could be great product — Over all great idea."
---
From "J.A." (8/09):  "Replaceable batteries in the tire mounted sensors is certainly a big plus. Most sensors, including the TST systems mentioned above, must be replaced when their battery fails making Tire Pressure Monitoring systems an expensive maintenance item. This is especially true of systems that are always "on" unless removed from the tire valve."
---
From "J.K." (8/09):  "I have had one of these on my 2008 Victory Vision now for a little over 3 months (5500 miles). I have had zero issues with it.
As I tried to get some other riders to take a look at the product, there were some concerns over the added weight of the sensor on a rubber valve stem and that it could break it down over time. Any thoughts on this?
I intend to replace my rubber ones with metal when I change my tires next riding season.
It is important to note that they offer one for touring bikes that pull trailers too (4 tire system) and one for trikes too (3 tire system). The 2 tire system can be had for around $150 if you search around a bit.
In closing, with this product there is no longer an excuse to not check your tire pressure every time you ride. We all know we should check each and every time we mount the bike."
Editor's Reply: I don't know if the 10 g weight of the valve cover is a potential source of problems, but I'm assuming the company has tested it and found no problems.
Otherwise, you'd think they'd be in a heap of trouble with the DOT and everyone else if the weight of the valve cover caused a valve stem failure!  Note that the weight is pushed outward as the wheel is turning.
I've seen skull heads, lights and many other types of valve caps that probably weigh as much or more, so I'm guessing there isn't much of an issue here."
---
From "M.G." (8/09):  "This is a great safety and proper pressure gauging idea and I would love to buy a system for my sport bike, but $199 is nearly the price of a rear tire mounted and balanced.
Until they get this down to under $50 its just not going to proliferate in my opinion. The techno tourers will love it though. Good stuff."
---
From "D.K." (8/09):  "Truck System Technologies, Inc sells a two tire TPMS for $159. I use their 6 tire system on my motor home.
In the RV "off-season" the sensors can come off the motor home and two go on the bike with the Velcro'd display unit easily sticking onto the instrument area of the bike or I could just stop being cheap and buy two additional sensors for my Concours for $100.
The system will monitor up to 22 tires at once so I guess if you've got a garage full of bikes and cars it could save some time and knee pain squatting and checking tire pressures.
With the TST system you're not going to get a nice little motorcycle display picture but you will get the tire data you need including info about a slow leaks and a display you can actually monitor while riding if you're that concerned about tire pressures or flats.
With the six tire system (which I bought on special for $249) I could theoretically monitor all three bikes in my garage at once and just move the display unit from bike to bike as they are ridden.
Also, no connection between me and TST, I just think their system offers good value."