Timbuk2 Messenger Bag Image Gallery
Messenger bags were originally used to rush important documents back and forth by bicycle messengers in big cities like New York and London.  In the beginning, they were known as courier bags.
They were, and still are, dumpy looking things that get the tar beat out of them by their banzai owners.  Somehow, the bike messenger look became hip and the inevitable New York to Peoria trickle-down fashion effect took hold.
The result is too-fat people browsing Wal-Mart in bicycle shorts and Wall Street clerks riding scooters to work with a messenger bag slung over their shoulder.
Messenger bags and "the look" have a cult status that has given Timubuk2 and Ortlieb the type of exposure in the prime youth market that all the advertising dollars in the world can't buy.  This drives the white bread Fortune 100 board rooms green with envy, because they spend millions on cheesy commercials chasing the same elusive status and they never quite get it.
Timubuk2 and Ortlieb started out by making purpose-built, no frills courier bags for the hard-core bike messenger trade only, but when the new look caught on, messenger bags got hot and both companies responded in different ways.
Asian factories can churn out products like this in their sleep, and it would be easy to flood the market and quickly put any high labor cost competitors out of business.  Survival in this type of commodity market means having the brand cachet that means buyers will accept no substitutes, and developing an edge over the competition.
Somehow, Timbuk2 must have realized this, and they realized they needed to jump the curve.  They combined leading-edge business management concepts with manufacturing technology to perfect a just-in-time, made-to-order lean assembly process that's light years ahead of the typical U.S.-based manufacturer.   This has enabled them to keep the plant in San Francisco instead of moving it off-shore.
Ortlieb took a slightly different route and decided to exploit their expertise, and they've expanded into different markets.  They're now a worldwide enterprise, with a focus on waterproof products for outdoor activities including bicycling, motorcycling, water sports and more.
Timbuk2's just-in-time "pull" manufacturing system starts with a customer placing the order.  Customers can go to the Timbuk2 website and quickly step through the ordering process, choosing the size of the courier bag, favorite colors and other options like mobile phone holders, padded shoulder straps and pocket variations to place an order.
The custom order then becomes a manufacturing build sheet, and the bag is built and shipped to specifications.  Their ability to make this work efficiently and rapidly apparently means that Timbuk2 doesn't need to carry lots of stock which can burden a company with overhead costs.
I went through their ordering process late one night East Coast time and was absolutely amazed when just 36 hours later my custom bag showed up at the door, 4,800 kilometers distant.  In the 3 webBikeWorld colors, no less!
That's all very interesting, you might say, but what's a review of a courier bag doing on a site related to motorcycles?  Well, it has to do with sportbikes, believe it or not!
The immense popularity of sportbikes over the last decade has been amazing.  But the lack of any type of carrying capacity on a sportbike can be a drawback.  Stow the registration card and proof of insurance papers and you've pretty much run out of storage on a sportbike.  This has spawned an entire industry devoted to various shapes and sizes of backpacks, tank bags and the like for use by owners who want to actually use their bike for something more than a track day.
A messenger bag has a few things going for it when compared to typical motorcycle luggage.  Besides functioning as a temporary storage space, a messenger bag also looks decent enough to carry into the office when the owner rides to work.  The bag also doesn't have to be mounted on the bike, so there's no time wasted messing around with tank bag straps.
And since it's carried with the owner when they arrive at their destination, there are no worries about theft.  Motorcycle commuting with this type of bag seems to be a growing trend, so we figured we'd try the brand that pretty much started it all to see how it works when compared to traditional motorcycle luggage.
There is one concern about using an over-the-shoulder bag or a backpack when riding a motorcycle.  It's always important to wear proper riding gear and to keep safety foremost in mind, and it's usually not a good idea to carry hard items like mobile phones or tools in the pockets of a motorcycle jacket.
In case of a fall, a hard item could break a rib or rupture a spleen, turning what might have been a scary and unpleasant encounter into a trip to the emergency room instead.  But if you don't have a choice, and you need to truck some gear back and forth to work or elsewhere, a messenger bag is something to consider, especially since it can be used for other purposes.
Timbuk2's messenger bags are available in four different sizes, ranging from small to extra-large.  Timbuk2 calls them "Pee Wee, El Ocho, Dee Dog and Bolo".  The smallest bag is 15″ (380mm) wide at the top, 10″ (250mm) high and 5.5″ (140mm) deep with a 12″ (305mm) wide bottom, which actually is a nice size for motorcycle use if there's no need to also haul the occasional laptop.  The small bag has a capacity of 743 cubic inches.
At the opposite end of the range, the extra-large size "Bolo" bag is a monstrous 27″ (685mm) wide at the top by 14.5″ (368mm) deep and opens to 9″ (230mm) thick, with a 20″ (508mm) wide bottom.  It has a huge internal capacity of 3067 cubic inches, which is bigger than most motorcycle saddlebags and tank bags combined.  This bag would probably be way too big to use when riding.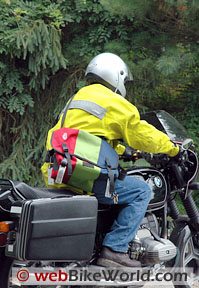 We wanted something that was just big enough to hold an occasional laptop, along with the notepads, books and the typical miscellaneous assortment of junk that gets thrown into the average sized commuter's briefcase.
Timbuk2 says that the medium sized bag as the most popular, and it seemed like it had the dimensions that would meet our needs without being too gargantuan, so that's what we ordered.  Each bag starts out with a different base price, and the El Ocho is $70.00 before options.
The next step in the custom ordering process is deciding on a fabric.  Timubuk2's messenger bags are available in a choice of two fabrics which should be familiar to motorcyclists; Cordura and ballistic nylon.
Just about every textile motorcycle product around is made from one of these two fabrics, known for their toughness and longevity.  Since ballistic nylon is heavier and more resistant to pilling, we figured it would be the best choice.
When used for motorcycle commuting, a messenger bag will see a lot of chafing against heavy a variety of objects, so we needed something that would stand the abuse.
Every Timbuk2 messenger bag is made from three vertical fabric panels, and each panel can be ordered in one of 16 different colors.  That's a lot of combinations, but after thinking about it for a while, the obvious choice was the webBikeWorld corporate colors of red, green and blue!
After choosing the size, fabric and color, all that's left is to select any desired options; we went for the carrying handle ($10.00), a silver colored Timbuk2 logo ($5.00) and a center divider ($10.00).  At checkout time, a couple more options are available.
We chose the no-slip, removable padding for the shoulder strap ($10.00) in black and a size small mobile phone holster ($15.00)  in purple.  The mobile phone holster attaches to the bag's shoulder strap or a belt and it's a handy little device.  The small size is the perfect shape for a Motorola flip-phone, and the holster's location on the shoulder strap makes it easy to grab the phone when it rings.
As we'll see, quick access to the bag's contents is relatively difficult, especially when it's on your shoulder.  So if you use a cell phone we suggest ordering the holster.  The mobile phone holsters are available in four different sizes and a whole palette of colors, so there should be one to fit just about any size phone.
The total damages were $120.00, plus $12.00 for the two-day shipping and handling service (standard delivery is $6.00), for a total of $132.00.  This is actually isn't that bad for a custom-made product that's comparable to a good quality briefcase.  A judicious buyer could skip some of the options and probably get away under 100 bucks, but don't forget that this bag can also be used as a briefcase or overnight travel bag, which makes the price seem more reasonable.
So what's it like to use?  The nylon web shoulder strap that Timbuk2 provides on their bags is 2″ (5cm) wide and very robust, with a big (big) metal adjustment buckle on one side.  There's a smaller nylon webbed strap that's designed to swing around the back of the rider and attach to a big D-ring on one side of the bag, and this is a must-have feature for using this type of bag on a motorcycle.  It virtually locks the bag in place and prevents it from flopping around in the air stream when riding.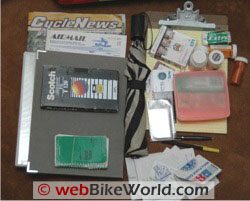 Stuffed with more than I really want to carry over my shoulder on a motorcycle, the medium sized bag can hold, for example, a Compaq Presario 2585 laptop; a fold-open full-size notebook with writing pad; a legal-sized clipboard with pad, several magazines and a couple of books; a mini-umbrella and whatever else you can stuff inside, including an assortment of pill bottles, maps, emergency rations, earplug containers and a few other odds and ends.
My previous go-to-work briefcase was a soft two compartment job by Land's End, and the medium messenger bag holds nearly as much.
Although this assortment is relatively comfortable to carry over the shoulder, because of the
wide nylon strap and padding, this is probably a bit much to sling around on a motorcycle.  But once on board and with the bag's safety strap wrapped around the front, it actually isn't bad and doesn't seem to affect the rider's balance.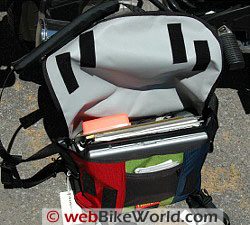 Timbuk2's messenger bags include some internal storage capacity.  There's a pocket module that's sewn on to the liner on the inside front of the bag.  The module includes a nice, wide zippered pocket that's 11″ (280mm) wide and 10″ (254mm) deep, and it also has four separate open pockets that can hold things like pens, papers, a small flashlight, a mobile phone, CD's or music players and other miscellaneous items.
It also has a smaller zippered pocket that's 6″ (152mm) wide by about 4.5″ (115mm) deep, and it includes a business card holder that will carry about a dozen cards and has a clear vinyl window.
The optional middle divider that we ordered is basically two thin panels of nylon sewn into the middle of the bag.  The divider has a short 3″ (76mm) piece of Velcro to keep it closed.  Without the divider, the interior of the bag is just one big cavern, shapeless and saggy, but the divider unfortunately doesn't do anything to help matters.  It would have been nice if the divider was made with some type of stiffeners built in, which would help give the bag some shape.
The problem is that when the bag is empty or nearly so it loses it's shape, and it just sort of sags and hangs there like a big blob.  This makes it harder to carry and to open because there's nothing to grab on to and it doesn't stand upright when laid on a counter or desk.  It would definitely be better if it had some type of stiffeners, either in the sides or the edges of the bag.
The bag has a flap that serves as the cover, which folds over the front and closes with four 4″ (101mm) long strips of Velcro, two on each side on the inside.  The strips are staggered, giving a range of adjustment so that the flap can be closed even when the bag is overstuffed.  In addition to the Velcro, there are two plastic clips on the outside of the flap.  Each clip is attached to an adjustable nylon webbed strap, and each strap has a reflective strip hanging off the bottom.
The clips are frustrating to use, because two hands are needed to open them.  This is not your father's briefcase, and I guess couriers don't have to get in and out of their bags very easily.  When the bag is carried over the shoulder, it's almost impossible to reach down, undo the plastic latches and access the inside.
I have to take the bag off my shoulder first, then set it down on something, then use two hands to open the latches.  If the bag is nearly empty, the lack of shape means that the bag won't stand up on a flat surface, but it has to be laid down on its back and straightened out before the clips can be opened.
Although the bag is lined with (claimed) waterproof material, the flap simply folds over the opening, and when riding a motorcycle in the rain, it's easy for water to enter underneath and soak the contents.  If you need a waterproof messenger bag, check out Ortleib's designs, but don't forget that a poorly designed closure might add to the frustration of quickly accessing the internals.
Conclusion
If you're a sunny day rider like me, the Timbuk2 messenger bag is a quick and easy way to carry belongings back and forth to work.  The combination shoulder strap and safety strap helps it to stay in place when riding a motorcycle.  The medium sized bag holds more than enough for my needs, and it looks cool when used as a briefcase or overnighter.  I wish it was easier to access the internals, and I also think that the bag could be improved by offering some type of internal stiffening panels that would help the bag keep its shape when it's not loaded full.
I don't like wearing backpacks, and I don't like having a backpack's shoulder straps wrapped around my arms.  I also feel unbalanced when wearing a backpack, and they aren't really designed for office commuters.  The Timbuk2 messenger bag is a nice alternative to typical motorcycle luggage.
Note:  For informational use only.  All material and photographs are Copyright © webWorld International, LLC – 2000-2011.  All rights reserved.  See the webBikeWorld® Site Info page.  NOTE:  Product specifications, features and details may change or differ from our descriptions.  Always check before purchasing.  Read the Terms and Conditions!
Product Review:

  Timbuk2 Messenger Bag

Available From:  Timbuk2
Suggested Retail Price:  Base prices $60.00 – $95.00; options can add 50% or more.
Colors:  Choice of many custom or standard colors in 4 sizes.
Made in:  U.S.A.
UPDATE:  See below for a comparison to the $9.88 Wal-Mart messenger bag!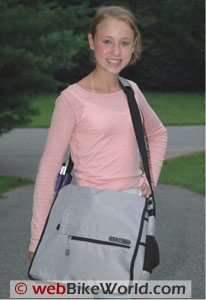 UPDATE:  The Wal-Mart $9.88 Messenger Bag!
After a month or so of trying, I found that I just couldn't get comfortable with the Timbuk2 bag.  I really don't like its formless shape — it's like an amorphous blob that must constantly be stretched and adjusted so that it hangs correctly unless it's nearly full with stiff folders, a laptop, books or something else to give it substance.
Also, the two front buckles need two hands and four separate movements to unlatch.  I certainly wouldn't choose this design if I was a bike messenger in a hurry.
The adjusters on the front buckles are too weak to hold the extra length of strap, so they're constantly coming loose, which doesn't help the bag keep its shape either.
One day whilst cruising the aisles of Wal-Mart, I came across a bin of messenger bags for $9.88 each.  At first I laughed, but as I started
looking them over, I was impressed.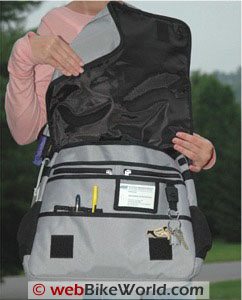 With nothing to lose (except a 10-spot), I brought one home.  Wonder of wonders, the thing is great!  It has more features than the Timbuk2; it has a shape and an internal stiffener, and I can fit everything I need to carry with more comfort.
This bag has several zippered pockets, a nylon liner, a detachable key ring, a business card holder, and two external mesh pockets, one on either side, with elastic tops.
Inside, there's a CD-player holder with a "hook and loop" closure, and even a tailored hole that can be used as an outlet for the headphones so that the player can remain inside.
There are pen holders and a two-compartment interior that has a nylon adjustable strap and detachable buckle to hold the two internal sections together to keep the contents in shape.  There is a soft padded internal stiffener that lives inside the wall separating the two internal compartments.
The outer flap has two small sections of "hook and loop", visible in the right-hand photo, that keep the flap closed but make it much easier to open and close, especially with one hand, than the Timbuk2.  The shoulder strap is hefty and adjustable, and it even has a small shoulder pad.  The Timbuk2 cell phone holder fits perfectly on the shoulder strap.
To be honest, this is everything I wanted in a bag, at 7.5% of the cost.  I'm not sure who makes them, or how long they'll be available, but they came in several colors and I picked this neutral silver.  What a deal!
Owner Comments and Feedback
Comments are ordered from most recent to oldest.
Not all comments will be published (
details
).  Comments may be edited for clarity prior to publication.
---
From "J.F.":  "Hi, I have just read your review on the Timbuk2 bag.  I have one for 3 months now and it's a great bag.  I bought mine mainly for (mountain biking) and commuting (on a pushbike) but I found it fabulous for riding my motorbike.
I can stuff all my climbing gear in it better than in a backpack and even more.  It doesn't swing around, and most of all doesn't create a drag as important as the backpack.  I thing they are really great.  And they are UK weatherproof as well.  I can't believe I have lived without it so far."
---
From "A.M.":  "Read your short review on messenger bags, thought I'd add my two cents.  I commute daily using a Bailey Works Superpro bag.  Unlike the Timbuk2 and others, this is designed to ride across your back, with one corner at your shoulder, and the other at your hip.
It's absolutely immobile at (ahem) highway speeds, and more or less disappears the moment you strap it on.  Also, it's thunderstorm-proof.  I've been using mine more or less daily for about a year now, and aside from the dirt, it shows no real wear.  Only drawback is that they're not cheap. . .And given that they're made by about a small company of 5-10 people in Portsmouth NH, that's OK with me.  If you're still looking, get one of these.  I have no stake in this company, and I'm not advertising.  The bag is just that good."
---
From "G.P.":  "I just read your El Ocho review on the site and just wanted to leave a comment about it.  Not a single messenger I know uses those plastic clippies for closing the top on a regular basis.  All that Velcro they use is usually good enough.  That's why you'll see the edges of the top hatch usually rolled up on more used versions.  Typically the clippies are only used to hold rolls (like plans, or posters) horizontally or in an attempt to shield a huge load from the rain.  If you have the large strap clip set right, you can just spin the bag around your body.  If not, its only a one hand operation to open the bail and spin it around.
When you ride, put that thing up on your shoulder and crank that strap on good.  Put the cross strap clip about mid to high on your chest and clip it in.  You are now hugged by an unyielding triangle of stuff carrying power! Just wanted to leave you some tips!  Oh, btw, how does that Wal-Mart bag fare in the rain :-D.  I had a Timbuk2 a long time ago, but when I closed the top the bottom part of the bag folded in with smaller loads, making little mouths (lack of a better word) on the side that let in copious amounts of rain.  I've since switched to a Chrome bag, which although heavier hasn't had a leak problem yet.  Can't stop reading your site."
From "K.K.":  "I just wanted to say "THANK YOU" for the excellent review of the Timbuk2 "El Ocho" messenger bag. I've been looking for a bag that can accommodate my laptop as well as my work clothes that would be water resistant, easy enough to manage on the motorcycle and good looking enough to take into a meeting.  I had been using a backpack (as many do) to carry my items back and forth and it's been uncomfortable and unstable to say the least.  Using your product review as a basis of comparison between several other bags (all sight unseen), I decided confidently on the Timbuk2 El Ocho bag.  I ordered mine through Ebay and was extremely satisfied when it finally arrived.  The bag was just as you described and is more versatile and comfortable that I imagined. Thanks again for a terrific product review! I'm always awaiting the next product review on the webBikeWorld.com site."
From "P.":  "I've had the same bag for more than 4 years and I still love it.  Great build quality.  I just wanted to let you know that the bag shouldn't be slung under the arm while riding.  It should be positioned in the middle of the back.  It should be more comfortable and safer."