Big Red's been known for a few of their bikes over the past almost-century, from 1949's original 50cc "Dream D," to fan favorites like the CBR1100xx Super Blackbird, the SuperCub, and the "Godfather" of modern superbikes, the CB750. 
In thanks for these sweet speed machines, we take Honda's models and make them our own; Honda loves what we do with them, too, as evidenced by this year's fourth annual Honda customs competition.
Fancy a guess at who won?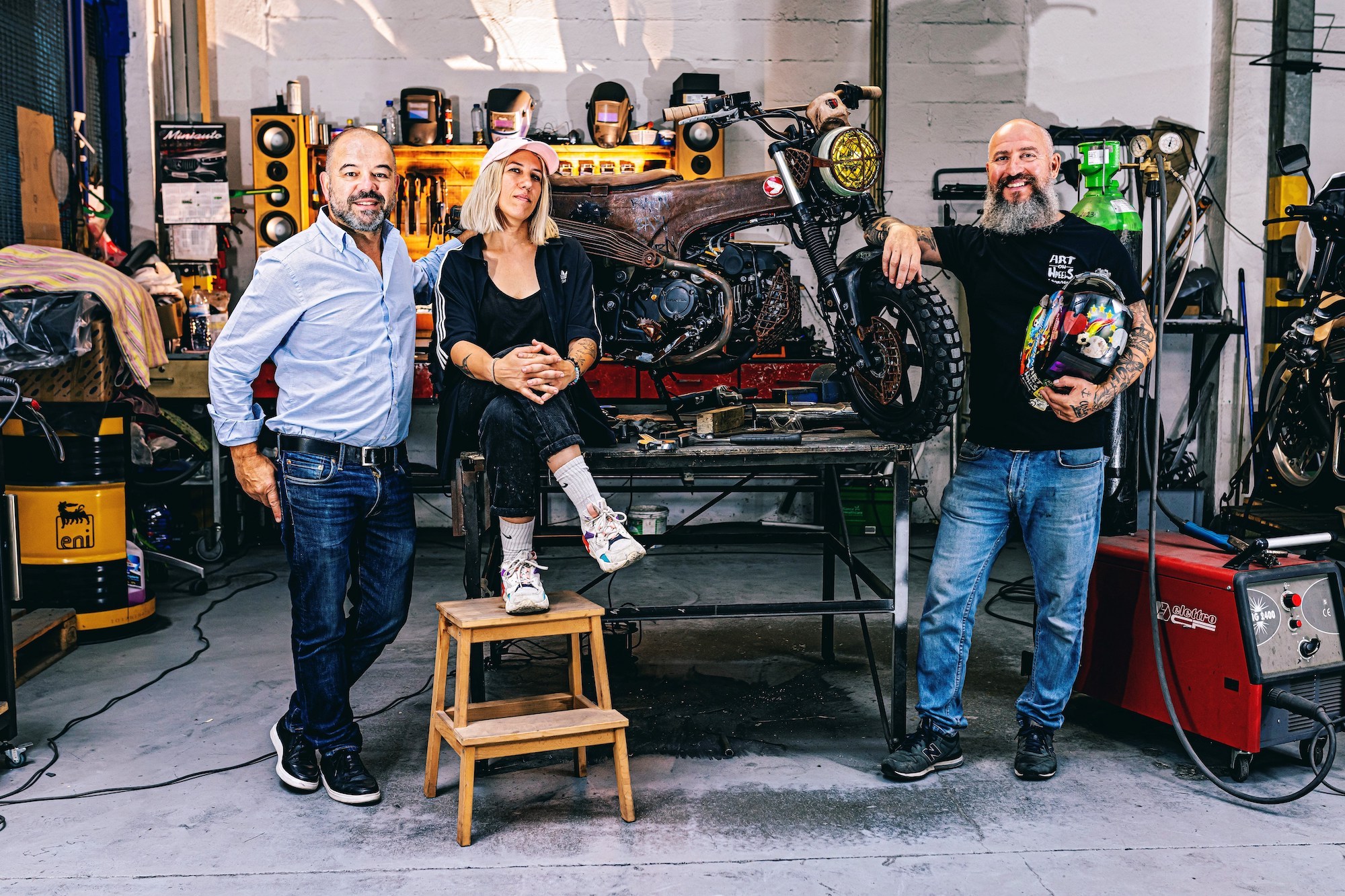 Congratulations to Tamara Alves and the Art of Wheels Garage for their post-apocalyptic "Furiosa," the number one bike for Honda's custom competition!
Let's take a closer look at the minibikes – and masterminds – that made the "top three:"
Portugal: Honda Dax 'Furiosa'
This slideshow requires JavaScript.
Built by artist Tamara Alves (@tamara_aalves) and the Art of Wheels Garage (@artonwheelsgarage)
"BURN BABY BURN" is written on a rusty-coloured bit of bodywork, accompanying rugged knobblies, a wolf motif, a handmade pipe slashed into a metal mesh, and a scorched tartan saddle complete with netted headlight and engine pan.

The 'Furiosa' won 34% of the contest's votes.
Germany: Honda Monkey 'Manjushage'
This slideshow requires JavaScript.
Built by artist @Lanaarts23 and Maximilian Zech, a technician from Frankfurt's Honda Centre dealer.
This "subtle café racer" shows off higher-end componentry (Yoshimura pipe), as well as lower clip ons and "aftermarket remote reservoir rear shocks to boost performance and handling." The inspiration for the naming of this bike comes from the signature symbol of the artist: A spider lily on the fuel tank and the rear fender. The word "Monkey" adorns the back portion of the saddle to complete this look.

The 'Manjushage' won 29% of the contest's votes.
France: Honda Monkey 'Tokyo'
This slideshow requires JavaScript.
Built by artist Grems (@insta_grems) and George Woodman (@georgewoodman64)
 Saturated, abstract pop art dressed the bodywork for this bike, which sports a subtle patterning that creates as much fun as it does attention

The 'Tokyo' won 12% of the contest's votes.
We're told by Honda EU's press release that each of these builds were the byproduct of "a creative collaboration between a young artist and established bike builder," with Honda EU's GM of Motorcycles commenting thus:
Working with young artists to create unique versions of our minibikes has been a fantastic way for us to attract the attention of a younger audience to the fun and accessibility of motorcycles. The strong reaction to these seven incredibly diverse creations is an encouraging sign of how motorcycles really engage people's interest when they are given the chance to be "in contact" with them." 

– Masayuki Hamamatsu, General Manager of Motorcycles, Honda Motor Europe
All told, 21,606 voters contributed to the final decision, with the Furiosa now on the shelf next to the previous winners: 
Italy's "Maanboard" by Motocicli Audaci

Portugual's "Fenix" by Honda dealer Mototrofa

Switzerland's "CB100R Africa Four" by Honda dealer Brivemo Motos
Which Honda build was your favorite this year? 
*Media provided by Honda*