Electric car company Tesla is further developing its Autopilot software that detects lane-filtering riders as shown in this driver's YouTube video.
One of the biggest issues about the rapid move toward autonomous vehicles is how they will detect small and vulnerable road users such as motorcyclists, cyclists and pedestrians.
In one incident in San Francisco last year a lane filtering rider was hit by a Chevrolet Bolt electric vehicle being driven in autonomous mode.
And police had the hide to blame the rider!
The Australian Motorcycle Council and other motorcycle representative groups around the world have called on authorities to slow down the testing and introduction of autonomous vehicles.
A motorcycle industry group in the USA called Give a Shift went so far as to say that "the single biggest threat to motorcycling overall (particularly in urban and higher density environments) will be the incompatibility between autonomous vehicles and existing motorcycles".
However, motorcycle, car and tech companies such as Bosch are continuing to work together to develop systems that better identify and communicate with each other.
So while we still have grave concerns, it appears technology is starting to find solutions that just might make us safer.
In fact, BMW Motorrad spokesman Karl Viktor Schaller declares they will make riding safer because autonomous vehicles (AVs) will be virtually crashproof.
Tesla Autopolit
Tesla has now launched its Version 9 software update to Autopilot 2.0+ hardware that has a more advanced "neural net" to detect smaller and faster-moving objects around the vehicle.
That includes lane-filtering motorcycles.
In the above video by Tesla Model 3 owner Scott Kubo, there are several examples of lane-splitting riders in LA travelling at much higher speeds than the 30km/h lane filtering maximum in Australia.
The system struggles at times to detect them both day and night.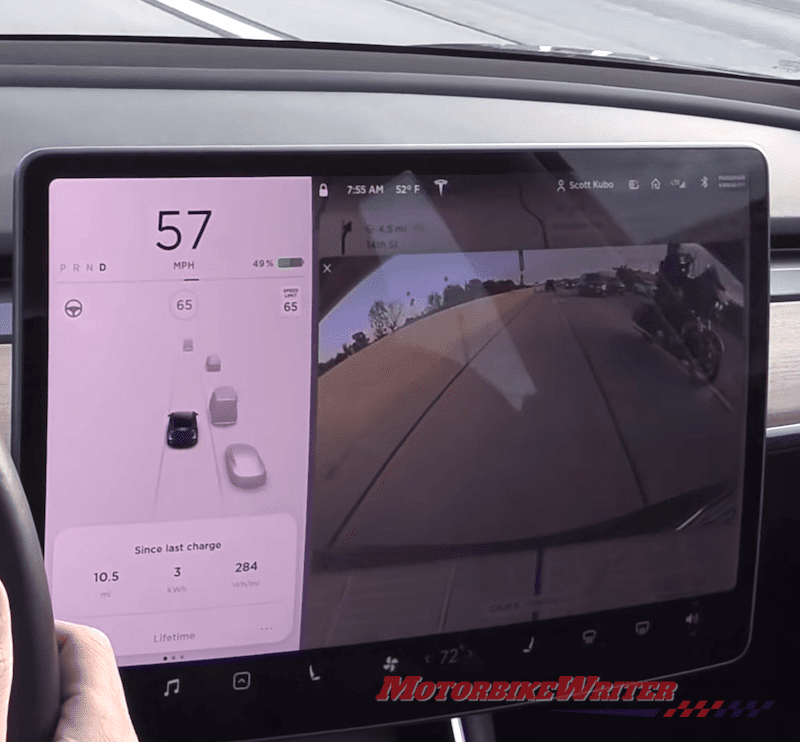 In some cases it mistakes a bike for a car and in others the bike is in the next lane and passing right through cars!
Scott says drivers also use their ears to detect motorcycles and suggests an audio sensor to help the camera and radar sensors.
However, the bikes — including a couple of loud Harleys — are only audible for the last couple of seconds as they are coming from behind.
With the crackdown on exhaust noise and the coming wave of quiet electric motorcycles, an audio sensor would probably be pointless.