Teiz Motorsports Saratoga Jacket Review Summary
Teiz Motorsports Saratoga Jacket Image Gallery
Outstanding air flow with the protection of leather — along with that great leather smell!  The leather is soft and gets softer as it breaks in. CE-approved padding in the shoulders and elbows and a tapered fit make the Teiz Motorsports Saratoga jacket a perfect match for summer weather. And the price is definitely right…
I reviewed the Teiz Motorsports Tioga and Camino leather jackets in April of 2010 but I forgot about the Saratoga jacket that was also in the box. By the time I rediscovered it, the temperatures had risen as summer hit with full force in a non-normal June. By that time, I'll admit that I didn't exactly have black leather foremost in my mind as a wardrobe for riding in 95+ degree weather. But actually, that was a mistake, because I hadn't realized how much air the Saratoga would flow.
The jacket is fully perforated in the front and rear and along the front of the arms, which makes a mockery of everything I thought I knew about leather jackets — black leather jackets — and hot weather. I should have known, because I have an old pair of perforated leather pants that also flow a lot of air, although I don't always think of wearing them though when summer sets in.
It was so hot here in June that even the lightest mesh jackets were too much and my personal tolerance for riding in heat isn't very good. I'm more of a cold-weather guy because I figure I can always make myself warmer in cold weather but can't get cooler in hot weather.
Long story short: the Teiz Motorsports Saratoga jacket came at just the right time. 
The Teiz Motorsports Saratoga Jacket
Teiz Motorsports has greatly expanded their product lineup over the last few years, improving quality and features along the way.
I liked the Tioga and Camino jackets, but I'll admit the styling of that pair may appeal more to sport or adventure riders than cruisers.
Since the cruiser riders around here consistently prefer shorts and a T-shirt for riding, we've been on sort of a mission to demonstrate that there are plenty of clothing options to keep a rider cool and cool-looking and the Saratoga jacket is the latest example.
T-shirts absolutely do not cut it, and I find it amazing that someone would actually ride a motorcycle in their underwear.
Besides the obvious safety issues, there's the bug factor. I've gotten hit by bugs while wearing a jacket and it hurt, so I can't imagine (and I don't want to know) what it would be like "in the raw".
I got stung by a bee once right through a pair of thick textile pants while wearing armored underpants and ended up at the Doctor with an infection from the stinger.
Bugs are constantly pinging off my helmet face shield, sounding like BB's hitting a pie pan.
Who would want to ride through that kind of flak with bare arms, legs and an unprotected face? It sounds both foolish and dangerous to me. Then there's the sun factor and don't forget the wind, drying you up like a peach in the Kalahari.
Anyway, no reason for that type of behavior at all — especially not when you could be cruising with the Teiz Saratoga jacket instead.
The Saratoga jacket is pretty much what I'd call a chameleon; that is, it looks good with any type of riding style.
I mentioned cruisers previously but the styling of the Saratoga jacket will fit with pretty much any style of riding.
Maybe it's the black leather; maybe it's the cut. But the Saratoga has what I think is an excellent combination of classic and modern looks.
The leather is pretty soft — perhaps not the butter-like hand of a dress leather jacket, but I think the perforations help make the leather on the Saratoga jacket to feel more pliable.
The softer leather then helps to make the jacket fit better and it's tapered slightly down to the waist, which also gives it a good look.
The lighter black (gray) colored stripes across the top, back and around the arms are actually reflective, and they really pop at night. We took a photo with the camera flash (below) and it really works.
This is a nice surprise, because most of the black reflective material we've tried hasn't worked very well. This does.
The leather panels are all sewn together very nicely, with a mix of single- and double-row stitching.
The edges of the seams are well cut and finished and some of them are rolled under, which adds a nicely tailored look almost like miniature piping along some of the seams, like the shoulders.
Overall, it's a really good looker and the size XL shown here fits just about perfect to perhaps just a touch smaller than expected, it fits my 45″ chest but also fits a 44″.
The sleeves are roomy enough for anyone with bigger muscles than I. Joey (the model in the photos) normally takes an XL and he has a 44″ chest and you can see how the jacket fits.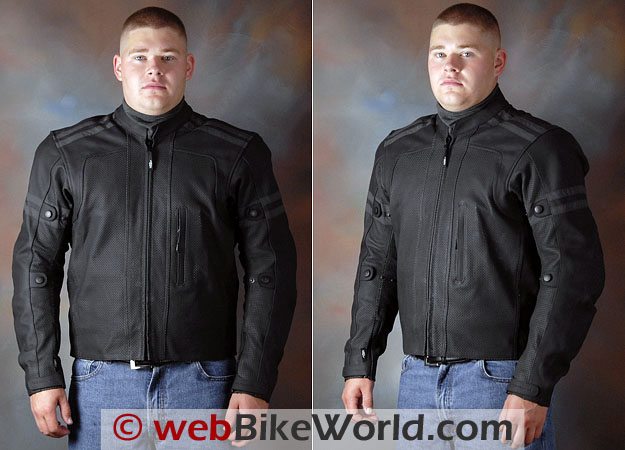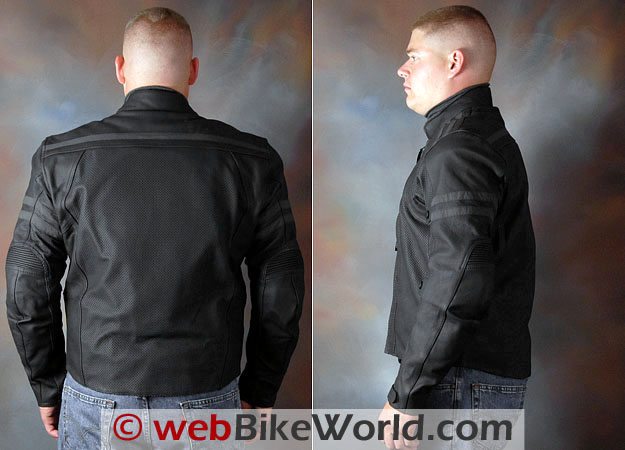 Pockets and Zippers
The Saratoga has a deliberately simple design, in that it's main purpose is to protect while flowing near-maximum amount of air, especially for a leather jacket.
It doesn't have a removable insulating liner or waterproof liner and it doesn't need them. It does have a soft mesh poly lining on the inside and one water-resistant pocket, placed mid-height on the left side of the chest.
The sleeves have two adjusters, each with a total of three snaps. These work well to tighten up the armor if necessary and hold it in place. There are no adjusters at the waist, which also helps to give the Saratoga jacket it's smooth and tapered styling.
The sleeve cuffs have a short 140 mm zipper with a leather backing underneath and no fabric dart. The sleeve cuffs secure with a piece of leather, backed with hook-and-loop fastener. The zipper pulls have a fabric tab embossed with the Teiz logo.
The main jacket zipper is a locking YKK type; it's of a smaller gauge, which helps to keep a trim look in the front of the jacket that one of those big monster molded tooth types couldn't do.
That's the basics — no collar tab or snap and again, they are something that it doesn't need. I like it simple, especially for a jacket made for hot-weather riding.
Protection and Safety
The shoulders and outside of the arms on the Saratoga jacket are solid (non-perforated) leather for abrasion protection in these critical wear areas.
The shoulder and elbow armor is claimed to be CE approved and the Saratoga jacket also has a back pad that feels a bit thicker and hopefully more protective than those mushy pieces of foam used in many jackets as faux back protectors. All of the armor is removable.
The Saratoga also has a full-length attachment zipper that works with other Teiz Motorsports pants, or the second half of the zipper could be sewn into other types of pants — perhaps even a pair of Kevlar lined jeans?
I've been wearing the jacket with either my old no-brand perforated pants or a pair of theDiamond Gusset "Defender" Jeans (review) left over from the the review.
The outfit keeps me cool and if I'm visiting some friends, I can take off the Saratoga jacket to uncover a T-shirt and I look "normal" in a restaurant or wherever.
We've been evaluating some new reflective mesh safety vests, which I wear over the black jacket to give me good visibility.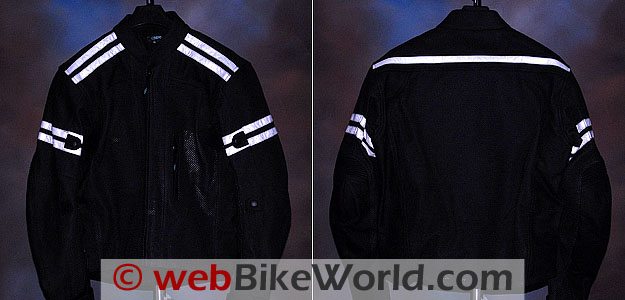 Pricing
The Saratoga is on the Teiz Motorsports website in black or white and when we first got the jacket, it carried a list price of $299.00. It's now on sale for $149.00, which I definitely think is a real bargain.
The $300 price may have been a bit steep; perhaps $249.00 would have been good, but $149.00 really is an excellent price for this jacket, especially considering that many cheap-feeling textile mesh jackets cost the same or more.
I'd take the look and feel of leather every time, especially in a perforated jacket. Think about it — if it's hot and you're wearing a perforated or mesh jacket, you're probably wearing a T-shirt underneath.
If that's the case, I'd rather be sliding down the street in leather than melting textile. Actually, let me rephrase that: I'd rather not be sliding down the street, but if it happens, I'd rather slide in leather than textile.
Conclusion
I liked the Teiz Motorsports Tioga and Camino jackets but I'm really fond of the Saratoga. Something about its looks, the simplicity, the good quality and definitely the perforations make this one a keeper.
I suspect Teiz may be running low on these soon as they switch over to winter clothing, so if you're interested, get one soon before they run out.
w

BW

 Review: Teiz Motorsports Saratoga Jacket
Manufacturer: Teiz Motorsports
List Price (2010): $149.00
Colors: White or black
Made In: Pakistan
Sizes: S-4XL
Review Date: August 2010
Note: Item provided by a retailer, distributor or manufacturer with these Terms and Conditions.
Note:
 For informational use only. All material and photographs are Copyright © webWorld International, LLC since 2000. All rights reserved. See the webBikeWorld® 
Site Info page
. Product specifications, features and details may change or differ from our descriptions. Always check before purchasing. Read the
Terms and Conditions
!
Owner Comments and Feedback
---
From "P.S." (8/10):  "Most product manufacturers do their very best to "do the right thing" on every transaction but now and then things do go off track a bit. When those mishaps occur, some companies handle them better than others.
I thought my recent experience with Teiz was positive enough that it warranted a comment since it is directly related to the review of the Saratoga jacket.
As another reader mentioned, webBikeWorld.com is responsible for a fair percentage of my impulse purchases.
The Saratoga jacket is not an exception. After reading the review, I was sufficiently impressed with the jacket as reviewed (and the closeout price) to go directly to the Teiz website and place an order.
Like yet another reader, I thought a white jacket might be just the thing to help offset the oppressive 100 degree plus heat we've endured all summer here in Texas – so that's what I ordered. You can imagine my surprise when the jacket arrived and it was black.
All of the order documents, shipping documents, even the label sticker on the nice carry bag the jacket arrived in said that it was white. But, trust me – I can tell the difference. It was black.
I notified Teiz of the shipping error, more as a courtesy to them than for any other reason, and told them that I was happy with the black jacket and no exchange was requested or needed.
They replied very quickly with an apology and promised to send me "some free Teiz rider gear" as a courtesy since I had agreed to keep the jacket. The free gear arrived today and it was a "Premium Rider Mask, Summer Version" (a $59.95 value if ordered from their website).
Now that's what I call classy customer service. You can bet I'll consider them very favorably in the future when I'm in the market for more gear."
---
From "R.B." (8/10):  "Been wearing my new Saratoga jacket for few a few days now and love it. I bought it to replace an aging mesh jacket. I had been concerned about the level of protection a mesh jacket would provide in a crash, and was looking for a better hot weather alternative when I came across your review of the Saratoga.
Although it does not flow as much air as a mesh jacket, it does flow enough air (even behind the fairing of my BMW R1150RT) to make it a reasonable alternative to a (no doubt less protective) mesh jacket.
In the last two days I have ridden for about two hours in temps ranging from 80 to 95 degrees and have been comfortable; I will not be going back to the mesh. Cross winds blow right thru the jacket, and on a naked or "less faired" motorcycle, it would obviously flow even more air.
I am 6 feet tall, weigh 200 lbs, and have a 44 inch chest. I bought an XL (in black) and it fits perfectly. The fit is snug but not at all tight. The Saratoga is a great looking jacket and appears to be quite well made.
A few curious issues with the jacket: 1) the zipper (at least on my jacket) is backwards, as in the pull is on the left side of the jacket (a girl zipper?), and 2) the "waterproof chest pocket" cannot enhance airflow…
All in all, it is THE summer jacket I was looking for, and at $149, it was practically free. Thanks for the great review."
Editor's Note:  The "backwards" zipper is frequently used in European designed clothing. An explanation I have heard is that long ago, when ladies and gentlemen had servants to dress them, the buttons were placed opposite to make it easier for the servant to button the garment.
When zippers came along, they followed that pattern and now the only reason for doing it is tradition.
---
From "P.O." (8/10):  "Just received the jacket. Looks and feels very good. Largest size actually fits my 300 lb body!  Be aware that the "white" model isn't all white, just the trunk of the jacket.
The sleeves are black or blue-black (and, wouldn't you know it, before I can try it out, it starts raining like crazy in Central Texas…)."
---
From "J.L.W." (8/10):  "I also ordered one in white after reading your review and basically it is everything you say it is. I don't think it is as comfortable as my FirstGear MeshTex though although it does offer more protection.
I think a looser fit is cooler because it allows more air to circulate between the jacket and the rider. Great looking jacket and leather is hard to beat."
---
From "G.A.M." (8/10):  "This looks like a GREAT jacket at a very good price. I was hoping for a bit more comment on the air flow for the jacket. I can see that one man's Gone With the Wind may be another man's Some Like it Hot, but if you can provide a bit more input on air flow that might help.
I continue to be amazed at the effects of what my father used to call "4 and 50 air conditioning", which referred, back in the day, to my 1964 (and a half) un-air-conditioned Mustang.
Nope, it was a six, so it was not the one everybody wanted. Anyway, "4 and 50" referred to four windows down and 50 MPH as an effective means of cooling, and it worked.
Huge floor vents that blew like a wind tunnel helped, but we're talking motorcycles, aren't we?
I rode last Sunday past a bank in Mableton, Georgia (Atlanta area) and the sign read 98 degrees F. I was perfectly comfortable in my mesh jacket (mesh on parts of the sleeves and on the torso front and back – like the Saratoga), and I am HOT natured, and getting hotter as I get older.
As long as you are moving, and the air can flow through, you CAN be comfortable even in these End of Days Dog Days of August 2010.
But that mesh jacket can't be as protective as leather, can it?  It is white and yellow, VERY visible, but mesh, not leather.
A while back, I purchased a Power Trip Blackhawk Army branded leather jacket, very well made, heavy leather, soft and strong, with removable vents in the arms for ventilation.
I thought I had finally found a leather jacket that would flow air. Only one problem: no exit vents in the back = no air flow. Opening the seam across the back improved it, but that was a do it yourself challenge for sure, and no professional shop would take on the project.
But I learned some things from that jacket. Front vents are no use without exit vents, and BLACK leather is not the kiss of death in Atlanta weather, unless you are sitting still.
Therefore, although in the past I would never have considered black leather for Atlanta summer riding, I will seriously consider this Saratoga.
It is very attractive, the reflective material is outstanding for a leather jacket (but why not as much on the back as on the front?) and the price is great.
I got my "do it yourself" Blackhawk from the world's greatest on line vendor, New Enough, for $125, but the Saratoga looks like it is the real deal for only $25 more. I could retire the Blackhawk to Spring and Fall.
Keep up the good work! "
---
From "P.O." (8/10):  " I think my experiences with your website are getting like those I have with (another) site, whose slogan is "Going Broke Saving Money".
I just read your review of the Teiz perforated leather jacket and immediately ordered one in white. The color should go well with the 1983 "50th Anniversary" model BMW R 100RT I own, and may reflect a bit of the Texas heat as well."