TCX Sunray Boots Review Summary
TCX Sunray Boots Image Gallery
The TCX Women's Sunray Gore-Tex Boots are leather women's specific boots with plenty of reinforcement for added protection.
Once again, standing in the middle of yet another motorcycle shop, I was frustrated.
Finding a shop that actually stocks women's riding jackets was difficult enough; finding women's riding boots was tougher still.
They're nearly impossible to find at any shop.
At best, some motorcycle shops carried one or maybe two styles of women's boots; most had none.
I'm not talking about just the local shops either.
I'm on the lookout for women's gear in every city I visit; recent stops include Billings, Montana; Spokane, Washington, Coeur d'Alene, Idaho and Provo, Utah.
Maybe I need to get to even larger cities, but I thought the bike shops in Provo, for example, would surely have larger selections of women's gear than some of the smaller cities I've visited in the Northwest. Nope.
Can you guess what the sales guys told me to do?  You got it:  "Try on men's boots."   I screamed out loud. Wait…no, that was just inside my head!
But I succumbed, and tried on men's boots anyway. Every pair was huge in the calves and the foot — what a shocker.
Of the three pairs of women's boots I found, one pair sacrificed protection for fashion and the other two pair were almost impossible to get in and out of; I was one step away from lubing my foot with butter.
So I decided to try my luck online, choosing the TCX Women's Sunray Gore-Tex Boots.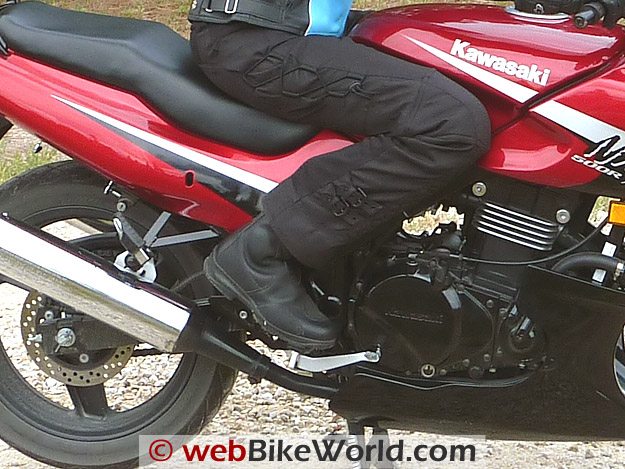 Boot Sizing
I think the TCX sizing chart is slightly off. They list a European size 41 as equivalent to a men's US size 8 and a women's US size 9.
I wear a 9, so I ordered the size 41, but they were too big. Normally a men's US 8 is equal to a women's US 10, and I should have realized that before ordering.
NewEnough was wonderful to work with and returning and ordering another pair was pain-free.
So I re-ordered a pair in size 40 and had them three days later. They fit perfectly, so I'd say the size 40 is equivalent to a true women's US size 9.
My feet are slightly wide — some shoes fit fine and with some I need wide widths; it depends on the shoe.
The boots have just enough room with a thin sock, and they're a little snug with a thick sock. Those with narrow feet may find the boots to be too wide.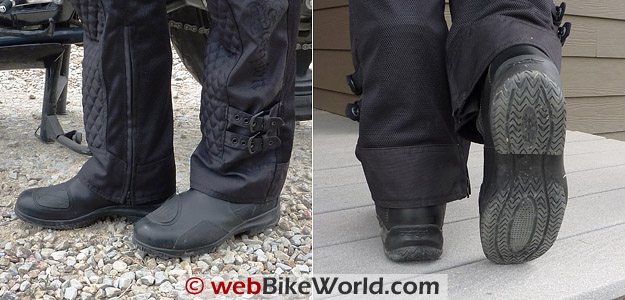 Construction
The TCX Women's Sunray Gore-Tex Boots are very well made.
The full-grain leather uppers feel thick and of a good quality. I've only ridden about 400 miles in the boots, so they are still fairly stiff, but just wearing them on the bike won't break them in much.
To do that, I recommend wearing them off the bike to break them in and soften up the leather.
In fact, I've been wearing them around the house with some thick socks the last few days to try and stretch them out a little bit. Wearing them with shorts, I got some strange looks from the UPS guy when I opened the door!
Polyurethane shift pads and double stitching add to the strength and durability of these boots.
A full-length zipper makes them easy to get on and off; you won't have to stomp your foot into them or ask a friend to pull them off for you.
A gusset beneath the zipper prevents water from seeping in. The Gore-Tex lining keeps feet dry in the rain, but allows them to breathe in warmer temperatures.
A stretch panel next to the zipper means these will fit comfortably over fuller calves.
My calves are a little thin, so most fashion boots I've tried are too big in the calf, and the TCX Women's Sunray Gore-Tex boots are no exception.
They have a lot of room in the calves, but in this case, I prefer that because the Sunray boots are stiffer overall than a fashion boot.
Ankle and shin inserts and a rigid toe and heel add the protection required for motorcycle riding.
A flexible panel at the front of the boots makes walking easier and takes away the solid ski boot feel. However, I would have loved to see this panel about an inch taller, which might give the boot more flexibility for bent-leg sport bike riding.
Thick soles are oil- and petrol-resistant and they have a slight heel. The boots also feature a removable, anatomic foot bed. A reflective square at the back of the ankle provides nighttime visibility.
The TCX Women's Sunray Gore-Tex Boots measure 11.5 inches (29.2 cm) tall at the highest point, which puts them about at the middle of my shin.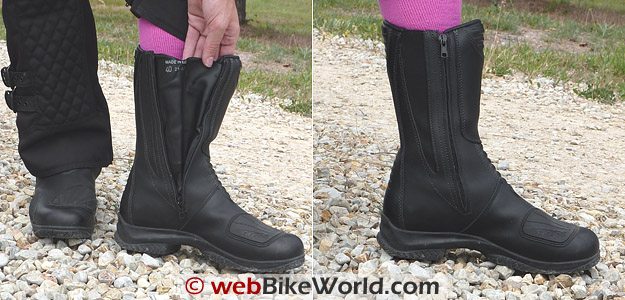 The zipper on the TCX Sunray women's motorcycle boots (L). Illustration of calf diameter (R).
Comfort and Function
I can walk normally in the TCX Women's Sunray Gore-Tex boots and they are quite comfortable for a motorcycle boot.
I ride a 2006 Kawasaki Ninja 500, so with my feet on the pegs, my legs are bent forward at the ankle. I'm not sure if these boots were designed for use on a sport bike though.
When the boots were brand new, they pressed a bit into the front of my ankle while I was riding. As they are breaking in, the pressure is becoming less noticeable however.
Also, even with a tight gap between the peg and shifter on my Ninja, I am still able to get the boot under the shifter without a problem.
After an hour or so of riding, the front of my right foot fell asleep.
Since this only happened to my right foot, I figured it must have been due to the way I was sitting or how my foot rested on the peg, rather than a problem caused by the boot.
This has happened to me a few times now, but oddly enough, it did not happen the first few times I wore them.
When it occurs, I hook the heel on the peg and let my foot relax for a couple minutes (when I'm not in the twisties) and the tingling goes away.
I wonder if this problem might be due to the orientation of my foot and ankle on a sport bike?
I doubt the numbness would have happened if I had been on a standard or cruiser because after hours of wearing them around the house and at my desk, I have had no numbness at all.
Except for that, the TCX Women's Sunray Gore-Tex Boots have been wonderful. In cooler temperatures my feet stay warm, and in temperatures at 85-90 deg. (29 to 32 Celsius) my feet are cool enough and do not sweat.
Also when I come to a stop on the bike, the soles grip well and they feel stable. And these boots truly are waterproof — after standing in a bucket of water for several minutes, my feet were still dry.
Conclusion
Great construction, plenty of protection, and quality leather make the TCX Women's Sunray Gore-Tex Boots a great pick.
Comfort and flexibility allow the rider to get off at stops and walk around town without the Frankenstein gait.
w

BW

 Review: TCX Sunray Women's Motorcycle Boots
Manufacturer: TCX Boots
List Price (2009): $289.99
Colors: Black
Made In: Italy
Sizes: 35-42 Euro (4-10 US)
Review Date: August 2009
Note: For informational use only. All material and photographs are Copyright © webWorld International, LLC since 2000. All rights reserved. See the webBikeWorld® Site Info page. Product specifications, features and details may change or differ from our descriptions. Always check before purchasing. Read the Terms and Conditions!
Owner Comments and Feedback
---
From "S.G." (August 2011):  "I've had the TCX Sunray Women's Boots for three seasons now and have worn them for almost 11,000 miles.
The tread still looks great on 95% of the soles and I'm pleased with how well they have held up. I would definitely get another pair…when these finally wear out."
---
From "K.M." (8/09):  "I've had the TCX Sunray Boots for a little over a year now. They provide good protection (worn in a low speed crash with no injuries) and are very comfortable, even when walking around off the bike.
I don't mind spending a bit more money on a quality pair of boots but I do expect them to last me for a long time.
However I've recently noticed that a good amount of the tread on the soles has worn smooth.
They do have a non-skid sole which is made of a softer compound and wears out more quickly than other soles, but I expected them to last longer than this. Since they can't be resoled I won't be buying them again."