TCX Jupiter Boots Review Summary
TCX Jupiter Boots Image Gallery
The Jupiter 2 XCR is a short style boot that is suitable for riding, yet comfortable off the bike as well.
It has a quality design and solid construction, and would make a good choice as a commuting or casual riding boot.
Italian boot manufacturer TCX, formerly known as Oxtar, produces the Jupiter 2 XCR motorcycle riding boot as part of their "All Uses" line of boots.
It's a mid-priced, short style riding boot, intended to provide riding features while remaining comfortable enough to wear for long periods off the bike.
For me personally, the major appeal of dual purpose boots such as these is as a potential commuting boot.
With almost any product category, a move away from specialization toward a multi-purpose role brings compromises.
For a boot intended to be useful for on and off bike wear, the compromise lies in the reduced potential for protection as compared to specialized riding boots.
But for riders like me who want versatility in a boot for commuting or around town use, a short style boot might be the solution. Such a design might also convince a sneaker-wearing rider to move up to something more protective.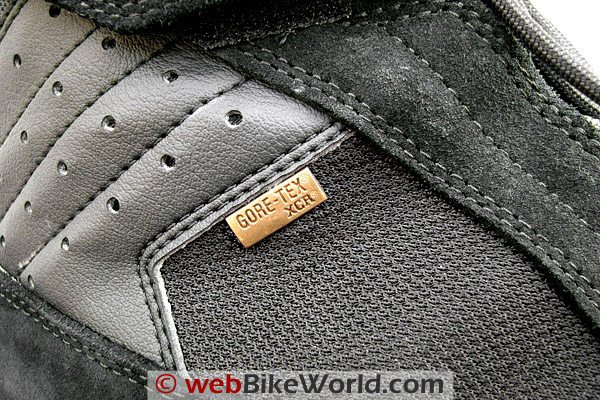 Description, Features, and Appearance
The upper of the TCX Jupiter 2 XCR is made mostly of black suede, with small black mesh panels along the sides and vented portions over the ankles.
The sole is described by TCX as a "touring sole, oil and petrol resistant".
The inner lining is "XCR" (Extended Comfort Range) Gore-Tex. This latest version of Gore-Tex is said to be 25% more breathable than previous versions.
Motorcycle-specific features include an integrated shifter pad on top and a hook-and-loop strap to secure the laces against flopping around and getting caught on the shifter, pegs, or other protrusions.
Also, there's an integral heel reinforcement, a reinforced toe, and reflective patches along the rear. The back of the heel is cut lower for increased flexibility while shifting or walking.
Quality and Construction
Upon removing these boots from the box, it is apparent that the quality of workmanship is high. Seams are precise; the stitching looks good; and the construction feels solid.
On close inspection, I was able to find a couple of stitch terminations that look a bit chaotic, and it looks as though adhesive was somewhat over-applied around the sole/upper joint.
Other than that, I could find nothing to be critical of.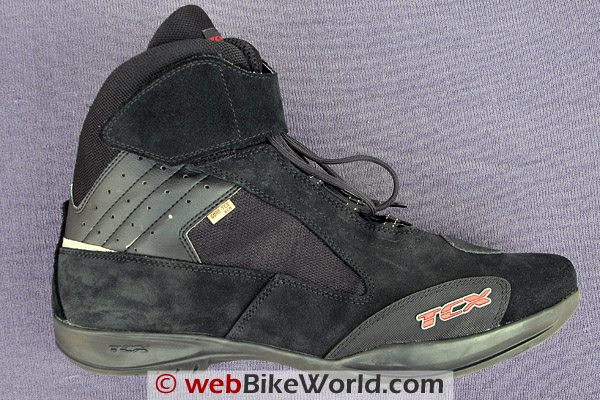 Fit and Sizing
Boot length seems accurate, though it is intended for a wide foot. My feet are somewhat narrow, so I have added insoles to make them more snug.
Each boot weighs 737 grams (1 lb. 10.0 oz.), and is 210 mm (8.25″) tall when measured to the highest point next to the ankles.
Styling
The TCX Jupiter 2 XCR boots have an attractive, hybrid look. At a glance, they look like quality casual street shoes, but at the same time the somewhat pointy toes are a bit boot-like.
The integrated shift pad is mirrored on the right boot as well as the left, and to the non-rider they could appear as a trendy cosmetic touch.
There's also a swath of the same material as the shifter pad on the outer front of each boot, with a bright red rubber "TCX" decal to add a splash of color to the otherwise all black boot.
I like the overall appearance, and while they won't pass for dress shoes, they could be nice looking enough to wear in some office environments.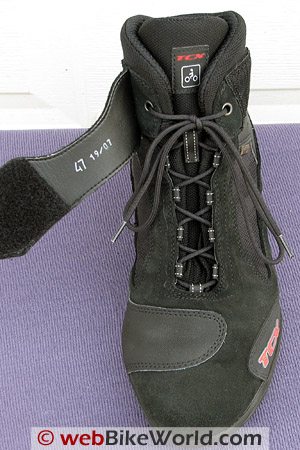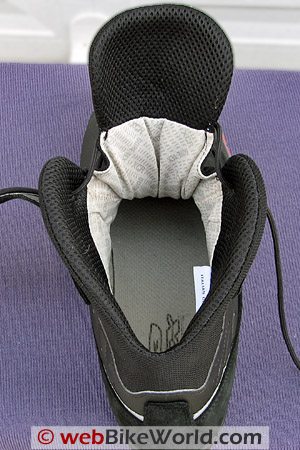 General Comfort and Practicality, Off-Bike
So these boots are well made and they look good — but how do they feel?
Well, I've found the TCX Jupiter boots to be quite comfortable and I enjoy wearing them.
Unlike some of the other short style riding boots I have tried on, the integral riding and protective features in the Jupiter 2 XCR boots do not detract from comfort.
They offer good support to the feet, and they have the right flexibility to make them easy to wear for walking.
Wearing them at work leaves my feet feeling fine at day's end, with or without insoles. There's not much else to say on this subject: the boots have a quality feel, and are suitable for all-day use.
Getting the Jupiter 2 XCR on and off the foot is easy, which is a great help for commuting when I need to change into other shoes upon arrival at the office.
The tongue lifts out to form a large opening for the foot, a good lace retention design tightens and loosens with a single tug, and the low cut heel area helps the foot get in and out almost as easily as with a pair of sneakers.
Initially, I found the lace retention strap to be something of an obstacle while putting the boots on.
However, once I figured out that it can be held out of the way with the other leg while tying the laces, this was no longer an issue. I believe it would be difficult to find a laced pair of boots that can be put on and removed more quickly.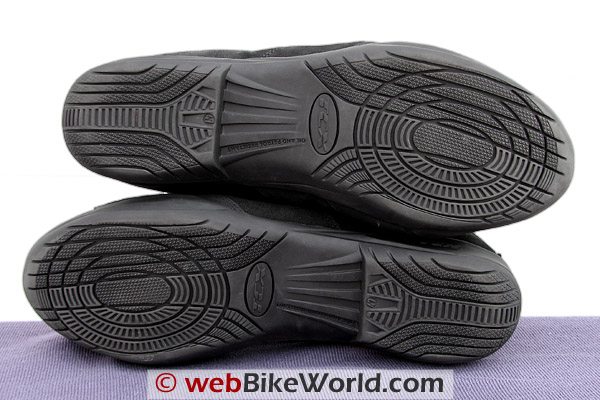 Notes on the Color
The only negative characteristic I have noticed in wearing these boots is that off the bike, they can at times feel a little warm; the black suede and sole material absorb and retain heat pretty well.
It can be noticed in moderate temperatures, though it's not to the point of being uncomfortable.
However, when the temperatures reach the upper-80s+ (F) for extended periods, they can start to feel hot. The mesh and vents help to some extent, but they need air flow to do their jobs effectively.
Protective Features
While certainly not up to the standards of full featured touring boots, the Jupiter 2 XCR represents a significant step up in foot and ankle safety over normal shoes.
The toe and heel provide impact protection, and the suede used throughout much of the upper will guard against road rash.
The ankle is protected and supported by fairly substantial padding, though there are no plastic inserts over the ankle bones as some other short style boots have; this may have been a design decision intended to maximize walking flexibility.
Slip and Grip
The boots have good grip on road surfaces. As long as the tread lasts, foot slippage should not be an issue when stopped or when pushing a bike around.
I poured some water on an oily patch under a car's parking spot, then tried to slide my boots around on it. The soles gripped well; I had to work to make the boots slip.
Water Resistance and Insulation
As mentioned previously, the boots seem to retain heat in warm weather walking. Give them some airflow, however, and they begin to shine.
The XCR Gore-Tex inner lining and the mesh panels work well together, removing moisture and letting the feet breathe.
This keeps socks and feet dry, and also has a cooling effect. The TCX Jupiter 2 XCRs do a fine job of handling hot weather riding.
TCX literature suggests that the XCR Gore-Tex also serves as an insulator for use in colder conditions, but I have not had opportunity to put this to the test.
There's not much rain this time of year, so I ran some tests to get a better idea how the boots would do when the going gets wet.
To check if the boots are waterproof, I put them on under riding pants, then had an assistant shower them with direct spray from a garden hose for several minutes.
Afterward, I found that one of my socks was completely dry, while the other had only a small, slightly damp spot on the ball of the foot. The tops and sides of my socks were completely dry, which testifies to the effectiveness of the XCR Gore-Tex lining.
As a final test, I immersed them in a tub of water for 3 minutes. Both boots allowed some water into the foot area; the worst of the two had about a tablespoon.
So the Jupiter 2 XCR boots are not completely watertight; I believe the joint between the upper and the sole is the source of the slight leaks in my tests.
Given what it took to get water into the innards, though, arriving at my destination with wet feet is not something I'll be worried about, as long as my pant legs can keep water from flowing in over the top of the ankles.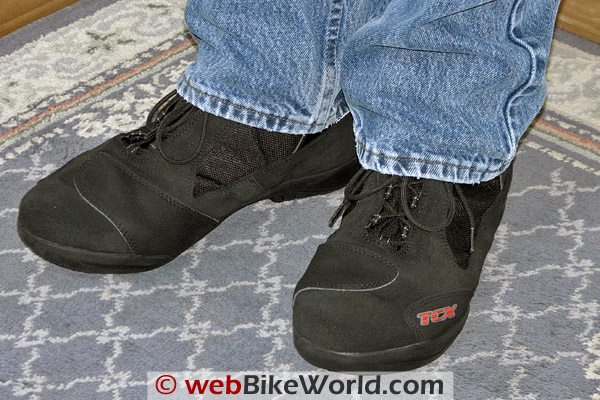 Conclusion
[asa2 tplid="6″]B01IRKPRD4[/asa2]
Having worn these boots for the past twelve weeks on every ride to the office, as well as on a few pleasure rides, I've found that I really like the TXC Jupiter 2 XCR boots.
They do a good job of providing me different options; I can leave them on all day and be as well or better off compared to normal shoes, or I can change into something else quickly and with minimal hassle.
What we have here is a well made short riding boot that is comfortable for all day use, goes on and comes off easy, walks well, looks sharp, and has good, though not excellent, water repulsion.
The TCX Jupiter 2 XCR belongs on the short list of any rider searching for a set of riding footwear for commuting or casual use.
See Also: TCX X-Cube Boots Review
w

BW

 Review: TCX Jupiter 2 XCR Motorcycle Boots
Manufacturer: TCX Boots
List Price (2008): $199.99
Colors: Black/Gray.
Made In: EU
Sizes: European 36-47 Euro.
Review Date: August 2008
Note:
 For informational use only. All material and photographs are Copyright © webWorld International, LLC since 2000. All rights reserved. See the webBikeWorld® 
Site Info page
. Product specifications, features and details may change or differ from our descriptions. Always check before purchasing. Read the
Terms and Conditions
!
Owner Comments and Feedback
---
From "D.L." (7/09): "I bought the TCX Jupiter 2 XCR Motorcycle Boots a few months ago and have been wearing them on weekend rides until last week, when I went on a 1,200 mile trip in 4 days of riding mostly back roads on my Triumph Sprint ST.
What I like about these boots is they are very comfortable both on the bike and walking around, even in warmer weather.
It rained a few times during the trip, with one period lasting 3 hours, at times very heavy rain.
Even with huge raindrops coming down and getting sprayed from all angles by cars, trucks and puddles my feet stayed perfectly dry. All that and they look sharp too!"
---
From "J.D.B." (8/08): "I had a pair of the original Oxtar Jupiter boots on when I tangled with a guard rail last year and totaled my bike.
(Editor's Note: Oxtar was the predecessor of TCX.)
I low-sided under the guard rail and my left boot was smashed between the rail, foot peg and motorcycle frame.
While the foot swelled up quite a bit and I was limping for a week or so, there were no broken bones and no real damage to the foot.
The boots did their job and are still in decent shape. I replaced them with a pair of Jupiter 2s and am happy with them as well.
Both versions of the boot have kept my feet dry in the rain and are quite comfortable.
Comparing the two boots side-by-side, they are basically identical, save for cosmetic finishing and the Jupiter 2s have Gore-tex XCR whereas the older boots had an older version of Gore-Tex.
The Jupiter 2s should be similarly crashworthy to the first generation Jupiter."