One of the goals of webBikeWorld is to provide information about unique and hard-to-find motorcycle products and accessories.  The Tank Bib certainly fits into the "unique" category, and its always fun to find interesting products of this type.
The Tank Bib solves an age-old motorcycling conundrum: I'm sure you've noticed that no matter how long you keep the fuel filler hovering over your bike's fuel tank after the flow has ceased, or no matter how many times you tap the end of the filler to try to loosen any remaining drips of fuel, you'll always get a drip on your tank as you pull the nozzle away?
This has always puzzled me, and I'm sure there's some type of cosmic or quantum significance to this phenomenon.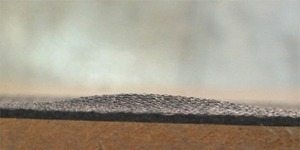 I spend a lot of time trying to keep my motorcycles looking great, and I really hate spilling gasoline on the paint.  I've tried placing a paper towel (if any are available at the pump) on the tank, but any breeze at all will carry away this form of protection.
I suppose I could keep a rag, towel or tissue in my pocket to clean up any spills, but wouldn't it be better to prevent the spill from reaching the tank to begin with?  Every time the paint is wiped with something, you risk getting one more scratch.  And if you have a custom paint job, it's even more crushing to see fuel dripping all over your pride and joy.
That's where the Tank Bib comes in.  The Tank Bib was specifically designed to protect the fuel tank from errant fuel drips and overspray.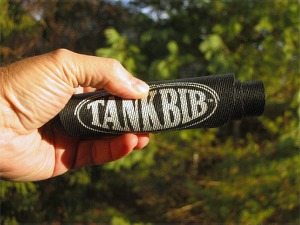 All you do is place the Tank Bib over the fuel tank and pour away.  Unless you're really ham-fisted with the nozzle, any fuel drips will be captured by the Tank Bib before they reach your bike's paint.
The trick part is that the Tank Bib material is made from some type of special fabric that actually lifts the drips off the fuel tank.  When a drip touches the Tank Bib, the material rises up and elevates the drip away from the tank.  This photo shows the result.  As the fuel drip dries, the Tank Bib returns to its normal shape.
The Tank Bib is about 48cm long (19″) and 13cm wide (5″), and it has a 54mm (2.125″) opening, which will fit most fuel tanks.  It can be trimmed to fit other sizes, or it can be slit to fit around fuel filler flaps.
I found that the easiest and quickest way to access the Tank Bib is by carrying it in the pocket of my riding jacket.  I roll it up (see photo) and wrap a rubber band around it.  It can also be rolled or folded and placed under almost any motorcycle seat, but it adds almost no extra time to a fill-up if it's in my pocket.  At 41 grams (1.5 oz.) and about 1mm thick, the Tank Bib is pretty much unnoticeable.
The product works as advertised, and the length of each flap provides more than enough runway room to catch any errant drops as the fuel nozzle is directed back to the pump.  We found that it works especially well on sportbikes or if the bike is on its side stand, because it always seems to be more of a reach with the nozzle when the bike is leaned over.  If it's really windy, you may have to hold it on the tank with one hand, depending upon the conditions.  But it definitely helps prevent any drips or overspray from reaching the paint, and that's what counts.
All you rat bikers are probably rolling on the floor with laughter over us "anal" types, but for everyone else who hates to see your baby take a gas bath, the Tank Bib is a unique solution!
Note:  For informational use only.  All material and photographs are Copyright © webWorld International, LLC – 2000-2011.  All rights reserved.  See the webBikeWorld® Site Info page.  NOTE:  Product specifications, features and details may change or differ from our descriptions.  Always check before purchasing.  Read the Terms and Conditions!
Product Review:  Tank Bib

Available From:  TankBib
Suggested Retail Price:  $12.95 + $1.50 S&H in U.S.A.
Colors:  Black
Made in:  U.S.A.
Product Comments:  Helps to protect the paint when refueling.  Lifts spills away from tank.  Can be rolled up and carried in a pocket or it will fit under almost any motorcycle seat.
More:  Motorcycle Accessories page
Other WebBikeWorld Accessory Posts