A Different Kind of HD Action Cam
The Tachyon XC HD is the most disappointing video camera in this comparison because we expected a lot more from it.
It's relatively heavy at 181 grams (6-3/8 oz.) and larger than the others.
The video quality, especially in bright sun, is somewhat disappointing and seems consistently underexposed by about two stops.
The color balance is also unreliable in some lighting conditions.
The camera comes with limited mounting capability and the lens can't be rotated, so it records in one plane only.
The microphone is inside the sealed cover and Tachyon recommends you leave the door open if you want better sound.
It also has poor battery life and the file format is not compatible with Windows-based computers. It consistently locked up our computer when connected.
Finally, the mounting options are very limited for this video camera and it doesn't have a tripod mount. Its size and form factor make it one of the most difficult motorcycle video cameras to mount of any we've tried.
Tachyon XC HD Specifications
The Tachyon XC HD is a 720p HD video camera. It takes H.264 video at 30FPS (Frames Per Second) and saves the files in the .MOV format.
This format is a problem for Windows users; i.e., the majority of computer owners.
Tachyon warns that "Windows XP is not recommended for video editing" with the Tachyon XC HD. This was the only video camera in this grouping that gave us problems with connectivity and file editing.
Whenever we tried to connect the Tachyon XC HD to the computer via the USB cable, it consistently locked up our video editing computer, requiring a complete hard reboot.
This is a serious problem and although we've had various problems with video files before, never has one been this bad.
Since the camera uses a standard SD card and not MicroSD, it's easy enough to pull the card rather than connect the camera to the computer.
We can access the files that way and the files will play — sort of — on the PC using the VLC Media Player, QuickTime, Windows Media Player or the DivX Plus Player.
To edit the files, we first had to download Microsoft Movie Maker, which is free, but entails downloading the entire Microsoft Live Essentials package, something I was loathe to do.
Microsoft claims you can download Movie Maker only without the rest of the Live Essentials detritus, but that apparently is not the case.
The files will play and can be edited in Movie Maker, but we used it only to save the file as a .WMV so we could bring it into Adobe Premiere Elements 9.0 to create our videos.
However, something happened in the translation to reduce the size of the video, as you can see on the Introduction page for this review comparison.
When converting to .WMV to allow editing in Adobe Premiere Elements, the HD format was reduced from 720p and this shows as black borders in the video.
w

BW

 Video: Four Motorcycle Video Cameras – Details
w
BW
Video: On-Road Comparison of Four Motorcycle Video Cameras
Where to Buy Tachyon XC HD Video Camera
Check Reviews & Prices on Amazon
See More: Motorcycle Accessories, Motorcycle Tire, Motorcycle Helmets
---
Tachyon XC HD Size and Details
The Tachyon XC HD is a large camera, comparatively speaking, at 181 grams (6-3/8 oz.). It measures 100 mm long by 50 mm tall by about 45 mm thick.
The case is built to withstand water pressures to 100 feet and this has probably made the case heavier than necessary for use on a motorcycle.
Too bad they didn't make another version with a lighter and less water-resistant case for motorcycle use.
This video camera can accept standard SD cards up to 32GB. Tachyon recommends at least a Class 6 or higher card; we used Class 10 Panasonic SD cards, which are very high quality.
Be careful because some of the Class ratings are thrown around on these cards with little bearing to reality.
A fast card is necessary for the best quality video that the camera can provide; not using a fast enough card can sometimes create choppy video or dropped frames.
The Tachyon XC HD takes two AA batteries.
Tachyon recommends Energizer Ultimate Lithium batteries, and these are relatively expensive at roughly twice the price of Energizer or Duracell alkaline batteries.
The camera eats through alkaline batteries at a fairly rapid pace at about 2 hours of video per pair, but Tachyon claims a pair of the Lithium batteries will last up to 6 hours, which is very good if true.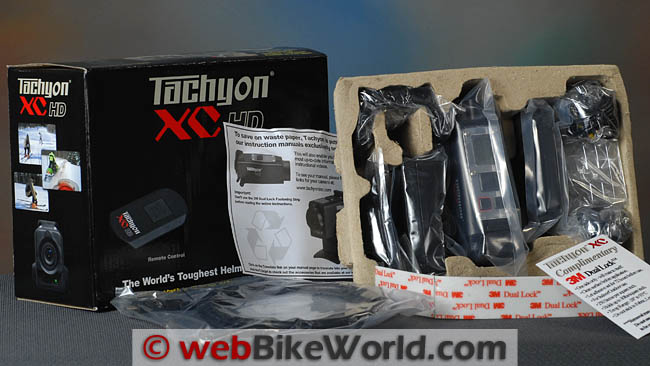 ---
Where to Buy Tachyon XC HD Video Camera
Check Reviews & Prices on Amazon
See More: Motorcycle Accessories, Motorcycle Tire, Motorcycle Helmets
---
In the Box
The Tachyon XC HD is designed pretty much as a motorcycle video camera, but strangely enough, it has a very limited number of mounting options.
The camera comes with two mounts; one is a side mount that slides on to one side or the other of the camera and then a goggle strap is supposed to fit through the side mount, holding the camera on the side of the helmet.
We never could get our side mount to work properly.
The camera also comes with a solid cradle type mount that is designed to fit on the top of a helmet. It has no movement, so the entire assembly must be lined up on the helmet.
Tachyon provides a strip of 3M Dual Lock Fastening Strip with the camera. A cradle mount that appears to move 360 degrees in the horizontal plane only is available as an option, as is a small handlebar mount.
The lack of a tripod mount on this camera makes the mounting options even more limited.
The camera does not come with a printed manual; the manual is in .pdf format and must be downloaded from the Tachyon website. They could have at least put a slip of paper in the box telling the new owner how to set it up and get it running, a "Quick Start Guide".
The camera comes with a large remote control, which is not waterproof and uses two AAA batteries. It's a bit comical because it's almost as big as the entire AEE HD50 (review) but it has only one button to start or stop recording.
The remote has a limited range of about 2 feet and since there's no LED light on the camera and the beep sound is rather dim, it's difficult to tell whether the camera is on or off.
So if it's mounted on top of a helmet, you really don't know whether the remote has started the video recording or not.
You either have to trust it or take the helmet off and manually start the recording by pushing the button. But, this is a problem with just about every remote control and video camera pair we've tried.
Finally, none of these cameras have any type of automatic lens cover or lens protector. The XC HD comes with a couple of cheesy plastic caps that slip over the front to protect the lens. That's something, at least.
Using the Tachyon XC HD
The camera's bulk belies its simplicity. It has a little menu system, but the camera has so few options that it makes one wonder why they went through the trouble.
Turn it on by pressing and holding the on/off button at the lower left. The buttons have a very stiff feel due to the waterproof design.
The camera beeps twice and the LCD screen turns on when the camera is ready.
Press and hold the Record button and the camera beeps once and starts recording, while the seconds and minutes click off on the screen.
Press again to stop recording and another beep sounds and the file is saved.
The camera can also record time lapse photography at a fixed one photo every 2 seconds that is non-adjustable.
The menu screen also includes battery status and memory status indicators.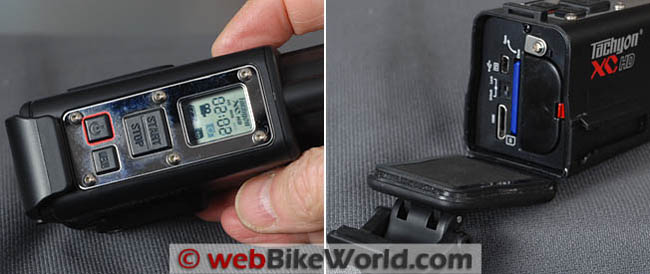 Video Quality of the Tachyon XC HD
We were disappointed in the video quality of this camera, especially since as an HD camera, our expectations were high. It seems to prefer neutral or low-contrast lighting, i.e., on overcast days or in shade (or in controlled studio lighting).
The video taken in those conditions is good, but you can't always count on those conditions.
This is a common problem with most motorcycle video cameras, which have either fixed exposure and color balance or crude algorithms to step the exposure up and down automatically.
They usually don't compensate well enough or fast enough, and you can notice the stepping up and down as the camera goes through bright light to dark shadows in the videos.
The Tachyon XC HD seems to consistently underexpose the video when the camera is recording in bright sunlight, by what looks like about 2 stops.
The camera also seems to have occasional trouble with white balance or color cast, lending a brown tinge to the recorded video in bright light, as you can see in the comparison video on the Introduction page to this comparison review.
The exposure algorithm generally appears to be a bit flaky.
Sometimes it seems biased towards a "neutral" setting, such as green fields, woods, etc. and if presented with a high contrast scene, such as a bright light against a white background surrounded by darker trees, it will then tend to overexpose the whites by 2-3 stops to bring out the shadows.
But ride into the sun and it underexposes quite dramatically.
So something doesn't seem quite right with the way the automatic exposure setting is programmed — the dynamic range on this one either isn't wide enough or it isn't working the way we expected (although it may just be this particular camera).
None of the motorcycle video cameras we've reviewed have the exposure capability of a good quality digital camera or video camera, by the way.
They're all a compromise, but some have a wider dynamic range than others.
The Tachyon XC HD has an HDMI port under the waterproof cover in the rear, along with the SD memory card slot, the USB port and the carrier for the AA batteries.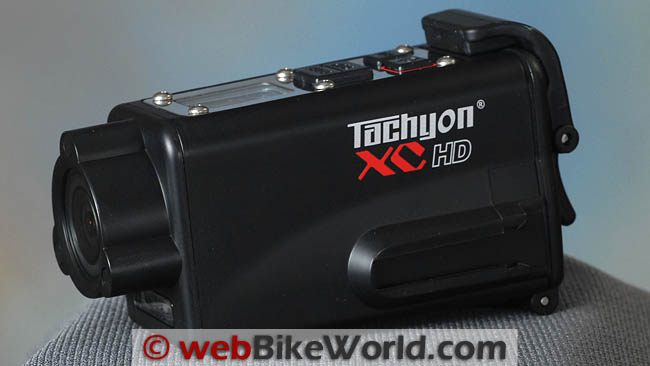 ---
Where to Buy Tachyon XC HD Video Camera
Check Reviews & Prices on Amazon
See More: Motorcycle Accessories, Motorcycle Tire, Motorcycle Helmets
---
Pros and Cons of the Tachyon XC HD
The pros for the Tachyon XC HD include its relatively low price for an HD camera; ease of use and rugged case build with waterproof capability not requiring any extra purchases.
The video also seems immune to the "rolling shutter effect". The camera will allow continuous recording up to 8 hours and a 32GB maximum SD memory card, should you ever be so inclined to try it (don't).
The cons include the larger size, heavier weight and very limited mounting options; the latter being a serious drawback for what is supposed to be a motorcycle video camera.
The lens can not be rotated on this camera, which also limits the mounting options.
The battery life with alkaline batteries is poor and Windows connectivity is definitely a problem.
Conclusion
I'd almost guess that the Tachyon XC HD was rushed to market before it was quite ready. They need to clear up a few details and I do think a non-waterproof housing that was lighter and smaller would be better for motorcycle use.
If they combined that with a better mounting system for motorcycles, they might have something. But at this point, it's hard to recommend this camera, even at it's relatively low (for an HD motorcycle video camera) price.
More webBikeWorld: 
▪ Video Action Camera Reviews
▪ Intercom and Radio Reviews
w

BW

 Review: Tachyon XC HD Video Camera

Manufacturer: Tachyon
List Price: $179.99 USD.
Colors: Black.
Made In: China
Review Date: March 2011
Note:
 For informational use only. All material and photographs are Copyright © webWorld International, LLC since 2000. All rights reserved. See the webBikeWorld® 
Site Info page
. Product specifications, features and details may change or differ from our descriptions. Always check before purchasing. Read the
Terms and Conditions
!
---
Where to Buy Tachyon XC HD Video Camera
Check Reviews & Prices on Amazon
See More: Motorcycle Accessories, Motorcycle Tire, Motorcycle Helmets
---
Owner Comments and Feedback
Other WebBikeWorld Video Camera Posts