2014 Suzuki V-Strom 1000 ABS Introduction
October 16, 2013 – Suzuki introduced the 2014 V-Strom 1000 ABS today at the inaugural AIMExpo show in Orlando, Florida.
I'll have more photos and info coming up on this, our 2014 webBikeWorld project bike!
Dealers will start to take orders in November with deliveries commencing in April (see note below); we hope to get one of the first and let the farkling begin!
In the meantime, here's a quick video I took and a few pics.
This is sure to be a popular bike, so if you have any questions about it you'd like to have answered, let me know because the Suzuki designers and engineers are here.
We'll have lots more on this bike, of course. By the way, I can touch the ground — with my toes anyway — even with my 30″ inseam. The seating position feels exactly like my '98 Triumph Tiger "Steamer" (blog), one of the first webBikeWorld "project bikes".
And another by the way: not many people know that Suzuki invented the "beak", not BMW. See the Suzuki DR Big (info).
UPDATE: Suzuki said that the dealer network will start taking orders in November, production has started and bikes will be shipped in March. Deliveries will start in April 2014. 2014 Suzuki V-Strom 1000 ABS specifications on the Suzuki V-Strom 1000 ABS website.
More: Here's a Suzuki V-Strom 1000 ABS .pdf brochure.
w

BW

 Video: 2014 Suzuki V-Strom 1000 ABS Introduction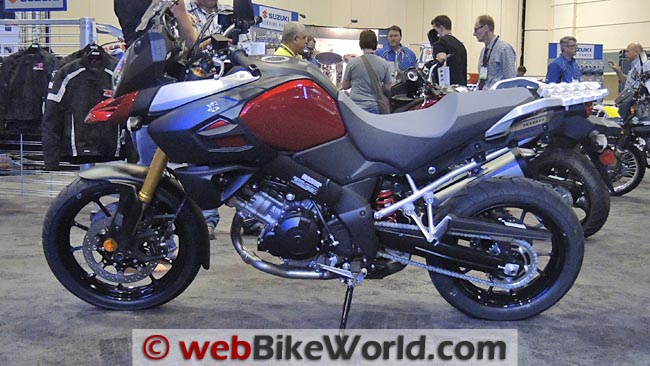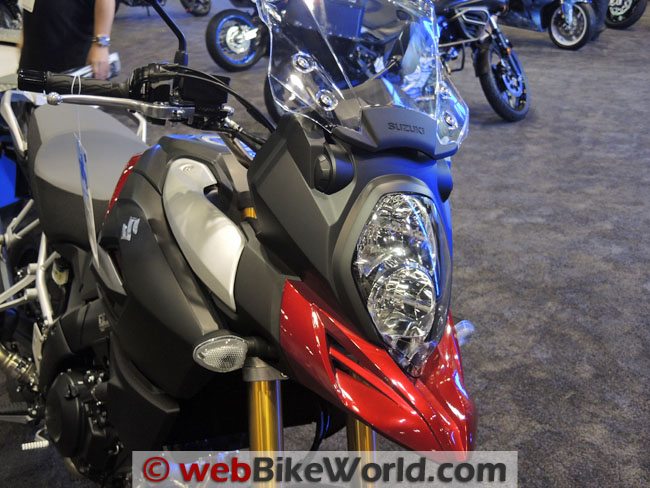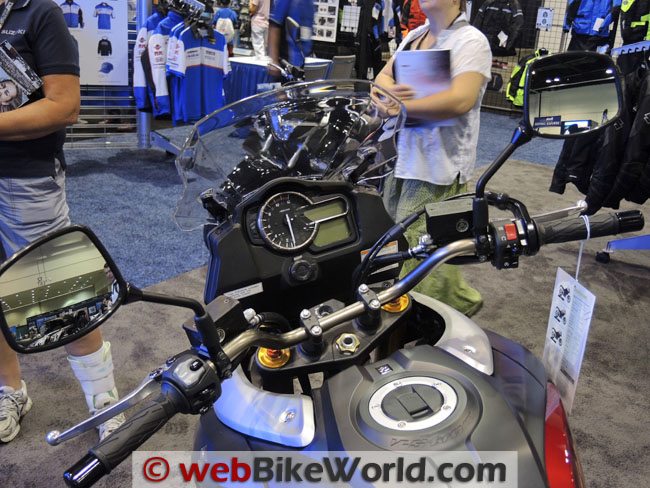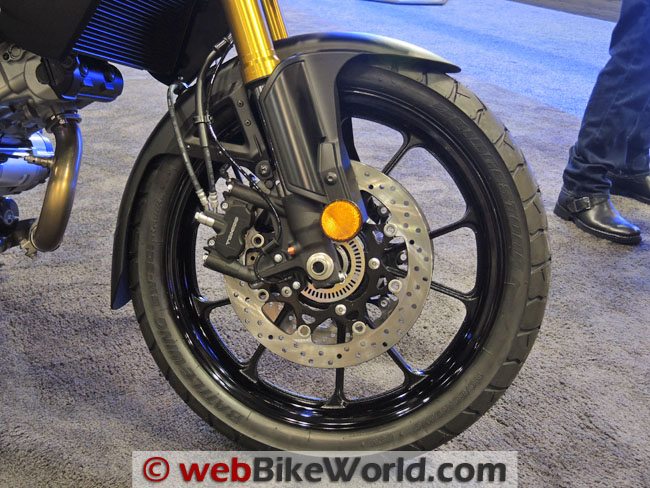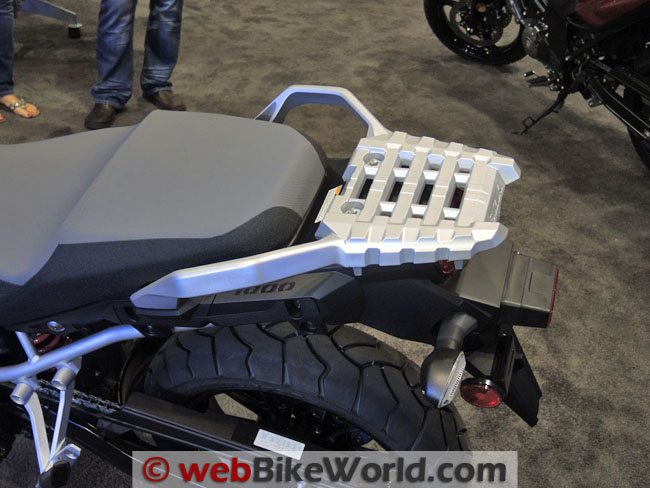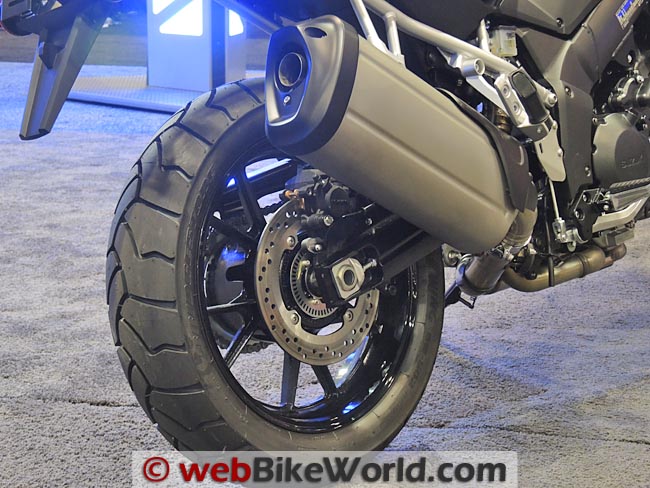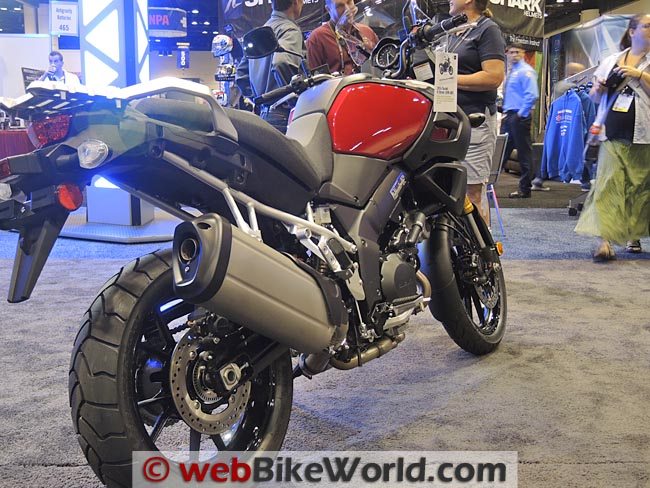 More webBikeWorld:
▪ Motorcycle Reviews
▪ 2013 AIMExpo Report
▪ Suzuki V-Strom 1000 ABS Blog
▪ Suzuki V-Strom 1000 ABS Adventure Photos
Publication Date: October 16, 2013
Suzuki V-Strom 1000 ABS Q&A
Can ABS be switched off or adjusted in any way for off-pavement riding?

A: TCS has 2 modes and can be switched off. ABS can not be switched off.

Base pricing USA and Canada?

A: UPDATE (November 2013) U.S. price for the DL1000 is said to be $12,699.00. An SE V-Strom 1000 Adventure model will list for $13,999.00. It will include saddlebags, windscreen, hand guards, crash bar and aluminum bash plate. Colors will include Glass Sparkle Black as standard or the Adventure option package can be installed by the dealer on the Candy Daring Red or Glass Desert Khaki versions. UK pricing said to be £9,999.00 (incl. VAT). Canada: $11,999.00 and $12,999.00 for the SE.

Seat heights – standard and low seat?

A: 820 mm (32.3″) or 855 mm (33.6″) options in Europe.

Spoked wheels to become available for off-road?

Suzuki said no. The bike is designed for on-road use only, like the Multistrada, despite the press hype.

What is the power output in Watts?

UPDATE: (February 2014) Maximum output of the alternator on the 2014 Suzuki V-Strom 1000 ABS is 490 Watts @ 5,000 RPM, compared to 400 Watts on the previous version.

What grade of gasoline does it require?

Suzuki doesn't know yet whether 90 octane will be required in Europe, U.S. or both.

Does Suzuki have test ride bikes there at the show? If so is your mole going for a test ride?

No, the two bikes at the show are late prototypes from Europe. The bikes aren't even in production yet.

Front/rear balance of the bike? What was their target and achievement?
V-Stroms up to now have targeted rather lightweight rider so many of us have had to "upgrade" the suspension. [I did and I only weigh 150]. What is the target load and do the shock and forks have more headroom than the past models?

Don't know, will ask but I have a feeling we won't get a clear answer on this
Note:
 For informational use only. All material and photographs are Copyright © webWorld International, LLC since 2000. All rights reserved. See the webBikeWorld® 
Site Info page
. Product specifications, features and details may change or differ from our descriptions. Always check before purchasing. Read the
Terms and Conditions
!
Owner Comments and Feedback
---
From "W.C." (February 2014): "I got to sit on this bike and take a good long look at it at a local motorcycle show. The local Suzuki dealer brought two of them to show off.
Let's just say they aren't pushing this model as it was tucked into the back and overshadowed by the massive Star display for the other brand they carry. (I have no riding impression of the bike as of yet.)
Here are my initial takes on it compared to its competition. It fits the price. The finish of the overall bike is good but it does show some cost cutting design aspects.
Compared to the GS, Explorer, Multistrada, and KTM it is not in the same fully thought out design for the category. There are exposed cables, lines, and the seat feels terrible.
The pegs are also in an odd position and make the bike feel taller because your legs have to be wider when sitting (I am 6ft tall so a shorter rider will have a harder time).
There are several easily snagged and damageable cables, an exposed rear master cylinder that are protected and packaged out of the way on other ADV bikes this competes against.
The most expensive item is the front ABS cable mounted outboard of the fork leg. This will most likely be damaged in an on road off and most certainly in any type of off road crash. Making it a very weak part of the motorcycle.
The motorcycle sits really far over on the side stand compared to the other ADV bikes, so while it might be lighter on paper it is harder to lift upright. This condition will only get worse as you load it down.
My wife who is 5'6 is significantly more comfortable sitting on the GS or Explorer compared to the V-Strom, for those that carry people and supplies this is a very important factor.
These all add up to a bike that falls short in too many places to be a top notch category buster. It is simply a less expensive ADV styled bike that cuts some corners to get there.
Factor in the lack of cruise control and you also do not have a true long distance bike like it's competitors who either offer it standard or as an option.
Let's be honest; lot's of people are going to like this bike. It has some glaring ADV flaws that many have glossed over when writing their reviews. I do predict it will sell in OK numbers because of price but it will take a strong aftermarket to make is a success."
Rick's Reply: One thing that Suzuki was pretty firm on, the V-Strom is not an off-road bike; in fact, Suzuki recommends not taking it off road. One look at the exhaust hanging off the front cylinder confirms this!
Also, I sat on it and find it very comfortable with my 30″ inseam — it feels identical to my old '98 Triumph Tiger.
In the end, I think it's kind of like the motorcycle version of a Honda CR-V or Toyota RAV4 — looks the part, like an off-roader, but isn't. I think you got it correct, it may not be as well finished as a BMW or KTM, but at $3,000 to $8,000 less, it's going to be popular.
Also, to be honest, I'd guess it will be way more reliable than modern BMWs, which are awful in my experience and expensive to fix….
---
From "J.B." (October 2013): "Thanks for your post on the webBikeWorld website. I am sure you are hearing from many 'Strommers… the big question is: Price!… Thanks for your info, and I will be keeping an eye out for further posts…"
Rick's Reply: MSRP now listed in the entry above.
Other WebBikeWorld Brands Posts