w

BW 

Special Report: Suzuki B-King First Impressions

The B-King is really, really here; after six years of waiting, the faithful have been rewarded.

First impressions are all positive and while not having had a chance to actually ride one yet, we predict it will be an extremely livable "first cousin" and (probably) a rowdy alter ego to the legendary and newly re-engineered Hayabusa.

The concept and execution has been widely embraced across the pond and indeed around the world; however, only time (and sales) will tell if it is truly everything advertised and a viable buyer choice for North America.
Impressive Just Standing Still
It's hard to miss the 2008 Suzuki B-King sitting on the showroom floor.  Visually it is a big motorcycle and that impression remains as one walks around it in silent contemplation and admiration of what has been wrought since its original concept showing at the Tokyo Motor Show in 2001.
In the six years since then, a cult following of sorts developed among the motorcycling community and the same question was asked every model year, "Will the B-King ever see production?"  Well Dorothy, we can now state with some certainty that yes, it has seen production, and yes, it has been delivered and no, this ain't Kansas.
Our hastily arranged photo shoot of the first B-King to be physically sighted in North America was done courtesy of Fred and Jim Kohlman of Wheelsport, located in the east end of Ottawa.  Fred and Jim have considerable leverage with their respective suppliers, but I was still surprised to see one sitting on the showroom floor before the end of October.
While very little in the way of hard specifications has been released in Canada (Suzuki Canada continues to tease us), we can state that from our first visual inspection there are some real leading edge aspects, as well as many tried and true components that will hopefully add up to a solid and desirable package.
Resting on its side stand (no centre stand yet, thank you), one has to swing the right leg fairly high to clear the highly styled back end, which houses the requisite catalytic converter assembly and the dual-throat exhaust.
In reality however, the wide, firm seat is fairly low (didn't get a measurement done yet, but we estimate around 30 to 31 inches) and once seated, the rest of the B-King world is laid out.
For my 6 ft., 3 in. frame and 35 inch arms, the reach to the sports-type bar was an easy one, although people of shorter or smaller build are not likely to have difficulties in this area anyway.  The seating position in general will result in a slight forward angle for most riders.
The knee indent in the side cowlings, although quite high, will still be short for longer-legged riders, although the seat does allow some movement forward and back, which will help overcome other positional shortcomings.
At the front, the headlight and instrument nacelle is very streamlined and minimal in a sporting way.  The centre of the display features an analog-look tachometer, with digital display areas to the left and right.
Moving backwards, the fuel tank is well defined, as is the chrome effect fuel and control nacelle, but what really dominates are the side cowlings that look a little like intakes from a supersonic fighter jet, albeit with signal lights incorporated.
The control nacelle looks out of place at first glance, but when revisited, it becomes slightly less obtrusive. The panel itself houses the ignition switch, an industry standard filler cap and four input buttons, two on each side.  The left side buttons read Info and Set, while the right side buttons are marked Mode A and B, presumably to switch between the two (or three) engine management modes.
The back end view, which is the only thing that many people are undoubtedly going to see, is without a doubt the real giveaway that this is not your typical sports or UJM style motorcycle.  There is nothing else like it, even in this age of under-seat exhaust systems.
The whole back cowling piece is sculpted to continue the front to rear flare-out that ends with those two distinctive exhaust ports that will instantly remind most people of a stylized bat, the flying kind.
It must also be said that a frontal viewing of the headlight nacelle will also tend to make one think of an animal at rest, ready to pounce…possibly a bat?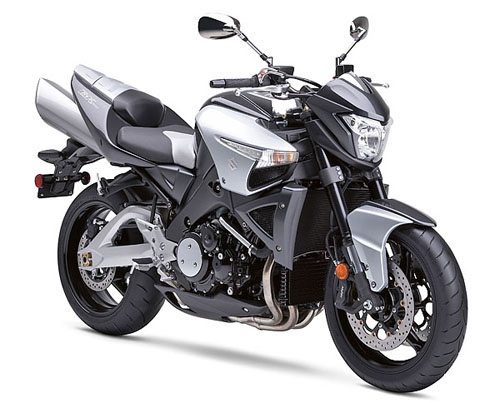 The rolling stock bits n pieces are largely conventional in appearance, but upon closer inspection there are likely some features not yet revealed to the general public.  The inverted forks and radial mounted calipers at the front, along with the well-defined and beefy swing-arm components look more than up to the tasks that will be asked of them.
On or off the motorcycle, there is virtually no hint of what powers the thing — one only gets certain views of the motor and not usually enough to really know what it is, unless one knows what that is, which we do — the new spec 2008 Hayabusa engine.
Based on specifications released in the UK and now, the US (see below), the motor has been drawn straight from the new Hayabusa and has seen only "slight" modification (whatever that means).  Just the thought of having all those horses living inside such a radically styled and stunning chassis is enough to bring a glint of mischief into the eyes of anyone sitting on the B-King.
The overall packaging of the B-King, in our mind, has been skillfully executed and delivered.  Even though its weight is listed at 236kg (520 lbs) for the Canadian model, the whole motorcycle feels well balanced and is certainly not top heavy, a perception that could be made when looking at the overall height and width of the motorcycle.
While any further impressions of the B-King, which Suzuki touts as being, "the Hayabusa's first cousin…its rowdy alter ego", will have to wait until they roll off the showroom floor and/or get into the hands of (other) eager journalists, we came away from this first viewing extremely impressed, and wanting to, dare we say it, own one.
It is hard to say if the B-King will find a loyal North American following or if it will become another icon of what the manufacturer can conceive, build but not sell, much like the unique Yamaha MT-01, a superb motorcycle in its own right that simply languishes on showroom floors.
Suzuki B-King Features
Engine
New 1340cc, DOHC liquid-cooled, 16 valve engine shared with the new Hayabusa featuring a gear-driven counterbalancer for smooth operation

Suzuki SDTV fuel injection system with dual injectors per cylinder and ram air intake with large volume airbox

S-DMS (Suzuki Drive Mode Selector) allows the rider to choose from two different engine settings depending on riding conditions or rider preferences

Lightweight titanium intake and exhaust valves with narrow 14 degree valve angle for high combustion chamber efficiency

High efficiency curved radiator now features dual electric fans controlled by the ECM for increased cooling capacity. Oil cooler now has 10 rows cores for increased heat dissipation.

32 bit ECU boasts 1024 ROM for high overall performance and to control new functions like S-DMS

Ventilation holes at the cylinder skirt for reduced pumping losses and increased overall performance

Uniquely styled exhaust system enhances the powerful styling of the B-King

Large volume 4-into-2-into-1 exhaust system with a large capacity catalyzer, oxygen sensors and an oval cross section canister with dual openings that meets Euro 3 and Tier 2 regulation

The Suzuki Exhaust Tuning (SET) valve is built into the mid-pipe for optimum exhaust efficiency

Slick shifting 6 speed transmission working in conjunction with an innovative back torque limiting clutch for smooth and controlled downshifts

Ion plating treatment utilizing PVD (physical vapor deposit) method is applied to piston rings providing a smoother surface treatment for increased durability, reduced friction loss and reduced oil consumption
Chassis
All-new Twin-spar cast aluminum alloy frame features optimum rigidity balance and superb handling

All-new cast aluminum alloy swingarm for the B-King is constructed of 3 main sections for minimal welding lines and a clean overall look

New KYB inverted front forks are specifically designed for the B-King and are fully adjustable for compression, rebound damping and spring preload to suit rider preferences
• New aluminum alloy rear shock absorber features three-way adjustability with excellent damping characteristics equivalent to those of Suzuki supersport models

Radial mount front brake calipers feature an all new design built specifically for the B-King and work with 310mm brake rotors to provide superior braking performance.

Lightweight single piston rear brake caliper works with a 260mm rear disc

The front brake master cylinder, its reservoir tank, as well as the clutch master cylinder were designed specifically for the aggressive look of the B-King

The B-King features a new wheel design with a dynamic three spoke look combined with high performance radial tires boasting a massive 200mm rear tire size

Unique three piece front fender design for a high quality look and an aggressive look

All New instrument cluster features the signature strong B-King styling with an analog tachometer, digital speedometer, fuel gauge, water temperature gauge, twin tripmeters, clock, maintenance interval, running time, average speed, gear position indicator, and a S-DMS mode indicator

The B-King also comes equipped with a standard steering damper for maximum stability
Suzuki B-King Specifications
Specifications
Model Number
GSX1300BKK8
Type
Standard
Warranty
12 month unlimited mileage limited warranty.
Suggested Retail
$14,999.99 CDN; $12,899.00 USD
Engine
1340cc, 4-stroke, four-cylinder, liquid-cooled, DOHC, 16-valve, TSCC*
Bore & Stroke
81.0 x 65.0mm*
Compression Ratio
12.5:1*
Fuel System
Fuel Injection
Lubrication
Wet sump
Ignition
Digital/Transistorized
Starter
Electric
Transmission
6-speed, constant mesh
Final Drive
#530 chain
Overall Length
2220mm (87.4 in.)*
Overall Width
800mm (31.5 in.)*
Overall Height
1085mm (42.7 in.)*
Seat Height
805mm (31.7 in.)*
Ground Clearance
120mm (4.7 in.)*
Wheelbase
1525mm (60.0 in.)*
Dry Weight
235 kg (518 lbs.)* CA Model: 236 kg (520 lbs.)*
Suspension Front
Inverted telescopic, coil spring, fully adjustable spring preload, adjustable rebound damping and adjustable compression damping
Suspension Rear
Link-type, gas/oil damped, fully adjustable spring preload, adjustable compression & rebound damping
Brakes Front
Dual hydraulic disc
Brakes Rear
Single hydraulic disc
Tires Front
120/70-ZR-17*
Tires Rear
200/50-ZR-17*
Fuel Tank Capacity
16.5 liter (4.2 gal)* CA Model: 16.0 liter*
Color
Gray/Silver, Black/Matte Black
Note:  For informational use only.  All material and photographs are Copyright © webWorld International, LLC – 2000-2011.  All rights reserved.  See the webBikeWorld® Site Info page.  NOTE:  Product specifications, features and details may change or differ from our descriptions.  Always check before purchasing.  Read the Terms and Conditions!
Owner Comments and Feedback
Comments are ordered from most recent to oldest.
Not all comments will be published (
details
).  Comments may be edited for clarity prior to publication.
---
Editor's Note:  A question was asked regarding the difference between the Canadian and U.S. dollar pricing:  "Great article – but somebody ought to tell Suzuki they have the prices mixed up – The Canadian dollar is worth MORE than the US dollar today, so the Canadian suggested retail price should be LESS not more than the US price."
As it turns out, this is a complex issue that is much more complicated than simply exchanging greenbacks for loonies.  Note that the following response, provided by H.B.C., are not meant to reflect every aspect of the situation; they are provided to assist in understanding some of the complexities:
"Hopefully some of the following general factors or points will help clarify the issue:
Cut-rate pricing approaches that have been widely adopted over the
past few years, especially in Canada (largely due to lower average incomes, consumer conservatism (frugal) and our devalued currency) have become 'expected' by many consumers, especially during the last five or six years where a growing and healthy economy along with changing demographics has resulted in a strong motorcycle market.But, in general, this approach was not sustainable as profit margins were too slim and this inflated market was beginning to collapse.  Therefore many brand and model segments have or are returning to a more profitable price listing, which equals higher sticker prices;
Cost of doing business – it is a well documented fact that conducting business in Canada is (typically) more expensive, related to employer/employee benefit costs, taxes, etc;
Exchange rate differentials play a major role in current price differences – some prices are set well in advance (one or two years sometimes) and they take into appreciation all factors, including global and national market tolerances, exchange differentials – which for quite some time have (heavily) favoured the US dollar (typically the cost model currency standard);
Cost and profit lines – in the US, a model might be priced at $15,000.00.  Due to a 2006 exchange rate of 1.10 (for example), this same motorcycle would be $16,500.00 in Canada (at a minimum)…this differential helps increase the profit margins of many dealers.  What must be considered here is that for high volume dealers, a lower profit margin model can be sustained, but for a small or medium volume dealer, constantly being undercut, or pressured to 'negotiate' pricing, is not sustainable, thus a return to the situation identified at (a).
So, now that the USD is declining in value on international markets, and the CDN dollar continues to climb against the USD, consumers want, and expect, 'instant' change, ie – price reductions across the board.  To some degree this is already happening, particularly among the major importers and domestic manufacturers, and specifically within the four-wheel industry.
Will motorcyclists see the same across the board adjustments?  I don't think we will it on the same scale, for many of the reasons identified above, but I do believe we will see closer pricing between brands and models in the US and Canada, and this, by itself, should translate into some reductions for CDN consumers
Other WebBikeWorld Brands Posts