Sub Zero Thermal Underwear Image Gallery
Very soft and comfortable no-nonsense thermals.
Snug fit and flexibility makes them almost seem to disappear when riding.
Excellent compromise between fabric weight, breathability, moisture wicking and wind blocking.
This has been a year of strange weather for us.
We've had endless rain and cool weather in the Spring, then a comparatively cool summer leading to a quick onset of Fall weather and even more rain.
Perfect for our next motorcycle thermal underwear review!
I'll make an educated guess that most motorcyclists probably do not own a set of thermal underwear designed for riding.
But with today's high-performance materials, a good set of thermals can go a long way towards making that cool/cold weather ride much more enjoyable.
And don't forget — there's a bonus involved.
In reality, even motorcycle specific thermal underwear can be very useful off the bike as well, which means more value for the money.
Back in the old days, thermal underwear was white, cotton and had a waffle texture.
It's still available and you can find a set for less than a pint of Boddingtons. Although it may be useful to ward off a chill when you're watching the tube, it's next to useless as soon as you step outside.
And when it gets wet, it's a mess.
Modern high-performance underwear can be classified into three categories: first, there's the thin stretchy stuff, designed for hot weather and to help transfer moisture from the body.
Next is the medium-weight type, designed to extend the comfort range in cool or cold weather. It may include other capabilities such as moisture-wicking or wind-blocking.
The thickest type of Winter thermal underwear is usually made from some type of "polar fleece".
It's usually marketed as a solution for very cold weather.
Thick, bulky and uncomfortable when worn under street clothes, this type of underwear can trap heat and moisture, making for an uncomfortable adventure.
Although riding a motorcycle doesn't normally induce sweat, the thick fabric used in this type of thermal underwear is usually too bulky for a snug-fitting motorcycle jacket and pants.
This stuff usually looks better in the catalog than it performs in real life.
So let's consider the mid-weight choice. Just what defines mid-weight? This is where it gets tricky. It can't be too thin, or the thermal properties might be compromised.
But if it's too thick, it may not allow the moisture to escape and don't forget the bulkiness problem.
Not too thick; not too thin — in other words, it has to be just right! But there's more to it than that, certainly; a good thermal layer for motorcycling must feel soft and comfy next to the skin.
It must have lots of stretch, to help it fit like a second skin. Excellent breathability and moisture-wicking capabilities are a must and a touch of wind resistance is also desirable.
Add it up and you have a modern, high-tech, high-performance set of thermal underwear of the type one could only dream about back in the day.
The Sub Zero Factor 2 thermals have all that and a few additional tweaks to sweeten the pot!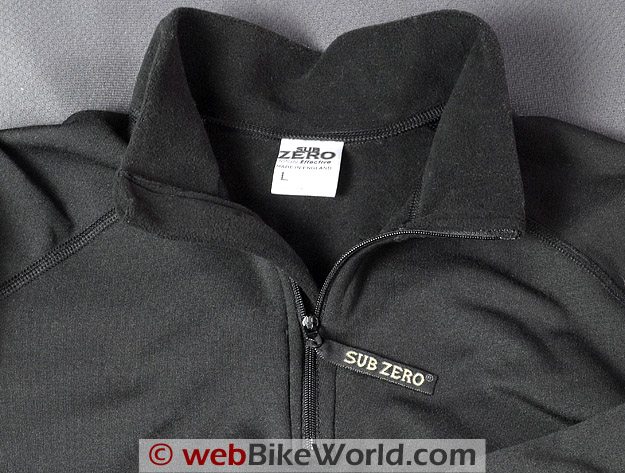 Sub Zero Factor 2 Thermal Underwear
There's so much marketing hype when it comes to thermal underwear that it can be difficult to understand which features are important.
I had been somewhat familiar with the Sub Zero brand, a British manufacturer of "technical performance garments".
The Factor 2 thermals shown here are indeed designed and made in England — a pleasant surprise in this age of off-shoring.
It has been said that the British know a thing or two about nasty weather, so I trust their abilities in making clothes that can handle the harshest conditions.
Sub Zero says that their thermal clothing has been worn by explorers on expeditions ranging from Mount Everest to the crews of the BT Global Challenge Round the World yacht race.
My experience with the Sub Zero Factor 2 mid-layer thermals leaves me with the impression that the company makes garments that are indeed very functional, with an emphasis on performance over frills.
And when it comes to cold weather, performance is paramount.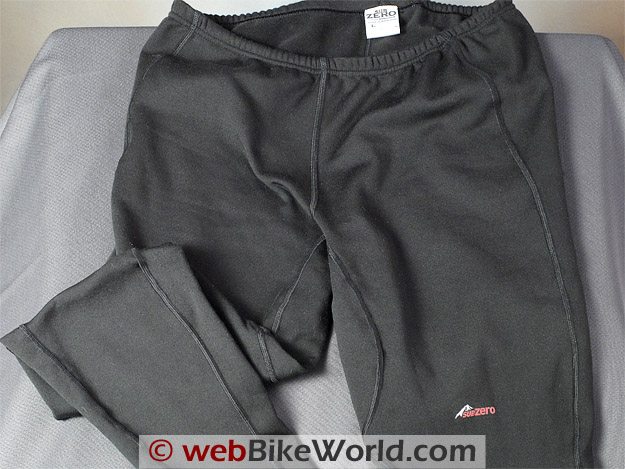 Stretch for Comfort
This emphasis on functionality is apparent in the Factor 2 "Wicking Thermal Layer" zip turtleneck and the "Bloo John" (that's what they call the pants).
Both garments feature flat-stitched seams to prevent chafing and a 6% Spandex for flexibility and stretch.
The Bloo John pants (the name apparently is used for underpants with a shorter profile than Long Johns) feature a very minimal elastic waist band, which also helps keep a trim profile and reduce bulk while, of course, keeping the pants securely in place.
Other than the small gauge zipper at the top, which is the only attachment on the shirt, the turtleneck also has very flat seams at the cuffs and waist.
The flat seams, the stretchy Spandex and flat cuffs and waist allow both thermals to cling to the rider's body while moving like a flexible second skin.
This, as it turns out, is an important factor for both comfort and warmth.
I was concerned at first because the size large felt very snug, but the difference is that the Sub Zero Factor 2 thermals are designed to fit just like a pair of tights.
The fabric measures about 2 mm thick. It has a very, very soft "polar fleece" lining that feels similar to a very fine microfiber lens cleaning cloth. It is very comfortable next to the skin.
I measure the stretch at about 30% in the width and 80% in the length, exactly what is claimed by Sub Zero.
The Factor 2 garments have a UK "tog rating" of 0.72. The tog rating is a British measurement of thermal resistance.
I've read that a fabric with one tog has a thermal resistance of 0.1, supposedly the warmth one would get from a typical man's suit of clothing.
A thick down duvet can have a tog rating of up to 14 or so, but would be terribly uncomfortable to wear under motorcycle clothing.
So look at it this way — wearing a set of Sub Zero Factor 2's is like starting out with a suit of clothing, not counting the extra protection offered by the outer garments.
Sub Zero hit it just right with the Factor 2 thermals. The combination of the baby-soft interior, the stretch and the fit make the Factor 2's the most comfortable set of thermal underwear I've tried.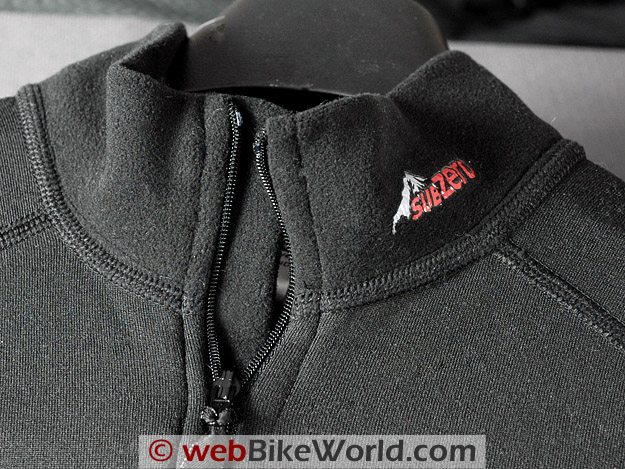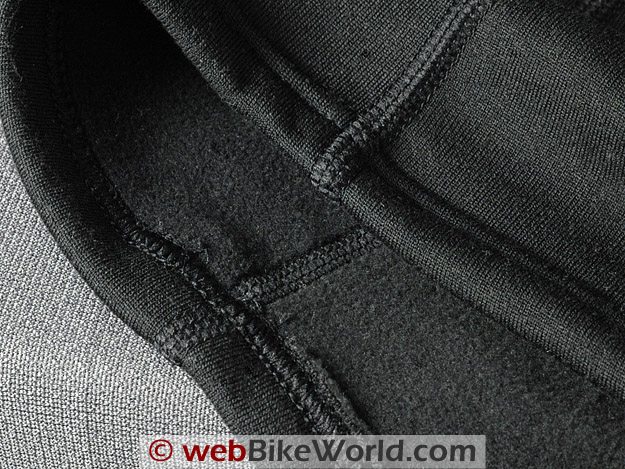 This "midlayer" construction, combined with the stretch and minimalist seam configuration, does indeed make the Factor 2 thermals feel like they're not even there.
Sub Zero says that the fabric weights and specifications are designed to keep the wearer comfortable in cold temperatures in the morning and remain comfortable throughout the day, and this has indeed proven to be the case.
To challenge the claim, I wore the turtleneck and Bloo Johns indoors, underneath street clothes, and I didn't feel hot or sweaty — just comfortable.
I then put on a thin nylon shell running pants and jacket and went for a hike up the 1/2 mile long hill just up the road from my house.
This is a tough slog; it's a steep hill and I'm usually peeling off garments half-way up and covered in sweat by time I reach the top.
In the mid 50-degree Fahrenheit temperatures, wearing the full Sub Zero Factor 2 thermal outfit underneath, I felt perfectly comfortable and fabric did a wonderful job at drawing moisture off my skin.
The outer layer of the fabric has a non-fleece texture with a very slight shine. I'd guess that the outer part of the fabric contains the Spandex.
The fabric is all one piece, not layers, and it seems like a marvel of technology how they worked it so the soft fleece is on one side and not the other.
The Sub Zero Factor 2 midlayer top features a 180 mm low-profile, small gauge zipper and a 50 mm tall mock turtleneck top. Remember that the fabric is only about 2 mm thin, so the top and bottom have a lightweight feel.
The Bloo John pants are completely unadorned, with no zippers or other attachments.
Both garments do not have a complete wind-blocking outer skin, but worn underneath a textile motorcycle jacket and pants, they work very well at keeping me warm and dry.
I can't say how warm I will feel in extreme cold, as Fall has just arrived. But my goal is to reduce bulk for winter riding to try and remain as comfortable as possible.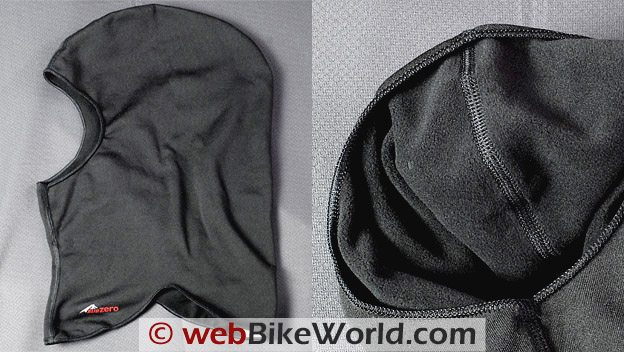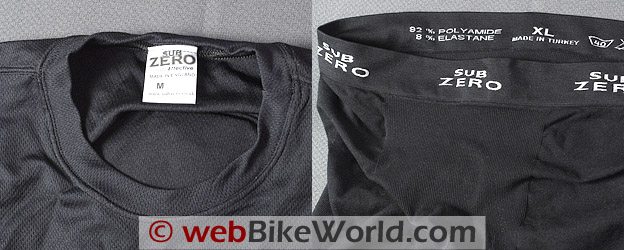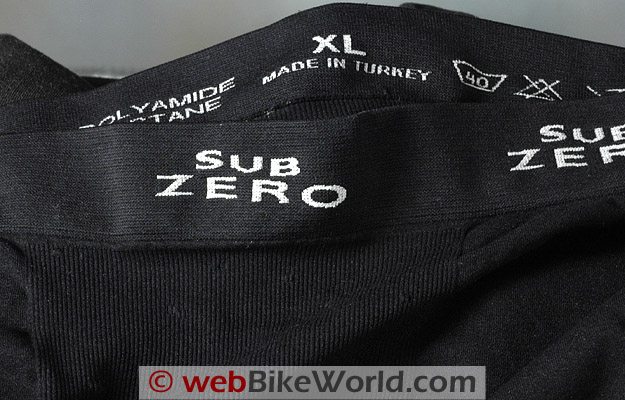 Sub Zero offers a logical selection of underwear, including a Factor 2 midlayer weight Balaclava, made from the same material as described above.
It has a flat seam that runs from front to back across the top of the head, which isn't a problem for me and I think it will work fine for riders with less hair up top also.
The fabric is thicker than the silk Balaclava I sometimes wear, so it does cause some helmets to fit tighter than normal, something to keep in mind.
The neck of the Sub Zero Balaclava could be just a touch longer, but as long as the motorcycle jacket collar has some height, it works fine.
The Sub Zero Cool T base layer shirt and shorts can be worn under the Factor 2 thermals for additional moisture wicking, although they're primarily designed for hot weather. These are made from 100% Polyamide, which gives them a slight amount of stretch.
They're also very thin and will fit under just about anything and they're also designed to feel like a second skin.
The Sub Zero Cool T undershorts are the only item not marked as "Made in England".
web

BikeWorld

 Overall Opinionator – Sub Zero F2 Thermals
Picks…
…and Pans

Super soft.
Super comfy.
Second-skin stretchiness.
Cozy warmth.
Excellent moisture wicking.

Cost.
Not 100% windproof.
Small gauge zipper slightly balky.
Conclusion
Sub Zero got it exactly right, with a perfect combination of fabric weight, performance and comfort.
A set will certainly cost you way, way more than that cheap waffle stuff, but the quality of the construction and the performance can make winter riding so much more enjoyable.
Apparently, other motorcyclists agree, because Sub Zero thermals are selling like ice cream cones in July.
And don't forget the bonus — you'll find all sorts of uses for this gear both on and off the bike.
w

BW

 Product Review:  Sub Zero Performance Thermal Underwear

Available From: British Motorcycle Gear
List Price (2009): $35.00-$89.00
Colors: Black, White
Made In: England (Shorts made in Turkey)
Sizes: XS-2XL
Review Date: November 2009
Note: Item provided by a retailer, distributor or manufacturer with these Terms and Conditions.
Note:
 For informational use only. All material and photographs are Copyright © webWorld International, LLC since 2000. All rights reserved. See the webBikeWorld® 
Site Info page
. Product specifications, features and details may change or differ from our descriptions. Always check before purchasing. Read the
Terms and Conditions
!
Owner Comments and Feedback
---
From "B.G." (11/09):  "I agree on rating these underwears, I wear them all the time in cold weather, they are the best, I tried others to compare.
Couple things, important to not wear T-shirts underneath, only the Cool T underwears or other thin sweat wicking items. This makes the Sub Zeros work better.
Also they are not too much windproof but once you wear good outer jacket and pants outfit, you are in good shape and very warm but not too hot to sweat.
They fit tight like you say like a set of dancer's tights, so they can fit under any clothing.
I wish the collar was a little bigger and make sure you also pull them off from the bottom over your head, to turn them inside out and then leave hanging on a chair to dry.
Also this helps not to rip the neck if you try to pull from the neck, you may have problems."