Utility Bag Image Gallery
Here's an interesting piece of luggage that's hard to characterize.  Is it a tail bag?  A tool bag?  Or how about a camera bag, a travel bag or…a lunch box?
All of the above actually, although a look at the manufacturer's website — and a peek inside the bag — seems to indicate that the Stealth Workshop bag is mostly designed to carry tools.  The target market goes beyond motorcycles to ATV's, snowmobiles, 4×4's and more.  Anyone who can use a high-quality, semi-soft, rugged carrying bag.
And it would actually make a pretty good pit lane tool bag for track days, now that I think about it…
The Stealth Workshop bag is made from DuPont Cordura, that ubiquitous and magic motorcycle fabric.  The bottom half of the bag and the entire bottom is covered with some type of leather-look vinyl, and the piping that separates the two is a nice touch.
Using the Stealth Workshop Powersport Utility Bag
But the really cool part happens when the bag is opened up, sort of like opening a clam.  Those slab sides are actually a sort of saddlebag — in fact, when I first opened it, I thought it was designed to lay over the rear of a motorcycle seat, ending up with two miniature saddlebags that could be attached to a pair of racks or something.
The halves are held together with two flaps that are attached to the bottom of the bag at either side of the narrow ends.  Each flap has a large section of hook-and-loop that attaches to smaller mates on the edges of the clamshells.  Then the flaps snap together at the top with one of those plastic male/female snap hooks, like the ones found on motorcycle tank bags or panniers.
Open the flap, unfasten the hook-and-loop, fold down the two connecting flaps and undo the clamshell halves, and you're presented with an array of pockets and storage nooks.  See our video below; it shows it all in action.
The bottom of the bag is formed by a large plastic removable tool or parts tray.  There are two soft neoprene-like zip-on pockets that cover the tray.  Each of these is covered with stretchy pockets that easily hold up to 10 wrenches.
There are 6 wrench pockets on one side and 4 on the other side.  The side with four also has a short slot on either end where you can fit one of those socket holders, full up with your choice of metric or SAE sockets.
These wrench pockets are designed to be zipped free from the bag if desired to keep the tools in order.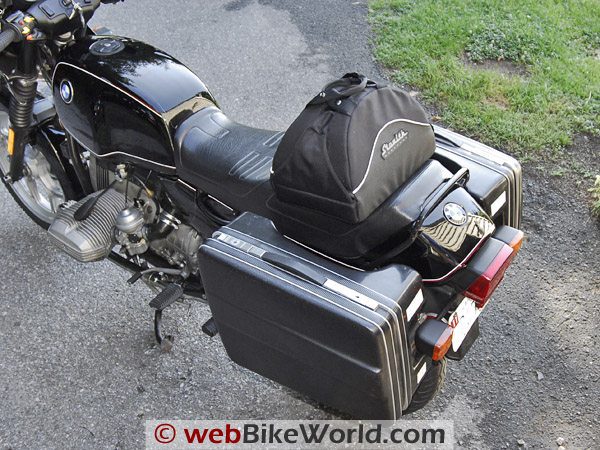 Covering the tool tray are two more pockets with zippers on top; each of these has a clear vinyl side, revealing the contents.  I put rubber gloves in one and some spark plugs and assorted parts in the other.
The tool tray has four molded-in dividers to keep the nuts and bolts from rolling around, although you'll want to keep little parts like that in baggies or something, because the only thing holding them in is gravity (as long as the bag stays upright) and the wrench pockets, after they're zipped back on to the bag.
The large saddlebag-like side "pods" can be used to hold larger items, like a roll of paper towels (don't forget those), a can of chain lube, WD-40, and also be sure to remember the duct tape.  Each "pod" also has two wide pieces of elastic at the ends, which can hold more tools or other goodies to keep them from rattling around.
The grippy outer surface that covers the outside 2/3 of the bag keeps everything from sliding around, whether the bag is unfolded on the back of a motorcycle or on a tailgate.
While the Stealth Workshop Powersports Utility Bag can be used as a motorcycle tail bag, it would have to be bungeed to the seat for that purpose.  The company does have a type of strap that looks like it goes around the outside of the tool tray, and stays secure when the bag is closed up, but it only appears to have D-rings on one side.
Another option is a second set of external pockets that will slip over the two side flaps that cover the bag; those will be available soon also.
I'm really surprised that they didn't sew in four D-rings at either corner of the bag, facing put from the narrow sides.  This would have made it so much easier to attach to a motorcycle.  In fact, it would solve the problem Rick had with the Hepco & Becker tail bag (review), which was too big to work as a tail bag for the back of his GT1000.  I'll bet the Stealth Workshop bag would do it, if only it had D-rings.
Conclusion
The Stealth Workshop Powersports Utility Bag is a well made, do-it-all piece of luggage that serves a variety of uses.  It's a rugged piece of kit and very nicely designed.
I think the bag could benefit by adding D-rings around the outside, which would make it easier to attach to a motorcycle, ATV or snowmobile (see comments below). But nevertheless, this is an interesting utility bag that should find 1001 uses at home, work and play.

wBW Video:  Stealth Workshop Powersports Utility Bag
wBW Product Review: Stealth Workshop Powersports Utility Bag

Available From:  Stealth Workshop (Note: As of November 2011, apparently Stealth Workshop is no longer in business).
Suggested Retail Price:  $129.99 USD
Colors:  Black.
Made in:  China
Review Date:  July 2008
Note:  For informational use only.  All material and photographs are Copyright © webWorld International, LLC – 2000-2011.  All rights reserved.  See the webBikeWorld® Site Info page.  NOTE:  Product specifications, features and details may change or differ from our descriptions.  Always check before purchasing.  Read the Terms and Conditions!
Owner Comments and Feedback
Comments are ordered from most recent to oldest.
Not all comments will be published (
details
).  Comments may be edited for clarity prior to publication.
---
Update from Stealth Workshop (7/08, slightly edited for brevity):  "We really appreciate his "In depth" look into our bag and I think he explained the bags potential very well.
I have two bits of information I would like to share regarding our utility bag product:
Pricing restructuring – due to overwhelming customer feed back, the Utility Bag unit is now sold separately from the tool organizers and clear faced pouches.  Prices are as follows: Utility bag – $89.95, tool organizers – $14.95 per set and clear faced pouches – $14.95 per set.  This move will result in a cost savings to the end user and allows them to decide how they will use our product.
Travel Kits – Coming very soon and Made in USA.  The D-rings in each corner as suggested by Bill, is coming and has been in development for quite some time.  The "Utility Belt" as we call it has D-rings in each corner along side with SR-buckles (view below).
The travel kit also includes four under the seat travel straps that are universal in application (reversible).  You can either anchor the straps under the seat to the frame rails or reverse them to capture the rear seat.
NOTE: D-rings were prototyped heavily.  They looked hideous and like they were an after thought – we even went as far as to add 3/4″ rectangle rings under the bag and still, seemed irregular to add permanently.  Once you lay your eyes on the Utility Belt – you will see, the system really makes sense and is an elegant accessory that compliments, rather than hinders the overall look and feel of the bag.
The cool thing is, if the user doesn't like how it looks on his bag (when not traveling with it), he can simply remove it and not have any crap hanging off each corner! Pretty cool when you stop and think about it."