Star Clean Metal Polish Image Gallery
There are few things that get my attention like the words "easy to use", "time saver" or anything that promises "one step".  Add "no buffing" and I'm sold.
Yep, I'm lazy.  My mother used to tell me that all the time.  My answer (now that I'm an adult)?  So what?  I'm beyond trying to come up with excuses for my affliction, so I'll simply admit it and move on.
And while I'm at it, I'll also confess to having finally lost my obsession with making sure the bikes are in a constant state of concours-level shine and polish.
Don't get me wrong — I like 'em clean, but I'd rather be riding than polishing.  Who wouldn't?
That may be one of the reasons for the popularity of Adventure Touring bikes.  They're supposed to look dirty!  I'll bet that's one of the main attractions in that segment.  Polishing rag liberation!
So when an email arrived from the makers of Star Clean, I took notice.  "Less work time, more play time", it said.  Hey — they're speaking my language!  But wait a second!  As webBikeWorlders know very well, talk is cheap.  Does the stuff work?
In a word, yes.  Star Clean is another one of those obscure products that seems to have beaten the big guys to the draw.  I have no idea how they came up with the formula — another Mad Scientist maybe cooked up a batch by mistake in a garage while searching for a cure for warts?  Who knows?
Actually, the cleaner/polish is made in Germany and it's distributed by Star Clean in the U.S.A.  It comes in a 150 ml (5 oz.) tube and retails for $18.99.  Yeah, I know — this sounds steep, but it only takes a miniscule amount to do the deed, so the tube should last until, oh, about the 22nd Century or so, when nano-coated chrome won't need polishing anyway.  And besides, lazy suckers like me will spend anything to get out of work.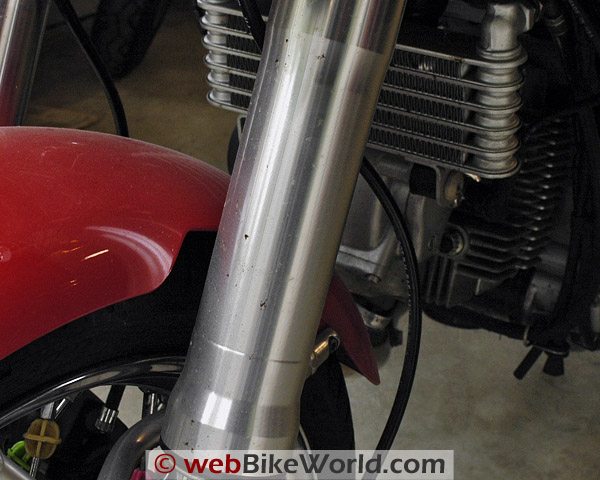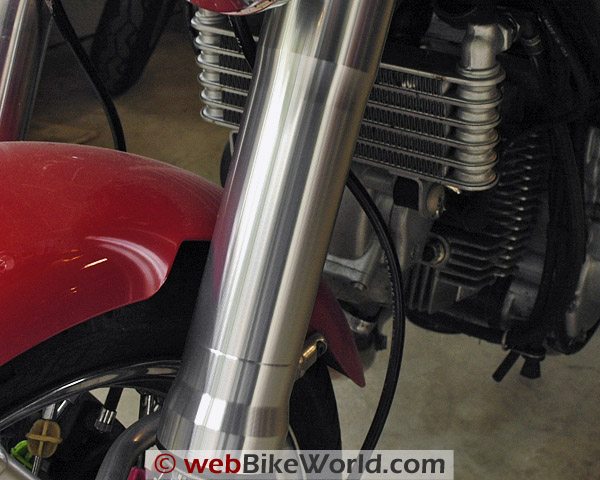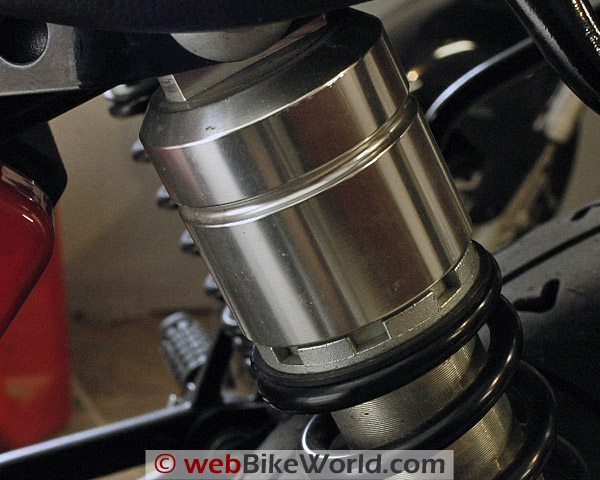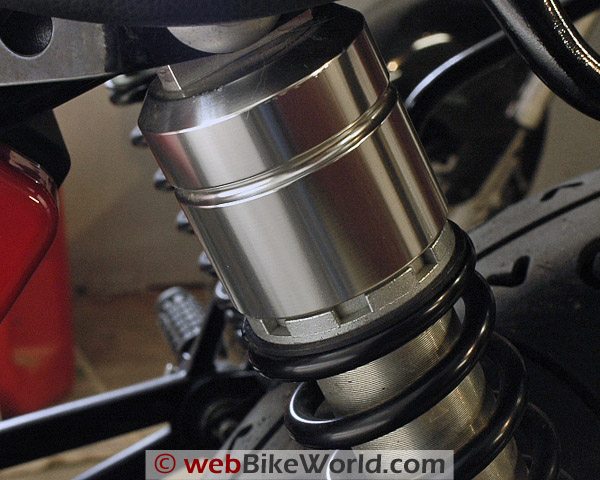 The best thing about Star Clean metal polish is that it is just as easy to use as they say.  I have no idea what the stuff really is or how it works; all I know is that it's a white-colored substance with the consistency of something like a cross between yogurt and Colgate toothpaste.  It has no smell that I can detect.
The directions are slightly confusing; the box adds a "rinse" step after the application, but the Star Clean tube says to use a wet sponge to apply it, then wipe it dry and you're done.  Rinsing works well if you're using Star Clean to polish chrome wheels, because by time you finish a wheel, some of the Star Clean has dried, and the water works best to clean it off before wiping.
But on smaller parts, like a muffler or chrome light or the like, it's easier and quicker to follow the directions on the tube and simply wipe it off.  This way you don't have to mess with water and a hose.
As far as the claims go, they're pretty much correct; the "no buffing" part is accurate, depending upon your definition of "buffing".  Since it's applied with a wet sponge, you do have to wipe the surface a few times to dry off the wet Star Clean residue.
We noticed that it does pay to give it a final touch with a second clean polishing rag (the best polishing rags are the now easy-to-find micro-fleece variety) to really bring out the shine.
Star Clean is kind of magical actually — once I discovered how easy it is to use, I couldn't stop trying it, cleaning and polishing every piece of metal I could find.  Cruiser owners will love this stuff, as they typically spend a lot of time keeping that chrome up to spec.
One of the nice things about it also is that it has no smell, no abrasives and it's claimed to be non-toxic and non-hazardous, unlike some of the other metal cleaners and polishes we've used, which sometimes have a very heavy chemical or petroleum smell.
Star Clean also seems to do a very good job on bugs — check out the video (below), where I use it on the chrome strip across the front of the GT1000's fly screen.  You'll see that it doesn't take much pressure at all to clean it up and eliminate all of those bugs, which have been stuck there since last fall.
Sportbike owners have fewer chrome or metal bits, but the GT1000 has a decent amount of chrome (wheels) and plain metal (forks, shocks, fuel tank cap and chrome-plated plastic) to make it worthwhile.
[ADDENDUM:  Note that Star Clean is billed as a "One Step Metal Treatment", and I don't think it's a substitute for a heavy-duty abrasive and chemical-laden polish that will remove heavy staining, rust stains, discolorations and the like.  Visit our Motorcycle Cleaners and Polishes index page for other reviews of those type of products.
But based on our research, it's improbable that you will find a polish that will magically transform that old pitted or rusted exhaust or spokes into something that looks factory-fresh.  Star Clean is an easy-to-use, quick cleaner and light polisher and our experience has been that it works very nicely on untreated metal, aluminum, chrome plated metal and stainless steel mufflers and bits that are in good structural condition but just need some touching up.  And after all; that includes just about anything an owner would be using it on anyway…]
It's always very difficult to get good "before/after" photos of a motorcycle polish product, but here's a before and after using Star Clean metal polish on the forks of the GT1000 and then on the aluminum top of the shock absorber.  Other than maybe two soap and water washes last year, the metal on this bike wasn't previously treated and it was starting to look a bit cloudy from oxidation.
wBW Video: Star Clean Metal Cleaner and Polish
Conclusion
The bottom line is that Star Clean lives up to its billing as the easiest-to-use metal cleaner and polish we've ever tried.  It works on plain metal, chrome and stainless steel, along with brass and aluminum.
The company claims that it "Cleans, Shines and Protects"; I'm not sure about the "Protects" part, because it hasn't been that long since I polished the parts, but the "Cleans and Shines" part is on the money.  If you want to reduce the time spent cleaning your motorcycle's chrome and metal, this is the best product we've found so far.
wBW Product Review:  Star Clean Metal Polish

Available From:  Star Clean (TJT Products)
List Price: $18.99 (can be ordered via PayPal from the Star Clean website)
Color:  White paste
Made in:  Germany
Review Date:  March 2008
Note:  For informational use only.  All material and photographs are Copyright © webWorld International, LLC – 2000-2011.  All rights reserved.  See the webBikeWorld® Site Info page.  NOTE:  Product specifications, features and details may change or differ from our descriptions.  Always check before purchasing.  Read the Terms and Conditions!
Owner Comments and Feedback
Comments are ordered from most recent to oldest.
Not all comments will be published (
details
).  Comments may be edited for clarity prior to publication.
---
From "K" (8/10):  "I would like to comment on StarClean.  Awesome guys.  I just did a fundraiser for a nonprofit org and I used a tube of StarClean that I bought 3 years ago.
It was so amazing to remove those stubborn paint transfer and scrapes, dull spots from Chaps rubbing the tank and water spots off of chrome that the owners of the bikes that we cleaned came over and gave more money for doing such a great job.  Thank you StarClean for such a great product.
You helped make our Bike Wash a huge success.  Kudos. Looking forward to the next one in September and to also have your product available to our fellow bikers.  We washed 33 Bikes in one day and a few cars and SUV's."