If you love riding, you sure would want to ensure that you've the right biking accessories with you. While everything helps, from the gloves to the pads, the one most important thing that you cannot compromise on is the helmet.
So, which helmet do you buy?
There are a thousand different models of helmets available in the market today. And not all of them are good in terms of providing you with quality protection, comfort, and ventilation. There are actually two different builds of helmets; full and half-helmets. Full helmets are those which cover your face completely while put on; half-helmets are the ones which only cover your head and are a bit cheaper.
Today, I am going to review one such simple half-helmet; the SS310 Solid from Speed and Strength.
Speed and Strength – Keeping Up with the Name
Speed and Strength is a master of the helmet manufacturing dominion. They provide helmets which can fit every kind of melon and cover a variety of price ranges. The brand dominates the market when it comes to providing quality helmets with equally classy looks. Crazy graphics and innovation are a hallmark on the helmets of the company that cover every imaginable type of rider out there.
When it comes to providing innovation on their products, Speed and Strength just rule the field with some of their characteristics like the Air Strike ventilation system for air circulation or their All Clear face guards and screens, along with the Lock 'n Load shield replacement system.
All of them are Speed and Strength hallmarks and are affordable to riders, bringing them a unique level of relaxation and performance mostly found on helmets carrying a much bigger price tag. So, if you want to catch eyes with your lid, Speed and Strength has something for you.
Features
Here is a look at the top features that you would love:
A.T.P.A. Shell (Advanced Thermo-Poly Alloy Shell)
Exclusively comfortable with Cool-Core comfort lining
Air Strike Plus direct course ventilation (Speed and Strength Hallmark)
Double D-ring retention or holding system
Complies with DOT standards
Usage
SS310 Solid Speed has a somewhat different take on the half-helmet. This product from Speed and Strength features Speed and Strength's signature Air Strike ventilation system to keep your head dry while riding and features a drop back design for the purpose of averting rattle-off.
I would recommend this helmet, or rather the half-helmet, especially if you are looking for something for summer weather. It is greatly comfortable because of its Cool-core comfort liner, and the Air Strike Plus direct ventilation really manages to keep you from sweating or feeling nauseated while riding. This is a big plus for such a kind of helmet in this price range.
Protection and Visibility
SS310 keeps your melon protected quite sufficiently. Its Advance Thermo-Poly Alloy Shell, which is becoming another Speed and Strength signature, now provides you with sufficient protection, allowing you to take on even direct impacts and keeping you comfortable all the while.
The helmet complies fully with DOT standards, so you can keep your worries away while riding with SS310 Solid Speed. The Double D-ring retention system may have been better replaced by a Quick Snap system for better strapping, but it works completely fine and keeps it balanced on your head.
Air Circulation and Ventilation
The ventilation system of SS310 Solid Speed is a marvel when it comes to half-helmets. The Air Strike Plus direct course ventilation system of the helmet works like charm and somehow manages to keep you and your head dry during moderately warm weather while riding.
And since it is open from the front, there is no question of suffocation or nausea while you have this on your head. As I have mentioned many times before, the Speed and Strength signature feature works like charm in the case of air circulation and provides you with good ventilation.
Noise, Weight, and Comfort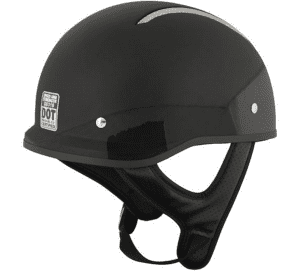 SS310 Solid Speed will not be able to help you when it comes to noise cancelation. It is a half-helmet with a completely open front; even a screen guard or sun-screen is absent. So, I won't expect any kind of special noise cancellation from this one.
But, it makes up for that in the comfort domain. This helmet is extremely comfortable on your head and helps you greatly to keep focus on the road. You won't be feeling hot putting it on and the Cool-core comfort liner adds to this.
The helmet is a light-to-moderate weight and doesn't feel like a burden on your head. You really would be spending your money at the right place if you buy this one.
Other Factors
The styling of the helmet is sleek and will make you look cool and suave when on your head. It is easy to carry and the fitting and shape is nice, but it can do with some improvements. It can fit most riders' heads out there.
Conclusion
Though I am not a diehard fan of Speed and Strength when it comes to helmets, I would easily accept that they provide some of the best half-helmets in the market. And SS310 Solid Speed is no exception to that. I have rarely seen a low-profile helmet with such features and comfort as this one. So my recommendation, get this one if you are looking for something cool and comfortable while riding from your home to office.