Speed and Strength is well known for its advanced helmet design. The accessories for motorcycle riders are also popular due to the affordable price and admirable quality. Designed exclusively for motorcycle riders, you can find everything you want to make your ride comfortable with the Speed and Strength helmets and accessories.
The Speed and Strength SS3000 helmet review reveals why it is one of the best helmets for street racing.
Benefits
Only a few types of helmets are suitable for sports bikes, and the SS3000 helmet is one of them. Sometimes, you just need a simple helmet that goes well with the design of your bike.
The Speed and Strength SS3000 helmet is great for street bike riders. This helmet is the first of its kind with a fiberglass composite shell from Speed and Strength that is designed for street riding instead of dirt racing.
Priced at around $250, this helmet is ideal for those who are looking for solid performance, style, and strength while enjoying their motorcycle rides. With a sporty look, this helmet goes well with aggressive biking style and also subtle riding.
Features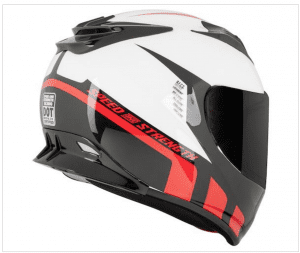 The SS3000 helmet is a full-faced helmet that weighs just 3.10 pounds. It is one of the most lightweight helmets you can ever find with all the standard features you expect.
It is an ideal helmet for those who have longer heads. This racing helmet fits snugly; if you want a more comfortable helmet, you may have to size up to enjoy free head movement inside the helmet.
You can buy this helmet in solid black and white colors. If you prefer to enjoy a pop of color in your helmet, you can also find graphic options that are not too aggressive.
Shell Design
The main feature of SS3000 is the advanced fiberglass composite shell. If you want a super lightweight helmet, you may have to upgrade to SS4000 helmet which is slightly more expensive.
The well thought out shell design provides maximum comfort and safety while riding with this helmet. One of the prominent features of the shell design is that it provides a race fit with contoured cheek pads. This helmet won't rattle or wobble while you are racing at high speeds.
Interior
The cheek pads are made of Cool core removable and washable liner. It wicks sweat away, and it is a single piece cheek pad. Contoured cheek pads provide a tight and comfortable fit, making you feel secure inside the helmet.
It has the emergency quick release system that is useful in removing the helmet for emergency medical services if you are in an accident. The interior has cutaways to allow you to install a communication system with ease.
The single density liner provides nice air channeling to allow massive airflow in ¾ or tucked racing position.
Face Shield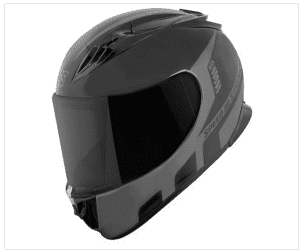 The face shield has a spring loaded system which pops open the face shield slightly. You can ride in this position to enjoy a little bit of air to prevent fogging. You can also ride the bike with the face shield completely open.
However, unlike other helmets in the similar category, you can't ride with a half open face shield. It can be disappointing for some bike riders.
The face shield can be easily replaced with Lock and Load rapid conversion shield system. It is an excellent way to swap face shields when you have to do it every day.
The face shield is UV-resistant, fog-resistant, and scratch-resistant, allowing you to ride with the same helmet in cooler months too. If you need, you can wear sunglasses with this helmet and forget about changing the face shield.
Ventilation
The SS3000 helmet is nicely designed with compartmentalized vents to provide superior airflow within the helmet. This helmet design has vents on the front and the inside to allow maximum air inflow.
The front vents can be controlled with the use of two switches at the front that can be adjusted easily. The back vents pull the warm moist air out of the helmet. There are 5 passive vents at the back that promote maximum air circulation.
If you want to ride in full race tuck position, the bottom of the helmet is designed to allow excellent ventilation without making you feel cooked inside the helmet.
Safety
The SS3000 helmet is an ECE and DOT standard helmet with a racing profile. One of the add-on features of the helmet is a triangular base plate that reinforces the mounting point of the chin strap so that you don't have to worry about it popping out in the event of a high-speed crash.
It is a nice feature to give confidence to the riders to enjoy racing at high speeds. The double D-ring chinstrap keeps the helmet on your head even during a high impact collision.
Other Factors for Consideration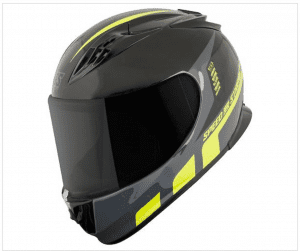 Speed and Strength has taken the first step forward with this SS3000 helmet for street racing. This helmet has one of the advanced fiberglass composite shells, and the best part is you can get it for less than $250.
It is a great helmet for riders who race in tucked or 3/4 riding position. To enjoy long-distance rides with this helmet, consider sizing up. If you are looking for safety and performance with a helmet, you won't be disappointed.
There is no sun visor with this helmet, which means that you may have to swap shields if you use this helmet for a regular commute.