SparX Helmet Review Summary
SparX Helmet Image Gallery
Excellent quality is a surprise at this price. Non-movable top vents.
Sizing runs small. Very nice selection of graphics. Brow vents in visor.
Relatively quiet. Slightly short in front-to-back dimensions.
I'll admit it: I hadn't even seen a SparX helmet, but I knew I wouldn't like them.
Why?  Well, it was rumored that one of the big (biggest?) U.S. motorcycle distributors was manufacturing the helmets and pushing them hard.
So what, you say?
Well, think about this fictional scenario: a near-monopolistic distributor decides they want a cut of the motorcycle helmet market.
They go to an off-shore manufacturer, contract for a zillion helmets and make up a brand name.
So far, this is pretty common practice — you'd be surprised (or maybe not) at how few motorcycle helmet manufacturers there are compared to the number of brand names out there.
Anyway, let's say our fictitious distributor now has their own line of helmets, so of course they'll start pushing their helmet at the expense of others.
You may not be aware that there's something in the neighborhood of 40-50% markup on motorcycle helmets, giving plenty of motivation to grab as much of the market as you can.
To maximize their profits, our conspiracy theorists say, here's a possible scenario (again fictitious):  The local dealer calls up to order another batch of HJC helmets.
"Oh sorry", says the distributor. "HJC is, uh, unavailable at this time, but I can send you a pallet full of SparX helmets no problem".
"Unavailable?  That's weird…well, how about Shoei then?", says Mr. Dealer.
"Nope, don't have any of those either. But these SparX helmets are just as good, and I can get them out the door today."
Get the picture?
There's something of a conflict of interest if a distributor gets into the manufacturing game, especially in the strange world of motorcycle distribution in the U.S.A., where if a manufacturer breaks the rules, they're out. Cold.
A distributor pushing their own product line could (the theory goes) greatly reduce the choices for motorcycle riders.
So, being the Protector of the Proletariat that I am, I decided that this smelled like, well, let's just say if it's true, it stinks.
Thus, to make a long story longer, my bias against SparX, the brand.
OK, so I'm still not sure who to believe and what to make of all this. I do know that some smaller helmet manufacturers, who have been trying to get their products to enthusiastic riders, aren't happy about the way products are distributed in the U.S.
But the official Party Line from SparX is quite different from the urban legend.
SparX says that the brand was started by the owners of KBC Helmets who, my guess is, apparently saw the handwriting on the wall with the new wave of low-priced helmets hitting the shelves.
They wanted a brand that would sell for less than the current KBC lineup without diluting the current pricing strategy of the KBC brand.
If you're a regular webBikeWorlder, then you know that the biggest news in motorcycle helmets in 2007 wasn't about breakthrough technology.
It was about something more mundane: a flood of lids in the less-than-150-buck category.
A mix of factors including the wimpification of the U.S. dollar, the evolving helmet manufacturing capacity in China and yes — ever-improving Chinese quality — has brought us a tidal wave of cheap-but-good-to-great motorcycle helmets at Wal-Mart-tastic prices.
KBC apparently had a lot of extra capacity at their offshore plant, and a deal was struck.
It makes business sense to leverage your manufacturing capability and experience, your design and marketing teams and your market presence, so KBC thought "Why not?" and jumped in.
But jumping in at the low end can be risky — the waters can be fast, shallow and murky and the whirlpools have taken more than a few for an unanticipated ride…right down to the bottom.
To address the dangers, KBC…uh, I mean SparX…decided to compete on quality and features. Easier said than done, right?
Well, listen up: all SparX helmets carry a 5-year warranty and they're both DOT and ECE approved. And check this out: if you crash in a SparX helmet, you can send it and the Police report back to SparX and they'll give you a new lid for free.
Nice. Let's just hope it remains an offer you won't have to take them up on…
SparX helmets were originally supposed to come with a free set of ear plugs and some type of ear plug container built in to the liner, but I found neither in the SparX S-07 "Skulls" model shown here, so I'm not sure if that deal is still on or not.
No problem, because I have my own 'plugs that I wear all the time anyway.
Let's take a look at the SparX S-07, because seeing and wearing the helmet has changed my mind about the brand.
I now think SparX has raised the bar for quality in this price range, and I'm also predicting that with helmets like this for sale at $140.00, the days of $300.00+ helmets are numbered.
It remains to be seen if Shoei, Arai and the rest will either slash prices or start a new helmet brand of their own.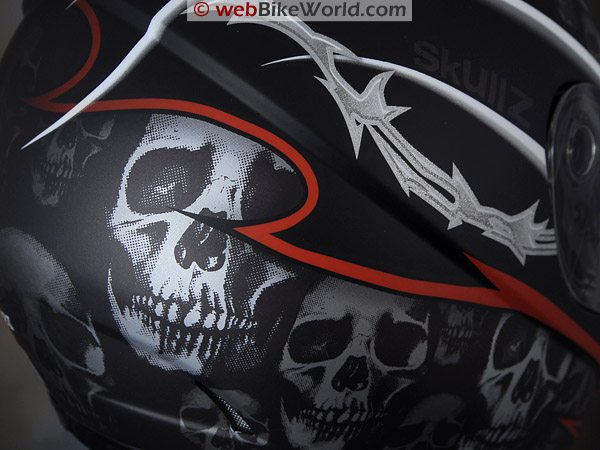 Paint, Graphics and Overall Quality
One of the market differentiators used by SparX is the variety and quality of the colors and graphics on the helmets.
They offer some pretty cool designs, especially the "Retro Corsa" that I particularly liked and which would be perfect for GT1000 and other Ducati and Moto Guzzi owners.
Unfortunately, that one was unavailable at the time we placed the order.
No problem, because there are several other interesting designs to choose from, and since I'm a flaming skull nut (wait — that didn't come out right…), the S-07 "Skullz" Special Edition it was.
The matte Skullz pattern is perfectly applied — I hate to tell you this, KBC, but this SparX S-07 is put together with better quality than any of the KBC helmets in the webBikeWorld inventory, all of which have a few quirky problems.
So Junior is teaching Dad some new tricks. If you expect to sell KBC helmets at a price point above SparX, it's time to get your act together folks…
I'm hard-pressed to find any little detail out of place on the S-07.
Besides the super-cool and high quality graphics, the liner is more comfy than it should be at this price and the bottom of the helmet is especially well finished and good-looking with its rich microsuede covering.
The liner fits well and everything looks ship-shape, including the rubbery material lining the back of the chin bar.
The small breath guard is unobtrusive and it fits tight and snug into the rim at the bottom of the eye port.
The S-07's top vents are stationary (more on that in a minute) and the chin vent has a slightly rubbery feel when it's opened and closed, but it works well and better than some other helmets I can think of.
The only nit I might pick is with the visor — it fits nearly perfectly to the eye port gasket, but the molded-in tab on the lower left-hand side is too small, making it hard to find and grab when I'm wearing gloves.
I'm starting to think that the best place for the lifting tab is in the center of the visor, so it's always easy to find with either hand. How about it, manufacturers? This would also help prevent the visor from twisting when it's lifted up from one side.
The SparX S-07 suffers from the visor twisties, because the rotating mechanism was designed to hold the visor tightly closed.
That means that it takes a hefty pull to open the visor, and since the lifting tab is on one side, the visor twists from the torque (bad). Twisty visors feel cheap, so an easy way to mitigate this would be to put the lifting tab in the center.
And now that I think about it, the S-07's visor removal system isn't as smooth as it should be (more on that in a minute also), but I'm not sure if this is a quality problem or a design fault.
Score: I'll give the SparX S-07 an "Excellent" rating for paint, graphics and design and for overall quality. See the ratings descriptions in the summary table at the end of this page.
Helmet Fit, Comfort and Internal Shape
The S-07 has a neutral fit that tends slightly towards long oval, but it should fit round heads that aren't too extreme.
For more information on choosing and fitting a motorcycle helmet, please see the wBWMotorcycle Helmet FAQ page, which also includes a discussion on head shapes.
The S-07 is made in two shell sizes, but the XL shown here seems to have a smaller-than-normal shell for this size, and I think the fit runs about one size small.
This is a helmet that I think you should try before you buy, not because it has a strange internal shape, but because the sizing seems a bit unusual, probably due to the trim shell dimensions.
The S-07 was designed to have a smooth and smaller shell, according to Pat Lio of SparX, who, in an interview with Dealer Powersports magazine is also quoted as saying that "The only people that really have problems so far are people who have wider heads.
I like helmets to be slick. Most other helmets are really round and bulky, so the wider heads are going to fit, but it's not going to look good."
The XL actually does fit my roundish head rather comfortably though, because the the shape of the liner feels a bit wider than I'd expected, considering the rest of the proportions.
I do think that the front-to-back internal dimensions reflect the smaller shell size though, and my chin has barely enough clearance behind the chin bar, so riders with larger chins may have a problem.
Also, the smaller shell means that the bottom of the helmet is narrower than normal, and my ears do take a squeezing when I pull the helmet over them.
It feels like the bottom of the helmet is tapered inwards, and although this does give a snug fit down below and helps to prevent wind buffeting noise, it makes it slightly difficult to pull the helmet over my head.
A few pennies were apparently saved by tucking the microsuede-covered padding into the tight space between the shell and the EPS foam liner rather than using a snap.
And the bottom neck roll part of the cheek pads has come slightly loose on me once or twice after pulling the tight helmet off my slightly roundish head. I'm hoping they don't get any looser over time.
The liner fabric is comfortable. I usually classify liner material in one of three categories: scratchy, average and plush. This one's slightly better than average.
Score: The SparX S-07 gets a "Good" rating from me for its comfortable liner. Those with a more neutral shaped head will probably give it an "Excellent" rating.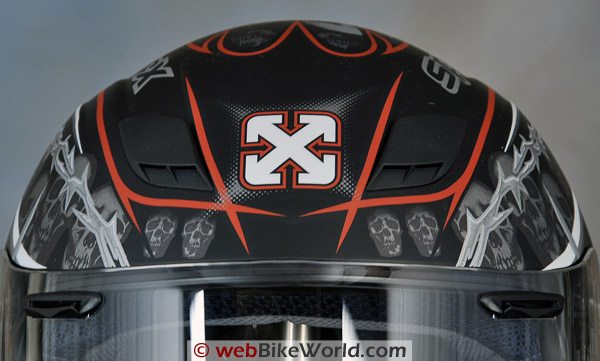 Ventilation
The top vents on the SparX S-07 are static; that is, there are no moving parts. The vents consist of very narrow, forward-facing scoops that cover holes in the shell.
We've been told that SparX claims that small moving parts would be too expensive and that most riders don't adjust the vents anyway.
Hmmmm….not sure about that — all you have to do is look at the huge amount of air flowing through the 30-buck cheaper GMax GM68S to put that theory to rest. And if it costs so much to make moving parts, why are there two vents in the visor that open and close?
In any case, the visor brow vents are a feature usually only seen on Arai helmets but they are put to good use on the SparX.
The upside, I suppose, is that no moving parts in the top vents means that you don't have to worry about anything breaking.
The holes under the top vent scoops are relatively large in diameter and they go directly through the EPS and point at the rider's brow. They're designed to direct the air on to the rider's head through matching horizontal slots formed into the helmet liner.
But the slots in the liner in this helmet aren't quite wide enough, so the holes are partly covered, and I don't feel much air coming through up there. I think I can modify, push or trim the liner slightly to make it all work, but I'll defer that until the weather warms up.
There are two matching exhaust vents out back, which theoretically cause the air inside the helmet to vent up through two tiny holes in the EPS foam liner and get sucked out the back.
The chin vent cover rotates up and down to allow air to flow, but there are no vent holes through the chin bar.
The air is directed up on to the back of the visor only.
This does seem to work well though and I do notice a good volume of air flowing on to my face, especially when the two vents in the visor are flipped open.
Two more screen-covered vents live at the lower rear of the helmet, one on each side, but I can't tell if these are just for show or if they're actually fed anything from inside the helmet.
Score: I'll give the SparX S-07 a "Good" rating for venting and air flow; it's about average when the visor vents are closed, but better when they're open and they sort of make up for the lack of venting through the chin bar.
Also, the S-07 doesn't make my head sweat like some other inexpensive helmets I've tried lately.
Helmet Weight
The SparX S-07 Skullz in size XL shown here weighs only 1569 grams (3 lbs., 7/38 oz.), which makes it a lightweight, putting it in the bottom 1/3 of the helmet weights we've recorded so far on the wBW Motorcycle Helmet Weights chart.
The lighter weight though is probably due to the smaller shell sizing.
This puts the S-07 in very good company, with neighbors like the Shark RSI (review), the Vemar VSR (review), the Suomy Extreme Spec-1R (review) and the AGV Ti-Tech Rossi (review).
The light weight and smooth shell give the S-07 a nicely balanced feel when I'm riding, and its snug fit has a lot to do with this also.
Score: I'll rate the S-07 as "Excellent" for its low weight, but remember the smaller shell may have drawbacks for some.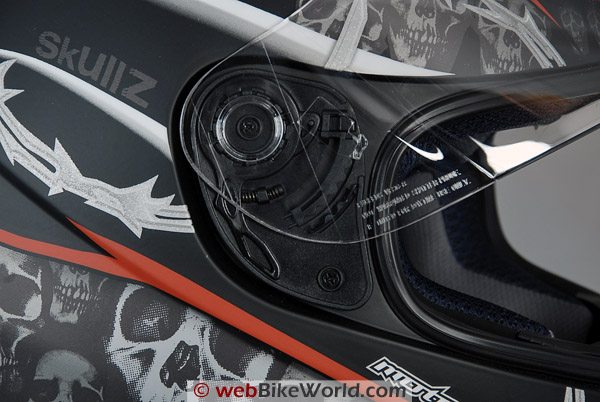 Face Shield
The S-07's face shield is about average in optical quality. The two opening vents are a bonus though.
I think the eye port opening seems about average to maybe slightly smaller than normal in both the horizontal and vertical dimensions.
The face shield is shaped properly to fit tightly against the eye port gasket.
It could be just a tiny bit tighter on the left-hand side, and there are very tiny gaps between the shield and the helmet shell in the space between the eye port gasket and the visor removal mechanism, but overall it's an excellent fit for a helmet in this price range.
The face shield removal system seems stiffer than it should be. I find that it takes quite a bit of struggling and forcing to remove the shield, and when it comes off, it sounds like it's breaking.
I'm not sure why motorcycle helmet manufacturers can't find a good removal system and then standardize on it. Thankfully, I don't remove a face shield very often.
The rotating mechanism has 6 detents, which hold the face shield in any one of the 6 positions, including a small opening for defogging.
However, as I mentioned earlier, the lift tab is hard to find and to use when wearing gloves, and the face shield has a lot of twist when it's opened. So to crack it open to the first notch, I must first open it half way and then pull it down.
I have to slam it home to close it and get it sealed.
Score: I rate the face shield clarity, operation and visibility of the SparX S-07 as "Good".
wBW Video: SparX S07 Helmet
The smooth shell shape and tiny vents combine to make the S-07 quieter than average, in my opinion. The tight fit also helps, because it's snug around my ears and around the lower part of the helmet.
Like most helmets, there's some wind rushing noise around the top and sides, but its intensity is about average. I don't hear any whistling noise coming from the vents, which is good news.
The turbulence around the bottom of the helmet is also well controlled, even when riding behind a short windscreen that dumps "dirty" air around the bottom half of the helmet. The S-07 is quieter than average in this regard.
Remember that we always wear correctly fitted, high quality earplugs and an extra helmet liner when riding, and we strongly recommend that you always wear hearing protection also.
See the wBW Earplugs and Hearing Protection page for more information on choosing and wearing earplugs.
And also remember that your experience with noise levels will probably be different because it depends on manyf actors, including your head shape, the motorcycle configuration, prevailing winds and more.
Score: I'll give the SparX S-07 an "Excellent" rating for its ability to control noise.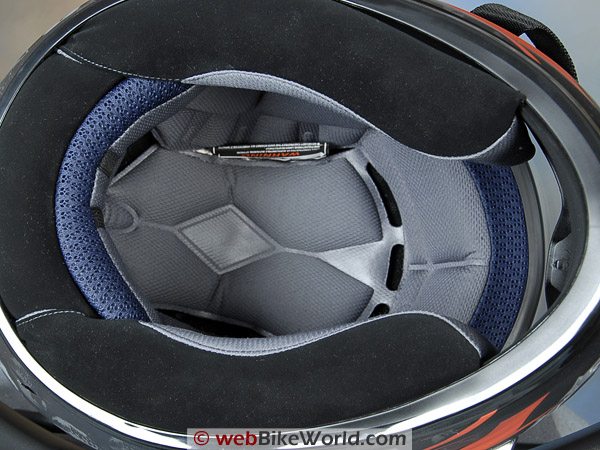 Miscellaneous
The SparX S-07 meets DOT and ECE 22.05 helmet safety standards, which combined are probably two of the best motorcycle helmet safety standards going.
It has a "Thermo Composite" shell, and it has the preferred D-ring attachment system. The chin strap seems like it's placed back farther than normal; this may be another outcome of the smaller shell size.
The chin strap padding is adequate and the end of the strap is secured with a large plastic snap.
I can not fit normal eyeglasses inside the S-07, again probably due to the smaller sizing. The ear pockets are relatively deep and are lined with some type of stiff covered material at the bottom. I think speakers would fit nicely in the S-07.
Conclusion
The SparX S-07 has excellent quality, a comfortable fit and a very nice choice of graphic patterns and colors that go beyond what is normally expected in this price range.
Unlike many lower-priced helmets, the S-07 looks and feels more expensive than it is.
Don't let the slightly smaller shell size put you off – many riders will prefer this to the "fish bowl/space helmet" look that some helmets provide. Also, the S–07's smooth shell surface helps keep the noise levels low.
The S-07 should be a normal fit for most riders, but if you have a very round-shaped head you may want to try before you buy.
wBW Review: SparX S-07 Motorcycle Helmet
Manufacturer: SparX Helmets
List Price: $109.99-$139.99
Colors: Solids and graphic patterns.
Made In: China
Review Date: February 2008

Rating Scale is subjective: Unacceptable, Poor, Neutral, Very Good, Excellent, Outstanding.
Note:
 For informational use only. All material and photographs are Copyright © webWorld International, LLC since 2000. All rights reserved. See the webBikeWorld® 
Site Info page
. Product specifications, features and details may change or differ from our descriptions. Always check before purchasing. Read the
Terms and Conditions
!
Owner Comments and Feedback
---
From "J.J." (August 2012): "I recently purchased a Sparx S-07 and just wanted to provide a few comments about my experience:
After doing extensive research on sub-$200 helmets, I purchased a Sparx S-07 about two months ago based largely on webBikeWorld's positive review.
I've found the wBW review to be spot on in terms of both the helmet's strengths and weaknesses.
The helmet seems extremely well designed considering its price ($107 at a local store).
It seems like Sparx cut back on fancy doo-dads (like multiple operable vents and tricky visor release mechanisms) and invested in features like lighter weight, lower price, a removable liner, and higher overall build quality.
The S-07 is noticeably quieter and lighter than the HJC I'm retiring. I also experience less wind buffeting when doing head checks on the freeway.
Overall, it fits comfortably, although I found the sizing to run a tad small (I found the large a bit tight, but not so much so that I would move up to an X-Large).
Could also be an issue of head shape rather than size. Fogging of the shield has not been a problem so far (spring and summer riding). Generally, it feels like a much more expensive helmet.
A few complaints: As noted in the review, the shell is small — this brings the chin bar close to your face, and on my helmet, it causes the breath guard to hit my nose.
This gets pretty annoying (feels like my nose is constantly being tickled) and I ended up having to remove the breath guard. It's possible my helmet came with a misshapen breath guard.
Overall, visor is a little hard to operate. Visor detents are very stiff, and the grab tab is hard to find with gloves on. On the upside, the visor stays where you put it.
Padding is a tight fit for glasses. Plastic vents have a "marbled" appearance (mold release compound?) that looks like a manufacturing issue. Purely an aesthetic complaint, and doesn't affect performance.
Note: many pictures of the S-07 solids online show a "Sparx S-07″ logo on the side of the helmet.
Fortunately for those of us looking for a minimal helmet, the new S-07 solids do not have this. They are solid colored except for a Sparx logo on the forehead and brand/certification stickers on the back.
Overall, I'm really happy with this helmet and would be hard pressed to find a better value for the money. Thanks for being a great resource, wBW! Keep up the great work!"
---
From "E.G." (06/2011):  "After 10 years using Shoei's and 5 years of using my Picotte Replica RF-1000 it was time for a change. The multiple rain rides had taken it's toll on the non removable lining in it.
So after careful consideration of the RF-1100 and the Qwest and it's budget implications considering I always buy helmets in twos (one for me one for wife) I started to consider the SparX S07.
To make a very long story short, there is little if anything to detract from this helmet.
Very well made, nice and well done graphics (we got the Corsa Retro and Stryder Retro) Very good ventilation and removable liners are the icing on the cake.
Agreed that lenses are a bit harder to fit (the Shoei's have a perfect 'slot' for them) but after some use it all settles in.
I ordered the same sizes as we had on Shoei RF-1000, Large for me Small for her and they fit almost the same, just a tad smaller which was just what I was looking for (after reading the size tips here).
Thanks for a great website and your reviews. If you want a Spanish review of this Helmet it is here in our community page (non commercial)."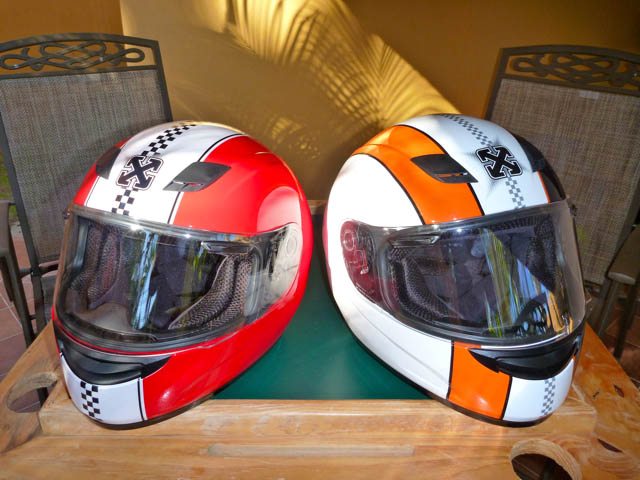 From "J.D." (8/09):  "Thought I would pass along my thoughts on the S-07. I wear a XL in most helmets and find the S-07 to be true to size. I have a slightly oval head. The 07 fits much better than the Scorpion EXO-400.
The 400 would pinch my cheeks so hard it looked like I had a permanent pucker.
I am really impressed with the visor fit. It does a good job of sealing against the helmet. Are you listening Scorpion?  The Scorpion would have been a very quiet helmet except for the large gap at the top of the visor.
The Scorpion was very noisy because of this.
In my never ending quest for a quiet helmet I find the S-07 to be much quieter than the 400. I have two bikes – '08 Suzuki Bandit and '01 Concours. The 07 is much quieter on the Bandit than the Scorpion and HJC12.
It is also very quiet on the Connie as long as you keep your head below the windshield. If you raise your head up to where the top of the 07 is in the air flow then it becomes very noisy.
Oh well the quest goes on for the perfect helmet. You would think the helmet manufacturers could figure out a way to make the ear cups do a better job of muffling the noises."
---
From "T" (10/08):  "The SparX S-07 helmet is an awesome deal for the money. It is lightweight, very comfortable, DOT and ECE certified, and very cost effective.
It has a very good finish on the exterior and the padding on the inside is very nice. One cool thing is that the visor has vents similar to that of the more expensive Arai helmets.
This helmet is quieter than both my Shark RSI or Scorpion EXO-700 helmets, yet still manages to vent very well.
One issue i did have, however, is that the right hand side (if you are wearing the helmet) of the visor does not close all of the way when you pull down on the visor tab.
I contacted SparX about this and they called me and we determined it is because of the plastic side plate on the right side. It does not move as freely as it should. They are sending me replacement parts at no cost. Excellent customer support!"
---
From "A.P.":  "Your review convinced me to buy one of these helmets, and after using it for about 2 months I'd have to say the review is right on target.
Maybe I just got lucky, but I mail-ordered mine and followed the recommended fit chart from SparX website, and it fits perfectly.
I've been riding in about 70-80 degree weather and haven't felt overly hot at all, and the shield vents work great. It feels lighter than some of the other brands of helmet I've tried on, plus it looks great.
I haven't noticed any fogging issues, but I haven't ridden in anything lower than about 65 yet. I can't see spending twice as much money on a helmet that may/may not be a very little bit better than this one. Thanks for a great site!"
---
From "A.F.":  "First off, thanks for the great website with so many informative reviews. When you live in an area where all the local dealers carry the same 3 brands, it's great to have another resource to compare helmets.
I've purchased a SparX S-07 Griffin last fall when the company was just ramping up production. I had to wait 3 weeks after my order for the distributor to receive stock to ship.
Overall helmet quality is very good, but the fit is a little odd. Not having a local distributor, I measured my head and used their size chart to determine I needed an XL. No surprise, as I've worn an XL in every helmet I've ever owned.
The SparX helmet does run quite small in the neck area – it was extremely hard to get on the first couple times. Once I got the crown of my head through the neck roll it would slide on snugly, but the neck area is definitely tapered a lot.
After logging about a thousand miles I still have to spread the sides of the helmet as I pull it on so it doesn't rip my ears off. Once on my head it fits snugly without discomfort on the top or sides.
It has no side to side movement, but on the road it slides back on my head at speeds above 50mph.
I had to remove the plastic breath deflector after the first ride because it was hitting my nose every time I accelerated. My chin still hits the chin bar at speeds over 65 on a routine basis.
I have a neutral to slightly round head. Some helmet brands fit me better than others, but this is the first I've ever tried that I would say isn't comfortable.
Overall the helmet is good quality for the price. Though you don't list it in the review, mine came with a microfiber helmet bag and a dark smoke shield in addition to the clear shield (both have the on-shield vents).
I'd like SparX to modify their size chart to reflect true sizing, or clearly state the head shape they're intending to fit.
My head falls dead center of their XL size, and I'm left with a helmet that's almost too tight to pull on, and once it's on it's too loose front to back. Again, good quality for the price, but definitely not a helmet you should consider unless you can try it on."
---
From "D.W.":  "I just wanted to add my comments about the S-07. I think your review is pretty much spot on. I bought my S-07 a couple months ago.
For the most part, I was just looking for a decent quality economy helmet to replace my heavier HJC AC-11.
So far I have been very pleased. I came across the S-07 at a local dealership and was amazed at how lightweight it felt compared to my HJC. I tried it on and the fit was great for my oval shaped head.
After testing it out on a few rides I have been pleased with just about every aspect of it and feel it is superior to my HJC AC-11.
It has everything I would expect from a helmet. It's quiet, lightweight, DOT & ECE certified, and best of all you can get one for what I would consider a steal at $100.
The only point I disagree with in your review is about the air flow. I think the SparX S-07 flows air pretty well, at least in comparison to my HJC. With the HJC I couldn't feel any difference in air flow with the vents opened or closed.
I can definitely feel cooling effect of the top vents with the S-07.
Lastly, my only nit-pick with the S-07 has to do with the visor. It seems to fog way too easily. I can fog it up in 50 F weather.
The visor vents do a good job at letting more air in and defogging somewhat but in cold weather I don't like the cool air blowing on my face. In my opinion the visor vents will have more value in hot weather allowing more air circulation.
Hopefully I can fit a visor insert to prevent the fogging until spring time comes around.
Keep up the good work. I really enjoy the webBikeWorld reviews and find them very informative."