Sliders Cold Pro Waterproof Gloves Review Summary
Sliders Cold Pro Waterproof Gloves Image Gallery
The Sliders Cold Pro waterproof gloves are very warm and comfortable and a very good value for money. Only one small design decision keeps them from being an excellent value. It's cold outside here in the Mid-South of the United States right now; in fact, it's lightly snowing as I type this.
Due to the snowfall, I elected to drive the car in to work today instead of riding in. I don't mind the cold too much, but cold wet streets in near-freezing temps make me nervous if I'm on two wheels. If it's cold but dry, I'll often take the bike.
I have a set of heated grips on my Triumph Sprint 1050, which help fight the chill but on the coldest days these are still not enough to keep my hands warm. Wind moving across the front and over the top of the gloves can easily negate the warmth of electric handlebar heat when on the highway. To combat these frigid temps, I wear insulated gloves with the heated grips and I have tried several different pairs over the years.
Recently, I jumped at the chance to try these Sliders Cold Pro waterproof gloves (that's a mouthful!) and have been lucky (?) enough to have plenty of winter weather left to try this bright orange pair. Sliders is a Competition Accessories "house brand", designed and made specifically for the retailer.
The Sliders Cold Pro waterproof gloves are the textile/leather hybrid winter variety, with generous portions of leather used in the construction. There are a total of five gloves available under the Sliders brand, including an all-leather winter/waterproof glove. All of the Sliders gloves are $39.99, a rather low price.
Styling
The Sliders Cold Pro gloves have a somewhat subdued styling, looking like something between an understated "race" style glove and a typical winter touring glove.
The bright high-viz orange on this particular pair does make them stand out here but otherwise they aren't too flashy, with just a simple embroidered "Sliders" logo on the back of the gauntlet.
They are available in several different colors, including Hi-Viz yellow and the High-Viz orange shown here.
In addition to the Hi-Viz color on the textile portion of the gloves, a patch of reflective material has been added for increased low-light visibility.
A good thing to incorporate in apparel that will likely be used in rainy conditions, although I'm not certain the placement is optimal for being seen by other drivers.


Construction
There are several different materials that go in the construction of these gloves. The shell consists of both cowhide and goat leather as well as a textile referred to on the tag as simply "Nylon Woven Fabric".
There is no mention of what type or what denier the fabric is (i.e., its density). It is not slick and shiny and has more of a canvas fell to it than typical ballistic nylon used on other gear.
One thing to note is this fabric does seem to acquire dirt rather readily. In the short time I've had them they have already started to look a bit dingy.
Inside of the gloves there are several types of synthetic materials to be found.
Hipora is used as the waterproofing membrane material, providing a breathable moisture barrier, while 3M Thinsulate is employed for insulation from the cold.
According to Competition Accessories, is used to reinforce the area between the index finger and thumb. While I don't doubt it is there it is difficult to tell where exactly it is placed. Some careful feeling about on the inside and outside of the glove didn't turn up anything conclusive.
The interior is lined with a soft polyester and gives the gloves a comfort level that is almost completely devoid of seams to increase overall comfort.
The fingers do use a box construction, so if I push my fingertips into the ends, the internal seams can be felt. But any discomfort there is readily blunted by the lining.
As expected with all of these layers, the gloves are a bit bulky, but not any more or less so than most other winter gloves I've tried.
Double stitching is used in most of the exterior construction with single stitching appearing only in a couple of areas, including the two padded leather spots on the gauntlet and the heel of the hand.
Overall, the stitching appears to have been reasonably well done and consistent but there are areas where it could be better.
Considering the price point, I don't really feel this detracts from the overall value here.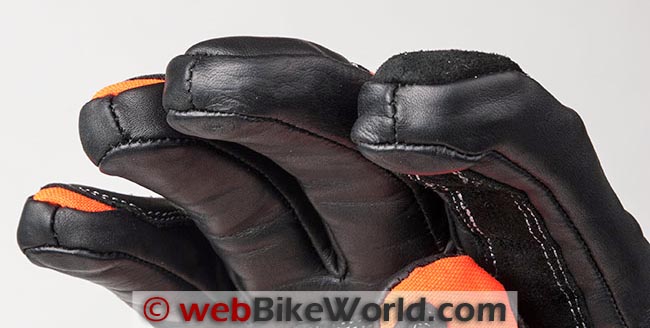 Gauntlet and Straps
The gauntlet is a good size, with a 6.25″ (16 cm) opening that should accommodate most jacket cuffs with ease.
The gauntlet closure is made with a 3″ x 1.5″ (4 x 7.5 cm) section of hook-and-loop fastener, which provides a secure grip when closed.
Unfortunately the Sliders Cold Pro waterproof gloves don't have a wrist strap, but instead use an elastic "ring" that is sewn into and surrounds the wrist.
While it keeps the wind from flowing much up into the glove, it does little to prevent the gloves sliding off the hand when tugged. This can be a liability in a crash.

Safety Features
The Sliders Cold Pro waterproof gloves offer good protective features — something that doesn't always make its way onto waterproof gloves.
On top there is a molded plastic knuckle protector which has what looks like a fine carbon fiber look it.
It turns out this actually a sandwich of plastic and a mesh screen material. It seems sturdy enough and is not very flexible.
The placement of the protector is just about right for my hands and maybe sits slightly rearward of the knuckle, but only slightly. Even though the protector is not flexible the several layers of material between it and the hand keep it from causing discomfort which isn't always the case with stiff knuckle protectors.
I need to point out that one should not try to bend the knuckle guard. I tried to flex it a bit and unfortunately I cracked the top layer of plastic.
There is still another layer of hard plastic under the internal mesh between the plastic layers that seems rather tough itself.
I don't think protection would be compromised in a crash (before I broke it) but it is likely one good impact will necessitate a new pair of gloves.
Factoring in the price this is not really a hardship.
The middle, ring, and pinky fingers also get similar areas of this plastic protection, with one on the middle finger and two on the third and pinky fingers.
The plastic used as the protector over the first knuckle on the pinky finger is more flexible than the rest.
The top of each finger is initially covered with the same textile that makes up the gauntlet and the area of the back of the hand. On top of that is a layer of leather with the plastic impact protectors mentioned above.
The index finger is different in that the leather there is some type of "goat suede", while the others appear to be covered with cow hide. The thumb incorporates the textile, cowhide, and "goat suede" leather materials with only a smallish area of the textile being exposed.
The palm is entirely leather and across the palm and on the underside of the index finger is an additional patch of the "goat suede" leather for increased abrasion resistance.
At the heel of the palm as well as on the outside facing section of the gauntlet is a section of leather covered foam padding. Although most of the gloves stitching is doubled, these two foam padded areas only get one row.
UPDATE (February 2014): The gloves do use DuPont brand Kevlar in the construction as the "aramid fibers", according to Competition Accessories, who has the gloves manufactured under the Sliders brand name.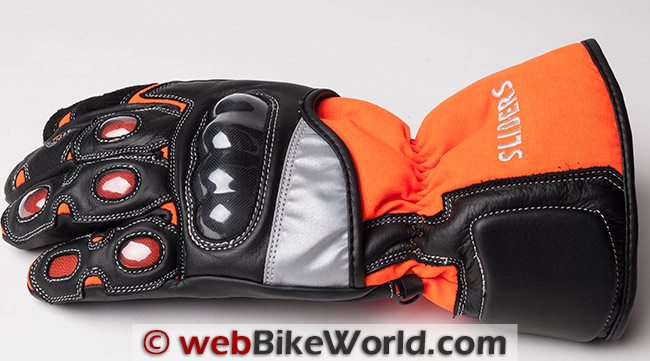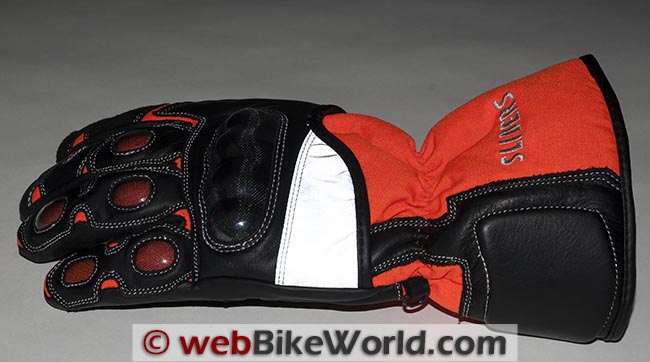 Fit and Comfort
The Sliders Cold Pro waterproof gloves run nearly a full size small and Competition Accessories appears to be aware of this. I normally wear a size medium in motorcycle gloves but when I received these, I noticed they were marked large.
I thought for sure this was a mistake but slipping them on I was surprised how well they fit.
I would say they run about 3/4 of a size small, as these large gloves fit my medium hands with just a little extra room. Keeping this sizing discrepancy in mind when making a purchase should allow you to find the right size.
The overall comfort is very good and the lining also feels comfortable against the skin.
The liner in other gloves I have worn may have felt more plush, but none of those were even close to the price of the Sliders Cold Pro.
Despite the bulk of these gloves, it doesn't take one long to get used to them and feel at ease with the bike's controls.
The bulk doesn't rear its ugly head on these gloves the way some others do; for example, the fingers don't seem to bunch up on the underside when wrapping fingers around the grips.
The foam armor on the heel of the hand also is a nice spot to rest your hand when on the highway or similar long stretches.
Regarding warmth, I have to say these are probably the warmest non-heated gloves I have used. They are a bit warmer than the Cortech Scarab gloves I also reviewed.
Most importantly, they seem to shrug off the wind blast on the front of the fingers and top of hand very nicely, which is important when riding a motorcycle without hand guards or fairing or other device which blocks the wind hitting the hands.
The Thinsulate lining really does its job well and I found that my heated grips had be turned up considerably more than normal to feel their effect when using the Sliders Cold Pro waterproof gloves.
I used them in temperatures around 35 F (2 C) and on a mix of highway and secondary roads. The bulk seems well worth the warmth provided.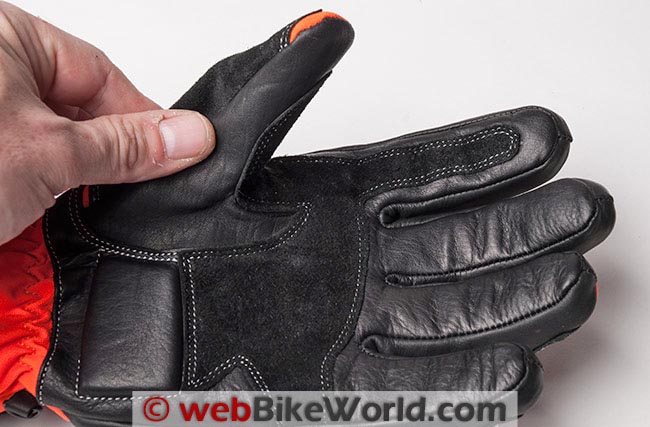 The Bucket Test
OK, you knew it was coming! Whenever a pair of motorcycle gloves is claimed to be waterproof, they get the "Bucket Test".
This is just what it sounds like; the "waterproof" gloves are submerged in a bucket of water and timed to see how long it takes (or not) before they leak.
In the past we've seen some expensive gloves fail — but we've also been surprised how some bargain gloves have performed. So how did today's challenger fare?
I'll admit I wasn't expecting a lot here. Not that I think these gloves are poorly made, but they are made to a price.
Also, they have a lot of stitching and multiple layers sewn together and it would take some good quality control to make sure none of the layers were pierced along the way by a wayward needle.
My prejudice was unfounded, however, as after a full five minutes submerged to just past the elastic section at the wrist, my hands remained perfectly dry.
This includes my making sure that I flexed my fingers and made fists to make sure no water would sneak in as the material is stretched and flexed. A very good performance from such an inexpensive glove!
Conclusion
The Sliders Cold Pro waterproof gloves perform very well and I'm not going to qualify this with an "at their price" either.
They tick almost all the right boxes in my book and they are quite warm and well insulated. For all the bulk typical in a cold weather/waterproof glove they still offer reasonable feel.
They are also a quite comfortable place to house your hands when the weather wants to keep one from riding.
The protection they provide is good and should do the job in the event of crash. I'll admit that there is some concern regarding the ease with which I cracked the knuckle protector. I did only crack the top layer of plastic and the lower layer appeared uncompromised.
Still, these gloves would most likely need to be replaced after a crash (although the same can be said for a helmet, jacket, pants or boots).
But at a list price of just $39.99, that's a pretty reasonable expectation. Most gloves costing $20, $30, or even $50 or more would likely give up their life after one crash so I'm not going to call these out for that.
The Sliders Cold Pro waterproof gloves offer a very good value for the money. The one thing keeping them from being an excellent value is the omission of a proper wrist closure.
These gloves, like most without a wrist retaining strap, can simply come off too easily. Some might not be as concerned with this as I am and everyone's level of risk management is different.
If you're on a budget and looking for a glove to battle the elements, these are a strong contender. I feel you'd be hard-pressed to find a glove this inexpensive that offers everything these do.
If Sliders were to update the design to include a wrist strap I'd be first in line to purchase another pair.
They would still be a bargain even if they had to charge $10 or $20 dollars more to include this feature (Editor's Note: See update in the comments section below).
w

BW

 Review: Sliders Cold Pro Waterproof Gloves
Manufacturer: Sliders
List Price (2013): $39.99
Made In: Pakistan
Colors: Black, Blue, Red, Silver, Hi-Viz Orange, Hi-Viz Yellow.
Sizes: S to 2XL
Review Date: March 2013
Note:
 For informational use only. All material and photographs are Copyright © webWorld International, LLC since 2000. All rights reserved. See the webBikeWorld® 
Site Info page
. Product specifications, features and details may change or differ from our descriptions. Always check before purchasing. Read the
Terms and Conditions
!
Owner Comments and Feedback
---
UPDATE From Competition Accessories (March 2013): "We actually are coming out with a slightly upgraded full leather "big brother" version with a wrist strap for fall 2013 called the Cold-Tech. Sample images (of the prototype) are below. I think we will sell them in the $50-60 range with a couple of colors. All the features are the same, except the wrist strap and it is full leather vs. a hybrid."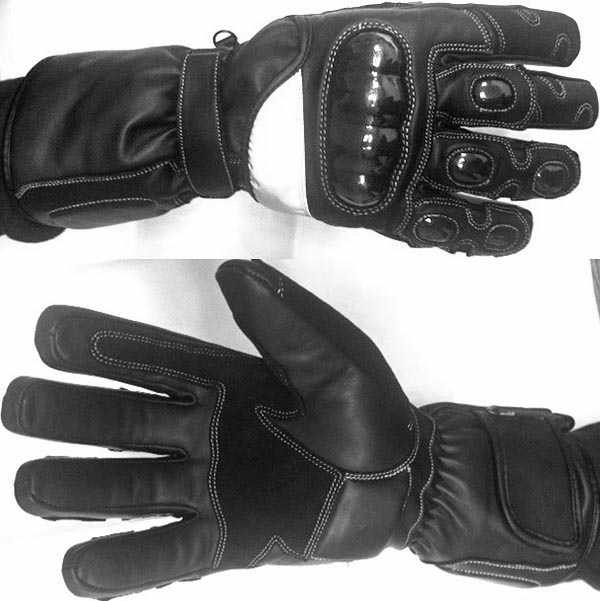 ---
From "S.C." (March 2013): "I received my pair today in orange, bright orange, really these things glow.
First off, these are very well made and not just for the price. I normally wear a medium but going by your review I got a large which fit fine except for the thumbs which could be a little longer but that is normal for me.
So with temp around 40 I fired up the Uly and set out for a ride, with in about 20 minutes my hands where feeling cold so I turned on the heated grips but my thumbs where cold, so I guess they will be my over 40 gloves and my old Widders will still be my go to cold glove even though they really offer no protection. I should say my hands are prone to being cold since I was a kid so YMMV.
Even though they turned out not to be as warm for me as I had hoped, still they are a nice glove and I will keep them."
---
From "D" (March 2013): "I purchased the Sliders Cold Pro winter gloves back in January as a post-Christmas present to myself. I echo the wBW review almost exactly. For $40 + shipping, these are a great pair of winter gloves that are about as warm as you'll find for a non-electric glove.
The only negative is they pull off way too easily. Even when I have them securely strapped over my jacket, it only takes a tug to yank them off. I do like how CompAcc is listening to their purchasers and will make a revised model with the extra wrist strap. I purchased the high-viz orange mainly for my commute in the dark in the PM. Combined with the large reflective patch, I was pleased with the extra visibility they provided for me.
I usually wear a large in most American-sized gloves like Joe Rocket, Fieldsheer and Olympia and x-large in more euro-cut gloves like Alpinestars and Rev'it. I purchased the Cold Pros in XL. They fit comfortably and are maybe a hair loose. Once I slip silk or other thicker glove liners on, they fit perfect."