Simpson is a name that is popular among motorsport lovers. The Simpson helmets are known for ultimate safety standards, and it is commonly worn by racing drivers. Simpson is popular for the unique style that this helmet has to offer. If you want to stand apart in a crowd, then you need a Simpson helmet.
Simpson helmets are known for their high-quality build, and they prove very durable during collisions. That is why it is one of the top choices as racing helmets. In this Simpson M50 helmet review, you will know the features present in this helmet so that you can make an informed decision.
Benefits
If you love racing your bikes or want to try out the professional racing arena, you would need a helmet that is up for the things you are going to experience. With an experience of several decades, Simpson helmets are your safest bet.
Simpson continues to extend its line of retro-inspired helmets, and the M50 is one of the best buys for under $300. It is a very simple throwback helmet that uses fiberglass construction. This helmet has an on-road and off-road dirt helmet look, and it has a very specific style.
While it may not be suitable for all bikers, retro fans will fall in love with this helmet instantly. One of the unique selling points of this helmet is its unbeatable looks and appeal. In fact, riders who want to look best buy this helmet without thinking twice.
Features
The M50 from Simpson is one of the incredibly lightweight helmets that weigh just 2.7 pounds for the extra large size. It is available in multiple colors while the gloss and matte black are the popular choices.
The full face helmet has a 5-snap visor that can be removed if you like. It allows you to use your stylish sunglasses when you ride in the sun. You can also use your favorite pair of goggles if you wear this helmet.
Fit
The Simpson M50 helmet has an intermediate oval fit. It is suitable for bikers who have a normal head shape and face.
If your face is too long at the chin or the head, you will face chin bar issues. When your head is longer than the average size, the helmet may press on the crown of your head.  If you have a long, narrow face, you are better off choosing another helmet.
The cheek pads contour your face, and they can be removed and washed. These cheek pads have Velcro fitting, and they are adjustable. You don't have to worry about breaking in the helmet as you can fit the cheek pads as you please. To find the best fitting helmet for you, measure your head size and choose accordingly.
It is a true fit helmet, so choose a size that matches your requirements.
Visor
The M50 from Simpson focuses more on looks than functionality. The product ships with a 5 snap black Duckbill visor. There is nothing special about this visor except that it keeps the wind out. Even without the visor, the wind noise is bearable as long you ride in the 60-70 mph range.
This helmet is not designed to cancel out the noise, and so, you can't expect it to be quiet at high speeds. Those who love wearing goggles or sunglasses with their helmet will love the design and space of this retro helmet.
Ventilation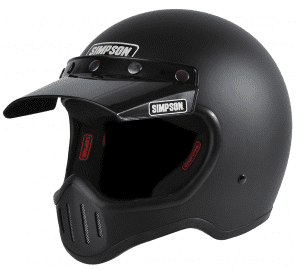 The helmet has only chin vents, but it is open on the front which compensates for the lack of airflow. Many helmets in this price range have chimney vents and exhaust vents. The lack of additional vents is one of the concerns for this helmet.
The open helmet provides satisfactory airflow when you are riding at slow speeds and works better at high speeds. The wind noise may not be such an appealing factor, though!
Safety
Those who like vintage helmets know the importance of safety. The helmets on the market that look about 2-3 decades old have the perfect retro style, but they compromise safety. If you enjoy wearing vintage helmets, the Simpson M50 is an ideal choice as it has the perfect vintage looks with DOT approved safety standard. You are sure to get the best protection available in case of any collision. It would be easier for you to ride in style without compromising your safety.
Other Factors for Consideration
The Simpson M50 helmet provides ventilation through the open front. However, it doesn't mean that you won't sweat inside the helmet. The inner liner is moisture wicking, but it can't be removed and washed. It is a concern for bikers who don't like the sweaty smell when they wear the helmet.
There is a lot of space inside the helmet that allows you to install a communication device. You can fit a communication device in the center, or you can stick it to the sides as you want.
The helmet doesn't come with a sun visor, but it is pretty easy to change the visor. You can simplify the process of changing visors by opting for sunglasses.
Some bikers feel that this helmet looks stylish, but lacks some of the functionalities available in other helmets available for the same price. Sometimes, you need a cool looking helmet that provides the most basic functionality, safety. In that case, this helmet is an ideal choice.
The Simpson M50 helmet is a very basic helmet without a lot of complexity. If you love retro styling, you can hang your old helmet on the wall and enjoy the riding with this DOT approved helmet. It provides ultimate safety and protection.
If you, however, prefer helmets with bells advanced features, this may not be a good option for you.