When safety and looks are your primary criteria for choosing a helmet, you won't go wrong with a Simpson helmet. It's simple and comfortable, and it is your best bet if you are looking to get a premium safety helmet for yourself.
The Simpson brand initially started manufacturing gear for racing cars, and now, it has moved on to make gear for motorcycle racing. Most of the Simpson helmets are made for bike racing rather than regular bike riding.
It means that you can expect ultimate comfort, style, and safety and pay a premium price for it. Simpson has recently introduced a line of helmets that are Snell certified that's just perfect for the racer in you. In this Simpson Diamondback helmet review, you will find whether the money you are paying is worth it.
Benefits
The Diamondback helmet is a comparatively large helmet. It has a large and thick shell that is evident by just looking at it. If you place an RX helmet and Diamondback side by side, you can understand the larger shell.
You have to pay a premium price for this helmet, but the quality is worth it. It is ideally suited for those involved in motorsports. The rugged helmet provides ultimate protection for your head, but it doesn't have a lot of customization options.
Features
The Diamondback helmet is a full face helmet weighing about 4.8 pounds. It is a slightly heavier helmet compared to the other helmets in the series. When you are involved in a motorsport activity, you don't expect to fiddle around with the settings of the helmet.
You want something to work fine out of the box, and this Diamondback helmet does just that.
Bikers who have purchased this helmet are extremely happy about this helmet, and they don't mind paying a slightly higher amount of money.
After all, in the helmet business, you simply get what you pay for, and protection for your head is priceless.
Comfort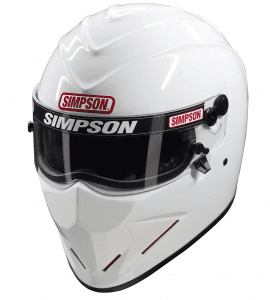 The large shell accommodates most face shapes, but you should understand the sizing before you order a helmet. Several buyers have reported that the helmet runs slightly smaller. You should use the sizing guide at the Simpson website to determine the right size for your helmet.
If you are in between sizes, you should opt for a bigger size for a comfortable fit. If the size is too small for you, the helmet will press on your head. The cheek pads are made of plush foam, and they take up the shape of your face easily.
The Nomex interior also provides plush lining, but the main drawback here is that it is not removable. The interior lining is glued to the helmet, and it can't be washed. If you sweat a lot, you will have to deal with a stinky helmet unless you wear a balaclava.
Build Quality
The Simpson Diamondback helmet is made of carbon Kevlar composite material, and it is pretty solid. The shell construction ensures that you get value for the money you paid. Compared to the Bandit series, the Diamondback helmet is much stronger with premium build quality.
Bikers are extremely happy about the robust build of their Diamondback helmet. The durable construction amounts for some weight in the helmet. Most of the helmets weigh less than 4 pounds, but the Diamondback is slightly heavier.
However, it shouldn't be a problem when you drive for long hours. Some bikers, in fact, prefer their helmets to feel solid when they wear. It gives them the confidence of safety. The helmet comes with Snell 2010 certification which is pretty cool.
Ventilation
The Diamondback helmet has vents at the chin area, providing sufficient airflow inside the helmet. However, there are no vents on the top, and there are no exhaust vents. It can be a problem when you have to use the helmet in hot weather conditions.
However, the head doesn't get too hot because of the ridges at the top of the helmet that promote airflow in a unique way. The aerodynamic design makes it possible to enjoy your ride for longer hours, and you won't miss the vents at the top.
Visor
The Diamondback helmet ships with a clear visor that provides a good field of view. One of the most important characteristics of this visor is that it provides a tight seal which is essential for racers. When you are riding at considerable speeds, the dirt and debris will stay away from your face due to the design of the visor.
Changing the visor to get sun protection gear can be a bit challenging. You can, however, manage with sunglasses if you don't like the sun shining in your eye. The absence of sun protection is a problem considering the amount of money you pay for this helmet. Nevertheless, you can fix it by purchasing an additional dark tinted visor from Simpson.
Other Factors for Consideration
You can attach a communication device to the helmet as the shell is pretty deep. Screws are molded in to enable you to wear a D-ring if you prefer your helmet to be locked that way. It would have been much better if the inner lining was removable because it is a standard for helmets these days. Unless you have to ride in really sunny areas, you won't have a problem with the clear visor.
On the whole, the aggressive styling and high-quality build make this one of the good Simpson helmets. However, if you prefer additional features such as sun visor, removable lining, you should look at other choices. There is no compromise on protection with this helmet, which is what you really want in a helmet. On the whole, it's one of the best buys that you can make for yourself if you are looking at a helmet that does justice to the racing spirit in you.