Sidi Strada Evo Rain Boots Review Summary
Sidi Strada Evo Rain Boots Image Gallery
The Sidi Strada Evo Rain Boot offers a race-boot inspired design with subdued styling.
They also have decent protection in key areas, and "breathable" waterproofing.
In shopping for a motorcycle boot I wanted something that had adequate protection for the foot, ankle, and lower shin.
But wouldn't look like I just came off the track.
I also wanted something that was comfortable to walk around in and didn't creak and squeak with every step.
The Sidi Strada Evo Rain Boots met my demands and didn't break the bank.
Well, maybe it dented the bank a little, these things ain't cheap!
I spent quite some time searching for a good motorcycle boot.
I read all the reviews I could find online and in the motorcycle magazines and I stopped by the local dealers to see what they had available.
But many of the styles were just too "bold" for my taste, and many boots just seemed outright gimmicky.
For instance, why do street riding boots need ski-boot style buckles? Is that better than a hefty zipper and hook and loop?
Or does it mean they can be manufactured to "looser" standards since you have a massive strap you can use to get the boot tight on your foot?
And why all the crazy colors and bold logos?
I read someplace black is back, but it's hard to find a good boot that is just…black. I wanted to wear the boots with a pair of motorcycle jeans, so I wanted something simple-looking but packed with protective features.
However, many boots I studied looked nice, but lacked any kind of impact support in key areas or the abrasion protection was questionable.
I finally narrowed my search to a race-boot style, since they looked as though they provided the best protection (of course!). However, they were 1) very expensive and 2) perhaps too protective for my rather tame riding style.
The best comprise in my mind would be a racing-style boot with basic protection and "normal" styling. This narrowed the field greatly. And since I commute and sometimes encounter wet weather, I also wanted something waterproof.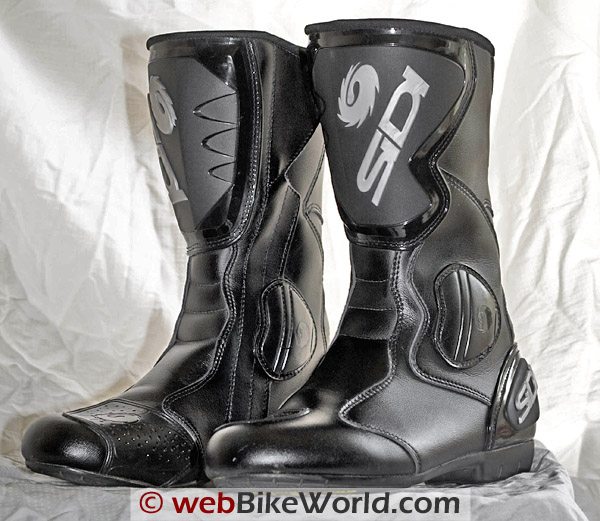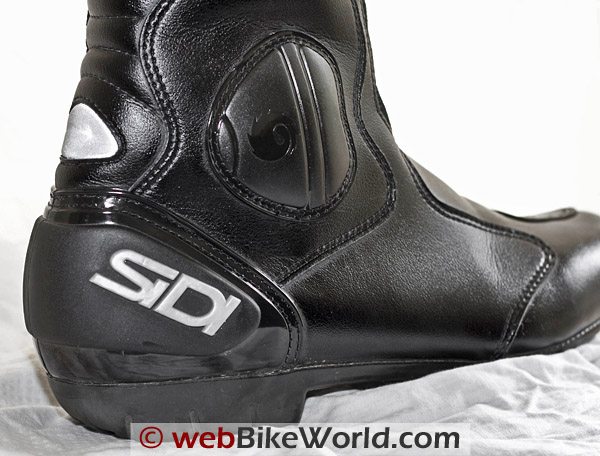 The marketing material for the Side Strada Evo Rain boots looked like a good match to what I wanted, although I did hesitate for a moment because of the price. I finally sucked up the hit to my wallet and went ahead and ordered the Sidi's.
Here's what the marketing department at Sidi has to say about the Sidi Strada Evo Rain boots, which are listed in the "Sport" (not "Touring") category:
Double stitched in all high stress areas.
Fully encapsulated heel cup.
Zipper and Velcro closure system.
Dual compound sole.
DuPont polymer toe shift pad.
DuPont polymer ankle cup.
Rain membrane to add a water resistant yet breathable barrier between the elements and the rider's feet.
Lorica outer construction.
Perforated Teflon treated nylon lining.
Composite inner sole.
Removable arch support.
Faux Leather?
A word about Lorica — the marketing guys describe it as "a composite micro fiber material created from strands that are so fine, each one is less than one thousandth the thickness of silk.
When injected with special resins, these fibers act like natural leather skin, but with the addition of better strength, softer texture, lighter weight and better moisture protection".
Lorica looks like leather and it has a grain pattern like leather, so if you didn't tell me it wasn't leather I would assume it was. The exposed edges where two pieces are sewn together, one over the other, look just like leather.
The marketing folks over at Sidi also note that "Lorica is also highly resistant to abrasion – yet it still breathes" (more about breathability later).
It's some pretty amazing stuff, and it makes the Strada Evo Rain boots look like nice black leather boots. "I can't believe they're not leather", to paraphrase the TV commercial.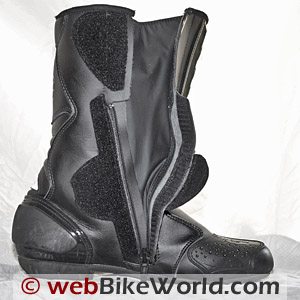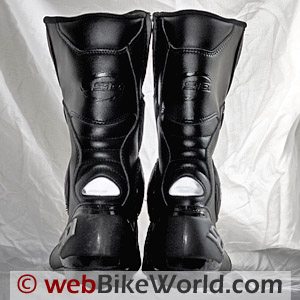 Build Quality
The boots are well made, with double stitching wherever two pieces of leather — err… Lorica — are sewn together and where the space-age plastics are sewn to the Lorica.
(The Sidi marketing folks have some names for the space-age plastics as well, but I will spare you from further marketing drivel).
There is single stitching also, which adds some style and contour to the Lorica panels.
The boots also have a plastic cup over each ankle bone (inner and outer).
From what I can see, this offers two benefits; 1) it would help reduce the blow to ankle bones from an impact, and 2) it provides some extra abrasion resistance.
The asphalt would have to eat through the "plastic" cup before it starts eating through the Lorica.
The cup is double-stitched to the Lorica on the outer side of the boot. On the inside, the cup is backed with the hook portion of the hook-and -loop panel that closes over and protects the zipper.
The heels are also encased in plastic cups. The heel cup is outside of the Lorica and double-stitched. The outside of this cup is covered with DuPont Polymer, which looks like a different kind of space-age plastic.
A small Sidi logo has also been placed on the outside of the heel in off-white lettering about one inch across.
If you wear your pants a little long then nobody will even see it when you are walking around. If you ride a sportbike it will be visible, but it is fairly subdued.
There is a small reflective area just above each heel that are also off-white in color.
The front of the boots have a large lower shin protector, and these include a large Sidi logo.
These protectors are also plastic with a DuPont Polymer piece set into each. If you wear your pants over your boots nobody will ever see the logo.
The tops of the Sidi Strada Evo Rain boots provide ample room to tuck in riding pants, provided you don't have gigantic calves.
I wear a set of Icon Leg Field Armor tucked into mine, and the fit is perfect — I even have some extra room in there, although I am a bit lanky in the legs and have on the small side of average calves for my foot size.
Nobody would accuse me of having chicken legs, but they don't look like runner's calves either!  Leather pants designed to be tucked into boots should tuck into these just fine.
There is a hook-and-loop enclosure in two parts on the inside, running practically the entire height of the boot. The first section of the enclose covers the three-quarter length zipper.
As I stated before the inner ankle cups are part of the hook-and-loop enclosure that covers the zipper.
This greatly increases the area for the hook and loop enclosure and provide a nice secure connection for the bottom part of the fly.
The zipper is hefty and looks like it will hold up well. Underneath the zipper and hook and loop enclosures is a rain fly, so that no water can get into the boot.
The hook-and-loop closures at the top of the boot also have a great deal of surface area for a solid connection.
Since they are essentially in two parts, there is some leeway as to how tight the top can be closed, allowing for different thicknesses of riding pants or additional shin armor that may be worn under the shin portion of the boot.
The toes have shifting wear pads and the associated shifting areas of each boot that are made of DuPont Polymer. I don't know how much use one might get out of the pad on the right boot, but at least the boots are symmetrical!
The shifting pads wrap all the way down the inside of the boot to the sole.
The soles are very thin and somewhat soft, providing good traction on the pegs.
There is a slight heel, less then a quarter-inch. The soles look identical to those used on the Sidi Vertigo Race boot; however, I'm a little disappointed in their thickness.
The benefit is a nice low-profile boot, but riders who tend to sloppily drag their feet are going to greatly diminish the life of these boots.
Sliders
The Sidi Strada Evo Rain boots do not have toe sliders and with the very small sole, it looks as though the toes can be easily scuffed if the rider gets too low in the twisties.
But I suppose that if the rider is leaning the bike over that much then he or she should probably wearing some proper race boots anyway.
In any case, don't hang your toes out, you will scuff the boot. As I mentioned above, the boots are low profile and easily fit under the shifter lever.
Sizing and Fit
Sidi boots are sold using European sizing. I wear a 10 to 10.5 in US sizes, depending on who makes the shoes, so I opted for a size 44 European, which translates to a size 10 according to the Sidi sizing charts.
The boots fit snugly with medium-thickness socks. If I had been closer to a 10.5 than a 10 the boots would have been too tight. They are also fairly narrow, but not uncomfortable.
Those with wide feet may want to try on the boots at a dealer first before going through the hassle of ordering online, then having to send them back because of width issues.
Motonation, the folks in the US who import Sidi motorcycle boots provide a sizing guide on their web site.
They show you how to measure your foot fairly accurately at home with a piece of paper and a ruler — I used the method they describe and it told me to buy (accurately enough) a size 44 (US size 10).
I wore the boots for 20 hours over two days shortly after I bought them and they did not bother me at all, but they did feel snug. They do require a tiny bit of breaking in, but the Lorica seems fairly supple.
Riding With the Sidi Strada EVO Boots
After a couple hundred miles of riding over the course of a few days the boots loosened up a little and I don't notice them at all while riding.
I only slightly notice them when I'm walking around, mainly from the stiffness in the ankle area, which I believe is a benefit.
Also, it shows that while the boots do break in, they do remain a little stiff where you'd like them to be stiff if you should happen to crash — when you certainly don't want your ankles to be freely rotating around!
They boots do have rudimentary arch supports in the sole. The insoles are removable and could be replaced with some thin "gel" soles if the existing insoles wear out or if you just want to be "gelling". The outer soles, however, are stiff and Sidi claims they add to the protective qualities of the boot.
None of the plastic parts are removable or replaceable, as opposed to other many other Sidi race and race-style boots with replaceable parts.
Waterproof?
I did get to test the waterproof ability of the boots and can attest that they are indeed waterproof. They are not, however, warm.
I road for about 5 hours in 40-degree New England springtime drizzle, and my feet stayed bone dry but my toes were cold. My hands, in leather, armored and vented motorcycle gloves, were both very wet and very cold.
I hesitate to attest to the breathability of the boots. My feet do not normally sweat much, except when in ski boots for extended hours while skiing/avoiding crashing into trees.
The boots are not thick enough to be warm in cold temperatures, but they do not seem "thin" enough to be cool on hot days.
Sidi does make a similar boot to this one called the Sidi Strada Evo Air boot. The air boots are vented, and, of course, not waterproof.
As a test, when I first received the boots I wore them around my (very warm) house for a couple of hours.
My feet didn't feel hot or uncomfortable, but when I took the boots off I did notice my socks were slightly damp with sweat.
After putting on about 500 miles on these boots on temps of 50 to 70 degrees Fahrenheit my feet do usually come out of the boot slightly damp after each ride, but not wet.
Conclusion
The Sidi Strada Evo Rain boots look sharp but subdued and the protection is acceptable for normal street riding and the dangers that ensue. The soles seem thin and you could easily scuff the boots if you drag a foot.
The low profile is nice and eases shifting, but the boots don't have much insulation for cold weather.
They are indeed waterproof, but only time (and warmer weather) will tell how breathable they are. The price is a bit high, but quality is certainly there.
The boots do have some rigidity due to the Lorica, but nothing like a set of race boots. I don't envision much twisting protection from these boots if my foot were to become trapped and my leg and body were twisted.
But again, these are not a full race boot and the compromises in the design regarding safety, style, comfort, and price fall into my acceptable risk envelope.
I am very happy with the boots and my only real concerns are how long the soles will hold up.
w

BW

 Review: SIDI Strada Evo Boots
Manufacturer: SIDI
List Price (2008): $245.00
Colors: Black
Made In: Italy
Sizes: 40-50 Euro
Review Date: May 2008
Note:
 For informational use only. All material and photographs are Copyright © webWorld International, LLC since 2000. All rights reserved. See the webBikeWorld® 
Site Info page
. Product specifications, features and details may change or differ from our descriptions. Always check before purchasing. Read the
Terms and Conditions
!
Owner Comments and Feedback
---
From "T.C.": See T.C.'s Owner's Report comparing the Sidi Strada Evo boots to the Vendramini VR500 Sport boots he purchased.
---
From "T.W.": "First off, love the website. Nothing better than un-biased reviews.
I purchased a pair of Sidi Strada Evo Boots in 2003 from the Sidi Truck at the Cycle Fest Rally at Copper Mtn. Colorado. At the time I was riding a Suzuki Bandit 1200S.
Since then I have toured, drag raced, ran track days, back road strafing and commuted with these boots. I accumulated 10,000+ miles on the Bandit, bought a Suzuki SV-1000S and ran the boots for another 30,000 miles and three seasons of wear.
I am now riding a Kawasaki Concours 1400 and am still using the original pair of Sidi Evo's. Yes I did wash them inside and out in the off season 😉
One truly amazing feature is the sole of these boots does not wear out and yet they grip the pavement very well.
This, even with a habit I have of touching my feet down on occasion at speed to test roads surfaces that look like they may have pea gravel (back roads of Wisconsin).
As I near 50,000 miles and the 5th year on the Sidi's I can honestly say these are the great, comfortable, all around Motorcycle Boots and best value considering they still look and work like they did when new.
Next year I plan on buying the Strada Evo's with the Kent vents (taping them shut in early spring and late fall) as the Strada's do get a bit warm on a fully faired bike like the C-14.
I enclosed a picture taken today to show how little the soles have worn. Pardon the beveled edge…compliments of turn 2 at Brainerd international Raceway. 😉 :