Sidi Doha Boots Review Summary
Sidi Doha Boots Image Gallery
The Sidi Doha boots are very comfortable and good-looking.
While they may not be equipped with the ultimate in protective features and they're not waterproof, they are a good choice for casual motorcycling.
I was originally asked to do the evaluation of the Sidi Vertigo Lei boots (review), which is now complete (but not by me).
But in the meantime, I had this nearly finished article on the Sidi Doha boots almost ready to go, so I talked to the Editor and we decided to insert it into this 3-part series and make it a foursome.
I'm a little embarrassed about this, because I was asked to review the Sidi Doha boots several months ago, in the Fall of 2008.
I was so busy wearing them that I never did get around to writing the evaluation, and then the winter set in and put a halt to any progress.
But now it's Spring again, and I pulled the Doha boots out of the closet and I'm reminded of two things again: how nice these boots are and that I definitely have to finish this article!
Many of you may already know about the Doha boots because they have been around for probably over a year as of this date. During that time, they have become very popular and with good reason.
The Doha boots are very comfortable and very good-looking and while they certainly are made for motorcycle riding, they really don't look like it. So you can wear them into a store or casual dining and no one will ever know their true secret.
Also, I have read the comments in several of the webBikeWorld motorcycle boot reviews, and some riders are interested in motorcycle boots that are also comfortable for walking.
Most motorcycle boots are simply not designed for walking — the emphasis is on protection, which means stiff leather and armor.
But the Sidi Doha boots are sort of tilted the other way I think.
They are comfortable and fairly easy to use for walking (although remember that they are motorcycle boots, not hiking boots!). But while they do have some protective features, they're obviously not in the same league as the Sidi Vertigo Lei, for example. T
he end result though is a boot that is probably better suited for motorcycling than any street boot you can buy, and surely better looking!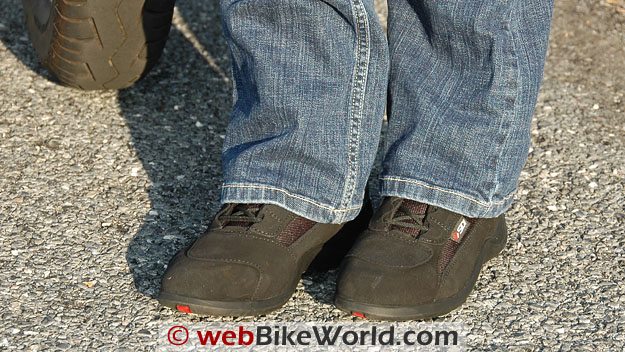 Sidi Doha Boots Sizing
I realize that many webBikeWorld readers are men, and I bet you didn't know that the Doha boots are, well, "unisex"!
That word probably frightens many males, I think — but don't worry, because Sidi probably did not have the word in mind when they designed the Doha boot and I've never seen them use that word in any of their advertising.
I am using it though because if you look at the Sidi sizing chart for the Doha boots (and many of their other boots), you'll see that they come in a very extended size range.
By "extended", I mean that the Doha boots start at size 38 Euro, which is a tiny 5.5 U.S. size equivalent, and they go all the way up to size 48, which is a size 13 U.S.!
Having a motorcycle boot style available in all those sizes means that the Doha boots can just as easily be worn by women as men, and I think they are a good choice either way. They work for riding or or as a passenger.
This size range should fit just about the majority of the motorcycle riding population, male or female, and even children.
I recently read an interesting article about shoe sizes that said that both men's and women's shoe sizes were continuously increasing; believe it or not, it says that in the early 1900's, the average women's an unbelievably tiny 3.5 to 4.0!
And men's shoe sizes have increased from an average of 6.0 at the time of the American Revolutionary War to a current 9.5, according to the U.S. Army, who has been keeping records for that long.
So the size 41's (7.5) shown here are actually considered small from a woman's point of view. But when I looked at all of the Doha boots in the store, they are otherwise identical.
There is no specific women's version, so don't worry guys — just keep thinking it's a man's boot that coincidentally fits some women!
The sizing based on my pair seems to be fine, I have no problems although my feet are a bit narrow so I'm not sure about sizing for those with wider than normal feet.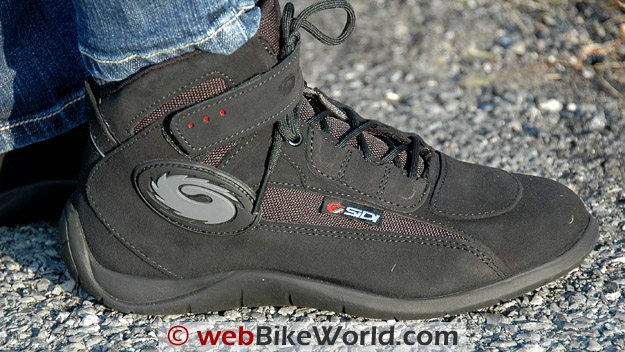 I think the photo above most nearly demonstrates the color of the Sidi Doha boots. They are what I would call charcoal black on top — not quite pure black, that is — and the soles are dark gray.
The reason I mention this is that we noticed in the photos that depending upon the lighting, the boots seem to change color, or shade, to be more correct.
As you can see in the other photos, the boots really do look like something of a hybrid between "cross terrain" hiking boots and motorcycle boots.
But I think most non-riders will not know they are made for motorcycling. I'm not sure whether that is important to you or not, but I thought I'd mention it.
Everyone who has seen these — both men and women — really like the looks of them. They're not too futuristic looking, as some boots can be, but they have enough style to make them look modern.
The leather is suede on top, which, I have to admit, can be hard to keep tidy. I have a little brush I use to keep off the dirt and dust.
I have also noticed that the shift pad has gotten worn since these photos were taken last fall. What happens is that the suede starts to get a shiny look to it as the "nap" wears down.
This doesn't affect the boots at all, just something to realize.
The boots are double-stitched around most of the leather sections, and there is a mesh panel along the inside that does allow fresh air to enter.
This can be felt especially when riding in cooler weather, so the Doha boots I think are actually a good summer or hot weather boot and not really designed for winter use.
They are also not waterproof at all but I thought I should mention it. The suede can be brushed after it gets wet to bring it back to normal, which the nature of suede.
Now that I think of it, I should have bought a can of that special spray that is designed for suede. I should have used it back when the boots were new, it coats the suede and helps make it both waterproof and more resistant to dirt.
So if you buy a pair of Doha boots, I'd suggest that you pay a visit to your local shoe store and buy a can.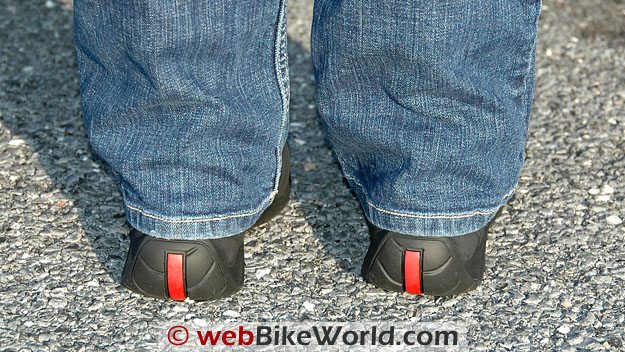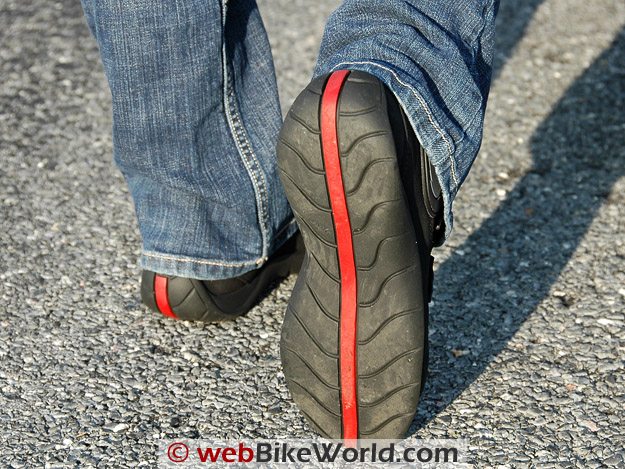 Protective Features
The Doha boots have a hard-feeling reinforced toe and heel cup. The boots also have the special Sidi inner sole that resists side-to-side compression.
Both the heel and toe caps and the reinforced sole are an important part of the protective or safety features, and they are what "makes a motorcycle boot a motorcycle boot" and not a street boot.
But these protective heel and toe caps are not as big or obvious as they are on pure motorcycle racing boots like the Sidi Vertigo Lei.
The less obvious design helps make the Doha boots look good on the street, and surely not everyone wants to wear big clunky (and hard to walk in) race boots on every ride.
The Doha boots do not have hard ankle cups under the leather on either side, which was a bit of a surprise to me, because other riding boots I have that are similar do have ankle protectors.
The only ankle protection in the Doha boots is the extra leather patch on the inside, and the rubber Sidi logo on the outside. I kind of wish they would have put a hard plastic ankle protector at least under the outside ankle.
The boots are hiking-boot tall, and a leather strap across the top helps protect the laces where they are tied so that they don't get caught on the shifter or brake.
The tops of the boots are cut downwards in the rear, which helps make them comfortable for walking.

Soles, Riding and Walking
The soles provide a good amount of grip, and the big heel in the back that turns upwards that you can see in the photos may also provide some protection.
The bottom of the soles does not have a cutout or a heel, which makes it easy to slide my feet around on the pegs if I need to, which is good.
But although I said the Doha boots are good for walking, remember that the are motorcycle boots and not hiking boots.
The sole does feel stiff and although the boots are comfortable, there isn't a lot of padding inside.
So they are much better for walking than big racing style boots but not like wearing sneakers.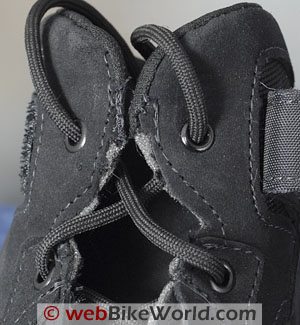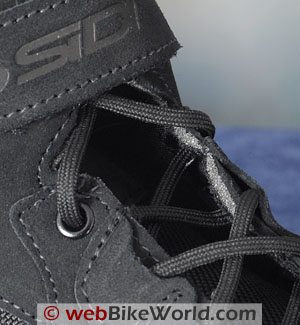 Quality and Construction
One thing I must mention is that this pair of boots is made very well and everything looks good except for one feature.
The leather around the top of the laces on either side looks like it wasn't long enough to cover the padding in between the layers of suede and the lining.
So you can see in the photos above that the foam liner material is sticking out.
This doesn't seem to have any affect on the performance, and it is mostly hidden with the strap is placed over the top, but it does seem like something is missing and the quality on this pair isn't quite what it should be — these boots have a retail price of $170.00, which is a bit on the expensive side.
So I'm not sure if it is just this pair or not — I didn't look for this on other Doha boots in the store when I was there. Sidi normally has a very good reputation for quality, so it is surprising that this pair passed through the inspection!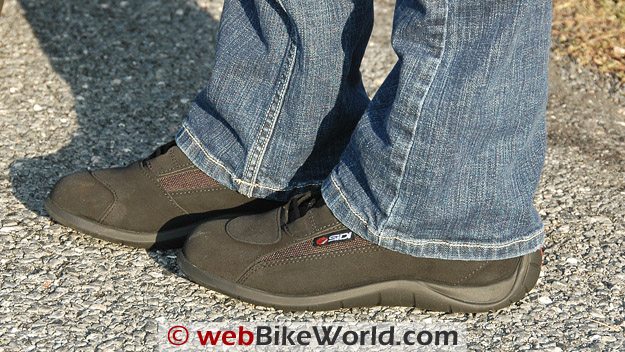 Othr Features
The Doha boots have a very thin strip of reflective material in the rear, just about at ankle height. I'm not sure this will do very much, as it becomes mostly hidden under the pants.
Also, one feature I forgot to mention is that the lower laces on these boots have leather covers over the holes. You can see this in the photos, this helps keep the laces from catching on anything on the bike.
The design of the boots and the strap across the front also makes it easy to slip on a pair of over-pants when wearing the boots.
Conclusion
The Sidi Doha boots are nice looking, comfortable and are perfect for anyone not wanting the big "moon boot" look. They're comfortable also for casual riding and for riding a scooter or even touring.
They're also good in warmer weather, or at least better than a heavy pair of all leather boots.
The mesh on the side does help give some ventilation to the Doha boots. I wear mine often and I really like them and I can highly recommend these boots for just about any type of riding.
w

BW

 Review: Sidi Doha Motorcycle Boots
Manufacturer: Sidi (Italy) U.S. Distributor:Motonation
List Price (2009): $170.00
Colors: Black/Dark Gray Sizes: 38 to 48 (5.5 to 13.0 US).
Made In: Romania
Sizes: M-3XL
Review Date: April 2009
Note:
 For informational use only. All material and photographs are Copyright © webWorld International, LLC since 2000. All rights reserved. See the webBikeWorld® 
Site Info page
. Product specifications, features and details may change or differ from our descriptions. Always check before purchasing. Read the
Terms and Conditions
!
Owner Comments and Feedback
---
From "K.H." (August 2013): "I've worn these for four or five riding seasons now, and they have become my de facto hot weather riding foot wear.
Yes, keeping your feet cooler usually involves compromises in protection, but these beat sneakers and any other non-motorcycle specific foot wear by a long-shot.
The ventilation is excellent and while they are lightweights, you can feel the stiffness around the sole, heel and toe boxes, and to a slightly lesser extent, in the ankle area.
While this makes them somewhat less comfortable to walk around the mall in than regular sneakers and street shoes, at least you get some confidence that these will do something to protect your feet and ankles in the event of a get-off.
As a bonus, they look good while doing so.
These seem to be well made and are durable and easy to clean. A damp rag and a suede brush once in a while will do the trick.
The next pair will get sprayed with suede protector to keep the nap a little nicer. Bear in mind that as these have suede and mesh uppers, therefore, all the Scotchguard in the world won't make them waterproof.
If you're looking for an even better buy in quality hot weather riding foot wear, consider the new cheaper, more comfortable but slightly less protective Sidi SDS New Yorker.
These are the first SiDi M/C boots to be made by "foreign" manufacturers using Sidi's design and Q/C oversight, hence the SDS (Sidi Design Series) moniker to differentiate products not made in one of SiDi's own manufacturing facilities.
I now use these for my RiderCoach duty teaching MSF classes instead of my trusty lightweight Bates Enforcers Tactical (cop) boots. They're very comfy for walking around the 135degF M/C range and allow for safe and proper riding and ATTGAT demo's for my students.
As an added endorsement, I have a spare new pair of Doha boots just in case, and am waiting for Motonation to restock New Yorker's so I can purchase a spare pair of those as well.
Note that while most of Sidi's products are made in Italy, even the non-SDS Doha is made in eastern Europe, while the SDS New Yorker is made in China.
Addenda:
The cool-looking red stripe going up the middle of the sole from tip to heel cup has apparently been deleted on current versions of the Doha.
The issues mentioned in the review body with the stitching/insulation on the upper part of the boot appears to be common and are evident on my two pairs, at least on the older red-stripe models. This may or may not have been addressed on the newer version.
FWIW, My Doha boots are made in Hungary.
The SDS New Yorkers additionally have a mesh tongue and vent/flow air even better than the Doha.
Like the Doha boots, I tend to wear the NY'ers as I'd wear a pair of sneakers. They look great with jeans and warm-up pants in a casual setting and nobody suspects that they are actually riding shoes/boots.
UPDATE (March 2014): A little update to my Sidi Doha Comments: The Sidi SDS New Yorker boots mentioned in my comments as a cheaper, less-protective version of the Doha's are apparently N/A.
They had an issue with construction/quality control and have replaced them with the new for 2014 SDS Gas shoes for an additional $17 increase (MSRP $117).
It seems that the nylon loops that hold the rounded laces beneath the surface of the front of the boot (as opposed to regular round eyelets on the Doha) can tear loose despite being glued and double-sewn between the upper opening leather trim and the trim beneath.
It happened on my pair, as well as many other's boots. They were replaced FOC (minus return shipping to them) by Motonation with the SDS Gas under warrantee.
It's a shame because the boot was great for the price: very stylish, comfortable, excellent ventilation, and decent protective features and reflectivity.
I wanted another pair as a spare, recommended them to friends (one of which got Doha boots because Motonation was OOS on the NY'ers) and I bought them for the GF as a birthday gift as well.
She (a regular tactical boot and Vega Women's Merge/Matrix boot wearer) loves them, as did I.
Her NY'ers have yet to fall apart.
Time will tell, but the Gas boots seem to bee an improvement in just about every way over the NY'ers, but still feel like the pricing structure belies: the younger, cheaper,  less-protective, albeit more modernly-styled, brother to the Doha."
---
From "B" (4/09):  "I would think that using the term, "Casual Motorcyclist" kinda defeats the purpose of educating the riding public the importance of wearing proper gear… ALL THE TIME.
It's the casual motorcyclist who usually ends up in a mangled wreck under or along side his ride. The weekend warrior is the one who should examine their riding patterns and gear up to the fullest extent possible. One, on the weekend the roads are more crowded.
Two, a person who only rides occasionally, as opposed to one who rides year around, will probably be less experienced and more prone to tip-overs and accidents.
Proper boots along with a helmet should be the very minimum protection. Ankles don't always heal back properly, and very slowly.
We have a saying around the shop… "If it's too much of a hassle to gear up then it's too short to ride."  That kinda reminds us, that taking a jaunt down the to corner store could be handled with other means of transportation.
I've seen it over and over again… "I always wear my gear/jacket (etc.) but I was just going down the street to get milk…" BAM. ATGATT = 'All The Gear, All The Time'"
Editor's Reply:  Thanks for the feedback. While I agree in theory, the reality is that way too many weekend riders wear nothing but T-shirts and sneakers, so in the spirit of "anything is 100% better than nothing", many would probably be better off with the Sidi Doha boots because they look more like "normal" boots.
Many riders and I'd bet many "casual" riders don't like the looks of, and won't spend money on more protective boots or race boots.
You and I (and most webBikeWorlders) are experienced riders and never leave home without full kit. Unfortunately, we're in the minority…."
---
From "A.R." (4/09):  "I love these shoes. While I have other boots from Sidi (Vertigo, Strada), I wear these as my everyday shoe to have at least some protection on my feet for those "I am just running to the store" rides that tempt many of us to push our luck on the gear.
I have managed a low-speed "gear test" with these on in which a fair bit of the bike's weight ended up on my foot.
The result was a very happy foot with no damage to to the Doha. I don't know how they would come out in a high- speed crash.
I also like them for jumping on my wife's Vespa without looking like a complete tool wearing Vertigos."
---
From "G.M." (4/09):  "We have two firsts with this review: This is the first time you have reviewed an item I already "own", and this is the first review with which I completely disagree.
Living in Hot-lanta, I am always looking for cooler options for my protective gear. I have been looking for a summer boot that would be cooler than my Alpinestars Ridge Waterproof boots, which I really like, but these boots ain't made for walking.
About a year ago, I purchased a pair of the Dohas. I did not realize that the Doha's are unisex boots, "not that there's anything WRONG with that".
Sure, after wearing them I got a little irritable every 28 days, but that alone would not have stopped me (credit of blame for that joke goes to Bill Cosby and his "Midol" routine of 100 years ago).
FFirst off, the boot did not appear to be sized properly. I wear a 10.5 "American" sizing, and the Doha 10.5 was either the wrong size, or just very, very uncomfortable. I returned them for a pair of 11's, but the problems were not solved.
They Dohas were sold with the claim they had "ankle protection", which they certainly do not. The round swirly looking disc shaped items on the outside of the shoe is located an inch or more below the projection we call our "ankle bone".
[The 14 ankle bones are the talus, calcaneus (heel bone), navicular, cuboid, internal cuneiform, middle cuneiform, and external cuneiform on each side – who knew?].
Those circular patches are for looks, not for protection.
In addition, since I wanted these shoe style boots so I could walk around when I arrived at my destination, the shoes needed to be comfortable, and they were not. In fact, these were the most uncomfortable shoes I ever put on my feet.
As the author pointed out, they have no cushioning inside, the inside of the shoe is a cavern waiting to abrade your tootsies. My feet moved around inside the shoes, both pair, and a little bit of walking went a long way toward foot abrasion and discomfort.
In addition, the leather of the shoe exterior was the most unyielding material I have ever encountered in a pair of shoes. It felt like I has put on a pair of hard plastic shoes.
They gave me no hint that they would ever break in, without first shearing off my ankle bones (ibid), and foot flesh.
I returned the shoes, received a full refund, and my search for dual purpose riding shoes continues. Just today, in fact, New Enough (a GREAT retailer with SUPER service) sent me an ad for Icon Tarmac vented boots, and it looks like they might be the end of my quest."