Sidi Coibuss Gloves Review Summary
Sidi Coibuss Gloves Image Gallery
Lightweight summer gloves for the hottest days are comfortable and well made. It seems like the glove reviews never end. I guess that's a good thing, right? The problem is that it seems like it was just yesterday that we finished a huge series of cold weather motorcycle glove reviews for 2008. And here we go again, half-way through 2009 and ready for more.
This time, we're starting off with some hot weather riding gloves. I'll have a follow-up on the new Sidi Design Series with their Sidi Power glove coming up next. Sidi is best known for their motorcycle boots, of course, but the company has also recently developed a line of motorcycle gloves, called the "Sidi Design Series" or S.D.S. I had to chuckle when I discovered that Sidi was using that particular TLA (Three Letter Acronym!).
Some of you may have clear enough memories of the '60's to remember that "SDS" was an acronym for the Students for a Democratic Society, an activist organization known also for one of its original leaders, Tom Hayden. I'll guess that those three letters and the times they represent are now long forgotten and there probably aren't many webBikeWorld readers who recall that particular bit of history, so don't worry Sidi — you're safe.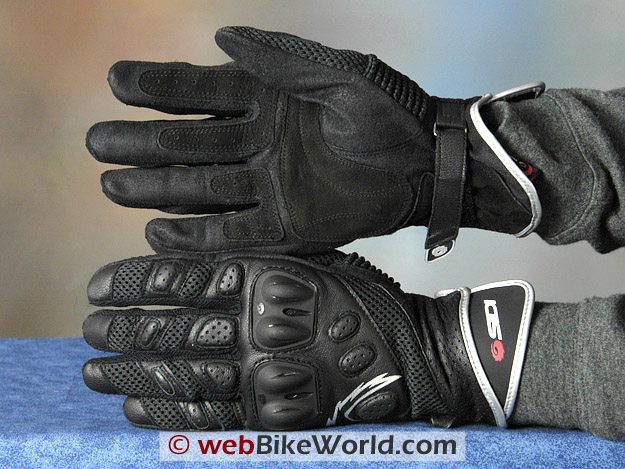 On thing's for sure though — big credits go to Sidi for being very upfront about the Sidi Design Series products.
They come right out and state that the Sidi Design Series "is a collection of products that are designed by Sidi's engineering/design team but are produced by outside suppliers".
They go on to say "Sidi prefers to keep it very clear as to what items are manufactured at its own factories and what items are sourced to outside suppliers.
In this way the integrity and value on the Sidi brand is maintained for all its clients and riders while at the same time providing the market some interesting new products from the new Sidi Design Series brand".
This is an honorable thing to do; much of the motorcycle gear available today is sold under a made-up brand name, and that's fine, but don't try to get me to believe there's some kind of long history behind a name that just appeared in the collective consciousness overnight.
I think this is also very important for a company like Sidi, that is well-known for making a focused, high-quality product; namely, their motorcycle boots.
There's a danger in becoming too diverse; not "sticking to your knitting", as they tell you in biz school. Apparently, Sidi will remain focused on motorcycle boots but will offer other types of related products under the S.D.S. label.
I'm not sure if or when Sidi will add anything other than gloves to the S.D.S. label, but I would think so — otherwise why call it a "Design Series"?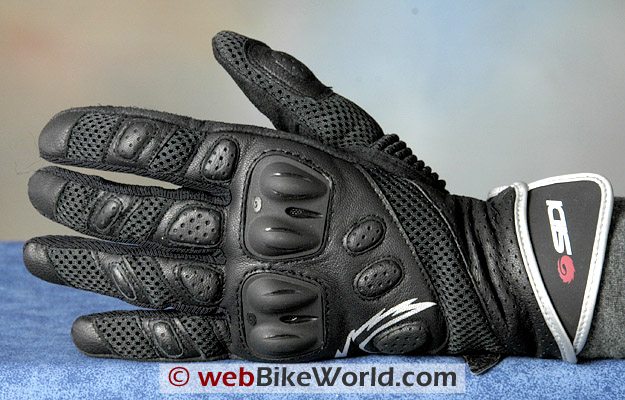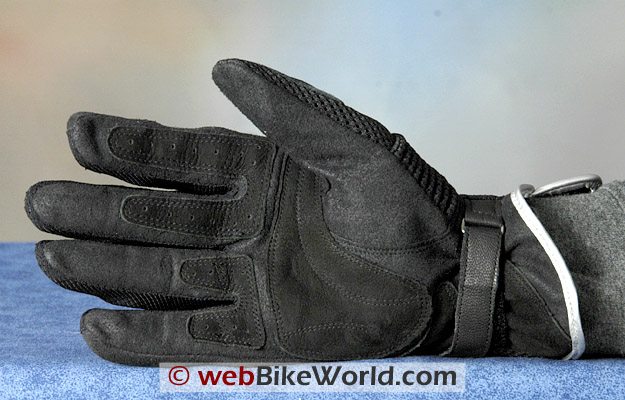 The Sidi Coibuss Gloves
As this is being written, there are four different pairs of gloves and a rain suit sold under the Sidi S.D.S. label. Since it's now summer, with hot weather the norm, I figured we'd start with the new Sidi Coibuss gloves.
Now I have absolutely no idea in the world where the name "Coibuss" came from. I searched around but came up empty. Perhaps some astute webBikeWorlder can tell us more?  (NOTE:  See comments from reader "P.P." below).
Let's start with the obvious: these are lightweight gloves that, I think, are pretty much designed for one crash only. But that's not necessarily a problem. I consider all of my gear to be single use (i.e., single crash).
If it serves its purpose as a one-time protector of my precious and ever-aging hide, then I'm ecstatic. I hang it on the wall (which is, fortunately, rather bare) as a memento of what could have been, buy another and move on.
Sidi says that the Coibuss gloves are made from goat leather and textile.
Goat leather is good stuff for motorcycle gloves and other protective gear because it's supposed to be lighter in weight and more abrasion resistant than cow hide.
Someday, maybe someone will prove this to me, but in the meantime, I'll take their word for it.
The palms of the Coibuss gloves are made from very soft goat skin, with extra goat leather on the wear areas over the palm and underside of the ball of the hand, and also on the back of the hand and over the fingers.
The double layers on the palm are double-stitched, and the rest of the glove along the textile and fingers appears to be single-stitched with blind seams on the fingers.
The goat leather extends all the way out to the fingertips underneath, and along the edge of the hand.
Again, it's all rather thin though, which is necessary to maintain the purpose of the Coibuss gloves, which serve as what I would consider to be minimal protection in the hottest of weather.
I'm not 100% sure what might happen in a serious slide wearing these gloves; let's just say that you won't be seeing Casey Stoner wearing them any time soon during a MotoGP race.
But here's the deal: when the weather gets really hot — or even worse, when it gets really hot and really humid, as it does here in our local Mid-Atlantic summers — it sometimes boils down to either not riding at all or riding with minimal layers of protection.
I'm not fond of wearing my de minimis gear, which consists mostly of the Bohn "Cool Air" armored undies, a pair of Rev'it Airvent mesh pants, low boots like the new Icon Tarmacs (sorry, Sidi!) and a mesh jacket like the Joe Rocket Phoenix or the Rev'it Air Jacket.
I'm more comfortable — psychologically comfortable — behind a nice, thick one-piece leather suit, full race gloves and boots.
But the problem with that is there are only about, oh, maybe 6 days in the entire year when the weather is right for wearing that much protection.
I absolutely will not ride without some type of protective gear, so back to the Coibuss gloves, which are designed for the hottest weather I care to ride in. They're comfortable and so far have proven to be just the ticket for riding in our hot and sticky weather.
Besides the goat leather and the double-stitched palms, the Coibuss gloves have a thermoplastic protector over the main knuckles.
This is apparently going to be a feature on other Sidi S.D.S. gloves, because the Sidi Power Gloves that are currently going through the webBikeWorld eval process use the same type of split protector.
It's a good design, because it helps ensure that the gloves are flexible at this critical flex point. I think this is extra important in gloves to be used in hot weather, because the extra flexibility is a bonus with sweaty hands.
The knuckle protectors have what seems like a generous supply of plastic to grind down if necessary, and the backs of the fingertips include some thin goat hide.
The middle knuckles also get a layer of goat hide, along with some thin padding that probably won't do very much — I'd rather have a couple of bits of the plastic used as knuckle protectors here too.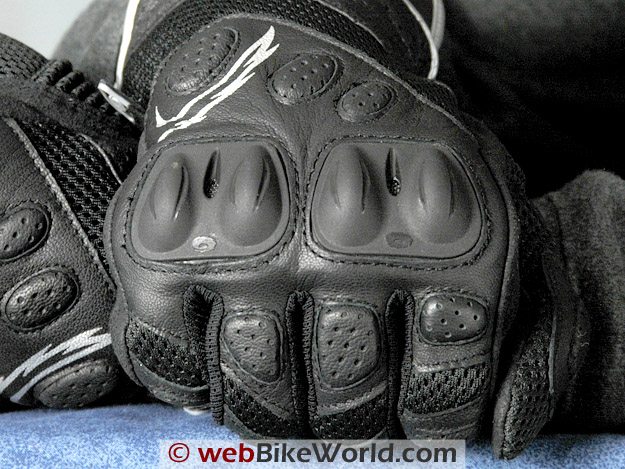 Update on the Sidi Coibuss Gloves
I originally thought there was a version of the Coibuss glove with a longer gauntlet, but this is not the case; all Coibuss gloves have the shorter style gauntlet as shown in these photos.
I have mixed feelings about the short gauntlet on the Coibuss — on one hand (pardon the pun), a short gauntlet works better in hot weather, but on the other hand, I find it sometimes difficult to wear a short gauntlet under some types of motorcycle jackets.
The gauntlet on the Coibuss has a bit of an unusual shape, with an angled slant to the cut, which give the gloves some extra style, but is a bit too short to fit under some sleeves, but not long enough to fit over the cuffs either.
This is a minor issue though, and overall, the Coibuss gloves feel comfortable and once they're on, I don't really notice the gauntlet/cuff interface very much.
The only attachment is via a hook-and-loop strap on the underside of the wrist, but the gloves are cut with a slightly narrow waist just before the wrist, so they actually fit very tight on my hands. The gloves can be slightly difficult to pull on over my hands, especially when my hands are sweaty.
But once the strap is cinched up tight, the Coibuss gloves are on for the long haul, which is a very good thing, because many summer gloves of this type can be pulled much too easily off the wrist.
It's crucial for the gloves to remain on the hands for protection during a crash, and the design of the Coibuss really works — which is slightly amazing actually, considering the simplicity of the design.
The gloves have good flexibility for riding and they're also good at transmitting feedback through the hand grips to the rider. Sidi doesn't say whether or not the material absorbs moisture, but there's enough air flowing through the gloves to evaporate sweat.
It's not like there's a breeze blowing through the fabric, but the gloves have enough mesh to allow the hands to remain comfortable.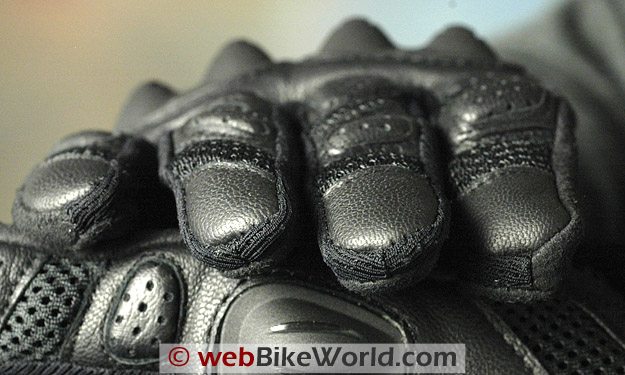 Conclusion
The Sidi Coibuss gloves aren't loaded with radical new features, but they're comfortable and they should provide a minimal — or more — amount of protection.
These gloves are designed for hot weather riding, so there are a few compromises made, but with gloves like these, there's no excuse to go glove-less when the temperatures rise.
The list price does seem a bit high, but the layers of goat hide and main knuckle protectors, along with the double-stitched palms set the Coibuss gloves a bit higher in the pecking order than many of the lesser known brands of mesh and leather hybrid gloves I've tried.
They're also backed by the Sidi brand name, which definitely gives some confidence.
w

BW

 Review: Sidi Coibuss Gloves
List Price (2009): $115.00
Made In: China
Colors: Black or Black/White.
Sizes: XS to 2XL
Review Date: June 2009
Note:
 For informational use only. All material and photographs are Copyright © webWorld International, LLC since 2000. All rights reserved. See the webBikeWorld® 
Site Info page
. Product specifications, features and details may change or differ from our descriptions. Always check before purchasing. Read the
Terms and Conditions
Owner Comments and Feedback
---
From "P.P." (6/09):  "As near as I can tell, "Coibuss" is a misspelling of the Latin word "coibus". "Coibus" is a contraction of "communibus" (Yes, the ancients sometimes used contractions).
According to this entry for "communibus annis", "common" here does not mean "ordinary", but "common to every situation"
Hence, I think that Sidi is trying to say that the Coibuss gloves are good for just about any kind of riding. Perhaps they are trying to say that hard-core Harley guys and sportbike squids are both allowed to buy the gloves.
Perhaps they think that these gloves will be good for all weather. At least I found your etymology."
---
From "K.H." (6/09):  "Thanks for posting a summer glove review. As you correctly noted, the tradeoff between comfort and protection is a serious decision, particularly when you see that most summer-weight gloves offer very little protection.
Wrist protection is an issue for me, because that's where I got hurt years ago. I will no longer wear gloves that can come off or that have a gauntlet that can fold-up off of the wrist in an accident.
The Sidi Coibuss has the wrist strap, so it won't come off, and it also has goatskin, which is more breathable, provides better feel, and I believe has higher abrasion resistance that cowhide. Overall, it's a big step up from the average summer glove.
Unfortunately, without better wrist protection, and particularly at that price, I can't get behind the Coibuss gloves.
I trust the Sidi brand, but I'd need to see the longer version that you saw brief mention of the product literature if I was to consider buying these gloves.
I couldn't find the longer Coibuss on the Sidi website, so I presume that it's not available.
So far, I'm still sold on the Spidi Air Vent gloves, which cost at least $30 more, but provide full protection as well as ventilation."