Sidi Canyon Boots Review Summary
Sidi Canyon Boots Image Gallery
The Sidi B2 boots are an all-around street and sportbike design that could also serve for casual track days.
Just about everyone looking for a new pair of motorcycle boots knows about Sidi.
The company has many different types and styles of motorcycle boots designed for any two-wheeled purpose that can be imagined.
The current Sidi boot lineup is divided into four categories: off-road, touring, sport and ladies.
A flowchart or a family tree diagram is probably needed to see all the different variations on one page, but the bottom line is that no matter what style motorcycle boot you're looking for, Sidi probably makes it.
Motorcycle boots may seem a bit expensive, especially compared to the flood of cheap street/work boots that can be found in any shoe outlet store.
But most of the less than $50.00 work boots I have purchased have worn out, worn through or fell apart much more quickly than I'd like. One of these days, I'm going to spring for a good pair of Red Wings and see if there's a difference.
That pair of Red Wings — and I have my eye on the 202's — have a list price of $171.00. That seems pretty high for what is basically a pair of work boots that at least don't look very much different than that cheap pair of 50-buck boots made in who-knows-where.
What I'm getting at here is that $200.00 to $250.00 really isn't that expensive for a really good pair of motorcycle boots that are designed to protect you in a way that is much different than street boots.
The Sidi B2 boots shown here are what I think have the best price/performance ratio in the Sidi sport boot selection.
This is the Sidi category that starts with the basic Strada Air (current list price of $220.00) and stretches all the way up to the $475.00 Sidi Vortice boots (review), which, by the way, is a good deal even at that price for what is surely one of the most protective motorcycle race boots in the world — and one of the most popular.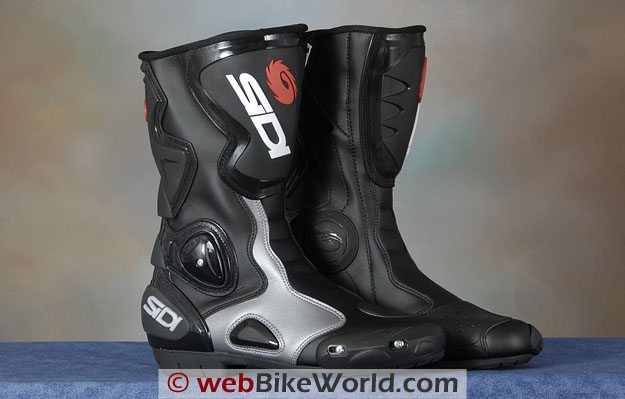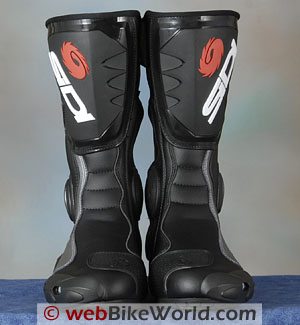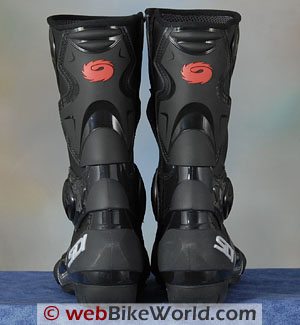 Sidi B2 Boots
At $235.00 (list), the B2 boots are only a small price jump from the Strada Air boots at $220.00, but they give you a few extra features that I believe are well worth the slight extra cost.
First of all, probably the most noticeable difference on the B2 boots is the large Achilles tendon protector in the rear. It doesn't fully articulate, but you can see in the photos that the rear of the boot has a type of "overlapping armor plate" protection that reminds me of an Armadillo.
The top section or top plate is sewn on to the boot separately from the bottom, and the plates or humps are designed to protect the tendons on the rear of the leg. When the leg is bent forward, the overlapping plates do have some slight flexibility, and the combination of the top and bottom plates are arranged to help protect this sensitive area. The Strada Air does not have this feature.
The Sidi B2 boots also have a small but hard plastic or polycarbonate abrasion protector on the outside of the foot. Looking down on to the top of the boot, this protector is in line with (i.e., protrudes out as far as) the replaceable toe cap wear protector and the heavy and hard heel cup protector along the outside. This gives a (virtually) continuous surface for wear and should give better wear and abrasion protection during a fall.
The B2 boots also have a replaceable toe slider (Sidi calls it a "toe scuff pad") on the B2. Sidi says it's made from nylon, which usually offers good sliding characteristics. I'm not sure if Sidi offers toe sliders for the B2 made from different materials, but at least it's replaceable. The B2 also has a replaceable outer ankle protector.
Other differences between the Strada Air and the B2 are more subtle. Both have shin protectors built in as the front flap that covers the zipper. They both have hard heel and toe cups, although the B2 heel cup seems thicker to me and also acts as a wear protector.
The B2 is made from Lorica, the synthetic leather used in many motorcycle boots. This is pretty good stuff that is nearly indistinguishable from the real thing and hopefully saves a few cow lives.
Both boots have elastic panels behind the zipper, and the B2 is easy to put on and take off.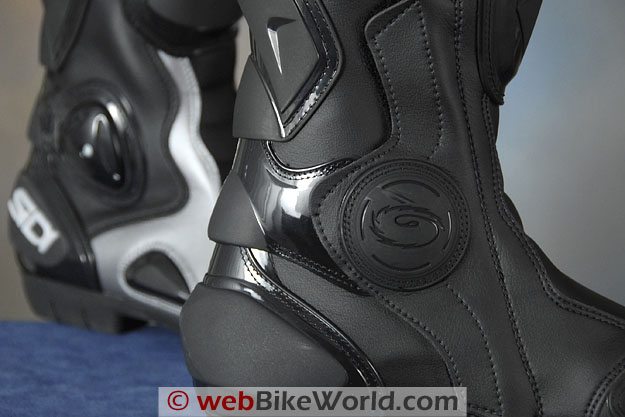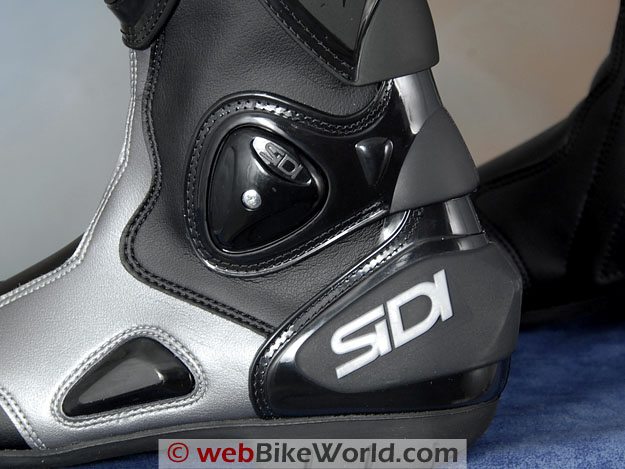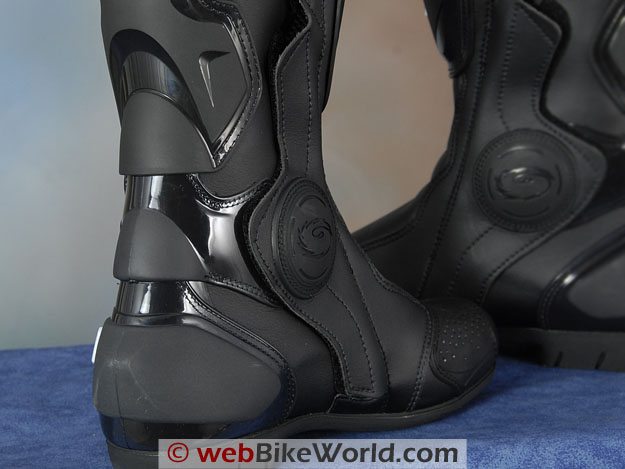 Sizing
The only reason I'm doing this review rather than Rick or one of the other regular evaluators is because I'm the only one who can fit the B2 boots shown here.
They are size 44 Euro, which is supposed to be equivalent to a 10.0 to 10.5 US, but Sidi may be using a different "last", or foot size standard, than on the Sidi Discovery boots reviewed reviewed in Part 1 of this series, and also different from the Sidi Vortice boots reviewed reviewed previously.
These feel slightly narrower and a bit shorter, so my opinion is that the B2 in size 44 fits more like a 9.5 to 10.0 US men's size. I have seen European to U.S. shoe size charts list a 44 as anything from a 10.0 to 11.0, so I suppose the size variations are normal.
The different last may have something to to with it also. Suffice it to say that the Discovery boots, which are also size 44, are too big for my size 10.0 US feet.
However, note that Sidi thankfully offers the B2 boots in a very wide size range, from a tiny 37 European (4.5 US) to a large size 50 European (14.5 US), which should please many customers who have been frustrated at the limited size range of some motorcycle boots.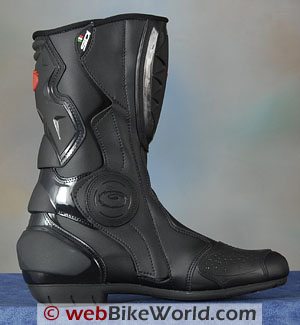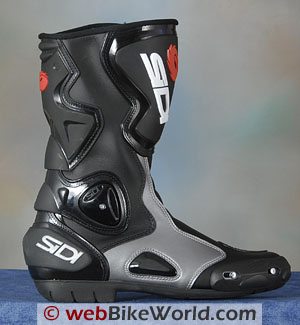 On the Road
It may be the Lorica used in the B2's, but they don't seem to break in as quickly or to as soft of a feel as other pure leather boots I've worn. On the other hand, I had an old pair of Dainese leather boots that got a little too broken in over time and felt like they were sagging. So the Lorica may help the B2 boots keep their shape.
I can easily (and favorably) compare the Sidi B2 boots to others we have had through the webBikeWorld evaluation process recently, including the TCX SS Performance 2 boots, to which I think the Sidi B2's are most closely related.
Sidi may disagree, but I think the B2's are biased slightly towards being built to a price, trying to hit the street/sport or sport touring or occasional track day rider. The B2 boots certainly don't feel as robust as the Sidi Vortice boots; but the Vortice boots are Sidi's top-of-the-line race boot offering.
But the B2's do seem to have more protective features where it counts than the TCX SS Performance 2 boots, albeit at a $35.00 price difference (last time I looked, the TCX boots had a list price of around $200.00).
Each Sidi B2 weighs 741 grams, or 1 lb., 10-1/8 oz., and they do feel a bit light, which may or may not be a good thing. They feel very similar to me to the TCX SS Performance 2 boots, but the B2 boots do have the Sidi name and the quality association that brings, along with what I think it heavier, or at least thicker and possibly higher quality armor and protective features.
Of course, I haven't crash-tested either or both pair in a comparison crash-off, so I can't say for sure!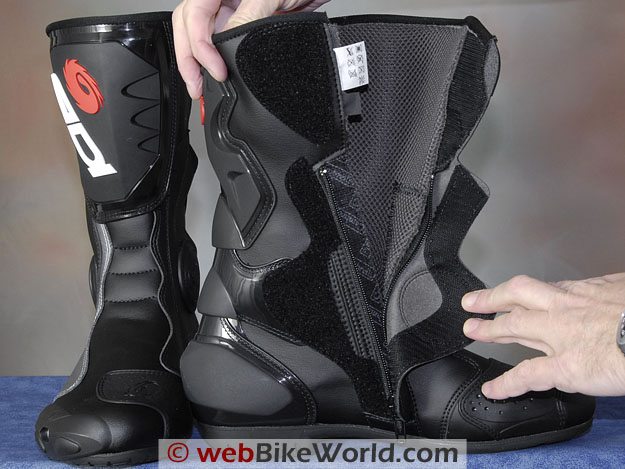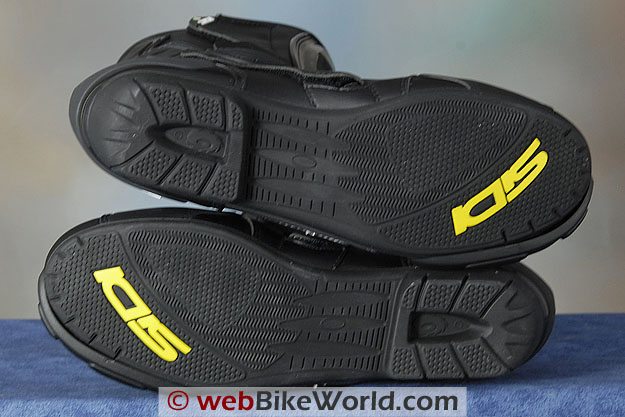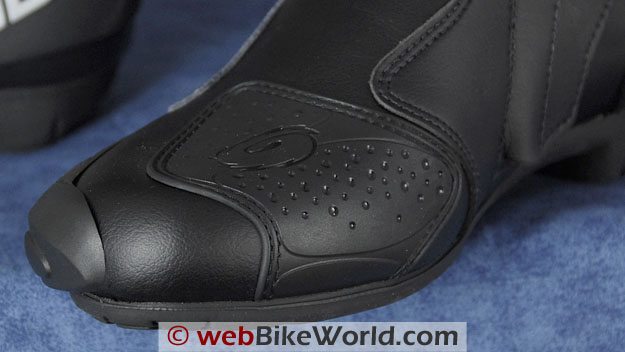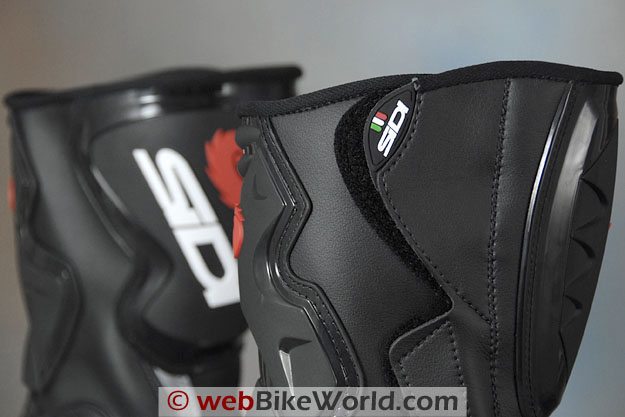 Other Features
One of the major differences, of course, between the Sidi Strada Air boots and the Sidi B2 boots is hinted in the name of the former.
The Strada Air boots have special "Kent Vents" along the outside that provide air flow into the boot. These seem to work very well on all Sidi boots I've tried. Of course, they pretty much eliminate any ability of the boot to remain waterproof.
The B2 boots are also not claimed to be waterproof, and they do not have the vents. You'd have to move up to the Sidi Vertigo Air boots in the sport boot category to find a sport/race boot with air vents, and those have a list price of $300.00, a significant difference.
In my experience however, even though the B2 boots are not claimed to be waterproof, they do keep my feet dry in moderate rain. How do I know this?  I got caught out twice recently in Spring weather rainstorms — certainly not the torrential summer downpour variety, but with enough water that I was surprised that the boots were able to defeat it.
Again, I'm not by any means saying the B2 boots are waterproof; just that they do seem to offer some water resistance in light rain for limited times, compared to other race-style boots that have air vents. Such are the tradeoffs of life!
The soles of the B2 boots are nice and sticky (after the initial break-in to wear off the mold release), which is important for backing up the bike when sitting on it, pushing the bike around or stopping on a slight rise. Slippery soles can really be annoying in these situations — and can even be dangerous.
Conclusion
The Sidi B2 boots offer good protection at levels higher than other boots that may be considered as more basic. They do this at what is also a reasonable price point.
I really wouldn't want to wear anything with much less protection than these, especially for a track day, and I'd probably feel more psychologically comfortable wearing the $300.00 Sidi Vertigo boots, but the Sidi B2 boots do offer a good price/performance ratio and are just right for street/sport riding.
w

BW

 Review: Sidi B2 Motorcycle Boots
Manufacturer: Sidi (Italy)
U.S. Distributor: Motonation
List Price (2009): $235.00
Colors: Black with silver trim.
Made In: Romania
Sizes: 37-50 (4.5-14.5 US)
Review Date: March 2009
Note: Item provided by a retailer, distributor or manufacturer with these Terms and Conditions.
Note:
 For informational use only. All material and photographs are Copyright © webWorld International, LLC since 2000. All rights reserved. See the webBikeWorld® 
Site Info page
. Product specifications, features and details may change or differ from our descriptions. Always check before purchasing. Read the
Terms and Conditions
!
Owner Comments and Feedback
---
From "N.C." (4/09): "Having read the article on the B2 boots I'd like to mention that Sidi do a Gore-Tex version of the B2 if you're worried about rain. I have just bought a pair of Evo black rain boots, I too had a little trouble with sizing though to be fair Sidi do half sizes.
Also if you find the size you are after but the boot is still a little tight, you can take out the inner foot bed as I found out on my black rain boots. Then after you have broke them in you could put the foot bed back in to take up the room again,"
---
From "M.G." (4/09): "An even easier fix on the Strada Air vent issue (see "D.M" below): just shoot a little silicone sealant into the Kent vent intakes during the foul weather and cold months, then pick/pull the plugs out for the summer. If you are careful enough picking them out , you can reuse the plugs once removed as they mold to shape, just throw them in your pocket (another 2 cent solution!)."
---
From "D.M." (3/09): "A loyal reader for a long time now, just finished reading the Sidi B2 review. You compare it to the Strada Air a couple of times so I thought that as an owner of the Air I can remark on a one thing,
The "Kent vents" in the winter have 2 effects – 1. feet get cold from the extra ventilation; 2. boot isn't waterproof.
Both issues can be fixed and make the boots winter resistant (not proof but good for most short showers): take a wide duct tape, wrap twice around boot so it will stick to itself and cover the vents and there you have it! A water resistant non-vented boot! Also, since the boot isn't leather no worries about it getting wet. Just my 0.02$"