Shoei X-11 Helmet Review Summary
Shoei X-11 Helmet Image Gallery
Does motorcycling benefit from science, or is it the other way around?
It seems pretty easy lately for manufacturers to apply 21st Century technology whenever they want to add the next generation of super-deluxe high-tech features and create the latest high-tech gear for our benefit.
The evolution of motorcycles, engines, tires, clothing and helmets over the last few years have been nothing short of remarkable.
It has all helped to make motorcycling so much more fun, comfortable and safe than in the not-too-distant past.
Anyone who's been around for more than a decade or so knows that it never used to be like this.
This Shoei X-Eleven helmet is a good example.
This product is the latest in an evolutionary line of headgear that showcases just about everything Shoei knows about motorcycle helmets.
It has so many features that I'm struggling to figure out how to describe them all.
But hey — anyone can throw a bunch of features on a helmet for marketing purposes.
The difference here is that they all work, and the features seem to be carefully designed to work with each other into an integrated helmet package.
The X-Eleven, which is also known as the X-Spirit in the U.K. and other markets outside the U.S.A., is Shoei's "top of the line" helmet.
The X-Eleven is a replacement for the old XSP-II, which was one of the most popular racing helmets around, and was much admired and loved by its owners and the press.
Let's run through Shoei's market-speak for the X-Eleven's feature set, and take a look at each of the features to see what they mean for the prospective owner.
The X-Eleven has a new shell that was designed specifically for this helmet. To save money, many helmet manufacturers mold only one or two shells to cover all of the available hat sizes from, say, XS to XXL.
This can mean that the smaller helmet sizes may have thicker foam and internals to fill the void, and the result is a helmet that looks out of proportion on the rider's head; the dreaded "space helmet" look.
Conversely, the larger helmet sizes that use a too-small shell may have less internal protection and thinner foam between the rider's noggin and the asphalt.
There's also more to it than that; many manufacturers spend little or no time conducting the engineering analysis on computer or in the wind tunnel for optimum shell aerodynamics.
Even if they do, there may be more variance in predicted vs. actual performance because it's more difficult to tune one or two shell sizes for aerodynamic efficiency over 6 or more hat sizes.
Shoei has resolved this problem by designing four separate shell sizes for the X-Eleven.
The smallest shell is used for the XXS, XS and S sizes; the medium shell is used for head size medium; the size large shell for head size large, and an extra-large shell size for XL and XXL.
This is remarkable and also expensive — there's a lot of extra cost involved in the design, manufacture, maintenance and the stocking of product with this many shell sizes.
But it helps to ensure that the owner will find an exact fit that will be very comfortable and function as advertised.
To save weight, Shoei uses a new "AIM+" (Advanced Integrated Matrix Plus) process for molding the shell.
This combines various high-tech and carbon fibers that help make the shell light in weight, yet still meet all the necessary safety requirements. I weighed the ride-ready, size XL X-Eleven at 1627 grams, or 3 pounds, 9-3/8 ounces.
This is fairly light for an out-of-the-box helmet, and the X-Eleven's weight is distributed in a way that makes it feel comfortable and not top-heavy.
By the way, in the U.S.A., the X-Eleven meets the DOT standard and Snell certification and it is also ACU Gold (competition approved) and EC 22.05 approved in Europe.
These are the toughest and most up-to-date motorcycle helmet safety standards in the world.
I normally take an off-the-shelf size large in most helmets. However, the size large X-Eleven was a perfect fit towards the top of my head, but it was too tight on my cheeks and temples.
I only noticed this after about 45 minutes or so of riding.
I exchanged the size large for an XL, which feels a tiny bit large on top, but is much more comfortable on the sides of my head.
I have a very round head — I call it an "earth" shape, because the widest part seems to be right above my ears, and I occasionally will encounter some difficulties in finding a comfortable helmet size.
We receive a large volume of emails regarding helmets at webBikeWorld.
So I've come to realize that many riders don't realize that each helmet make and model will fit differently.
It is crucial to try on a prospective helmet before purchasing it.
Try on the helmet and walk around the shop for as long as you can (or until they kick you out!), because you never know which one will work for you. Also try on one size larger and one size smaller for comparison.
We're fortunate at webBikeWorld to be able to try and compare all sorts of helmets in every price range, which helps to develop a personal database of knowledge and experience to quickly focus on what will work.
For example, we know that human heads are variations on three basic head shapes.
The so-called "long oval", the "round", and the "earth" shape.
Based on this knowledge, my opinion is that the X-Eleven is designed to be a cross between the "long oval" and "round" head shapes, which will cover probably about 85% of all riders.
On my "Earth" shaped head (kind of a "flat round" head shape), the sides feel slightly tight, so if you have a more normally shaped head that is not too narrow, you will probably be able to find an X-Eleven size that fits comfortably.
Comfort is one of the most important features (after safety, of course!) in a helmet.
The best and most protective helmet in the world may not be worn by its owner if it isn't comfortable.
And uncomfortable helmets will add stress to a ride, affecting the rider's ability to concentrate both during your two-hour ride to Grandma's house or at 200+ mph MotoGP speeds!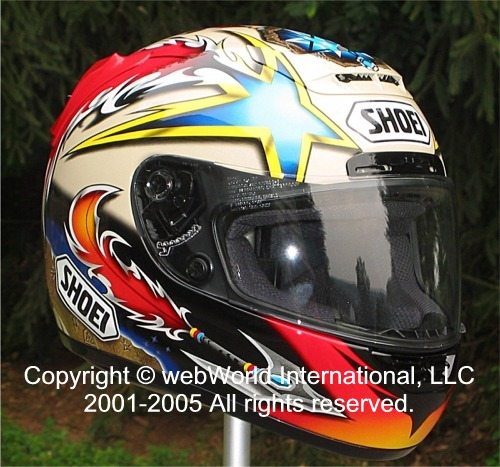 Air Flow and Venting
Shoei also spent a lot of time with computer simulation, in the wind tunnel, and with professional racers to develop the aerodynamics of the X-Eleven.
Aerodynamic design and engineering for motorcycle helmets is another benefit of modern technology.
The ultimate goal is a quiet helmet that slices through the air with no buffeting, no lifting, no backpressure and is not affected by crosswinds or when the rider's head is turned.
Good aerodynamics are also necessary to provide internal helmet airflow and venting. This means that there are several different (and somewhat competing) functions to account for.
For example, airflow through the helmet is necessary for rider comfort, but any hole, wing or appendage added to a helmet's surface can increase noise or buffeting.
It takes careful design to successfully combine all of these desired outcomes into a marketable package.
The X-Eleven evolves everything Shoei knows about combining all of these features.
This helmet flows a lot of air, but it's also very quiet. I'd say that of all the helmets we've experienced, the X-Eleven flows more air with less noise than any we've used so far.
At certain angles of attack, it's actually pretty amazing how quiet the helmet is.
Depending upon the design of the motorcycle's fairing or windscreen, there can be some buffeting around the lower edges of the helmet which can create a low frequency rumbling, but this is true of most helmets.
Remember that sound levels are relative, and I always wear earplugs when riding, but we're talking about a racing helmet that's designed to flow large amounts of air at high speeds, so there's going to be some wind noise.
Nevertheless, I've worn many street helmets with no air vents that aren't as quiet as the X-Eleven.
The X-Eleven also has several very effective mechanisms for delivering and venting air to the rider's head.
Starting in the front, the lower air intake on the chin bar can be opened or closed, and it works in delivering a good quantity of filtered air to the rider's lower face and mouth.
Many helmets have a chin bar air intake, but I've noticed more than a few models where the corresponding vents on the inside of the chin bar and/or exhaust vents either don't exist or are poorly designed.
So air tries to flow in, but doesn't really go anywhere.
The X-Eleven allows the air to enter through the chin bar vent.
Then it effectively directs it in several directions.
A stream of air is directed towards the rider's mouth via two longitudinal vents molded in the back of the chin bar.
The rest of the air is directed up through a wide channel with a six-way splitter that exist between the shell and the EPS and butts up against the inside of the visor.
There are two more vents, one on each side of the top of the chin bar (not visible in the left photo, but to the right and left of the vents indicated by the white arrow) to direct air onto the rider's cheeks.
These last two vents are located on the back side of the optional breath guard when it is installed.
The X-Eleven uses Shoei's "Hyper Dual Liner II" ventilation system.
This is a two-piece EPS liner that has channels molded in between the sections to direct the air that flows through the helmet out the back vents.
All of the air that flows into the helmet through the front is directed through vents along the top of the visor (yellow arrow in photo left) and flows through the X-Eleven's liner down to the top of the rider's head and is eventually vented out the back.
The helmet's ventilation system and aerodynamics are designed so that the vents in the back of the helmet produce negative air pressure, which helps pull air through the front of the helmet and exhaust out the back.
The X-Eleven's chin bar also incorporates Shoei's "Breath Chamber II" feature on the inside.
This is a recessed area in the back of the chin bar with a vent that uses negative air pressure to export the rider's breath before it can get to the inside of the visor, potentially reducing visor fogging.
The photo on the left was taken looking up into the Breath Chamber II from underneath the helmet.
The rider's breath is vented through the upper section of the chamber (yellow arrow) and exhausted through the channels on either side (white arrow), which point downwards when the helmet is on the rider's head.
The weather is currently too warm to note the effectiveness of this feature, but I'll report back on its functionality when it becomes cooler.
Shoei also includes a removable breath guard that fits into the chin bar to help decrease visor fogging.
But wait — there's more! All of this airflow still wouldn't do much without a route for the air to escape out the helmet.
You've probably noticed that many helmets recently incorporate various protuberances, wings, channels and other assorted devices that are supposed to help flow air over the helmet and create negative air pressure to pull air out of the helmet.
But some helmets look like the manufacturer glued on a few of these devices more for show than go. The X-Eleven's shell was designed from the start for Shoei's "Dual Air Charge" system and rear "Aero Edge Spoiler".
The next set of four photos illustrates how this system works.
Air is directed through the "Air Scoop II" at the top of the helmet (photo below, left).
There are two vents that can be opened at the front lip of the Air Scoop II; these vents allow air into the channels molded in the EPS liner, which creates a positive pressure flow through the helmet.
The Air Scoop II has been wind-tunnel designed to then flow laminar air over the top of the helmet, and direct it over the Aero Edge Spoiler in the rear (second set of photographs below).
As the air is pulled over the rear, it is directed past a pair of aerodynamically designed vents on the top of the spoiler, which creates the negative pressure that helps pull the air through the system.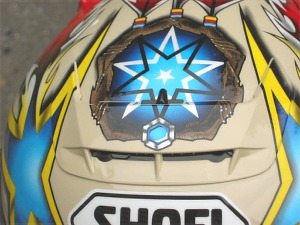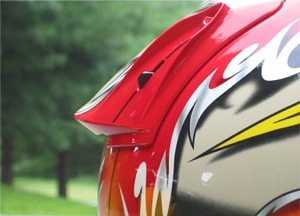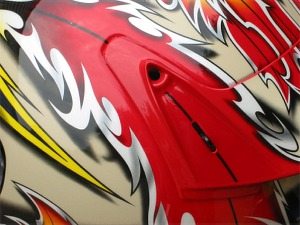 The spoiler is recessed into the top of the X-Eleven's shell, rather than simply glued on as an afterthought. The vents can be opened or closed.
The "3D" lining in the X-11 can be completely removed in various sections, i.e., center top pad, cheek pads and chin strap covers) for cleaning, and can be custom fitted by mixing and matching the various pieces.
The chin strap uses the tried-and-true "D" ring system.
There's a small plastic clip fitted to the end of the chin strap that can be snapped on to the flat edge of the metal D ring to secure the strap end, but it's a bit fussy to get this connected when you can't see it after the helmet is on.
A simple button snap would probably be easier to use, but at least there's a way to control the "flying chin strap" syndrome.
The X-Eleven CX-1V visor was specifically designed for this model, and does not use side covers.
The absence of separate side covers helps the air to flow more smoothly over the sides of the helmet to eliminate the noise that can be caused by the covers.
The visor has some nice, positive detents that allow 7 different opening positions.
The X-Eleven also has a unique feature — the QRV lever (yellow arrow, photo left), which can be moved through three positions.
Flipping the lever up locks the visor in place, to prevent it from coming open at supra-legal track speeds. The middle position (shown) allows the visor to be opened to any of its 7 settings.
Flipping the lever down cracks the visor open just a touch to allow defogging of the inside.
The amount of opening for this last setting can be adjusted.
The instruction booklet, although helpful, isn't too clear on how this is accomplished, but it can be adjusted by turning the Phillips head screw seen in the photo just above the lever.
Conclusion
Shoei has conducted studies that show that the X-Eleven can keep a rider's head much cooler than the XSP-II, which was lauded for its efficiency.
Air flow is very important for rider comfort, especially in the summer months when most street riding takes place.
While many helmets on the market appear to have various devices to flow air, very few are really successful.
The X-Eleven lives up to its claims by providing a prodigious volume of air in all the right places, while doing so at low noise levels that rival the leaders in this area.
In fact, that's probably the most outstanding aspect of the X-Eleven — that it can flow so much air with such (relatively) low noise levels. Some serious thought and experience went into this design.
The quality of the levers and features on the X-Eleven is also first-rate; each lever's movement has a precise feel and I'm betting there will be no problems with any of these devices over the long haul.
The liner is nicely designed and is very  comfortable, and the individual liner parts can be replaced to provide a custom fit.
The external finish of the X-Eleven is also flawless.
The scheme shown in these photos is the Norick Abe design, which is a real eye-popper, and everyone who has seen it has commented on how great it looks.
You'd have to pay big, big money to get a custom painted design like this on a solid colored helmet, so I say it's definitely worth the extra hundred bucks or so to get either the Norick Abe or Tohru Ukawa designs.
Or how about getting a Daijiro Kato replica to honor the late, great hero?
No question that the X-Eleven is relatively expensive. But as the saying goes, if you have a cheap brain, buy a cheap helmet!  If you can only own one really nice, really high-quality helmet in his or her lifetime, this is the one!
w

BW

 Review: Shoei X-11 Motorcycle Helmet
Manufacturer: Shoei Helmets
List Price (2004):  $559.99 – $659.99
Colors:  Varied; replicas change by year.
Made In: Japan
Review Date: 2004
Note:
 For informational use only. All material and photographs are Copyright © webWorld International, LLC since 2000. All rights reserved. See the webBikeWorld® 
Site Info page
. Product specifications, features and details may change or differ from our descriptions. Always check before purchasing. Read the
Terms and Conditions
!
Owner Comments and Feedback
---
From "J.G." (November 2010):  "I am so tired of the gripes regarding the noise level of race helmets. They are RACE helmets !!
So, they are built for very high speed and high airflow for 20 to 40 minutes at a time. They are designed to work behind a fully faired race bike with a race designed windscreen.
They don't race (bikes without fairings, cruisers or sport – touring bikes in WSB or Moto GP…. And every racer wears the best ear protection money can buy.
It would be like buying any top – shelf boot ( like the SIDI Vortice, or Alpinestars S-MX Plus ) and saying that they get uncomfortable after walking more than an hour, they are not designed for walking in !!
But, I hear people complain of this " problem" !?
Please buy the right tool for the job, instead of blaming the manufacturers for producing products which are excellent in their intended area of use… I hope this gets posted.
Oh, I have been rear – ended while wearing an RF-1000 and currently own an X-11 Kayagama replica and the aforementioned Alpinestars boots, both of which do a fine job while I am on my sportbike – on a curvy mountain road.
Wearing earplugs. Behind a properly designed sportbike windscreen."
Editor's Reply: While called "racing" helmets, these are really meant for the street, which is where 99% of them will be used. And besides, racers don't like noise any more than street riders do.
In fact, they have to be very careful about noise levels because they're exposed to high noise levels more often than street riders.
So yes, noise does matter and it is possible to get good ventilation with low noise levels.
---
From "K" (July 2010):  "I've had my X-11 for at least 2 years now, and have worn it on several 3,000 mile trips.
Absolutely love the helmet except for one thing:  When the face shield is down, the inside of the helmet makes a whoompety, whoomp noise. When the face shield is UP, the noise disappears.
In fact, when the shield is up only one or two notches, the noise disappears. But that puts the bottom of the shield right in my line of sight. So, it's usually fully up or down for me.
This noise may be a result of the air blowing over the top of the windshield of my HD Ultra Classic. If I tilt my head down, the noise is much lessened; but that gets very uncomfortable quickly.
If I duck down completely behind the windshield, it's very quiet (as one would expect).
But in the normal riding position with the shield down to protect my eyes, the whoompety whoomp noise gets very annoying and tiring.
I end up alternating between unprotected eyes with the shield up and alternately with the shield down.
With experimentation, I did discover that if I place my index finger approximately over the SHOEI logo on the front of the helmet, the whoompety whoomp noise disappears.
I may look strange with my index-finger-salute, but it sure makes the ride more comfortable.
I wish to experiment with some kind of deflector stuck onto the helmet in approximately this position; or maybe a deflector affixed to the top of the face shield. Maybe someone else has already done that and has a product for sale.
Otherwise, the helmet is much lighter than my SCHUBERTH modular (which is why I changed). It also allows the installation of a helmet headset which the SCHUBERTH does not. (the other reason I changed).
The face shield is so optically correct that at low speeds, I have to touch it to see if it's down or up. Of course, at highway speeds, the whoompety whoomp noise lets me know that it's down. 😀
There's such good ventilation that when 40 degrees or below, one must close some of the vents. It just gets too cool for comfort with 'em all open.
I've gotten used to the D-ring strap and retainer system; rarely pull the strap all the way through. Wish it was but an inch longer, though. Would make it easier to get the helmet ON. OFF is not a problem."
---
From "W.A.M." (September 2009):  "I have the exact same helmet you reviewed, including the fantastic Norick Abe color scheme. RIP Norifumi.
I was moving from a Suomy Vandal (review) to the X-11 based on all of the rave reviews about the aerodynamic stability and the tons of air that the X-11 moves internally. Sound wasn't a big decider either way to me, as i wear ear-plugs.
Net: in my experience, considering it's Premium Status and Pricing at the top of the Shoei product-line, the X-11 has been a bit disappointing and I'm going back to the Vandal.
Surprisingly the big thing is that the X-11 doesn't flow as much air as the Vandal.
The main area lacking air-flow on the X-11 is the mouth-port. Driving along, I get plenty of air across the top of my head, but the air coming thru the mouth port is barely a trickle.
And in practice, on a moderately warm/hot day (mid/upper 70s and sunny) my face is constantly right at the "sweat-point"…if I have to slow for traffic, sweat immediately starts pouring from my face and I'm drenched along with my cheek pads.
All the X-11 exhaust vents are wide open to maximize the extraction effect, as well. I emailed the Shoei customer service and they said "make sure the exhaust vents are open, and the chin curtain is removed".
I was surprised at the latter, as I have the same Shoei chin-curtain retrofitted to my Vandal and have no problems w/ air extraction.
I did notice a fair bit of air blowing across my forehead and top of my head in the X-11, definitely more than the Vandal manages with the tiny upper-vent buttons it has, but it seemed superfluous.
I have a balding pate and have never had a problem w/ the top of my head being too hot w/ the Vandal so those buttons do move enough air.
Really it's amazing to me that the airflow coming thru the X-11 mouth port is barely a trickle. In order to get equivalent airflow I get with the Vandal just riding around town, I need to be going like +80mph w/ the X-11!
Otherwise, the X-11 seems slightly quieter than the Vandal.
I'd say the operation of the X-11 visor is perhaps slightly better than the Vandal, but both are very good. I did notice that the face-port of the X-11 is lower relative to my eyes than the Vandal.
When I put the X-11 on, I immediately noticed better peripheral view straight down and down laterally (which helps around parking lots and the like).
And the upper-edge rides lower blocking excess sunlight (making the add-on tinted visor I fit to the Vandal unneeded on the X-11). Aerodynamically, the X-11 has less lift when doing a lane-check than the Vandal.
Thx for all the great reviews!"
---
From "M.J." (9/09):  "This is my 3rd Shoei helmet. I liked the first two so much that I decided I'd opt for the top of the line X-11.
The finish of the helmet is superb. Fit and comfort are also excellent. I love the ventilation, except for the fact that my helmet whistles.
It drive me nuts. It sounds like an ever present bird, chirp, chirp, chirp, chirp, chirp, chirp, chirp, chirp, chirp!  It never stops. I try holding my head just so to minimize it, but that gets uncomfortable.
I can't believe I spent this much money for a helmet that drives me crazy. I'm very unhappy with it."
Editor's Reply:  I guess I'm not surprised; it's 2009 and the X-11 is now a very old design. I'd guess the "chirping" sounds are coming from air blowing over and around the vents.
It seems that more modern helmet designs have mostly overcome this "wind blowing over the Coke bottle" effect that used to be a real problem and was the major cause of noise a few years ago.
We've noticed lately that air vent wind noise is pretty much a thing of the past with modern helmet designs, but the manufacturers still have to work on the low-frequency booming noises that are generated around the bottom of the helmet.
---
From "M.P.":  "Hey there, great reviews!  Another South Carolina rider here, I decided to chime in on the Shoei X-11. I ride a Triumph Tiger as daily transportation and my new X-11 is the best helmet I've had.
And I've had quite a few models from several brands throughout the years.
Ventilation is important here. The X-11 delivers more airflow than any I've tried and is pretty quiet comparatively speaking. My last Shoei (RF-1000) is a little quieter, but they tell you that.
The X-11 is a race ready helmet, extremely light weight, with lots of air flow. I got mine at Cycle Gear, and it is very important to be able to try on so many different styles and sizes.
Not to mention be able to talk face to face with people that know what they're selling. Even if you think you know it all, they look at a lot more gear than most of us do. And they may just have some input or info you might not have thought about.
Pluses:  First and foremost is all the testing and certification Shoei puts their products through. I have no doubts about their safety.
This thing weighs almost nothing. It's aerodynamic like no other to 110mph, without buffeting, without lift or downward push at the rear, and negligible drag.
I also got a tinted shield and it's extremely quick and easy to swap out when the sun sets. The venting options/variations, as well as the breath guard are great.
I do ride in the rain and I haven't had it leak yet as I saw one reviewer had, but I haven't been caught out in a heavy downpour yet either.
The little lever on the side for propping the visor just a slit is great. It clears a fog almost immediately from a stop, and doesn't freeze the eyes in cold weather.
In the summer, it allows a perfect amount of extra flow without blocking the forehead vent.
Another big plus is that I wear glasses, and it seems to have slots for them that don't move them around on my face as I turn my head.
The fit (on my head) of Shoei helmets in general seems just right for me, this one is the most comfortable yet, especially after riding hard in the mountains, and on long trips.
Overall fit and finish of the helmet itself is incomparable to anything else I've owned, borrowed, or seen. If you're into getting comments or compliments, it's certainly a conversation piece.
Negatives:  I found the same as another comment I read about the chin strap. I still can't tell if it's just in a different location, or the padding is inadequate for my neck, but I will be making a padded sleeve to fit over it as soon as I find appropriate material.
If anyone from Shoei reads this, please address this issue.
At temps below freezing, I wear a helmet liner. Not so much a negative I suppose as it is a testament to its ventilation. With all the vents closed, there's all the channeling in the padding and shell that allows air to move.
So put that one in the plus category if you live down here, or take it how you will. If you're NOT into getting comments or compliments (like me), it's certainly a conversation piece."
---
From "J.S.":  "I just wanted to say thank you to you good people for the helmet database you have put together.
I just purchased a Shoei X-11 "Byrne Replica" and I have to say that not only is your review on that particular helmet spot on, so is the review on my old helmet.
My AGV Ti-tech was a pain in the head (literally). I had bought it not even realizing that people have different heads and I have anything but a "round" head.
Or maybe I did realize it and just didn't put any thought into it besides the "OH WOW" factor. I also thought the AGV flowed alot of air (compared to my old HJC), boy was I wrong.
The difference between the Shoei and the AGV is Like night and day. In defence however, the AGV is a well crafted helmet, just not for me. In ending, I am very happy with my new helmet and owe you a great many thanks."
---
From "F.":  "I am a daily commuter and log anywhere between 15K to 20 K per year.
The last several years I have been wearing modular helmets and I have owned a Shoei Syncrotech, a Vega Modular helmet (only last 6 months due to loozy fit and finish), an HJC Modular helmet and 2 Nolan modular helmets (the first one was okay, the second one was poorly made and replaced after 18 months).
I usually replace my helmets every 4 to 5 years mostly because of the weight savings that has been out there.
This spring I was due for a new helmet and wanted more protection and since I finally stopped smoking was considering a full face helmet.
I have gotten used to the added wind and ventilation in modular helmets and in South Carolina it is "HOT" in the summer. After reading reviews, I finally broke down and spend the money on a Shoei X-11.
What a helmet!!  Its ventilation is bar none the best in my experience.
Around 50 degrees I have to close the vents down, because my head gets cold. In the Carolina heat I find that the helmet works better than any of my modular/flip helmets. That has never happened before.
The fit and finish is what I expected from Shoei (first class) and I have not been disappointed.
I did buy the helmet at (a retailer) which had a sale, plus an additional 10% off if you used their credit card, which made the purchase bearable.
In addition, they gave me a 30 day, money back guarantee if I was not happy. Having not had a full face helmet for the last 15 years this was an important buying factor for me.
I have decided that my head is worth it and although I never hope to find out it's crash capabilities, I already know that I will replace this helmet with the same one. Job well done!!"
---
From "L.S.":  "I purchased my X-11 last March for this past summer.
My first observations was the helmet was fitting perfectly and did felt very light and comfortable. However at speed above 30mph the helmet was whistling.
It was very annoying, especially when you pay that kind of money.
I went back to the dealer to see what options were available. They tried a new visor and made some adjustments with the screws that hold the visor in place.
Then the Shoei rep when for a ride and said that everything was normal or OK. Well, from my view point at that price it was not OK.
After talking and negotiating with the dealer (not Shoei because the Shoei response was "You have to return the helmet to customer service for evaluation").
Anyway the dealer did order another X-11 and that one was 100% better. Long story short, next time I will try and then buy. Like a pair of shoes."
---
From "E.Z.":  "After reading the reviews of several helmets you had listed I went ahead and bought the X-11. I rode just about 4 months on it, and earlier this week (July 2007) I crashed and hit my head very hard.
There was a small rock slide and my bike came out and it sent me crashing to my left side, hitting my knee, hip, shoulder and finally bouncing my head off the ground. I never passed out and remember the whole thing.
I am fairly convinced this helmet saved my life and I hit hard enough to crack the foam on the inside.
Thanks for adding all the safety certifications on your review as I am alive and pretty much ok to talk about it… (H)ere is a picture of the exterior and although its not great it definitely shows the impact.
That is what was so scary, I have been down a few times before but this time my head literally slammed into the road hard and the doctor called me yesterday to tell me that had I not had a pretty well built frame, my neck would have broken without a doubt."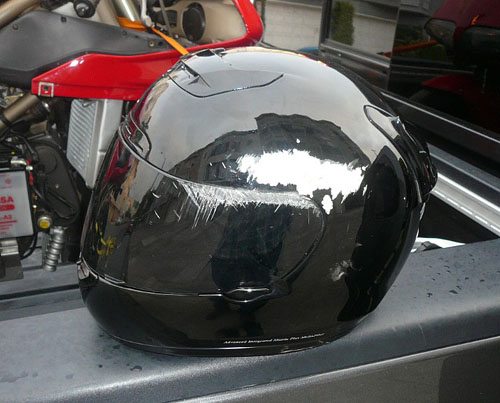 ---
From "D.C.":  (Editor's Note: see the wBW Arai Quantum II review). "After digesting your review on my Arai Quantum… I had to pipe in with my two cents.
I've gone through quite a few helmets in the past few years, all because of fitment issues, that would appear after a couple of hours.
I had what is called the classic Arai head. No matter what I'd get a hotspot on my forehead. That is until I got a Quantum a year + ago.
I was much quieter than the (then) current KBC VR-1 and the Racer-1 I got to replace it.
And it was comfortable as heck. I will admit I got a '02 closeout model for cheap. After owning that helmet, I knew I couldn't go back to owning a "cheap" helmet… that didn't fit.
All the point you mentioned (i.e. the tiny buttons for opening/closing the venting) were spot on, although I must say that I got used to them… and could open/close the vents even with my winter gloves on, no problem.
Although the visor change was cumbersome the first three or four times I used it, I now can change shields in seconds… it really is a great system once you know how to do it.
My first helmet was a RF-700, and being a n00b I didn't quiet understand the difference in hotspot and "tight" fit. So as soon as I could afford it, I got a VR-1 which while better fitting than the RF-700 I did develop a hot spot after a while.
Which lead to the Racer-1… than to an Arai =Signet (old warehouse find) and then to my Quantum.
I was able to try on a Shoei X-11 at the IMS recently and couldn't believe it fit.
I was so used to the RF shape that I could believe it fit so well. I stood there with the helmet on for half an hour waiting for the pressing pain to start… to no avail.
So recently I purchased a Bostrom X-11 and have ridden with it for the past week, switching back and forth between it and the Quantum a few times.
I thought I'd share, because basically they are in the same price range, although it would be better to contrast the X-11 with a newer RX-7… but I don't own one of those.
First thing… the noise is gone!  I can't believe the difference between the Quantum and the Shoei. With my earplugs in, it's taken a couple of days for me to really "hear" the wind noise, in the Shoei.
The Quantum is now a bit uncomfortable to "listen" to. And I fully agree with your thoughts on the visor retention system contributing to the noise.
Fit and finish: Arai replicas are really starting to look old.. with worn out graphics (admittedly for those who use solids this isn't a concern). My quantum is an Okada rep, and it's now pretty ugly to look at.
The Shoei is a real nice piece of work. Hands down a better looking helmet, by far… which is true for the RF-1000 and X-11 lines. I can't say the same for the Quantum II's or the Corsair lines from Arai.
Toggles and vent switches by far are easier to use. Love them… no doubt when I have actually opened or closed a vent.
Shield: this one I have to give to Arai, I feel the ability to open my visor a fraction of an inch for venting is a extremely nice feature… the smallest opening on the Shoei blows air straight into my eyes.
Optical quality of the Arai shield seems much better quality in both the clear and iridium shields I own.
I've had the Quantum for over a year, so it's actually easier for me to change shields on it, than on the Shoei but I'm hoping that'll just take time.
And the Visor lock on the Arai is just faster to use… not that I ever ride at speeds where I need/use it.
Extra bits: The pull down chin air block was a nifty feature when I bought the helmet.
But truth be told I never really used it, it was problematic when trying to pull it down while in motion or with winter gloves, I would more likely than not, just move my helmet around.
I feel the chin curtain on the Shoei works much better and is unobtrusive while putting/taking off the helmet… unlike the chin block on the Arai.
Of course I just may be suffering from recent convert status… but by and far I'm loving the X-11."
Editor's Reply: Note that the Arai Quantum and the Shoei X-11 have completely different and opposite internal shapes. The Quantum is round, while the Shoei is narrow. This can account for a lot of differences.
---
From "S.":  "Firstly I would like to say I am the proud owner of my Kato X-11 helmet. I always believe that there is no perfect helmet in the world.
However in comparison of the number of helmets that I wore before, this X-11 should be one of the best that I ever wear.
A bit of my history, I live in Singapore and I ride a Yamaha R1'01 and I previously have wore 2 Arai helmets. My first Arai I have forgotten the model. However the other one is a Signet.
A few points which I want to praise the helmet is that it's very comfortable when I wear it. The material used on the X-11 is far much better that those used in Arai.
And also the cheek pad is longer so that I would feel more secured. The lightness of X-11 in comparison with the Arai. X-11 slightly heavier.
However if you would like to compare with other Shoei helmets like X8R, wow.. that's a lot of improvement!  Next is the noise level. Compared with Arai, X-11 I should say is much quieter that the Arai.
Well from my own opinion, I personally feel much warmer when wearing the X-11. But I think that's ok.. just go faster!
After all the points, one point which I am really not satisfied with this helmet is that water will seep in when it rains. Even when you close all the vents!
I should say that among all the helmet that I have wore, this is that first helmet that I ever experience 'raining' inside my helmet. I think this should not be happening on such kind of high-end helmet.
Right now I am still looking for ways to stop the seeping in.
In conclusion, I still find that it's a very good helmet. The paint work which is very nice. It's also resistance to certain amount of knocking.
Unlike the Arai which the paint will chip off. The mounting of the spoiler is also very strong and the 'earless' mounting of visor makes me love the Shoei so much.
Just to let you know that if you still want me to choose, I will still choose the X-11. And it's cheaper than Arai."
---
From "S.A." :  "After reading your review on the X-eleven, I decided to purchase this helmet, and what a mistake that was.
You made mention several times about how quiet this helmet is, but let me tell you the truth, this helmet is very very noisy and I regret buying this overpriced latest tech helmet.
I ride a naked so I expect some extra noise but not this much, I respect peoples views but I think you should include a second opinion because your view favors Shoei, if you get my drift."
Editor's Response: We still think the X-11 is relatively quiet, but as we mentioned in the review, we always wear ear plugs and we recommend always wearing ear plugs with any helmet when riding.
The X-11 is Shoei's race helmet, and is optimized for airflow at race speeds rather than low noise levels.
Nevertheless, when compared to many other helmets we have tried, we find the X-11 to be quieter than several other racing helmets and some street helmets as well.
---
From "K.V.":  "I have been very impressed with the quality of the Shoei! I have further enjoyed the fit and comfort while riding. t fits my head perfectly and doesn't hinder my ability to see to the sides.
The two main problems I've found are 1) The noise level is quite loud. I somewhat expected this, due to the level of ventilation. It really isn't a big deal as I ride with ear plugs anyway.
2) The padding under the chin strap is unacceptable…this is my main cause for complaint.
Considering the amount of money I spent on this helmet one would think it wouldn't rub your neck raw!!!
Just make sure you shave before you ride! Even my $150.00 HJC helmet has more than that…
Shoei should really address this problem. intend to sew additional material on the existing padding to make it more comfortable on longer rides! However this will be something I look at closely on any future Shoei purchases."
Editor's Response: We haven't noticed any discomfort with the chin strap. I compared the X-Eleven's chin strap padding to other Shoei helmets and they all appear to be the same length.