Shoei Multitec Review Summary
Shoei Multitec Image Gallery
The Shoei Multitec is without a doubt the most anticipated motorcycle helmet of 2006.
The Shoei Syncrotec (review), the Mulitec's predecessor, was getting "long in the tooth".
Although it was still one of the best-selling modular helmets in the world.
So, I'm sure everyone wants to know if the Multitec is the ne plus ultra of flip-up motorcycle helmets?
Well, my feeling is that the Multitec is a definite improvement on the Syncrotec.
That's especially the case in its level of comfort and noise control.
The Syncrotec doesn't include any radical new features that haven't been seen before on various brands of modular helmets.
But it does put it all together with typical Shoei attention to detail and a level of quality.
It's a definite step above any of the other modular helmets we've worn recently.
All of this doesn't come cheap, that's for sure.
Where many motorcycle helmet manufacturers place their modular helmets at the lower end of their product mix, Shoei is marketing the Multitec as a top-shelf offering.
All told, I think the Multitec is the best flip-up on the market today, but remember that it's an evolutionary, not a revolutionary step forward.
Let's take a look…
Shoei Multitec Fit and Finish
Shoei is very proud of the new Multitec; they say that in designing the Multitec, they "didn't only want to meet customers' expectations; they wanted to blow them away".
The shell of the Multitec is new and is not just an upgrade of the Synctrotec.
Compound molded curves accent the sides and rear of the helmet, giving it a more modern look, similar to many full-face helmets.
The curves are apparently designed to help the air flow more smoothly and I do think the Multitec feels more stable than the Syncrotec when riding at speed.
One of the most noticeable external features is the addition of a gasket attached to each side of the helmet to fill the gap between the rotating flip-up visor and the helmet shell.
The gaskets help prevent wind noise in this crucial area, which is problematic on many flip-ups, and the gap reduction does seem to help in this regard.
One slight problem with our example, which is from the first production batch, is the clearance between the clear visor and the side of the rotating modular visor.
The white plastic on the side of the rotating visor interferes slightly with the clear visor, causing some difficulty when opening or closing the clear visor when riding.
I'm not sure if this is a common problem or just a mismatch on this particular example, but potential owners may want to check for clearance in this area before purchasing the helmet.
Overall, the Multitec doesn't break any new ground in the styling department, but it definitely looks more modern than the too-round Syncrotec. The paint is typical Shoei; that is, excellent.
What a difference between the care taken by Shoei and, for example, the pitifully thin paint on theZ1R Eclipse flip-up…although at more than twice the price, I guess one would hope that this would be the case.
The Multitec is only available in rather muted solid or metallic colors, with no graphics planned anytime soon.
The Silky White color shown here is a sort of creamy pearl metallic and the color reminds me very much of the factory paint on the old 1984 BMW R100RS "Last Edition" that graced our garage for some time.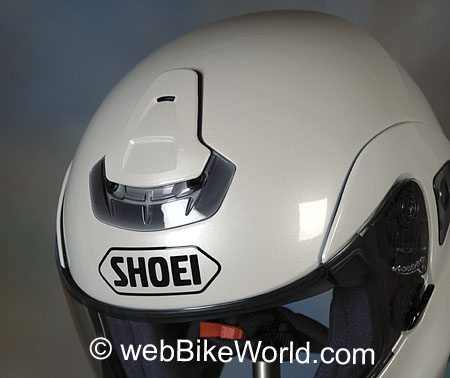 Ventilation
The Multitec also features a newly redesigned top vent and chin vent.
The top vent is cleverly designed; it's a nearly flat plate that slides to the rear to uncover two vent holes on either side and one vent hole located towards the rear of the slider.
It works smoothly and confidently and it's easy to use, even with heavy winter gloves. It does seem to make a difference in air flow when it's open, which, believe it or not, isn't always the case with top vents.
Many of them seem to be more for show than go.
The chin vent isn't as successful; it is a simple up/down sliding vent cover and the switch is recessed in a centrally located cutout.
The switch is not as easy to grab with thick winter gloves, although I probably wouldn't have noticed this in warmer weather with thinner gloves.
The plastic vent seems rather balky on our example; perhaps some silicone spray will loosen it up.
The chin vent directs air only up in back of the chin bar and on to the back of the clear visor, which is unfortunate. I just can't really tell whether there's any difference in air flow when the vent is open or closed.
It's curious that the visor seems to fog up more than any helmet I've worn in some time. This may in part be due to the Multitec's front-to-back dimensions, which are are shorter than I expected.
My chin just touches the back of the chin bar, which is disappointing. There doesn't seem to be as much room in front of my face as there is in other full-face or modular helmets I've worn.
We've noticed that recently many modular helmets seem to be losing distance in this crucial front-to-back dimension, and it's puzzling.
Shoei says that the Multitec sold in the U.S.A. was designed especially for this market and head shapes, but I wonder what that really means…
Shoei also claims that the rear of the helmet is designed to exhaust air in this low pressure region, and they even have a diagram of the exhaust flow on their website.
But there are no exhaust vents, nor is there any other way that I can see where air might escape out the back of the helmet.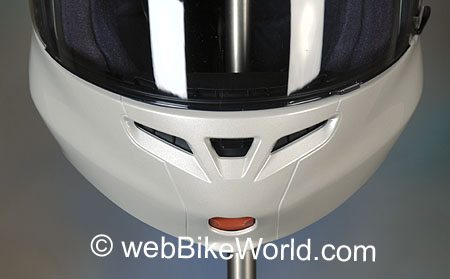 Internal Shape and Fit
The Multitec seems to be biased towards rounder shaped heads.
It certainly does not have the narrow internal shape of, for example, the Shark RSI (review) or Arai Profile (review), so the Multitec may not be the best choice for riders with the "long oval" head shape.
(For more information on choosing and fitting a motorcycle helmet, see the wBW Motorcycle Helmet FAQ page, which also includes a discussion on head shapes).
Our size XL seems to fit about 1/4 to 1/2 size larger than expected.
If this holds true for the other sizes, those with head diameters on the borderline may be able to order one size smaller.
A large would probably fit me with no problems, although I'm not sure if Shoei uses a different shell size for smaller helmets, and a smaller shell size may have an even shorter front-to-back internal dimension.
But it should do well for just about everyone else.
The sides do not feel as narrow or confining as the other modular helmets we have in the webBikeWorld inventory and the Multitec does not deform when the flip-up visor is opened or closed.
The liner is very plush and comfortable; much more so than the Syncrotec, which seemed to me to have a harsh-feeling fabric and a lumpy interior.
I can feel bits and pieces of hard plastic underneath the Syncrotec liner (as I can on the uncomfortable SCHUBERTH C2 flip-up), but not so on the Multitec.
In fact, I'd say it's about as comfortable as the best of the full-face helmets, which is quite a trick on a modular helmet.
Shoei claims to have different width cheek pads available for the Multitec for a custom fit.
I'm not sure if the entire liner is removable; I don't see how it can be removed on our example, but this isn't a problem, as we always wear a close-fitting helmet liner when riding, so ours rarely gets dirty enough to have to remove for cleaning or replacement.
Other than the short front-to-back internal dimensions, the Multitec is very comfortable and a great improvement over the Syncrotec.
The Rotating Flip-up Visor
The visor uses a single release, centrally located at the bottom edge of the front of the chin bar, for opening and closing the flip-up visor.
The lip surrounding the release is recessed, making it slightly difficult to grab the lever with thick gloves.
It takes a deliberate grasp to find and move the lever and lift the visor. I think the visor release would be easier to grab if it was located under and in back of the chin bar, where it could be grabbed with the thumb as the visor is lifted, but it's not a big deal.
The Multitec uses a metal latch on either side of the flip-up visor to lock the helmet closed. The metal latches grasp a metal post, one on each side.
Some flip-up helmet owners have been concerned about flimsy plastic latching mechanisms on modular helmets, but my feeling is that neither a metal or plastic latch is really going to make that much difference.
What could make a difference would be something like a complete metal reinforcement system that could be built into the chin bar that, when latched, formed a "cage" to protect the rider's chin.
I'd like to see a system like this on a modular helmet of the not-too-distant future, and hopefully something like that could help the helmet meet Snell safety standards.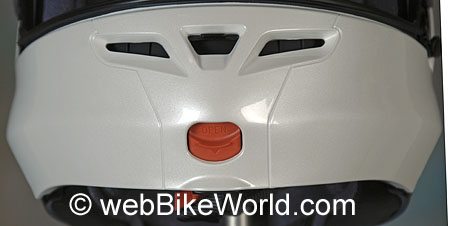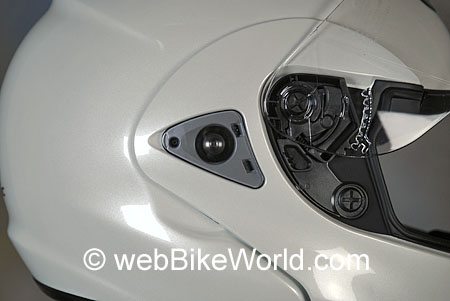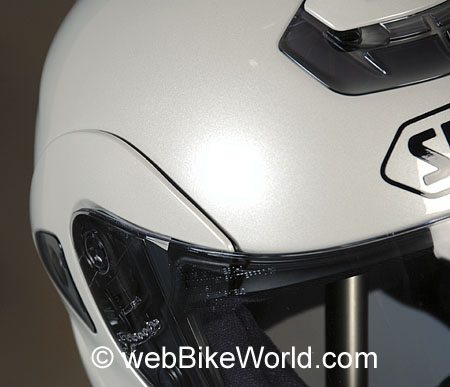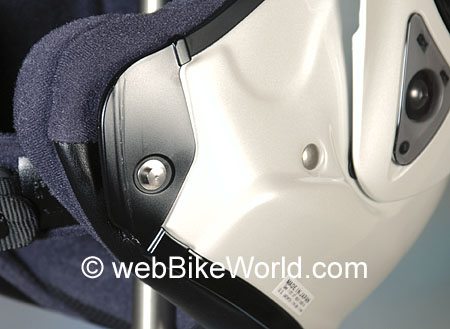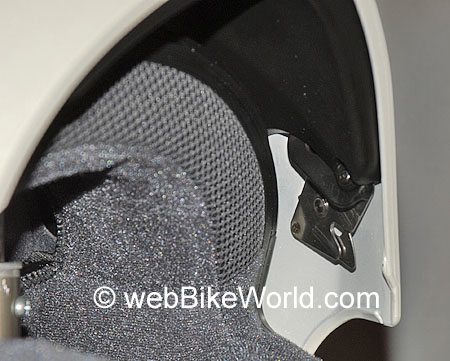 The metal latching mechanism may also contribute to the very smooth feel of the Multitec's flip-up visor when it's opened or closed. It doesn't have that plasticky-cheap feel found in many of the low-priced modular helmets.
The visor opens and closes with precision and gives a nice "click" when it's shut.
Other than the interference problem noted above, the visor works nicely and has a positive detent at the uppermost position. Note that we do not recommend riding a motorcycle with the flip-up visor in the open position.
Helmet Weight
Our size XL Multitec weighs 1786 grams (3 lbs., 15 oz.). This puts it towards the heavy end of the modular helmet weight chart, based on all of the helmets we've reviewed.
The Multitec's mass is noticeable when wearing it, although it seems to be well balanced. Modular helmets can be heavier than their full-face counterparts, and I'm assuming the metal latching mechanism may contribute to the mass of the Multitec.
See thewBW Motorcycle Helmet Weights page for a helmet weight comparison chart.
Helmet Noise Control
The Mulititec is without doubt one of the quietest modular helmets we've worn. The shape seems to control the wind noise very well.
It's not perfect though; there is definitely a rushing wind sound, especially noticeable just at the rear of the side plates of the rotating visor, but it's well controlled.
I can place a hand on either side at the rear of the side plates and completely stop the wind rushing noise, so perhaps a bit more attention to this area would have eliminated this potential source of noise.
I'm surprised at the absence of the low frequency "booming" noise that is usually caused by turbulence at the bottom of the helmet in the neck area is also well controlled on the Multitec.
It's not noticeable when riding on an unfaired motorcycle and it's there but certainly not as bad as it could be when riding behind a short fairing.
The top vent does cause an increase in sound volume when it is open.
Thankfully, it's not the high-pitched whistling noise, which is common over most top vents, and it can be almost completely eliminated by closing the top vent entirely.
Overall, we give the Multitec high marks for noise control; it's a relatively quiet helmet and we can think of several full-face helmets which are louder.
Remember that your experience may vary. We always wear correctly fitted, high quality earplugs and an extra helmet liner when riding, and we strongly recommend that you always wear hearing protection also.
See the wBW Earplugs and Hearing Protection page for more information on choosing and wearing earplugs.
UPDATE #1: I recently discovered that at certain speeds and in some wind conditions that a buzzing noise will occur when I turn my head to either side, like when I'm looking over my shoulder checking for cars when I'm merging or switching lanes.
The noise seems to be caused by the air rushing between the upper edge of the clear visor and the side of the helmet, where there's a gap.
It's a definite buzzing type of vibration that I stops as soon as I place my hand near the area. I'm not sure if it's just our helmet or if other riders experience this also.
Safety
The Multitec sold in the U.S.A. meets U.S. DOT approval. The Multitec sold in Europe and the UK is claimed to meet ACU Gold and ECE 22.05 safety standards.
Miscellaneous
The Multitec has the proper D-ring attachment system and the Shoei clip that allows the extra length of chin strap to be secured to the metal cross bar on the D-ring.
The clear visor uses the Shoei standard "coverless Quick Release Base Plate system", which is about the easiest to remove in the industry.
The eye port seems wider than the Sycnrotec and most of the other modular helmets and it provides a decent amount of peripheral vision. The Multitec is reminiscent of a good full-face helmet in this regard.
Shoei also claims that the replaceable cheek pads have eyeglass grooves cut in them, but there are no such grooves at all in our example. I do wear eyeglasses though and the Multitec seems about as easy to use with eyeglasses as any modular helmet.
The Multitec uses Shoei's AIM (Advanced Integrated Matrix) shell construction.
It consists of several different layers of fiberglass and "high-performance organic fibers (each with different properties) to produce a lightweight shell that is both rigid and flexible".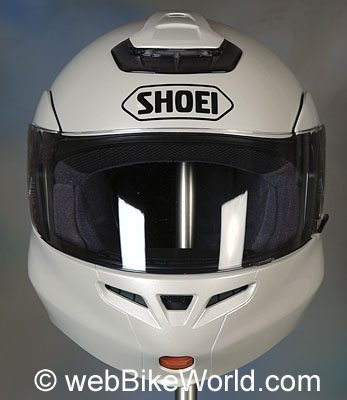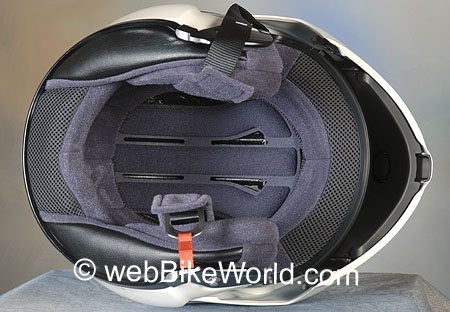 Conclusion
Although the Shoei Multitec isn't quite the ultimate modular motorcycle helmet, it's pretty close.
I think it's much more comfortable than the Syncrotec that it replaces. It's very quiet, especially for a modular helmet. The top vent works very well and flows a decent amount of air.
The metal latching mechanism gives the helmet a feeling of solidity and quality lacking in many of the (albeit) cheaper flip-up helmets. This is a helmet that can be worn all year long and should last a long time.
The price is rather high when compared to other modular helmets and comparable to the SCHUBERTH C2, but the Shoei brand may make it worth the extra cost to some owners.
UPDATE #2: I've discovered that I'm disappointed with the clear visor on the Multitec.
It seems to be too flexible and it's become balky when opening or closing it by hand whilst riding.
I'm not sure if the visor polycarbonate is thinner than normal, but it twists and binds when I open or close it and it doesn't snap shut like it should. I have to push it closed, using my hand over the front.
We've found this occasionally on cheaper helmets with thinner clear visors, and I'm surprised to find this problem on the Multitec also.
It's annoying because I frequently open and close the clear visor when riding to scratch my nose, let in air whilst riding or at a stop light, etc.
w

BW

 Review: Shoei Multitec Helmet Review
Manufacturer: Shoei Helmets
List Price (2006): $482.99
Colors: Various solids
Made In: Japan
Review Date: December 2006
Sizes: 2XS-2XL
Note:
 For informational use only. All material and photographs are Copyright © webWorld International, LLC since 2000. All rights reserved. See the webBikeWorld® 
Site Info page
. Product specifications, features and details may change or differ from our descriptions. Always check before purchasing. Read the
Terms and Conditions
!
Owner Comments and Feedback
---
From "B.K." (02/11): "Just a few comments about the Multitec. I bought mine last spring, to replace an HJC IS-MAX that just didn't fit right, which replaced an original Symax that didn't survive an incident with the pavement.
Still annoyed with HJC at discontinuing the original Symax.
The Multitec fits wonderfully, as if they used my head for the mold. Ventilation works far better than either of the HJC helmets – no discernible differences with those with vents open or closed, noticeable difference with the Shoei.
However, the top vent of the Shoei whistles pretty fiercely at the wide open stop, depending on head position. However…neither of the HJC helmets were afflicted by aerodynamic deficiencies that the Shoei shows.
I ride a ZRX1200, and with the small screen, the helmet is always in the air flow. At anything over 75mph, the Shoei seems to exhibit the aerodynamic tendencies of a brick, pretty much mirroring the ZRX in that regard.
At anything over 80, the thing starts to pull up off of my head, which neither of the HJCs ever did. This ends up becoming pretty tiresome when droning across stretches of the prairies.
I wonder if this is a case where the type of motorcycle used in the road tests would be useful to know, and to have helmets compared on faired/unfaired bikes?
I'm betting the Shoei would be a perfect complement to bikes with larger calm air bubbles, but on a naked or small screen bike, it definitely has a downside."
Editor's Response: We usually ride a few different bikes with the helmets during the evaluations and as we mention in the reviews, there are so many issues with helmet noise that it's nearly impossible to make any type of definitive statement.
It depends on issues such as the helmet fit vs. the rider's head shape; windscreens; fairings and even the rider's clothing makes a difference. Two people could wear the same helmets and ride the same bikes and come to two completely different conclusions — it happens all the time.
So in the end, the evaluator can only give his or her best subjective opinion based on their experience. In general though, we have found that flip-ups are noticeably worse in terms of noise levels, weight and aerodynamics than a good full-face helmet…."
---
From "D" (12/10): "Based on your reviews I selected the Shoei Multitec for use on a cruiser. I tried the Shark and a couple of other brands in the shop but the Shoei was the most comfortable, and I wore them each for a good 10 minutes.
I've had the Multitec now for about 2 months, and I've found it extremely comfortable, the visor seals really well and is easy to operate everything on the helmet with gloves on.
I'm yet to test it in the wet, but it did seem a little predisposed to fogging – so I'll add a third party anti fogging device. It's handy without being the complete 2 option riding style helmet.
The bad points – you can't ride with the chin bar up – at least not at any speed.
When the visor is up there's quite a whistle on windier days.
Ventilation with the visor up is adequate for the face, but with visor up or down air doesn't seem to flow through the helmet, and as good as it appears the ventilation has to be rated as poor.
Although very comfortable for cruising, it doesn't quite qualify as a dual purpose helmet. I preferred the Shark and others for features, but they just weren't as comfortable."
Editor's Note: Like almost all flip-ups, the Multitec is not designed to be worn with the chin bar up when riding and doing so can be dangerous. As far as I know, only the Caberg Sintesi (review) can be worn with the chin bar up when riding.
There are other designs, like the Shark Evoline (review) or Roof Boxer (review), that have a specially designed chin bar that rotates all the way back and which are homologated to use in this manner.
---
From "J.C.B." (11/09): "After reading the reviews posted to the webBikeWorld article on the Shoei Multitec I'd like to share my ideas. Superb website BTW, I lose track of time enjoying your informative reviews.
I purchased my Shoei Multitec a little over a year ago to replace my then 5 year old Nolan N100E and I'll have to say I love it. Aside from the chin bar annoyance, the helmet is worlds beyond the Nolan in fit, finish and function.
Like other owners who have posted, I noticed right away that the stock shield fogs rather easily.
And after suffering through 2 weeks of riding at in-town speeds with the shield cracked open a notch, I ponied up for the Pinlock shield and "clear" insert to the tune of $70 some odd dollars/
The problem was solved right away.
Although the 2004 N100E I purchased included a shield insert standard for half the price of the bare-bones 2008 Multitec, the Shoei is more than worth the extra cost in my opinion due to being quieter, easier to operate, better fitting and more stylish…
In short, the Shoei is much higher in quality and I would purchase another one if it's still around in a few years, something I can't say about the Nolan.
Thanks again for maintaining a great website!"
---
From "J.H." (10/9): J.H. recently had a motorcycle accident and sent this information: "When buying my riding gear, I originally thought that I didn't need to spend all of that money for a pair of boots.
The Herman Survivors looked fairly substantial, but now that I've had a foot injury from a crash, I recognize the need to spend the extra money for the protection offered by motor-cycle specific gear.
I'd happily lay out the cash to avoid the hassle and pain that these broken bones have caused me. As for wearing the proper gear, it's a bit funny, but one of my first thoughts was 'now I've got to go out and buy a new riding jacket, pants and gloves'. I was as upset by that that than the damage done to the bike.
About halfway home in the tow truck it dawned on me that the gear did its job.
I thought to myself and mentioned to the tow truck driver, who rides by the way, 'I could be in an ambulance right now if I hadn't been wearing this stuff'.
Actually, I'd very likely be dead right now if I weren't wearing a helmet. The strangest thoughts go through your
mind following an accident.
Some feedback regarding the Shoei Multitec helmet that I was wearing during the accident. When I hit the pavement, the left back side of my head took the initial impact that sounded like a gun going off.
I can replay the sequence that in my head and it seemed to take forever.
But in reality took only a couple of seconds, after the initial impact I slid a few feet on my left side, I believe my left foot was pinned under the engine and my left hand was sliding down the pavement (knuckles down) under the end of the handlebar, then the bike and I separated.
The bike maintained momentum off the shoulder into the grass and bushes and I continued to slide on the pavement until I flipped over and continued sliding down the pavement face down and feet forward for about another 10 to 20 feet.
The Shoei took a lot of road rash from this and from the stiff neck that I received I believe that a lot of force was put on the flip-up chin protector. It looks like someone took some serious course grit sandpaper to the front right hand side of the helmet and shield.
The great news is that the shell, the flip-up chin guard and the shield maintained their integrity and flip-up remained locked. As a matter of fact it still works like it did prior to the accident.
As a result, I will be buying another Shoei.
Perhaps not a Multitec as I don't know whether the flip-up made that big of a difference putting on and removing my sunglasses and more importantly, I found that my chin was too close to the chin guard.
Not enough that I would have gotten rid of the helmet, but enough that I'll pay more attention to chin clearance for my next buy.
Also, a little lesson learned regarding riding and having an accident. I never carry my GPS when riding as I have found the Garmin to be a nuisance when riding.
For some reason. I like to pull over and get out a map if I am not certain of the route I want to take.
This is not the case when riding in my car as I depend on the GPS all of the time — it's just something about riding my bike and keeping it simple — no GPS, no radio, nothing but me and the bike and the road.
Well, one thing that I learned when you have a wreck on a back country road; it's not that easy to think straight enough to figure out where in the world you are on a map and there aren't many people around to help give a location to emergency services.
So from now on my Nuvi goes in my tank bag, just in case I need to know where I am in a hurry. Luckily for me, some very helpful locals showed up about 15 minutes after the accident.
This time 15 minutes didn't matter, but in the event that I run across a bad wreck or I have one, it could."
---
From "J.R." (5/09): "My wife and I both splurged on two new Multitecs to replace our older Nolan flip ups. The Nolan gave me a massive headache after about 90 minutes.
The Multitec doesn't cause me any headaches now, but it does leave a huge indentation on my forehead even after a short ride that takes an hour to go away. I've tried adjusting the inserts to no avail.
I'm not really happy with the Multitec. It's heavy and after an hour or so I start getting a neck ache from it. I know its the weight because my half helmet, old Nolan, and my old shark full face doesn't bother me in the neck department.
Regarding noise: This is one of the noisiest helmets I've ever worn. It whistles and really amplifies the wind noise. Again, comparing it my other three helmets, this thing is loud.
Fogging: It's almost impossible for me to keep the shield closed all the way as it's constantly fogging up and doesn't matter what the temperatures are. And this is with both vents fully open.
You were right on when you stated the shield is tough to open from the fully closed position. That first notch is a killer. On the shield mounts.
Twice now while on the road, the plastic screw holding the shield clamp system unscrewed from the helmet and left one side of my shield blowing in the wind while on the highway. It almost ripped off the helmet when it happed.
The flip up single hand latch is however, a great improvement over the old Nolan two hands thumb trick.
This is the best feature of the Multitec but all in all if this helmet were lost or stolen tomorrow, I still wouldn't even consider it if it's cost was half price."
Editor's Reply: The forehead pressure problem you are describing is typical when trying to fit a "long oval" shaped head into a round helmet. That usually causes pressure on the forehead.
Unfortunately, there are very few flip-up helmets with a "long oval" internal shape. If you get a chance, you may want to try a Vemar Jiano for comparison; it has more of a neutral internal shape.
Regarding the noise issue, as you have probably read in many of our helmet reviews or on ourMotorcycle Helmet Noise page, helmet noise levels are caused by many different factors.
These include how the helmet fits, which is another clue that tells me that perhaps your Multitec doesn't fit your head shape. If indeed your head shape is not fully compatible with the helmet shape, you will probably experience a more noise than otherwise.
Windscreen turbulence is another big factor, as is the way the helmet fits around the bottom of your neck, and flip-up helmets are notorious for poor sealing around the neck.
---
From "M" (05/09): "Everything in your review is dead on for the Multitec. It is by far one of the the quietest helmets I have had the pleasure of wearing.
Unfortunately, my head is more of a long oval shape and I start developing a hot spot on my forehead after 15 minutes of wear. I wish there were a way around this because it is a great helmet.
Since I can not bear to wear the helmet for more than 20 minutes, I have switched to a Nolan N103 which is very comfortable and fits me like a glove.
Downside is earplugs are a must because it seems to transmit every bit of wind noise it can find directly into your ears."
---
From "R.T." (10/08): "I just read your review of the Shoei Multitec and agree with most of what you said. I have had no problem whatsoever with the visors on mine and have had three different ones installed at various times.
It is a big step up from my old TZ-R and completely eliminates the helmet lift / wobble I sometimes experienced with the TZ at higher speeds.
It seems to be pretty quiet and fits great except that I believe it could use more padding in the very top.
Mine seems to rid a bit low on my head. My beard does scrape against the chin piece, but it doesn't really bother me and may be a contributing factor the helmet's stability.
The only real gripe I have is that after about a hear I started noticing a blemish on the chin piece that looks all for the world like a scrape with a file or grinder. It didn't show up when new and was completely covered with yellow paint.
But after considerable wear, the paint seems to be thinning over the ridges of the scrape marks and now the marks are clearly visible.
I also noticed some paint thinning along the sculpted ridge of the chin bar. Shoei wanted to see the problem, so I sent it back for them to analyze. I am back to wearing the old TZ and believe me, I miss my Multitec.
I wear glasses and getting them on with the tight fitting TZ is an art.
As far as the Pinlock visor goes – best thing since sliced bread. I just works and doesn't require any care.
On the cold mornings when my eyeglasses fog up, all I have to do is lift the visor and I can clearly see that there is no fog on the helmet shield area where the Pinlock insert covers it.
I bought the CX1V Pinlock visor from Motorcycle Superstore for only $36.
The inserts are now only $27 and seem to last indefinitely. I am currently using Seeclear on my glasses and it seems to work fairly well (some slight fogging now and then), but it has to be reapplied every morning.
I have ordered some of the anti-fog solution that you also reviewed from the Isle Of Man – I forget the name of the stuff (Salclear (review) – Editor). But I am hoping to get by with a once-a-week reapplication of this product.
Thanks for a great review source."
---
From "J": "You guys are great, I read your stuff from halfway round the world, in Singapore and I check every morning, it's like a ritual at work! hehe, well, lets go to my comments on the Multitec.
After suffering with an AGV Stealth XXL that didn't fit properly, probably due to my head shape ( I bought it before I started reading wBW). Firstly it was too small, sat too high on my head, squished my ears and my chin was way way too exposed.
So I decided it was time (after 10 months of pondering and saving) as it's really hot and humid here ALL year round, I would get a flip-up.
So my Girlfriend has a Shoei and she loves it, I guess it was the logical choice! and of course I read your review. Well over here we're near to Japan, so I guess it was cheaper, mine was SGD$490, that's about only $355.00 USD.
Firstly the helmet itself has some minor differences, if you look at the Shoei Japan site you will see that the rear vent is different. It's not at the bottom like your pictures.
It can open and close, but the top vent can open in 2 stages, fully open and half open, I always leave it at fully open. And I really can feel the wind go through my hair! So that's a good difference I guess.
Top vent catches significantly more air when my head tilts down more, maybe more effective for sports bike posture? The front vent to me is great, fogging isn't an issue but I heard some of the locals say that it will in the rain, I haven't tried, only had mine for 2 weeks.
Though I must say it fogs up much easier when the chin curtain is worn and while stationary. And I can feel the cool air in around my mouth/cheeks area too, great stuff!
Maybe it's me, but I do have a big head, and face, but i didn't face the common problem of having the helmet have short front to back dimensions, only if I stick my tongue out will it touch the front of the helmet.
Maybe they cater to Asian sizing here? For head fit I feel it's great, the moment I put it on in the store I loved it, still do!.
But one thing i feel could be improved is the cushioning on the top, it feels a little thin, maybe cause it's XXL?
My liner looks different from your pictures too, although my girlfriend's Shoei J Force II has the same looking fabric liner.
Although i must say it's comfy and does a great job on wicking away the sweat (lots of it here) and cools me down when flipped up.
Removing the visor is easy just like the J force II, but I'd like to try the half tinted visor that they only sell in Europe?? Cause I can't find it here or on several U.S sites I go to. And no Pinlock here! Just a plain clear visor.
I really wished they had the helmet in pearl white though, they only had black for my size 🙁
Overall, I absolutely love this helmet, why didn't I read webBikeWorld earlier?"
---
From "D.J.": "I would like to add reinforcement to R.B's comments (below) on the Shoei Multitec:
The Multitec is by far the best working helmet I've ever owned.
Texas summers are killer for any full coverage helmet (until they come up with active, powered venting), but being able to catch some extra ventilation when stopped with the barn door open can save the day.
Regarding R.B's and A.G's comments, I had to buy a new Multitec shield after my neighbor accidentally knocked the helmet off my bike and watched it bounce down a driveway, so I opted for a Pinlock replacement with a couple of different inserts. I had a trusty Fog City on my old Shoei.
When the Pinlock came I had the same thought about the clear shield insert (waaa, this can't be right) until I peeled the protective plastic sheet off, doh!
Why they make this protective film semi-clear and not completely opaque or with "remove before use" writing I will never know.
The Pinlock shield is *perfectly crystal clear* and you'll never know it's there, and you'll never have a hint of visor fog. Hopefully A.G as figured this out by now.
Great site and keep up the good work."
---
From "R.B." in response to "A.G." comments below: "Firstly fantastic and informative website, fantastic 10/10.
Shoei Multitec review: Read several helmet reviews on your site during my search for a new helmet, as a result of this I short listed and eventually purchased a Shoei Multitec and I am over the moon with it.
Re- reading the reviews on the Shoei Multitec I came across the review from "A.G" who it seems is not pleased with Pinlock visor insert, complaining it isn't clear at all, in fact he claims it is a fog free visor that comes " ready fogged"
His words: "As a matter of fact they impair your vision by a good 10%. The fog lens itself is colored a cloudy shade of gray. It is not a clear lens! A fog lens that has built-in fog?"
My thoughts are he hasn't removed the protective plastic film from the Pinlock visor insert or he has bought a tinted daytime version of the Pinlock inset by accident.
Either way it seems a shame "AG" isn't happy with what I personally have found to be a superb product."
---
From "A.G.": "I wear two brands of helmets, both 2007 flip-up modular in design. A Shoei Multitec ($475) and a Caberg Justissimo (review) ($300). Fit and finish on both are excellent.
However, the Multitec fits my head better and is far more comfortable to wear. The Shoei is tighter to put on, and the pads hold the helmet in-place.
The Caberg has more features, integrated shade visor, washable liner, center lift lever on clear visor, but it wobbles a bit and rides with more wind noise.
I have put many miles wearing both brands and enjoy both of them. From previous reviewers there the best you can buy.
The worst feature … a $70.00 mistake, was buying the Shoei clear visor with Pinlocks and the optional fog lens. If you wear eye glasses, like me, this set-up simply does not work.
As a matter of fact they impair your vision by a good 10%.
The fog lens itself is colored a cloudy shade of gray. It is not a clear lens! A fog lens that has built-in fog?
Why Shoei would put this on the market at such a high price point, and not be clear fog lens is beyond me. Other than that, the Shoei Multitec Helmet, though expensive, is a winner for long distance touring."
---
From "R.L.": "Superb web site with a heap of very informative and useful info — Cheers!
After much reading and reviewing I finally replaced my 12 year old Shoei TXR with a Multitec. It came standard with a clear and a slightly tinted visor. Both equipped with the Pinlock system.
Riding 200k's home in pouring rain with all vents closed, no fogging in the Pinlock visor area, excellent system.
Also in the package was a Whisper Kit.
This is a leather gasket which fits around the bottom of the helmet at the back and side and fits snug against your neck sealing the helmet blocking any possibility of wind noise.
(Editor's Note: The Whisper Kit is unfortunately not available in the U.S.A. but seems to be a readily available accessory in other parts of the world).
Also has a fabric and plastic guard on the front of the chin bar which fits snug against the front of the neck when the chin bar is down.
The vents in the front chin guard are a few too many and I got a cold chin (the weather was terrible though). I agree there isn't much chin room and if I yawn my chin hit the front bar.
Noise level is great. The cheek/ear padding seals nicely around my ears and block lots of noise. I always wear ear plugs, but did a 40 k ride in very windy conditions and was very impressed with the low noise level.
As mentioned in the review the only area of the helmet that appeared to generate wind was around the back of the flip mech.
Noticed a tiny amount of rain dripping down the inside of the visor fro the top (tinted visor fitted).
But on investigation found that with the factory clear visor there was a nice seal with the top gasket and with the tinted visor a slight adjustment of the shield bases solved the problem.
Helmet was about the same weight as my old TXR but noticed the the Multitec was a lot more stable in the wind throwing my head around less in gusts.
You mentioned in the review problems with the flimsy visor and it not snapping shut. I did not notice this at all. (Possible that the Pinlock strengthened the visor)
So far very happy with it. Keep up the awesome honest informative reviews."
---
From "M.A.": "Bought the Shoei Multitec and hate it with a passion. The guy that sold me it told me that it should be a good tight fit and even though I said it was pressurizing my cheek bones he insisted that was fine.
2 hours later and 2 co-codamols and it was off, serious headache stuff. I persevered but no way.
Both myself and my husband were touring so dumped the old helmets and bought two of them, we both landed up with 'eye colds' and found that our contact lenses nearly popped out at the end of the day with dryness due to the constant wind flow in our eyes.
My old helmet (a cheap Nitro) had caused my hair to fall out in bundles after 2 weeks touring due to bad air vents and a lack of flow over the top of the head, I bought a Suomy and this problem immediately stopped, I toured in June with no hair loss at all.
After 10 days in the Shoei my hair was all over my pillow, simply too much air in you eyes and not enough over your head. In all it's rubbish and I am hoping to sell it if possible."
---
From "M.N.": "You have excellent reviews. Balanced with factual findings and actual emotions. Some comments on Multitec:
Purchased from webstore, size smaller than usual and got it right (From Europe for European head). So your point about size stands.
Also, my chin touches the back of the chin bar, except if helmet pushed up-front with hand. It is major annoyance of this otherwise good helmet.
Amazed about quality – seals and details are excellent. Stable while riding high speed, extra good aerodynamics, while turning your head or having different attack angle. Was delivered with extra curtain elements.
They reduce noise even more, but also limit ventilation more.
Front too close, and visor gets foggy. Ordered extra gradually tinted visor – it is good and do not feel any need for flipping sun visor at all. Suggest!
Upper vent works much better on bike position, than classical one.
Best Regards and keep up, comments based on one season and 4000 km ride on Hayabusa."
---
From "T.M.": "Received a Multitec XXL by mail last week and I was swimming in it. Way too much side to side and front to back play around my skull. Shoei says XXL fits 7-7/8 to 8, but it's much bigger than that.
I liked the helmet enough to order an XL via expensive overnight shipping with Saturday delivery. It came as promised.
The XL fit my skull great and the cheek pads were only slightly tight, a good fit. The problem was that the chin piece was close enough to hold the words in my mouth. Okay, so I have both helmets here. Let me try swapping the flip-ups between them.
Unfortunately, there was no difference. They're both going back.
I really wanted to like this helmet. I've got a Vega Summit II, and there is oodles of chin space in it, but the quality is primitive compared to the Shoei. My search goes on…
---
From "D.K.": "Due to my state of income I used to have a $200 limit when looking at helmets to buy. I figured DOT FMVSS 218 is DOT FMVSS 218. The $400 to $600 lids seemed ridiculous @ 2 to 3 times the amount.
When I raised that amount by $100 I then realized the benefits to spending a little more. Comfort, noise and convenience to name a few. My last helmet purchase was the Modular Caberg Justissimo (review) Mirage that I read about here. I'm very happy with it.
But at a cost of $329.00 for the Caberg now the Shoei's $482.00 seems fairly reasonable. Thanks for the review."
---
From "H.H.": "Just read your review. As always great stuff, thank you.
I just thought that it is a little strange that the Shoei does not come with a separate internal tinted visor that it all the other flip up helmets seem to incorporate. Especially at its premium price point."