Shoei Motocross Helmet Review Summary
What's this?  A motocross helmet in a webBikeWorld review?
Hey, why not?  We're always looking for an excuse…or not…to buy some new gear, and the new Triumph Tiger sitting in the garage gave us the inspiration.
The popularity of Supermoto bikes with some of the local riders got us thinking about using a motocross helmet on a street bike.
Well, not just any street bike — after all, an off-road helmet would probably look about as goofy on a ZX-10R as it would a Fat Boy.  But the Tiger?  Perfect!
The first thing we noticed about the VFX-R — other than the cool-looking graphics — is the weight.  Or lack of it.
At 1508 grams for a size XL (3 lbs., 5-1/4 oz.), the VFX-R is one of the lightest full-face (that's how we're classifying it) helmets we've every tried.  It uses Shoei's Advanced Integrated Matrix Plus (AIM+) shell, just like their best street helmets.
See the wBW Motorcycle Helmet FAQ page for a chart that compares the weights of every helmet we've reviewed and you'll see that the VFX-R is the third lightest size XL we've tried.
What's amazing is that even though our VFX-R is a size XL, it's lighter than every other size large helmet we've tried save two.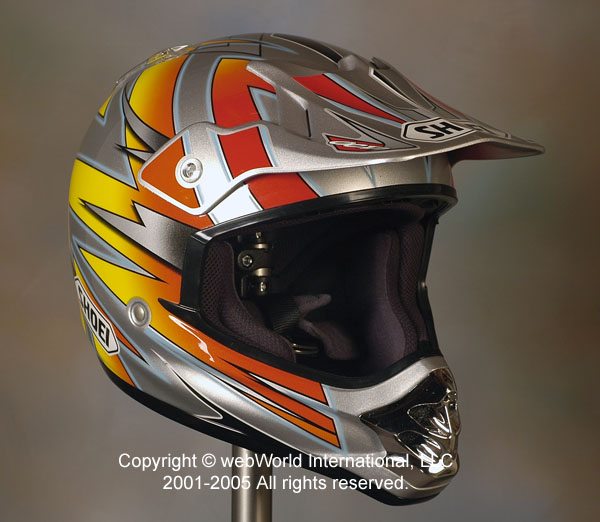 Now light weight isn't everything, but it sure helps.  We think that light weight makes a huge difference in comfort, especially on a long ride.  Maybe I have sensitive neck muscles or something, but heavy helmets are (literally) a pain, especially when riding in cross winds or behind one of those "Buffet-meister" fairing designs.
Light weight can be a sign of scrimping on the helmet's safety features, but the VFX-R is both DOT and Snell approved.  I would think that the protruding motocross chin would make up for the weight lost in the big, wide eye opening, so I'm not sure where all the weight was lost.  Which begs the question: why aren't other full-face helmets as light as this?
I'll admit that I've never worn a real, live, dedicated motocross helmet before, so I'm an absolute tyro when it comes to this type of gear.  Sure, I've bounced around on dirt bikes, but never enough to justify digging deep enough in my pockets to buy focused dirt gear.  And since we've never tried anything similar, I have no idea if the light weight of the VFX-R is normal or an aberration in this market.
Helmet Fit
Frequent webBikeWorld visitors will know that a couple of us have "earth" shaped heads (again, see the wBWMotorcycle Helmet FAQ page to learn more about different head shapes and fitting a motorcycle helmet), which frequently give us helmet fitment problems.  The most common headform used by the helmet manufacturers seems to be the "egg" or "long oval" shape, that is, wider on top, narrower on the sides.
So when we find a helmet that fits a round or earth shaped head, we're golden.  As soon as I slipped the VFX-R over my noggin, I was in heaven.  This is probably one of the most comfortable fitting helmets I've ever tried, which I find amazing.  I just didn't expect it!
The size XL fits me perfectly, and the fit is helped by the nearly unlimited chin room afforded by the motocross-style chin (I'll show my ignorance here about all things dirt: why do motocross helmets have such a big chin?
The VFX-R is to chin room as scoring an exit row seat is to an overseas plane trip.  It's great!  The design not only frees up the space in front of my mouth, it also provides more freedom around my cheeks, which often feel crunched inside all but the earthiest of earth-shaped helmet interiors.  I can literally wear this helmet all day long and feel perfectly comfortable.
So the fit, combined with the light weight, makes the VFX-R one of the comfiest helmets I've ever tried.  So far, so good…
Eye Port and Visibility
Wearing a motocross helmet means using a good pair of goggles, and my experience in this neck of the woods is also zilch.  I did some research and talked to my dirt and Supermoto riding friends, who recommended the Smith Option OTG Airflow.  This goggle was specifically recommended because it's designed to fit over eyeglasses, and it's also designed to provide enough air flow to prevent fogging.
The eye opening on motocross helmets are nice and wide for a reason.  The goggles are designed to fit inside the eye opening (the area normally covered by a visor on a full-face street helmet), and the strap fits around the back of the outside of the helmet.  The 33 mm wide strap on the Smith goggles have some nice silicone strips that give it a good grip on the helmet's surface and prevent the strap from riding up over the top of the round helmet shell.
I had a problem locating this exact Smith goggle model, but I finally found a pair at RideGear.com (see the wBWquick review of Smith Motocross Goggles).  The Smith goggles fit perfectly over my eyeglasses and they are very comfortable because they have a very thick foam cushion.
The only problem is that they press against the bridge of my nose, making it slightly difficult to breathe and giving me a feeling like I have a mild head cold.  This can be somewhat mitigated by loosening up the strap as much as possible to relieve the pressure, but the strap can't get too loose or it may not hold the goggles in place.
It takes a while to get used to riding with goggles, because their thickness means that peripheral vision is somewhat diminished.  But it didn't take me long to reorient myself, and the combination of the motocross helmet and goggles doesn't really feel that strange.
Ventilation
And there is a definite benefit to that big, wide opening in the front of the helmet — plenty of fresh air!  I get pinged once and a while on the few parts of my skin that are exposed between the goggles and the helmet's shell, but other than that, it's great (at least in the currently warm riding weather) to have all the ventilation I'll ever need.
The VFX-R has a couple of intake vents in the brow, underneath the removable visor, and two exhaust vents out back.  There's also a vent in the front of that big chin, with its own foam dust filter.  But it's impossible to tell if the vents are working, and they don't really seem necessary, at least during street riding speeds, because that big, wide opening allows all the air that's needed to keep cool.
The downside of the big opening and all that air flow is noise.  We always wear properly inserted earplugs when riding, and all of our helmet reviews are conducted whilst wearing earplugs and a helmet liner.
See the wBW Earplugs and Hearing Protection page for more information on finding, fitting and wearing earplugs.  We strongly recommend that you always wear earplugs when riding motorcycles so that you don't end up partially deaf with a bad case of tinnitus like me…
Noise Levels
Ironically, the motocross shape of the VFX-R seems to eliminate the low frequency buffeting from windscreen spillover.
The helmet has lots of wind rushing noise, but no matter how hard I try, I can't duplicate the annoying "booming" sound that is so common when turbulent air hits the bottom of a full-face helmet and bounces around inside.
The motocross style visor doesn't affect helmet buffeting as much as I thought it would.  If I tilt my head back, the air will catch under the visor and lift the helmet, but it really isn't that bad, at least at the speeds I run.
I've used full-face street helmets that have as much or more lift than the VFX-R.
The Shoei VFX-R is available in solid colors and a couple of cool-looking graphics.  We really like the Air Pastrana 2 version, which carries all of Shoei's high standards of quality in every feature.  The helmet's motocross visor must be assembled, but it easily screws in to the top of the helmet (we used a butter knife as a screwdriver!).
The liner material is very comfortable, just like Shoei's best street helmets, and it's removable, along with the cheek pads and even the strap covers.  The chin or nose cover is attached with a tiny screw that can be removed to clean the dust filter.  We're not sure why the chin cap wasn't designed to snap on and off, because it seems like it would be pretty easy to lose the screw.
Conclusion
Riding the Tiger with the VFX-R is a definite trip.  It feels cool (literally and figuratively) and the image of a rider with motocross helmet and goggles but wearing full street leathers and race boots must give people a kick, because I swear I get more stares and waves when wearing this helmet than any other outfit I own.
Little kids seem to love it — I'm not sure if it's because they recognize Travis' helmet colors (I doubt it), but they always point and wave, and lo and behold, even the cruiser riders who almost never wave when I'm wearing a full-face street helmet seem to open up at the site of "Supermoto Man".  It's a lot of fun and fits the rugged image of the Tiger perfectly!
Some of the issues with the VFX-R include the cost, the noise and the fact that goggles must be worn.  The VFX-R's list price is $579.99, which seems excessive, but the street price is somewhat lower.  I can't do anything about the noise, but I'll try different brands of goggles to see if I can find one that fits over my nose with less interference.
If you own a BMW GS, Triumph Tiger, KTM Adventurer or other cross-functional motorcycle, check out the VFX-R and complete the look.
wBW Product Review:  Shoei VFX-R Motocross Helmet

BUY IT!  Get your Shoei (and other) motorcycle helmets
using this link to RevZilla and help support webBikeWorld!

Available From:  Shoei Helmets
Street Price:  $467.99 (List price $479.99)
Colors:  Black, White and several patterns.
Made in:  Japan
Product Comments:  DOT and Snell approved.  I believe the VFX-R is known as the "Holeshot" in Europe, and is ECE 22-05 approved.  Review Date:  June 2005
More:  Motorcycle Helmets page
Note:  For informational use only.  All material and photographs are Copyright © webWorld International, LLC – 2000-2011.  All rights reserved.  See the webBikeWorld® Site Info page.  NOTE:  Product specifications, features and details may change or differ from our descriptions.  Always check before purchasing.  Read the Terms and Conditions!
Owner Comments and Feedback
Comments are ordered from most recent to oldest.
Not all comments will be published (
details
).  Comments may be edited for clarity prior to publication.
---
Why the Big Chin??
Ever wonder why off-road helmets have such a weird chin shape?  So did we.  A wBW visitor did some sleuthing and found two good reasons. The question was: "Why do off road helmets have such a protruding chin guard?  I'm curious if you can offer any insights into how the off road or MX helmets of today developed such a different shape as compared to street helmets."
From "H.R.":  "I did a little research in the web and found this page that has a lot of information about off-road riding, check it out.
What I can tell about what I found is that the big pointed chin bar design is stronger to withstand hard impacts from rocks and other flying things and to allow more ventilation.  Just look a motocross race and you will see that they move more and make more physical effort in the jumps, turns, etc. than a road racer.  With that amount of sweat and hot air in the helmet try to vent it with a road helmet, it is going to be a hard time.
Note: In physics two geometrical shapes that withstand a high amount of mechanical effort or pressure are the arc and the triangle.  In these case a front impact from a rock, will hit a motocross helmet in the tip of the chin bar, a small strong area, (and not a entire arc) that with the triangle shape will distribute the impact force to the whole helmet structure more effectively than a arc shape would do, preventing an early chin bar destruction.
The other thing, the triangle shape design of the chin bar does, is that deflects or changes the direction of the flying rock diminishing the force of the impact in the helmet."
Thanks – this makes very good sense!
From HJC: "The two different shell types (i.e., street vs. off-road) are optimally designed for the different recreations because neither sport has the same safety characteristics.  The speeds differ from street riding to MX riding, hence the design of the shell for street use is different from that of MX.  The reason why the street helmets' chin bars are closer to the chin is because of aerodynamics – less space between the chin and chin bar means less air turbulence.  Also, on the MX helmets, the bigger gap leads to more air travel, which helps a lot because you are riding much slower than on the street, requiring more air to feel more ventilated."
Makes sense!  And so does this answer:
"Because you move around so much the lower part of your face (jaw) needs clearance and the air flow to your mouth is better. Also, when you crash, the chin guard has some give in it and will absorb impact without injuring the jaw."