You are not a motorcycle rider if you don't know about Marc Marquez. He is one of the best riders now on the planet earth. His maneuvers and riding style are incomparable, and his attire is quite popular. His signature winning style and his dressing sense have fans all over the world chanting his name continuously. If you are a biker, you are sure to love this sports helmet, designed to make your rider safer while you ride on the arena. It's one of the best helmets available for all sports bike lovers.
Understanding the desires of motorcycle riders who want to showcase their fandom for Marc Marquez, Shoei has designed the Marquez4 X14 helmet. In this Shoei Marquez 4 X14 helmet review, you will understand why you need to buy this helmet right away.
Benefits
The Marquez 4 X14 Helmet is a premium helmet that is one of a kind. Such a helmet can't be purchased for a low price. You have to pay more for this helmet, but the features are simply unbeatable.
Featuring cool graphics, it is the same helmet worn by Marc Marquez during his races. The number 93 is incorporated throughout the graphic design, and there will be no question about the inspiration behind this helmet.
Features
The Marquez 4 X14 is a lightweight helmet that weighs 3.62 pounds. The full face helmet has an intermediate oval shape that fits most American riders.
If you want to proclaim your love for motorcycle racing, what better way than to wear a helmet that is an exact replica of the helmet worn by your favorite racer. To show the world that you are born to win, wear this helmet and zoom off.
Shell Design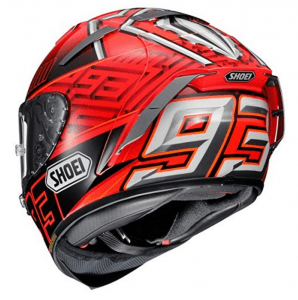 The Marquez 4 X14 features an advanced shell design fit for sports bike helmets. It has dual layer multi-density EPS liner that minimizes impact during a collision. It also enhances ventilation so that you don't sweat bucket loads when your riding is powered by adrenaline in your body.
The aerodynamic properties of this helmet are unmatched as Shoei has perfected the design using advanced wind tunnel testing. The shell is introduced to the market only after considering the feedback from expert riders.
The shell is equipped with a cheek pad cooling system which further enhances the impact absorption capacity of the EPS liner. This high-end helmet has customizable aerodynamic features that are simply not present in other helmets.
The standard rear flaps can be changed into narrower flaps if you know exactly how you want your helmet to feel. The lower air spoiler can be removed, and it can be fixed to the chin bar to improve stability. This helmet is purely designed for sports biking, and there is no undisputed opinion about it.
Interior
Motorcycle riders who enjoy racing their bikes will understand the importance of customizable interior. The upper liner, cheek pads, and chin strap covers are all removable and washable. You can also vary the thickness to create a custom fit with your helmet.
Center pad and cheek pads can be adjusted by up to 4 degrees which is very much useful in extreme racing positions. 3D max dry interior lining wicks away moisture twice as fast as regular nylon interiors. During aggressive racing, you won't want to be dripping sweat inside your helmet.
Ear pads are also cushioned to reduce wind noise further and to make the helmet comfortable. Breath guard and chin curtain are also removable to enable comfort.
Shield System
While racing at high speeds, you don't want your helmet to distract you in any way. The CWR-F shield system combined with QR-E system provides ultimate stability and ease for riding your sports bike. The QR-E base plate system makes it possible to install shields without any tools.
Air friction on the shield is greatly reduced with the use of vortex generators which are patent pending for Shoei. Pinlock Evo fog resistant system is used in the shield to eliminate any kind of fogging. The advanced shield also prevents 99.9% of all harmful UV rays. Double shield locking system is exclusively used to keep the shield from opening even when you race at incredible speeds.
Safety
The helmet is secured safely by the chin strap. During racing, there are numerous possibilities for accidents. The Shoei Marquez 4 X14 helmet has Emergency Quick Release System which will help emergency medical staff to release the cheek pads and quickly remove the helmet.
It is one of the best safety helmets designed for sports bike users meeting industry safety standards.
Other Factors for Consideration
There is nothing disappointing about the build and design of the Marquez 4 X14 helmet from Shoei. If you are into sports racing and adventure motorcycle riding, this helmet is the best choice.
It can be used in all riding positions so that there is no distraction while you race at high speeds. It is difficult to find helmets that are comfortable for riding in an upright position. This helmet caters to your every need and exceeds your expectation beyond limits.
There is no sun shield in this helmet, but that is to be expected in any racing helmet. When you are racing, there should be no additional complexities in any way. If you like adventure riding in the hot sun, you can wear protective sun goggles. The helmet also has cut outs for communication devices which are pretty useful in training.
If you are a dedicated fan of Marc Marquez, there is no reason not to buy this helmet. For a premium price, you can get everything you want in a sports helmet and get closer to becoming a professional motorcycle racer.
[table id=75 /]