SHIFT Lodown Motorcycle Jeans Image Gallery
Very comfortable; slightly heavier than normal denim; stylish and with Kevlar lining.
Also include stretch panels at the crotch and rear waist.
SHIFT is another relatively new motorcycle clothing brand attempting to establish itself in the U.S.
I'm not sure if the gear is actually made by Shift; I could be wrong, but the company appears to be more of a marketing and design effort that uses offshore contract manufacturers to design and build the products, while focusing most of their efforts on creating demand.
There's nothing wrong with that model, as we've said before — it has brought motorcyclists many different choices of clothing at multiple price points and has given us way more choices than we ever had before.
I think Shift has a few tricks yet to learn though about establishing a market presence. Try using the search term "shift motorcycle clothing" in your favorite search engine to find the Shift website and you'll end up pretty frustrated.
Their website can eventually be found, with some too-hard detective works, but it's well hidden and, like too many corporate websites nowadays, looks like it was created by some marketing fools who not only know nothing about websites, they also don't understand the type of information that potential customers require.
And when you do find the site, it takes too much time and effort to figure out that the only way to get actual information on the products they're trying to sell is by clicking through to their retail site and then initiating a purchase.
And you wonder why Shift isn't a household name yet?
The point is that you'd think that a company trying to break into the hyper-competitive U.S. motorcycle clothing market without, say, a Joe Rocket style advertising budget would ace the one thing that's basically free and which can bypass any print ad to get information directly to the customer — a decent website. These are the puzzling strategies that make you wonder if Shift products will have the staying power necessary to make a dent in the American market.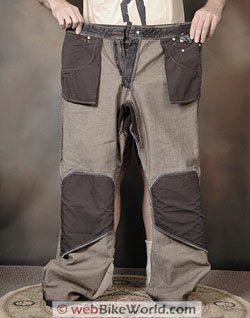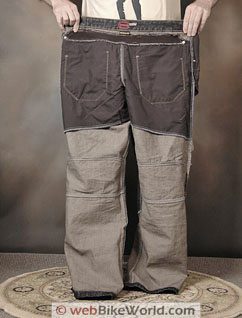 Shift Lowdown Jeans
Enough about that… We got interested because you've been asking us about Shift products lately, and then one of our local motorcycle shops also suggested that we take a look at Shift gear for a webBikeWorld review. So we figured we'd start small, and a pair of the very nice-looking Shift "Lodown" (their spelling) motorcycle jeans is the perfect candidate.
I was attracted to the Shift jeans by their looks. In my book, these are the best-looking motorcycle jeans on the market. I was immediately impressed when I found them in the local bike shop.
They have many of the styling touches found on high-end fashion jeans (although I'm certainly not one to know high-end fashion), from the stitching to the new-look "crinkled" washed denim fabric — you know the latest stuff that looks like you can see the individual fibers?
The dealer (RAM Cycles in Gaithersburg, Maryland) has been selling them as fast as Italian ice on July 4th; they were down to only a few sizes when I arrived to pick over the bins and I found the last 36 waist. Perfect.
Shift Lowdown Jeans Details
Apparently the Shift Lodown jeans all have 33″ leg lengths, as far as I can tell, so this pair is about 2″ long on me (wBW Lightbox photo), even taking into account the couple of inches of extra leg length necessary for motorcycle jeans to fit over bent legs on foot pegs.
So the Lodown jeans may appear long in the photos, but they're cut for riding, as you can see in the photo where I'm lifting my left leg to illustrate how they look on the bike. I'd rather have the pants fit long than too short, which is the case with the Joe Rocket Phoenix 2.0 pants we just reviewed, which, strangely enough, come only in 30″ leg lengths. 30″ puts the leg cuff half-way up my shin when I'm riding, which is both dorky-looking and uncomfortable, so the longer legs are much better.
The Shift Lodown jeans are very comfortable; the fabric is "ultra-washed", and it's nice and super-soft. There's plenty of room in the waist and I can tell you that these aren't just comfortable for riding a motorcycle — they're probably the most comfortable jeans I own, period. I have no problem at all wearing these on or off the bike.
Styling
They're also furnished with nice styling touches, including the contrasting stitching, which is done with style, outlining the back pockets, waist and even the belt loops with what I think are subtle but expensive-looking patterns that really make the difference between "just another pair of jeans" and something you might see on a square-jawed model in a Vanity Fair ad.
But don't get scared — they're not too frou-frou, just cool-looking in a street/stunt way. The cut is full, which adds to the comfort but also allows plenty of room for the Bohn armoured undies I've been wearing lately under all my gear. Actually, I normally do not wear jeans for riding, but will admit to sliding into a pair when the temps reach unbearable highs.
Typical for motorcycle jeans, the Shift Lodown uses Kevlar lining in the knees and the seat. Whether or not this will actually do anything to protect my butt is beyond me, but this feature at least makes them "official" motorcycle jeans.
Fabric and Stitching
As I mentioned, the fabric seems thicker than normal; Shift claims it's 14 oz. denim, which, one would assume, must help the safety cause also. The fabric is definitely thicker than other motorcycle jeans we've reviewed, but it's still soft and comfy.
Sections of stretchy material are sewn into the crotch and also just below the waistline in the rear of the jeans (wBW Lightbox photo), and these advance the comfort factor also. Again, a nice touch that makes the Shift Lodown jeans beyond ordinary.
Other than that, you get the same classic 5-pocket style with a modern, comfy, loose fit. If jeans were guaranteed to offer as much abrasion protection as leather, I'd wear the Lodowns all day long. Heck, it wouldn't take much to convince me that they're even more comfy than my jammies.
I'm debating bringing them in to the local tailor to take 'em up an inch or so, but I'd rather have more than less coverage down below. I like the leg cuff on my motorcycle pants to cover as much as the boot as possible when I ride, so I may just live with the slightly extra long leg and the maybe too-baggy look they provide off the bike so that I can feel good on the bike.
Conclusion
All this and a list price of only $69.95 make these the jeans to beat as far as I'm concerned — so far at least. Shift also makes the Torque street jeans, which are $30.00 more. I'm not sure what the difference is between those and the Lodown.
We've been impressed enough with the quality of this single piece of their gear that we plan on reviewing more Shift products to see if we're also missing out on other goodies — or bargains.
More wBW Motorcycle Jeans Reviews  |  Motorcycle Clothing Reviews
w

BW

 Review: SHIFT Lowdown Street Jeans
List Price (2007): $69.95
Note:
 For informational use only. All material and photographs are Copyright © webWorld International, LLC since 2000. All rights reserved. See the webBikeWorld® 
Site Info page
. Product specifications, features and details may change or differ from our descriptions. Always check before purchasing. Read the
Terms and Conditions
!
Owner Comments and Feedback
---
From "J.L." (11/08): "I have the Shift Torque jeans, and have been very happy with them overall. I had a rather sensational high-side this past summer and slid for a good 20-30 feet or so mostly on my backside after my initial landing. Let me tell you, any concerns as to how these jeans will hold up in a crash can be put to bed.
Even after such a massive off, the pants are barely even scuffed. There are no torn seams, no rips, no shredded arse area, no nothing. In fact, I still wear them and people are none the wiser. Even my wife couldn't tell if it was a different pair of jeans or not (and she has been riding longer than I have, so it's not like she's a novice).
My one gripe, and it is semi-major for some one of 34″ inseam like me, is that the legs started out on the short side and got about 3/4-1″ shorter with washing (and no drying). When crouched on my Ducati (granted, perhaps the most extreme/ridiculous riding position in the civilized world), they come up rather far – even to the top of my full-on Dainese boots. I'm assuming this makes me look even dorkier than I already do, but it also gets very drafty. Well, I guess you can't have everything.
In summary: Good style, excellent crash protection (especially considering that they are jeans), but on the short side."
Editor's Note: I've been told that pure cotton will shrink up to 5%, which would be about 1.75″ in a 34″ pant leg.
---
From "D": "I have these jeans and they are very comfortable, just as it says here. However, one thing I think you should know before buying them is that, according to the inside tag of the jeans, the protective lining is only "8.6% Kevlar". Nylon (43.3%) and Cordura (41.1%) make up the rest (there is also 7.1% PU, not sure what that is).
I have not seen the make-up of other motorcycle jeans, but the protective liner seems rather thin. Obviously, I didn't by these jeans for their superior protective ability, but it is something to note for the prospective buyer."
---
From "S.H.": "There really isn't too much difference (between the Shift Lodown and Torque Street Jeans at $99.95 list price). At leas not enough to justify the $30 difference. I own 2 pair of the Torque jeans and the only difference is the leather reinforcement on the outer cuff of the pant legs, on the inside of the knees (its more for looks) and the pockets have a metal clip/trim on the edge of them. Not enough the justify the extra cost but it has the same amount of protection as the Lodown."
---
From "J.A.": "I'm surprised you had trouble finding the Shift website and questioned their credibility in the motorcycle industry. Shift is a brand of Fox Racing, Inc. Maybe it's only because I grew up with motocross and still ride MX that I am familiar with Fox, but I doubt it: Fox is a pretty mainstream brand, sold in just about every mall in the USA. They have grown, like Oakley, from some very humble grassroots.
While today they contract offshore for garments (like everyone else) and now make everything from sunglasses to shoes to wallets, they have not lost sight of their MX roots. They are full- on, hard core, motocross to the bone, and they never lose sight of that. Think Oakley still makes BMX grips? No. They've moved on. The margins on grips, and the volumes, must be horrible. But Fox has stayed true to their motorcycling core even as they've grown into a major fashion brand.
Shift is a newer Fox brand with more of a road-racing/street emphasis. I'm not sure of the exact positioning, because they also make some MX products that are value-oriented and Shift branded. I guess they are still experimenting with Shift a bit, sorting out its presence. But clearly Shift is a part of Fox and their motorcycle credentials are unrivaled.
I don't work for Fox. I did once work at a motorcycle dealer in parts and service, so I've been familiar with the two brands since their respective inceptions."
Bill's Response: Sorry for the confusion — I certainly wasn't questioning Shift's credibility… but when I went to search for the company's website, I could not find it. Try this: go to Google and search for "shift motorcycle clothing". As of this writing, the company's website does not appear in the search results, as far down as page 4 of the results! I had to search high and low and finally found their website after some research on other industry sites, which is strange…
I had no idea that Shift is part of Fox Racing — and there is nothing on the Shift website that indicates this, even on their "Company" page. (If anyone can) direct me to some information that confirms this, I'll have it added to the review.
Editor's Response: We often comment on companies that appear to subcontract out their manufacturing — this is not a criticism, just something of interest to note. It was in no way meant to question Shift Racing's "credibility in the motorcycle industry"