Shift Fury Gloves Review Summary
Shift Fury Gloves Image Gallery
Lightweight summer gloves are comfortable and provide excellent ventilation. The tradeoff is the relatively thin fabric in some areas. This is the time of the year, at least in the top half of the globe, that motorcyclists think about the "perfect" pair of hot-weather motorcycle gloves. Perfection, of course, doesn't exist. Will it?  Could it?  It's hard to say…
The perfect pair of hot weather gloves would offer the highest levels of protection but have bare-handed air flow; they'd have the supple comfort of and old pair of pajamas; and they'd fit like they were laid on with an airbrush. And don't forget moisture control — sweat would instantly evaporate but rain would never enter.
Maybe someday. But for now there's always that tradeoff to consider. Find a pair with excellent ventilation and they'll probably not have race-glove levels of protection. Good air flow also usually means ixnay on the waterproof factor. Comfort is a virtue that is somewhat independent of other factors, but it also seems to be highly correlated with cost. As in: pay more and feel better.
Maybe there's a pair out there somewhere that can do it all?  No, I don't think so. Not yet anyway. There are a few that come pretty close though. I guess I'm like most riders — my priorities start to change as the digits on the Formotion (and other) thermometers go north of 90, prior9ties quickly change, with ultimate protection  taking a back seat to ultimate air flow.
Take, for example, El Paso, Texas, where I visited last week. Temperatures of 103 to 105 degrees F (39 to 41 C) will quickly change your list of the most important features in a motorcycle glove.
But then again, in those extreme temperatures, I wonder if "bare hand" air flow really is desirable. I was watching a "Survivorman" show the other evening where Les Stroud was "marooned" in some desert.
OK, so the show is a bit contrived (as most of them are), but Stroud mentioned the importance of keeping covered in the heat.
I hadn't thought about that, and I had been wondering why he didn't rip his shirt off first thing, as I probably would have (see, there is some learning value in those shows!).
He said that a light layer of clothing keeps the moisture next to the body, which can help keep you cooler, or at least reduce the evaporation and thus your need for water.
So perhaps the same theory works for motorcycle gloves?. Can too much air flow in very hot weather actually work against you?
I don't know, because once it gets over that magic 90 or so, you can usually find my wimpish self holed up with the air conditioning on and a cold Harp in my hand.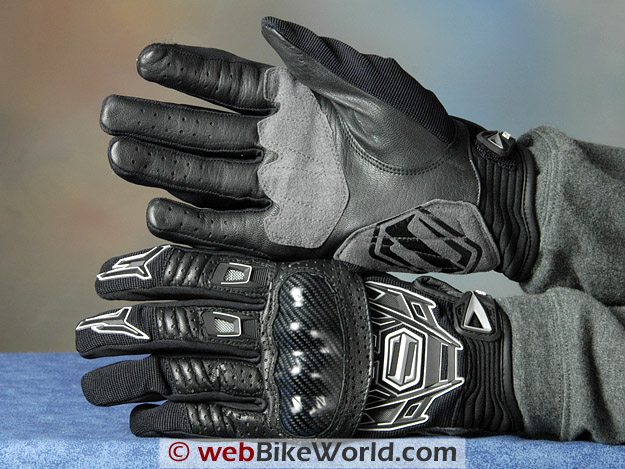 Shift Fury Gloves
One thing is certain: if you're looking for air flow, these Shift Fury gloves have it. I do believe they probably flow more air than any other summer glove we've reviewed.
Burn and I have been giving them a workout in our not quite El Paso temperatures recently, and there's no question about the amount of air that flows through these gloves.
Don't forget the tradeoff though…
Other than the big carbon fiber main knuckle protector on top and the thin leather palms with a couple of reinforcement patches on the heel and at the grip point, pretty much the rest of the gloves are made from some type of thin stretchy fabric.
The fingers do have leather tops, starting about half-way up at the second knuckle.
Sections of stylized rubber flashing on the first two digits and the back of the hand may also provide some protection — I'm not sure how much, but one can always hope.
The first two fingers also include mesh-covered air scoops on top, which is perfect for my "two fingers covering the brake" riding style.
The stretch fabric provides a lot of comfort though, along with that excellent air flow. The Fury gloves feel immediately broken-in and they meld nicely to my hands.
The sizing I think runs about 1/2 size small, because I usually take a large and these feel just a touch on the short side.
The thumb especially could be about 5 mm longer, because the tip of my thumb bumps up against the stops with my three-fingered grip. Burn reports no such problem, so this is apparently a matter of physiology.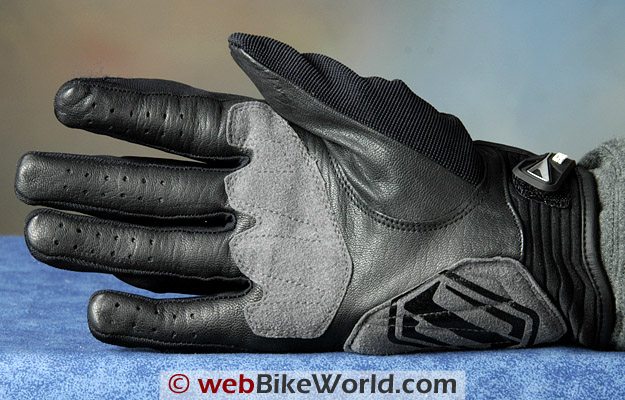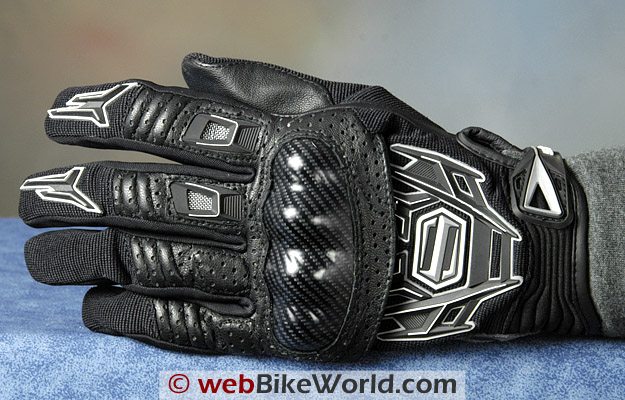 Actually, although the Shift Fury gloves are very lightweight, they don't pretend to be anything else.
The goal here is plain and simple: these are gloves for the hottest weather — perfect for El Pasoans.
The stretch fabric is used only on the top front half of the third and fourth fingers; in between each finger (the secret, I think, to the excellent air flow); under the wrist in back of the leather palm; and along the outside of the thumb.
This last area is what gives me the most concern; I wish Shift had added some type of outer thumb knuckle protector, whether that was carbon fiber or padded leather.
The thin textile material probably isn't the best protection to have in what is most likely a critical abrasion area during a fall.
But there's that tradeoff again — the fabric covering the outside of the thumb is again what lets the air flow right through the Fury gloves.
The other slightly troublesome feature that doesn't have much to do with air flow is the relatively small section of hook-and-loop on the underside of the wrist.
It's actually placed towards the inside of the wrist, but I wouldn't mind having a wider or more secure method of fixing the gloves on my mitts.
When all is said and done though, I find myself reaching for the Shift Fury gloves more than any others when the weather demands uncompromised coolness.
One thing is certain — there's no excuse for riding without gloves when you can buy a pair of these for a list price of $59.95. And for El Paso type weather, they even come in white, to reflect even more of the sun's rays.
If you're looking for maximum air flow in a pair of gloves and you don't mind the potential tradeoffs in protective capabilities, the Shift Fury gloves may be just the ticket.
w

BW

 Review: Shift Fury Motorcycle Gloves
Manufacturer: Shift Racing (No longer makes street gear.)
List Price (2009): $59.95
Made In: Indonesia
Colors: Black or White
Sizes: S-2XL (8-12)
Review Date: July 2009
Note:
 For informational use only. All material and photographs are Copyright © webWorld International, LLC since 2000. All rights reserved. See the webBikeWorld® 
Site Info page
. Product specifications, features and details may change or differ from our descriptions. Always check before purchasing. Read the
Terms and Conditions
!
Owner Comments and Feedback
---
From "J" (06/2011):  "I bought these gloves after having read the review. I have to admit, they are far and away the most ventilated pair of riding gloves I've ever used.
My one and only complaint is that the material (Spandex-ish?) where the hook-and-loop flap attaches is pretty shoddy.
Within a week of having worn them, it literally shred apart, almost as if made from flimsy pantyhose material. Pretty disappointing.
You'll be fine as long as you grip above it where the leather material stitches to the black nylon stretchy stuff."