SHIFT Fuel Street Shoe Review Summary
SHIFT Fuel Street Shoe Image Gallery
A cross between a street boot and a motorcycle boot that is successful at both.
Nice styling and high-quality construction combined with comfort on and off the bike make these a winner.
It's not uncommon to see motorcyclists in Europe fully outfitted in leathers, race boots and other protective gear.
Civilians don't give them a second look, because, well, that's just the way a motorcyclist dresses for the road.
But walk into a shop or a diner in the States with your one-piece Alpinestars and chins hit the table. People just aren't used to seeing "real" motorcycle clothing, and a full leather outfit is considered to be somewhere between pretentious and foolish.
It's a shame really, because proper riding gear for our sport should be accepted just as much as in any other. Remember when you could ride a bicycle wearing a pair of shorts and a T-shirt?  Now if you're not wearing Lycra tights, fingerless gloves, clip-on boots and a Camelbak, you're a dork. Didn't it used to be just the opposite?
I should be past the age where I care about these things, but hey — nowadays, everyone has to look cool, right? Well, you can have your cake and eat it, too, with the new Shift Fuel Street Shoes. Look cool and get a little protection on the side…why not?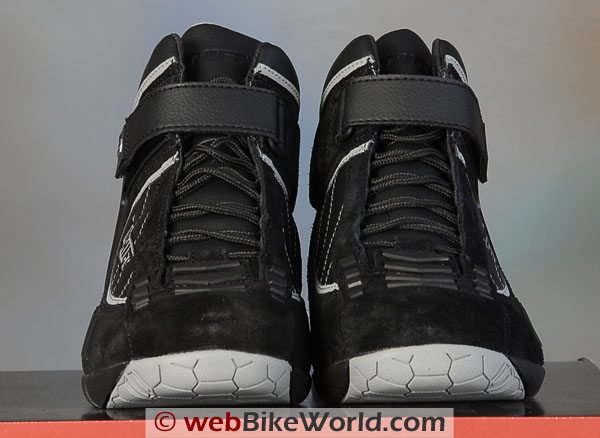 Shift Fuel Street Shoes
Shift didn't say much about the Fuel Street Shoes when they sent them over, probably because the marketing department had yet to settle on a tag line for this new hybrid product, their first motorcycle street boot. So when I opened the box I thought "Oh, it's a nice-looking moto boot, right?  No wait — they're street boots! — No, they're motorcycle boots…!"
I asked Shift about the Fuel Street Shoe, and they summed it up pretty neatly by telling me that the Shift Lodown Riding Jeans and the Fuel Street Shoes were designed with a similar philosophy:  "A casual look that you can wear anywhere, with features designed for motorcycling".
Multi-purpose gear in any sport is usually a compromise, because it's either too biased towards one or the other or it has features of all but is master of none. I think the Shift designers hit it right on the money with the Fuel Street Shoes though, because they work equally well both on and off the bike.
This is a pleasant surprise because nearly every short motorcycle boot we've tried so far has been a bit of a compromise. Hard toes, steel shanks and ankle cups are good for riding, but can get in the way of walking.
The Fuel Street Shoes, as their name declares, are biased towards the casual, but not by much. They're surely better than a pair of Nikes for riding, yet they're comfortable to wear for everyday use.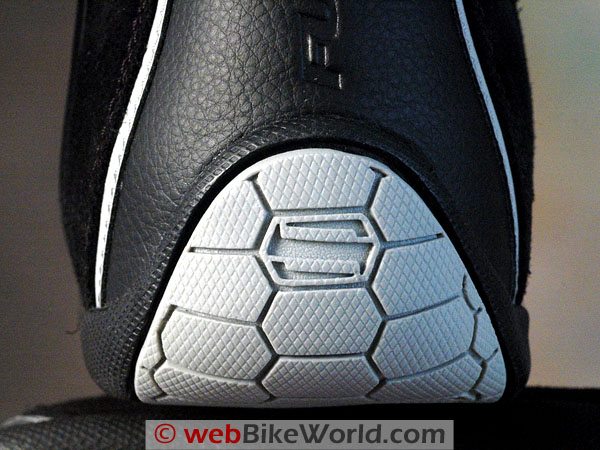 Construction and Materials
The quality of the construction is outstanding, which I think you can see in the photos below, and the choice of materials and the design is super. The styling is a sort of cross between those shoes worn by race car drivers, a modern athletic shoe and a motorcycle boot.
The black fabric feels like suede, and as you can see in these photos, it gives the boots a rich look and feel — I was actually concerned about getting them dirty!
The piping that edges the combination split grain and synthetic leather sections looks like it's made from a reflective material, but unfortunately it's not, which is too bad, although it's possible that reflective piping may not be compatible with the street styling.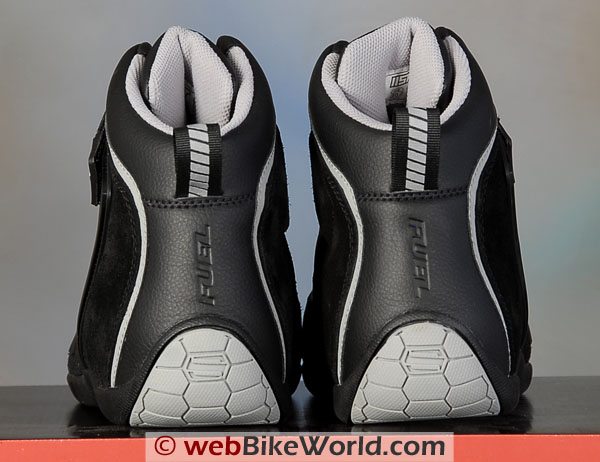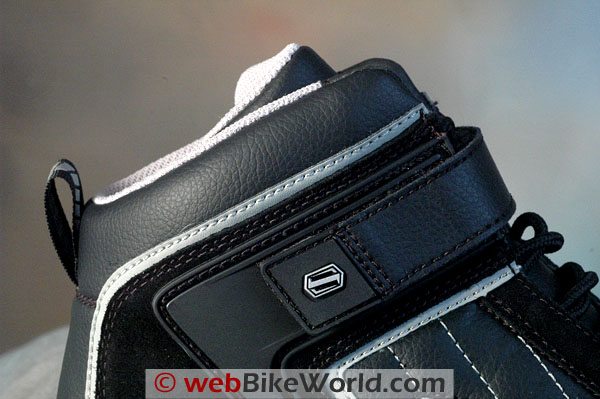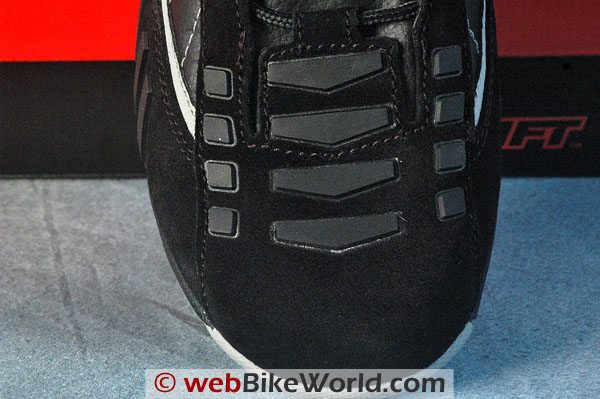 w

BW

 Video: SHIFT Fuel Street Shoes

The rubber bars across the toes serve as both a styling touch and shift pad and the Velcro ankle strap across the top keeps the laces from coming unraveled and catching on the foot pegs.
One of the cool design features of the Fuel Street Shoe is the "hidden" eyelets. The laces run through small webbed loops in back of the material on each side, which helps to keep them from getting hung up on the bike.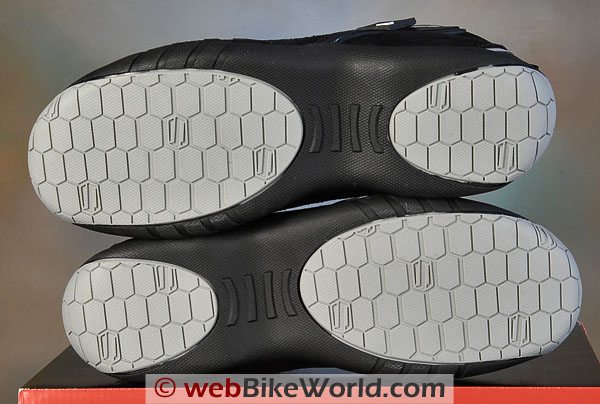 On the Road
After wearing the boots a few times, the laces loosened up nicely, making it easy to put the boots on and take them off. There's a big grab loop in back of the ankle that helps also. Some motorcycle boot lacing systems are either fussy or too complex, so Burn and I shot some video to give you an idea of how easy it is to put on the Fuel Street Shoes and get them laced up tight.
The strap across the top does a good job of hiding the knot, and combined with the hidden eyelets, this keeps the streamlined look even after the boots are laced. I also discovered that I could tuck the ends of the laces behind the top of the boots on either side of the tongue, which keeps the loops in the bow free from snagging and also adds to the smooth look.
Sizing
Shift Fuel Street Shoes are available in sizes 8 through 13 whole sizes only. I normally take a size 10.5 (US) or 44 Euro boot, and the size 11 Fuel Street Shoes fit just about true to size. They're nice and snug along the sides and they provide good ankle support, with some extra room in the slightly wide toe — perfect for me and just the way I like them. I don't like it when my toes get cramped!
Although they don't have hiking boot cushioning, the boots are comfortable for walking and they quickly lost their new-boot stiffness, feeling comfortable and broken in after wearing them about 3 times.

Conclusion
I really like the Shift Fuel Street Shoes; I've been wearing them both on and off the bike and pretty much everywhere.
I wear them with either a pair of medium weight cotton socks or a thick pair of wool "ragg" socks, and although the boots don't have any obvious venting, I'm surprised that they don't seem to make my feet sweat, which is usually the case with most 8″ street boots.
w

BW

 Review: SHIFT Fuel Street Shoes
Manufacturer: SHIFT Racing (SHIFT no longer makes this product).
List Price (2008): $99.95
Colors: Black
Made In: China
Sizes: 9-13 US
Review Date: September 2010
Note:
 For informational use only. All material and photographs are Copyright © webWorld International, LLC since 2000. All rights reserved. See the webBikeWorld® 
Site Info page
. Product specifications, features and details may change or differ from our descriptions. Always check before purchasing. Read the
Terms and Conditions
!
Owner Comments and Feedback
---
From "N.O." (03/11): "Great review of the Shift Fuel shoes. I had a pair that I bought back in October and they quickly became the only shoe I wore. Comfortable enough to wear even when I wasn't riding at all. However, one of the "hidden eyelets" that you mentioned in your review finally let go and broke early March. Not too bad, especially since (I got them) exchanged them with no questions!
---
From "M.G." (09/10): "I have been wearing these shoes for about a year and half now and they have been holding up very well so far. There has been no separation or loose stitching to speak of and the tread has not shown much wear either.
I usually wear them for whole days at a time while at work with no complaints from my feet. I must say they have proven to be a great value and would consider buying another pair if I ever wear these out."
---
From "K.M.": "I read your review of the Shift Fuel shoe/boot and have to say it was spot on!  I have been using these shoe/boots for about a month now and have nothing but great things to say about them!
I am not a "road-racer", just a "play-about" rider and find that these boot/shoes really fit my need perfectly!  They fit like a pair of sneakers (and I often forget to take them off due to such)!  The protection is mild, at best, but more so than a plain pair of sneakers. The soles grip well (so long as they are DRY…not good when wet).
They look and fit very cool and casual. I like wearing them!  As the old saying goes…"Any gear that gets WORN is more protective than the gear in the closet"!"