SHIFT Dyer Jacket and Havoc Pants
The best of both worlds?  The leather should provide good abrasion protection and the textile provides good air flow.  Comfort and good looks at a reasonable price.
Believe it or not, there's an urban legend — maybe one of the first? — that's over 100 years old and still going strong .  It's attributed to Charles H. Duell, a Commissioner of the U.S. Patent Office in 1899, who was supposedly quoted as saying "Everything that can be invented has been invented."
The reason this myth is still alive and kicking is probably because it's not hard to imagine life at the end of the Victorian era in a post-industrial-revolution world, where citizens were finally able to exploit technology in a way that would allow them to enjoy life for the first time in history.
I often think of that saying, fearing that perhaps everything that can be reviewed has been reviewed.
On webBikeWorld, of course.
But just when we think it's all been said and done, along comes a new idea, a new technology, or a new combination thereof.  And here we are, with a marriage of leather and textile in the Shift Dyer jacket and Havoc pants.
webBikeWorlders have been asking for a review of a "hybrid" jacket and pants for some time, and the Shift products were suggested by more than one visitor.  I'm not really sure why we never got around to doing this sooner; perhaps it was because some of the original hybrid garments we found either didn't seem up to snuff or were uninspiring in their design and execution.
But our surprise at the comfort and styling of the Shift "Lodown" jeans we reviewed not too long ago opened our eyes to the Shift brand, which led us, in a roundabout way, to the Shift Dyer jacket and Havoc pants that are the subject of this review.
I'll admit that I was a bit skeptical at first — I'm a diehard leather fan when it comes to two-wheeled protection, but the sultry hot Beltway summers require a basic formula: textile + holes = ventilation, and plenty of it!  Can a combination of leather and textile actually yield the best of both worlds?
---
Where to Buy SHIFT Dyer Jacket and Havoc Pants Clothing
Check Reviews & Prices on Amazon
Check Reviews & Prices On RevZilla
Also: Motorcycle Jackets, Motorcycle Gloves, Motorcycle Boots, Motorcycle Pants
---
Shift Dyer Jacket
First things first: if you want one, act fast.  It's the end of the season for motorcycle clothing, and manufacturers are closing out this year's production and ramping up for the Next Big Thing.
The changeover happens quickly, as we recently learned in our review of the very cool Cortech LNX women's jacket, which was in production when we ordered it from the retailer but was out of production just a few weeks later when the review was posted.
The Dyer jacket is Shift's 2007 "top of the line" leather/textile hybrid, and it proved to be a very popular design.  It's still in stock at some retailers and distributors, so if you're interested, better get a move on.
And there would be good reason to do just that, because the jacket does fulfill the hybrid promise of decent protection with good air flow.  But the Dyer jacket also includes sophisticated styling that belies its price.
Another surprise is the fit — the Dyer shown here in size large actually fits just like a motorcycle jacket should — snug, but cut properly for freedom of movement.  So what's surprising about that, you ask?  Well, take a look at your fellow riders the next time you're at the local motorcycle shop.  Most motorcycle jackets are purchased at least one size too big, and this error is compounded by the poor design and construction of many garments.
Apparently, the trend towards looser street clothing has made people feel uncomfortable in anything less than baggy, but for motorcycle riding, snug means secure.  If the jacket doesn't fit close to the body, it may not keep the armor and padding in place during a fall, and the loose fabric can catch and cause a tumble as you're doing the pavement luge.  Tumbling is non bon, because it increases the likelihood of a fracture, rather than an abrasion.
Also, loose clothing can flop around in the wind, and the results can include unwanted steering inputs and a tiring pounding.  I remember riding behind the punishing windscreen on my late and unlamented BMW K75, with the turbulence grabbing at the oversized shirt sleeves of my Aerostich Darien jacket, feeling like Aeolus and his Anemoi were thrashing me with a hickory stick.  Not fun.
Most jackets with liners exacerbate the problem; if incorrectly tailored, the jacket can seemingly grow two or more sizes bulkier with the liner removed.  The Dyer is snug-perfect with the liner inside and it becomes hot-weather-comfy with it removed.  Thank the sleeveless liner, which is perfectly fine with me.  I don't need the sleeves it doesn't have.
The jacket is also lined with a nice, red, perforated mesh that feels softer than most.  I've worn the Dyer jacket in everything from cool 55 degree mornings to 80 degree afternoons and it feels perfectly comfortable.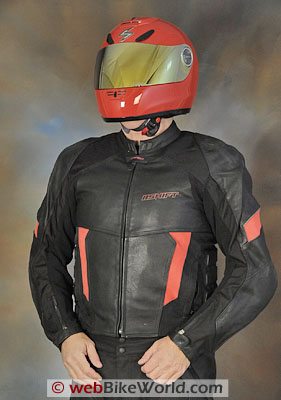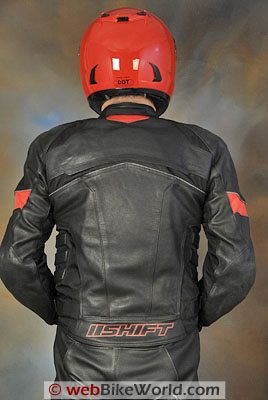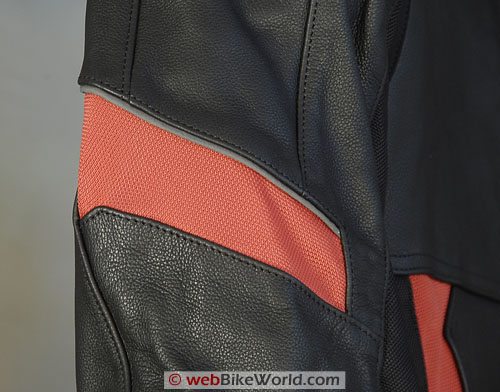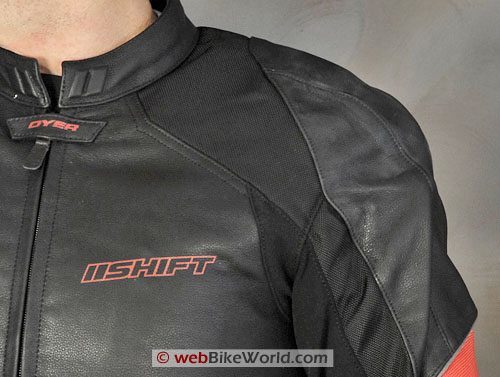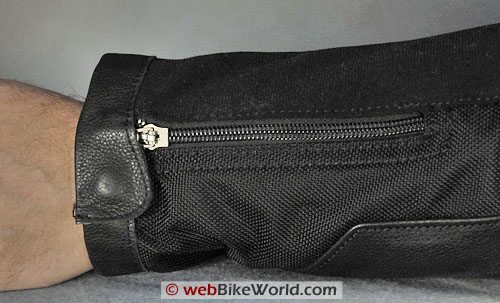 The leather covers the outer arms and shoulders, most of the chest and nearly all of the back, which leaves enough textile on the inside of the sleeves and the sides of the jacket to allow good air flow.  The inner part of the arm is covered with a stretchy fabric that, in a cute design trick, allows the jacket to fit snugly yet comfortably while also providing good air flow to that sensitive region.
I find that cool air flowing over my outstretched arms is one of the secrets to keeping cool, and the Dyer helps enforce that formula to good effect.
The leather is beautifully grained and feels soft and broken-in right off the rack.  The leather and textile patterns are very nicely cut and styled and the stitching is first rate.  And by the way, the hybrid leather/textile combination is claimed to weigh 25% less than if the same jacket was made from 100% cowhide.
No, this isn't a full race jacket with stiff 1.8 mm cow hide, double- or triple-threaded seams and blind stitching, and it wasn't meant to be.  I think it has a sophisticated, modern "Euro" look that offers good street or touring protection without looking too Boy Racer.  It should appeal to the sportbike, sport-touring and touring crowd, and even the metric cruiser types; styling for a range this broad isn't easy to do, so kudos to the designers.
The hand pockets have semi-hidden zippers and the jacket includes zippered pockets on both plackets inside, which are super-handy for storing a wallet.  The vest liner is easily removed with its wraparound zipper and the Dyer jacket also includes both a full-length and shorter zipper attachment for some Shift pants; the jacket also has belt adjusters at the hem.
And finally, the jacket has CE-approved armor in the shoulders and elbows.  Bonus: the armor is adjustable up and down!  The jacket also has a section of removable back padding in a pocket in the liner, which I think will fit one of the nice SAS-Tech Level 2 back protectors and I'm going to try this soon.
Conclusion
The Shift Dyer jacket has quickly become my favorite waist-length jacket, with a solid combination of multi-season wearability, good looks, protection, air flow and fit.
---
Where to Buy SHIFT Dyer Jacket and Havoc Pants Clothing
Check Reviews & Prices on Amazon
Check Reviews & Prices On RevZilla
Also: Motorcycle Jackets, Motorcycle Gloves, Motorcycle Boots, Motorcycle Pants
---
Shift Havoc Pants
The Shift Havoc pants are technically a match for the Dyer jacket.  The pants have a short zipper attachment in the rear and they have the same hybrid leather and textile styling.
But the combination is slightly schizophrenic, as the snug fit of the Dyer jacket seems a little at odds with the looser jeans-like fit of the Havoc pants.  The photos of the Havoc pants shown here and on the Shift Racing website illustrate the point.
But the pants are pretty comfortable and they do indeed fit like a pair of jeans.  They're designed to be worn over a pair of boots, so the slightly loose leg fit is designed in.  The legs also have zippers along the bottom to allow a bit of freedom when lacing up, and a small Velcro tab holds the cuff closed.  I sort of wish there was some adjustment to snug up the legs a bit more, but that's just me.
And don't forget that motorcycle pants need to be about 2″ longer than normal to fit correctly when riding, so although they may look too long in the photos, they're actually just right.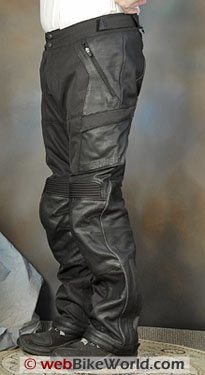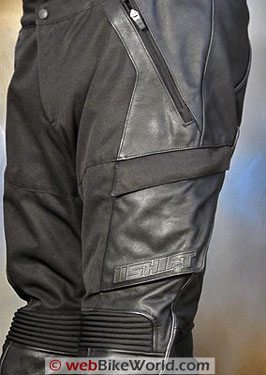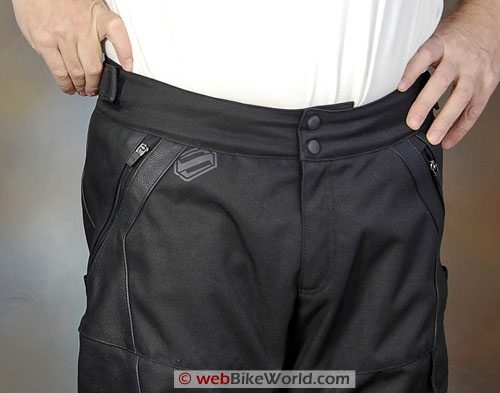 The hybrid leather and textile approach works well here also; the pants do not have a thermal liner, but they do have a permanent full-length mesh lining, accordion-like pleats at the knees and in back of the waist and elastic fabric in back of the knees for comfort.
The pants have two slash hand pockets, each with a zipper and a single leather-covered cargo pocket over the left thigh.  The styling and the stitching are just as nice as the Dyer jacket, with leather covering the lower legs and knees and nearly the whole seat and back of the thighs.
The Shift Havoc pants have removable CE-approved knee armor, but, typically for me, the armor is too low for my short legs, so I removed it and I wear the Bohn Cool-Air Bodyguard Adventure armored underpants instead.  I'm used to it — I have to do this on almost every pair of motorcycle pants I own, because my legs seem to be an unusual length.
Not a problem; the Havoc pants do not have hip armor, and the Bohn pants do.  I actually like wearing the Bohn armored underpants because they fit well and I know the armor is where it should be for the best protection.
The Shift Havoc pants are surely better than no-protection jeans and the looser fit is perfect for both long-distance and adventure touring.  They work especially well when riding the upright Multistrada, and they're also a perfect match for my favorite Kochmann boots.
So other than what I think might be a slightly odd pairing of a jean-cut pants with a snug fit jacket, which is purely subjective on my part, the Havoc pants are perfectly fine, with the same quality and attention to detail as we've seen in other Shift garments.
Although there is one more thing — the waist on the Havoc pants uses only two snaps to keep it closed.  I would much prefer an attachment that used a metal hook and a Velcro belt that could be doubled back over the snaps, which I think might offer a more secure arrangement.
Conclusion
The Shift Havoc pants are comfortable, nicely styled and perfect for touring or cruising.  While not designed to attract the race crowd, they're a much better alternative for multi-season riding than a pair of cotton jeans and I'll be they'll take a lot more abuse too.
wBW Product Review:  SHIFT Dyer Jacket and Havoc Pants

Available From:  Shift Racing
Suggested Retail Price:  Shift Dyer Jacket $299.95, S-XXL.  Shift Havoc Pants – $199.95
Colors: Pants – Black.  Jacket – Black/Silver; Black/Red
Sizes:  Pants 30-40W.  Jacket S-XXL
Made In: Unknown
Comments:  These products were provided by the manufacturer for this review per our review guidelines.  Review Date: October 2007
Note:
  For informational use only.  All material and photographs are Copyright © webWorld International, LLC – 2000-2011.  All rights reserved.  See the webBikeWorld® 
Site Info page
.  NOTE:  Product specifications, features and details may change or differ from our descriptions.  Always check before purchasing.  Read the 
Terms and Conditions
!
---
Where to Buy SHIFT Dyer Jacket and Havoc Pants Clothing
Check Reviews & Prices on Amazon
Check Reviews & Prices On RevZilla
Also: Motorcycle Jackets, Motorcycle Gloves, Motorcycle Boots, Motorcycle Pants
---
Owner Comments and Feedback
---
From "L.S.":  "I have the Shift Dyer (not sure why its called this) Hybrid jacket and I HAD the Havoc pants.
Love the jacket for all the things you mentioned.
Didn't keep the Havoc pants for two of the same reasons you write about – 1) Only two snaps w/no waist adjustment and 2) Inability to tighten bottoms of legs. But there was something else. Did you notice that the cut of the pants feel almost like low rider jeans?  I kept having the feeling that I needed to pull the pants up only to discover I was giving myself a "wedgy"."
Rick's Response:  I haven't noticed a problem with the fit of the Havoc pants; the fit like the jeans I wear, I don't really feel like they are cut differently, but that may be due to my body shape.
Other WebBikeWorld Clothing Posts